Overview
The one-of-a-kind Amazon Dream riverboat, which was built in 2006 from ipe and itauba woods, blends modern conveniences with old-world charm. Your time on the Amazon Dream will be an authentic Brazilian experience, but the French-owned ship also possess a relaxed atmosphere which allows you to unwind in style.
Nine cabins, each with a private bathroom, host eighteen guests, ensuring you have a personal, intimate experience, whether you call the ship home for five, six, seven, or ten days. With eleven crew members, you will be wrapped in warm hospitality every moment of your Amazon Dream cruise.
Life Aboard The Amazon Dream
Your life as an explorer starts as you step foot aboard this stunning ship. Morning comes early in Amazonia, and you will be tempted out of your cozy, light-filled cabin by the scent of fresh coffee and morning treats, as well as the sounds of the wildlife, including monkeys, that surrounds you.
The talents of a Brazilian chef are on display throughout the day, with Amazonian specialties delighting your tastebuds and fueling your explorations. Local flavors are the stars of the show. You will sip fresh-squeezed juices from Amazonian fruits such as guarana, cupuacu and acerola, and dine on just-caught fish. For dessert, indulge in exotic ice creams in flavors such as Brazil nut, tapereba and mangaba. Each meal takes place in the beautifully decorated dining room, which features Brazilian water colors and engravings showcasing local culture and history.
Between excursions, the Amazon Dream invites you to relax in style. Take a seat at the bar on the upper deck whilesipping a caipirinha cocktail and taking in astounding views, read a book in a comfortable lounge chair in the solarium, or recharge in your air-conditioned cabin.
Once you have left the world behind, you may for something a bit more active, and the Amazon Dream is happy to oblige. The local lakes teem with fish, so be sure to use the onboard snorkeling gear for an up-close-and-personal view. Or, if fishing is more your style, rods and bait wait to help you catch black piranha or peacock bass.
Once In A Lifetime Excursions
With so much to enjoy onboard, you may wonder why you would ever step off the ship. Rest assured, each of the five available itineraries is packed with unmissable activities. Each excursion is lead by expert guides, including botanists and biologists, with unparalleled passion and enthusiasm for the area.
You will spend time motorboating around lakes and tributaries, peeking into the habitats of pink dolphins, caimans, exotic birds and a wealth of other wildlife. The highlight of your time in the Amazon is sure to be visits to indigenous villages where you will celebrate with locals, eat traditional meals and learn about a seldom-seen way of life.
Unique Experience From Santarem
The Amazon Dream is the sole riverboat departing from Santarem, making this a rare and unique experience. Throughout the journey, you will see how the mighty Amazon mixes and mingles with a labyrinth of tributaries, in a phenomena known as the "Meeting of the Waters."
The vibrant blue water of the Tapajos river blends with the deep sienna shades of the Amazon before colliding into white sand beaches and a wall of dense leafy forest. This spectacle of nature is the most beautiful and surprising area of the Amazon, which only a privileged few have the pleasure of experiencing.
Whether you are looking forward to lounging in one of the ship's hammocks or learning more about the flora and fauna of the area, the Amazon Dream can be your home for your Brazilian adventure. With a 11:18 crew-to-guest ratio, every need will be met. Each day brings the ideal mix of relaxation and discovery. Most of all, you will create a lifetime of memories during your Amazon Dream cruise.
Accommodations
Social Areas
Bridge
Crew
Amazon Dream
Sun Deck
Top Deck
Suites & Cabins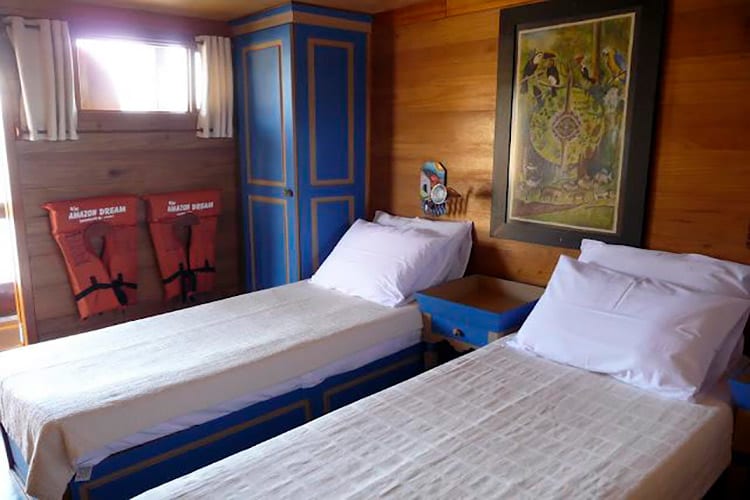 Standard Cabin
Size
12-14 m² / 130-150 ft²
Beds
Double / Twin / Triple
These cabins are individually furnished in a classic Amazonian style. They also feature cupboard storage, bedside tables, a desk, and a chair for the guests' convenience. The private bathrooms come with the basic amenities ensuring you have a relaxing shower.
Superior Cabin
Size
12-14 m² / 130-150 ft²
Beds
Double / Twin / Triple
The cabins are exquisitely furnished with bedside tables, a desk, a cupboard for storage, and a chair. Some cabins have a shared balcony where guests can relax and unwind. The private bathrooms are also equipped with basic amenities to keep guests refreshed.