Overview
Step back in time to an era of refined sophistication aboard the Anawrahta riverboat, which cruises on the Irrawaddy and Chindwin rivers in Myanmar (Burma). With a high crew to passenger ratio, exceptionally high levels of personalized service and wonderfully spacious cabins, the stately 213-ft-long vessel is modeled on a British Empire paddle steamer. With her sumptuous cabins providing capacity for 46 guests, she has three spacious decks with on-board resort-style facilities including a panoramic lounge, pool, spa, sauna and gym.
Sumptuous Rooms & Suites
With her gleaming rails, polished lacquer, intricately carved woodwork and handcrafted furniture, the Anawrahta has been built to reflect the elegance of a bygone era. She was named after the founder of the Burmese nation. Choose from 23 spacious rooms and extraordinary suites, in four categories, including 16 Deluxe rooms, three Junior suites, two Executive suites and two Royal suites.
Ranging in size from 517 square feet to a huge 926 square feet, each cabin has an en-suite bathroom and a private balcony or terrace for enjoying superb views along the river. The two Royal Suites each boast a private jacuzzi tub.
Wining And Dining On Board
The ship's Hintha Hall Restaurant, on the terrace deck, evokes the elegant dining rooms of yesteryear. White tablecloths and gleaming glassware is surrounded by polished wood, elaborately-carved floor and ceiling panels, as well as fabulous views, framed by large picture windows. The chefs showcase the authentic flavors of Myanmar, which has been influenced by Chinese, Thai and Indian cuisine. Thanks to the county's long coastline, seafood plays a prominent role, as do fresh herbs, aromatic spices and seasonal vegetables.
Myanmar's Buddhist culture ensures plenty of vegetarian options, and there are also ample international dishes. Also on the terrace deck, characterized by high ceilings, spicy colors, large windows and colonial-style rattan chairs, Kipling's Bar invites you to relax and contemplate the passing river life as you enjoy a fine wine or cocktail.
Activities And Entertainment On Board
Lean back against burnt-orange cushions on rattan chairs and enjoy a good book, in the exotic colonial club ambiance of the Mandalay Lounge on the Upper Deck. Unwind at the Thazin Spa, which offers three massage beds, mani-pedi stations and a steambath along with a team of highly trained therapists. Participate in daily yoga or Tai Chi sessions on the Sun Deck, swim in the outsized pool, and enjoy on-board lectures and demonstrations about Burmese culture, as well as traditional dance performances, open-air movies and cocktail events.
The Anawrahta cruise offers a truly fascinating and scenic river journey. A choice of itineraries allows you to venture along the magnificent upper and central Ayeyarwady (Irrawaddy) River, or the remote and lesser-known Chindwin, which is ideal if you're looking for an off-the-beaten-track adventure. Fishing and farming communities populate the banks, living in stilted houses that overhang the water, excited children will often greet you with shouts and a wave. You may even be lucky enough to encounter Irrawaddy dolphins slicing in and out of the water.
Accommodations
Social Areas
Bar
Dining Hall
Kipling Bar
Pool Deck
Reception
Restaurant Buffet
Pool
Sun Deck Yoga
Thazin Spa
Suites & Cabins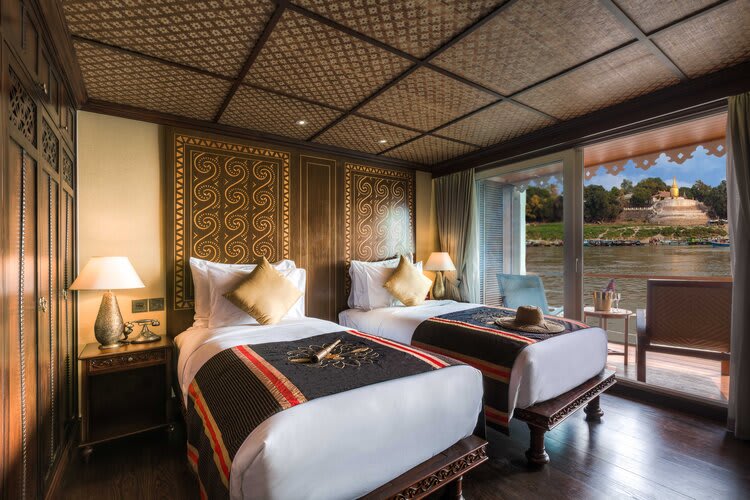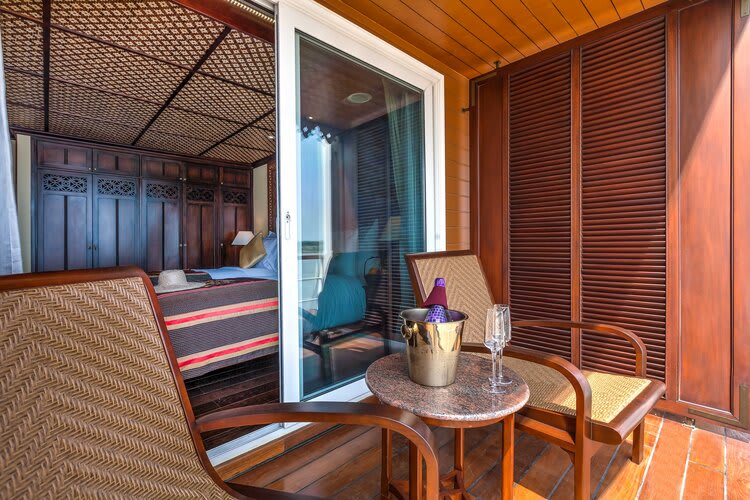 These amply-sized cabins feature a large window and a balcony. On request, guests can enjoy breakfast on the private terrace as they take in the fantastic views. The modern, stylish bathrooms come with full amenities to ensure guests enjoy a relaxing shower.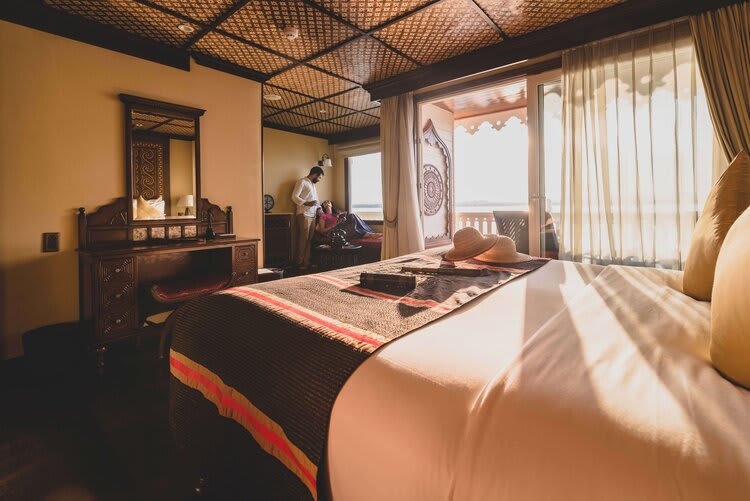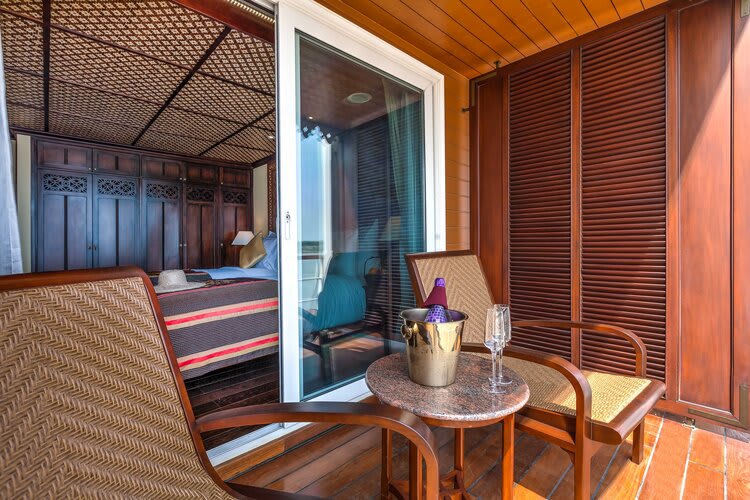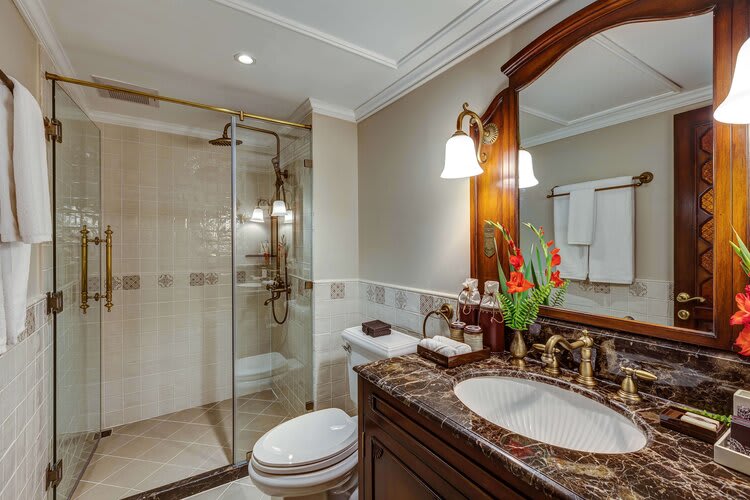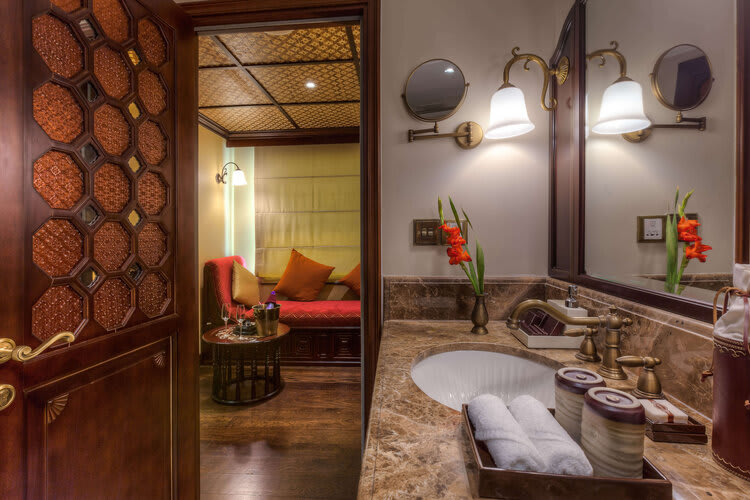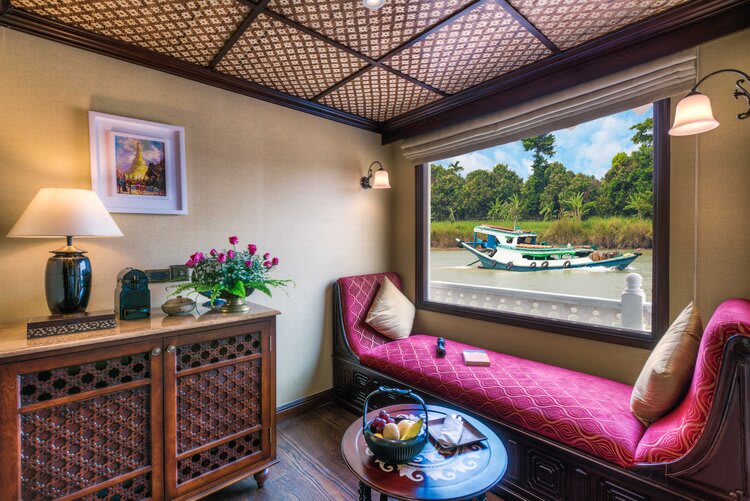 Get an exotic feel from these executive cabins decorated with locally carved wood and original handicrafts. The large windows allow natural light to flow into the room, and the balconies offer stunning views of the rainforest environment.
Guests in these suites can enjoy the stunning beauty of the Irrawaddy from their private balcony and the large windows. On request, guests can enjoy breakfast on the terrace or the comfortable seating area in the suite.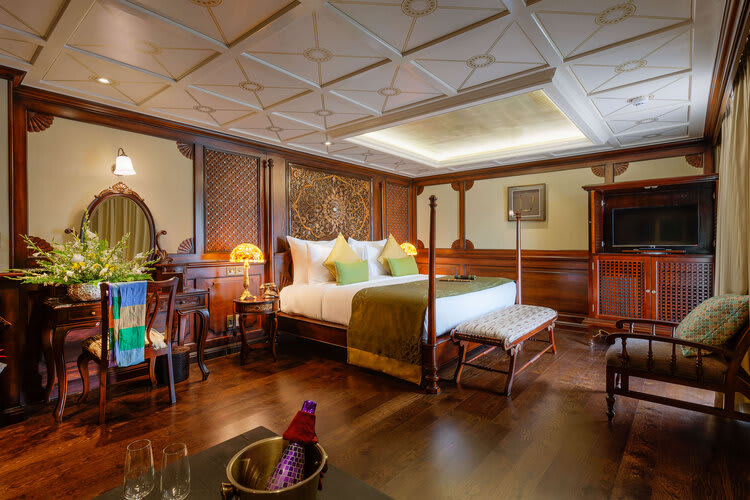 These suites have been designed and furnished with local products and artifacts, creating a relaxing and exotic ambiance. The suites also feature an indoor seating area where guests can enjoy in-suite dining on request and one spa treatment per person.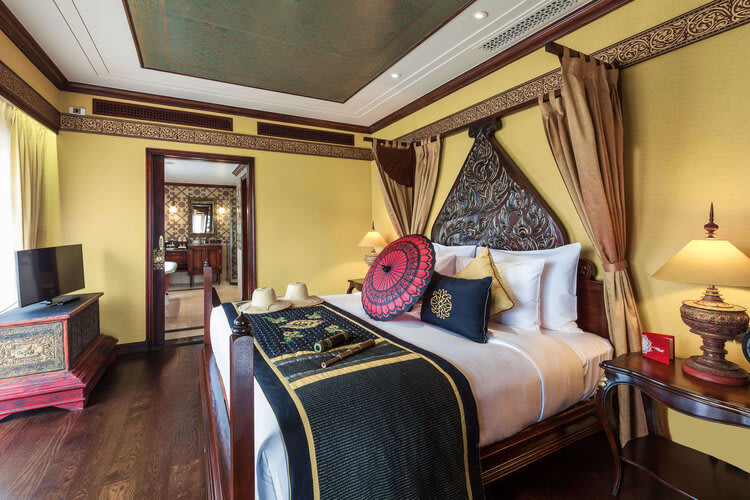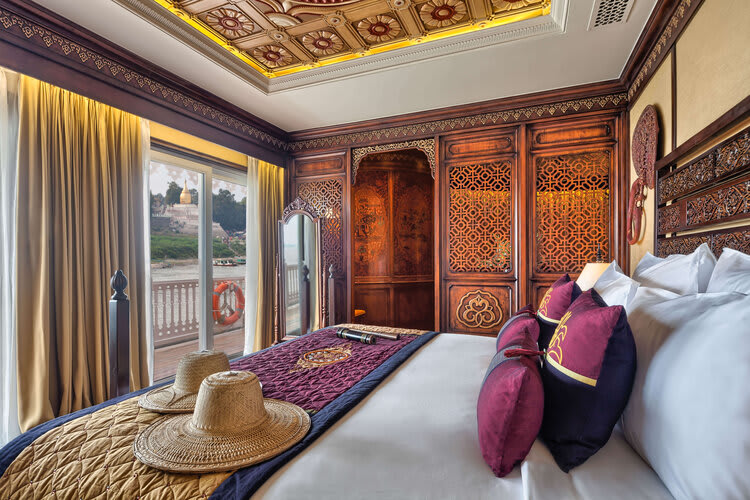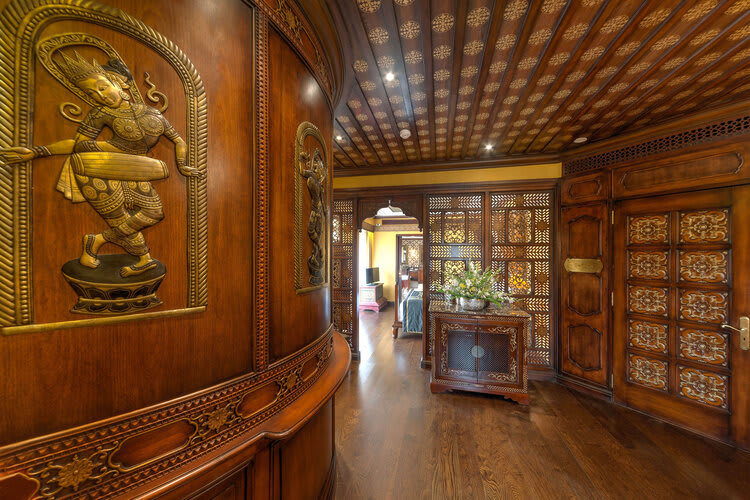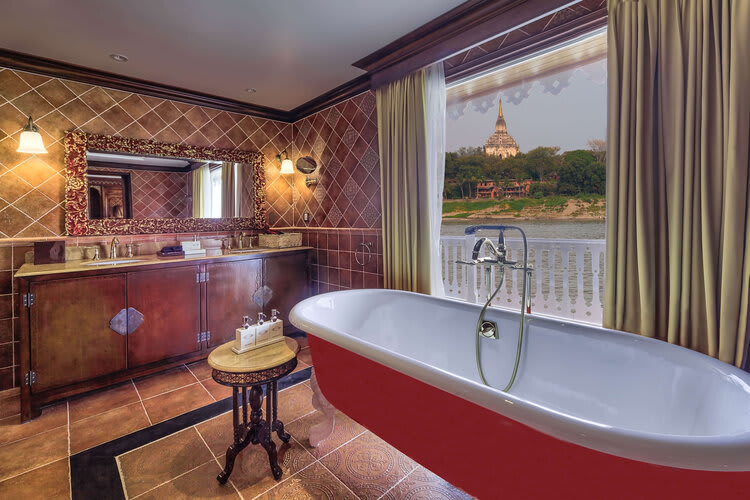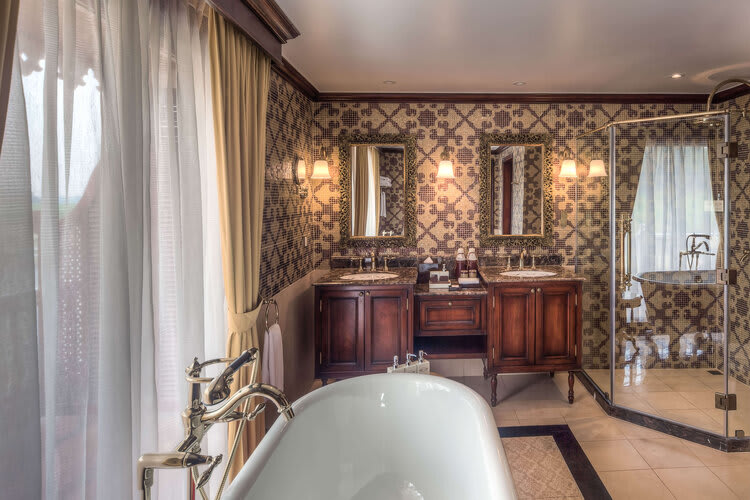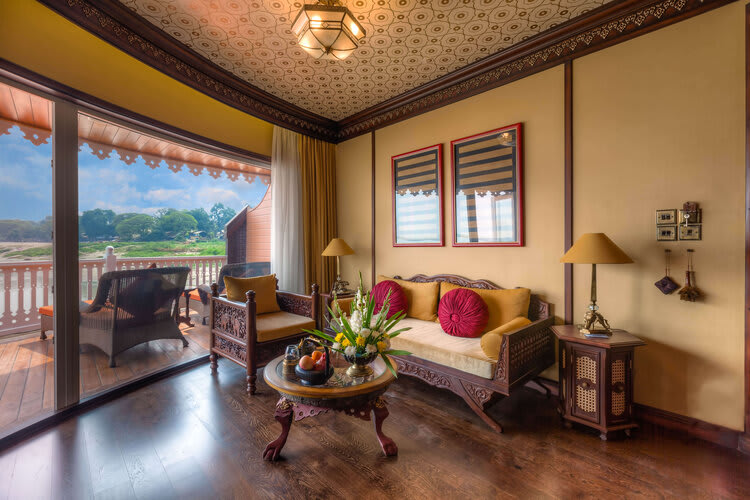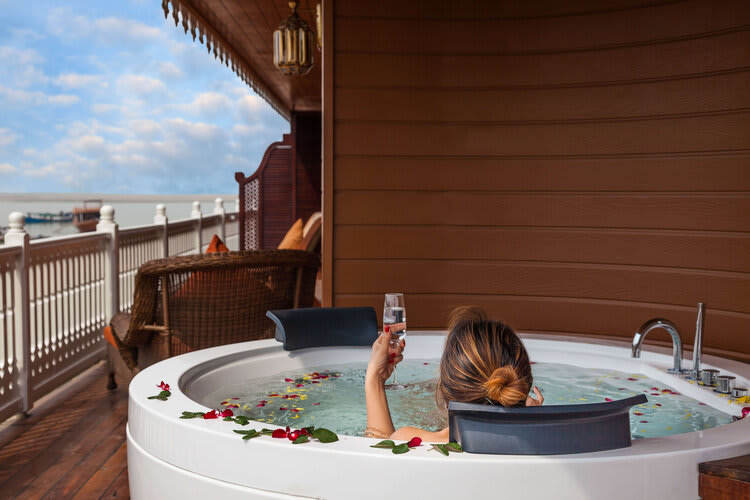 These luxurious suites feature a large terrace with a private jacuzzi for guests to soak in and unwind. The stunning suites are furnished with elaborate wood carvings and Burmese art, creating a feeling of royalty. Guests enjoy refreshments from the complimentary bar in the room.