Exclusive, private cruise based on full occupancy
Overview
Extensively refitted in 2017, the 98-ft Carpe Diem is a traditional Indonesian phinisi boat offering year-round liveaboard dive cruises within the Indonesian Archipelago. You can look forward to diving or snorkeling, kayaking or simply relaxing and lounging upon the deck, while being served by a world-class crew and a private chef. With four beautifully appointed cabins, Carpe Diem Phinisi can comfortably sleep up to 10 guests.
Cabins
Carpe Diem's air-conditioned cabins can be configured to suit a variety of sleeping arrangements, ideal for families, couples or groups of friends. The impressive Master Cabin on the Main Deck spans almost the entire width of the boat and has a skylight and large windows on three sides to let in plenty of sunlight, as well as a separate shower-room and en-suite bathroom.
Three more cabins sit on the Lower Deck; one of which can be set as either twin or double that is ideal for friends or siblings to share, while the other two can be set up as triples with a double bed and a top bunk for an additional guest. Each cabin has an en-suite bathroom and features gorgeous teakwood floors, Indonesian textiles, a writing desk, and ample storage space.
Life On Board
The expansive Main Deck sweeps above the Master Cabin to the wheelhouse presenting an alfresco dining area. The upper deck invites you to the lounge with a low table, hammock and sun loungers. This multi-use teak-floored space is ideal for activities such as sunrise yoga sessions before gearing up for the day's activities, and then relaxing with a cocktail as the sun goes down.
Feast on imaginative dishes comprising locally-sourced fresh ingredients around the central dining table, or lie in the sun with a book while cruising through the islands. On the Upper Deck there is another chill-out area with sun loungers and unobstructed views all around, and on the Fore Deck there is a dive station. Inside you will find a cosy salon with a 10-seater dining table, a galley-kitchen, and a library stocked with plenty of books.
Exploring The Underwater World
With an affinity for ocean conservation, Carpe Diem's crew happily caters to beginners and experienced divers, as well as snorkelers. All dives are accompanied by qualified dive guides bringing together the essential combination of local knowledge and international standards. As a testament to Carpe Diem's commitment to safety, each diver is provided with a waterproof GPS locator. Full first aid and oxygen equipment is on board.
Other Activities
There are nine friendly and professional crew members on the Carpe Diem Liveaboard Indonesia, including a cruise director. You can look forward to beach barbecues, snorkeling activities in gin-clear water on shallow reefs, expeditions to little-known dive sites, as well as visits to remote villages to learn more about the people, history and cultures of Indonesia. The crew can also set you up with stand-up paddleboards and kayaks.
The intimate cruises are crafted around the dream of facilitating adventures and fun, both above and below the surface for small groups, families and individuals who are looking for superb, personalized service.
Itineraries & Prices
Embarkation
AM: Guests are met at Labuan Bajo Airport and accompanied for the short trip to the jetty by taxi and then by launch to the Carpe Diem. Once onboard guests will receive a welcome and safety briefing accompanied by a cool towel and a cold drink.
PM: Once all guests are safely onboard we will set sail for South Rinca. This leg of the journey is about 7 hours leaving guests free to unpack, relax and familiarise themselves with their cabins and the boat in general. We will anchor in the sheltered waters between Pulau Kode and Rinca overnight.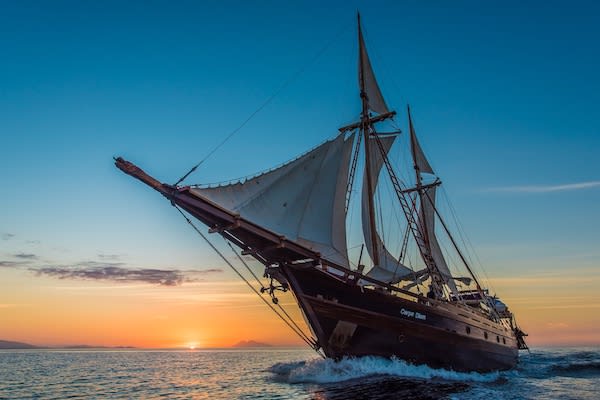 South Rinca
AM: We will remain at the same anchorage all day, giving guests the opportunity to enjoy some of the local diving/snorkeling sites such as Cannibal Rock, Pulau Pisang (Banana Island), Crinoid Canyon and Yellow Wall.
PM: Also the beach in South Rinca is home to some of the world famous Komodo Dragons and we can visit them (from the safety of our launch) while allowing guests a great photo opportunity. Overnight we will remain at this secluded and breathtakingly beautiful anchorage.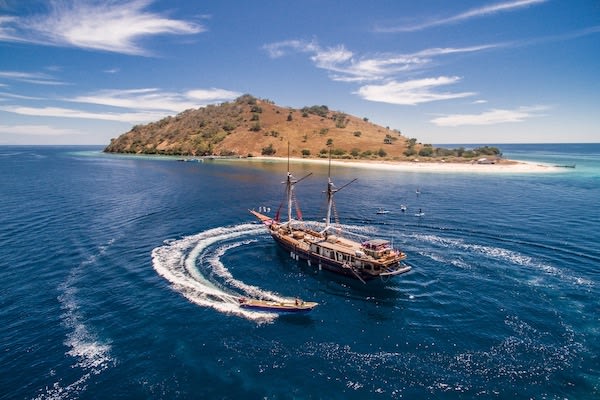 Apple Orchad
AM: A short two-hour passage to the diving and snorkelling sites of Apple Orchard and Kerita Tol. These can be challenging dive spots depending on conditions but for those experienced enough the rewards are worth it.
PM: After the afternoon dive we head back to the anchorage, where we will stay overnight, and have the opportunity for a night dive at Torpedo Point, a great spot for small critters.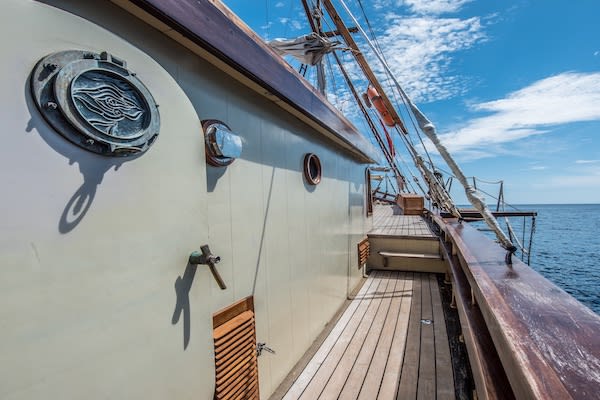 Nusa Duawaju
AM: And we lift the anchor early and head West to Nusa Duawaju, the home of Manta Alley. Here we have the opportunity to dive and snorkel with beautiful Manta Rays who frequently gather at this feeding station which is supplied with nutrients from the colder Southern Ocean. Speaking from experience, this is one of the many highlights of the trip. The last time I dived here I was accompanied by 20 or so Manta Rays.
PM: After two dives at Manta Alley we will make the short 1 hour trip to Loh Sera for an afternoon dive and snorkel and remain here overnight.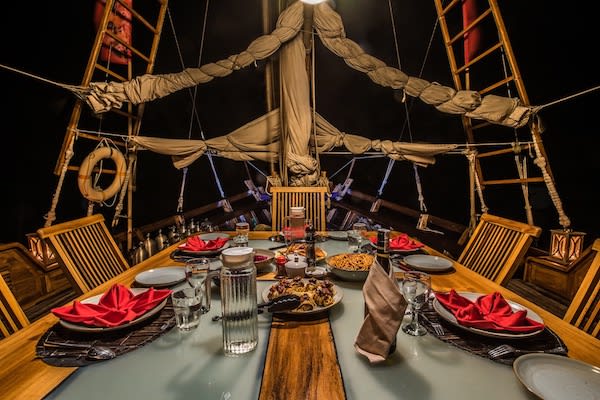 Pulau Padar
AM: Once again it's an early start for the crew as we will head to Pulau Padar taking in the dive sites at Three Sisters and Pillar Steen along the way.
PM: Also we can take time ashore here for an afternoon climb to watch the sunset from the top of the island. Guests can also take the SUPs or Kayaks and enjoy the beach and island at any time.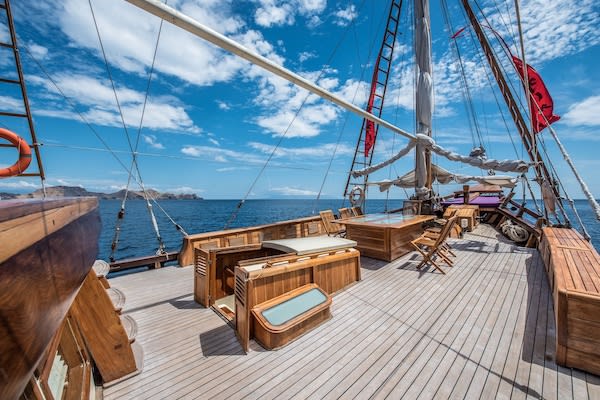 Pink Beach
AM: Another early start and we head North to Pulau Komodo and the famous Pantai Merah (Pink Beach).
PM: Here, tiny pieces of bright red coral mix with the white sand to create a fabulous pink hue which gets more and more beautiful as the sunsets. Also there is diving, snorkeling, trekking, kayaking and paddle boarding all available to our guests.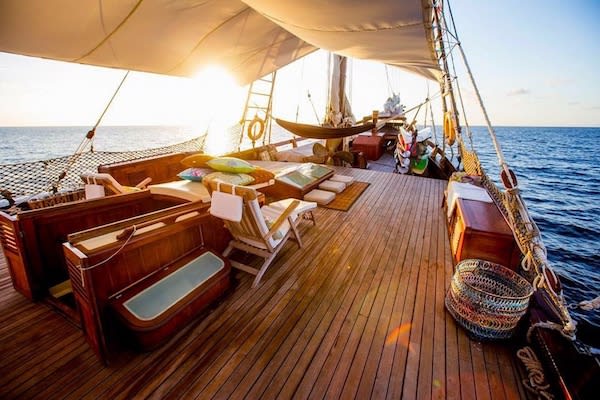 Gili Lawa Darat
AM: A short passage to Gili Lawa Darat, stopping along the way at Batu Bolong and/or Batu Tiga for some world class diving followed by even more great diving/snorkeling spots at either the Golden Passage or the challenging Cauldron or Shotgun sites.
PM: Once again we have the opportunity to do an afternoon trek up the hill for the final sunset memories of beautiful Komodo National Park. We remain at this anchorage overnight.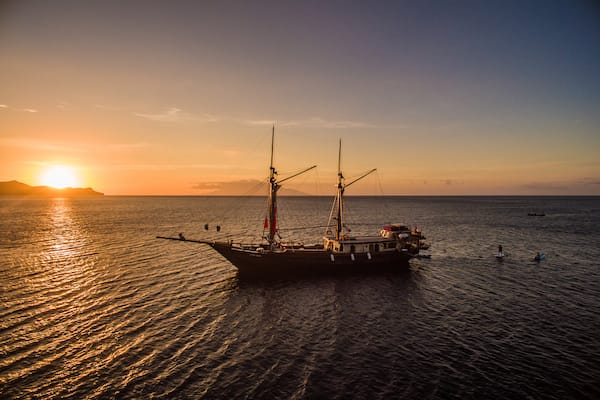 Disembarkation
AM: Sadly it's the last day, so we up anchor and make our way to Labuanbajo allowing guests time to pack and relax along the way before we escort them ashore and to the airport to wave goodbye.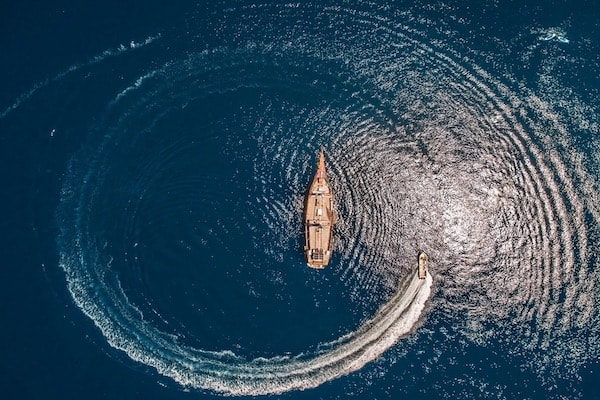 1 / 8
Embarkation
AM: Meet guests at the Waisai Ferry terminal at 11:00. Welcome drinks on board and safety briefing.
PM: It's time for a check dive in the afternoon and night dive at either Friwinbonda or Mioskon
Pulau Wai
AM: Two morning dives at Pulau Wai.
PM: Afternoon and possible night dives at Yenbuba or Sauwandarek.
Yangefo
4 dives at various spots around Yangefo.
Piaynemo
Visit Piaynemo. 3 dives and a land excursion to the Lookout Point for that classic Raja Ampat photo opportunity and visit to the lagoon.
Manta Sandy
AM: 2 Dives at Manta Sandy to try and see majestic Manta Rays that tend of group there.
PM: Afternoon and Night dives at Sauwanderek or Yenbuba.
Cape Kri, Blue Magic & Sardine Reef
4 Dives at Cape Kri, Blue Magic, Sardine Reef and Mioskon or Friwinbonda.
Mike's Point
Two morning dives at Mike's Point or Batu Lima.
Disembarkation
Transfer to Waisai Ferry at 0900.
1 / 8
Accommodations
Social Areas
Sun Deck
Cabin
Outdoor Dinning
Sun Deck
On The Deck
Side Deck
Suites & Cabins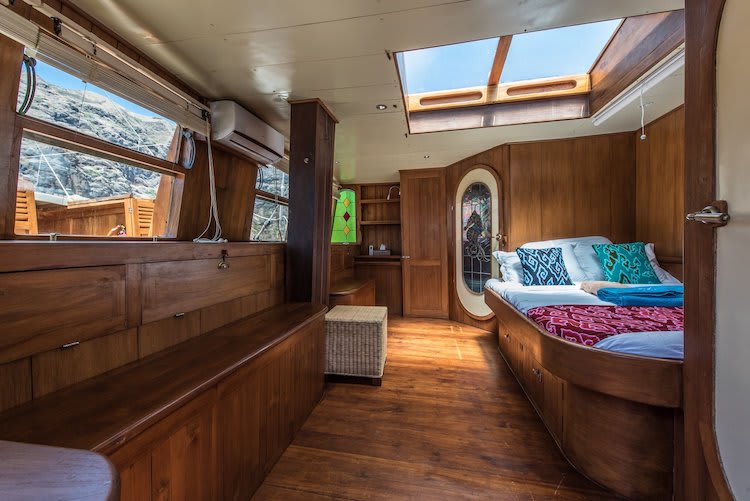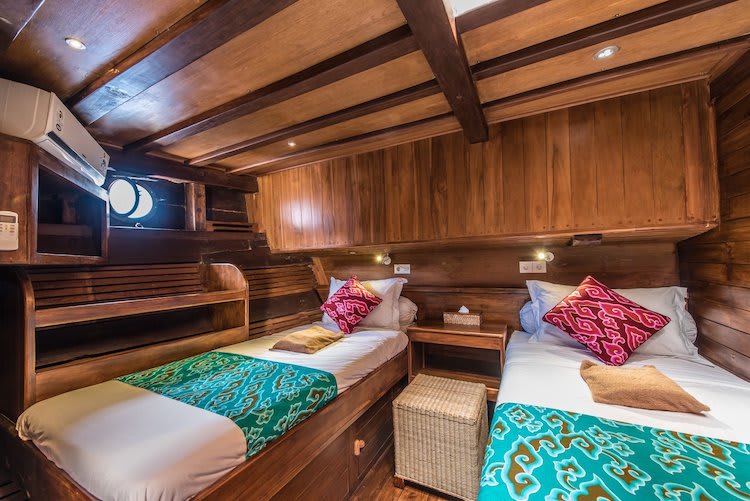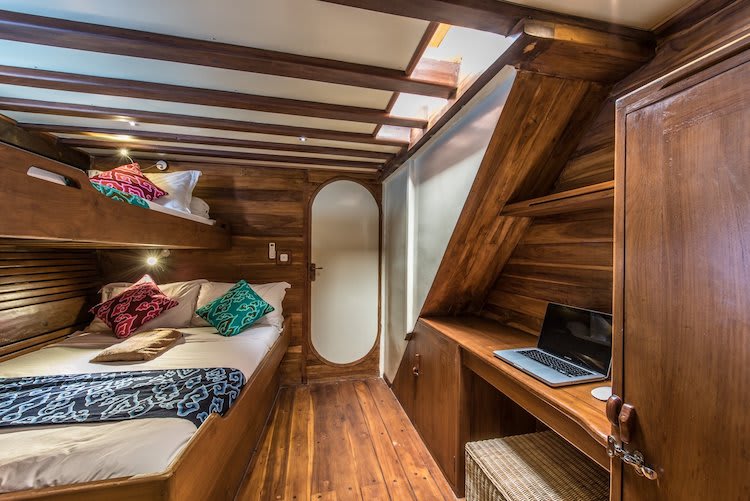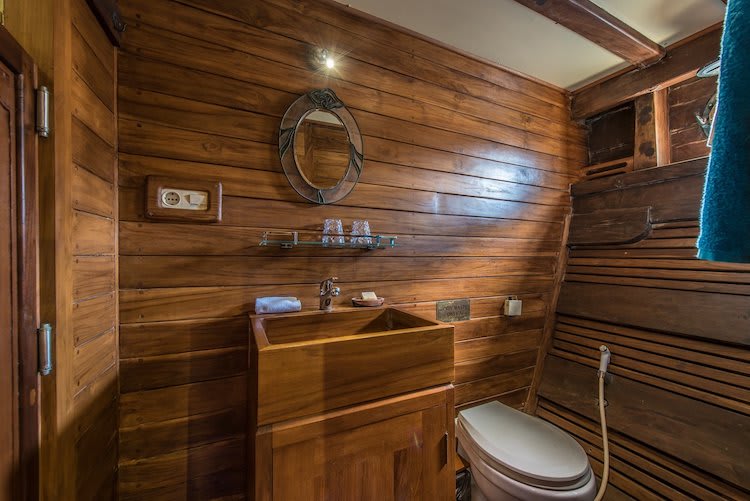 Standard Cabin
Guests can enjoy plenty of sunlight and magnificent views from these cabins that feature large windows on three sides and a skylight. The cabin also has ample storage and working spaces, plus a stylish bathroom that features an ensuite shower, sink, and toilet.