Overview
Accommodating just 56 guests in old-fashioned luxury that rivals the fine hotels of India, the family-friendly Ganges Voyager river cruise will take you back in time with the grace and style of the British colonial era. With 35 crew members, you're assured a gracious and personalized onboard experience while gaining an in-depth perspective of one of the most culturally significant parts of India from Kolkata to Murshidabad, oe one of the most biodiverse on its southerly itineraries to the mangrove and wildlife-rich Sundarbans, home of the elusive Royal Bengal Tiger. 
Life on board
With 28 large, high-ceilinged suites, in five different room categories, your personal space for the journey is equipped with everything that you could possibly need. You can look forward to regal décor, characterized by beautiful hand-painted murals, wooden furniture, teak floors and Bengali antiques, as well as an ensuite bathroom, sliding patio doors and a private panoramic balcony offering an extraordinary perspective on slow river life and the beauty of the Ganges.
The communal areas on board include a dining room, a bar, an air-conditioned indoor lounge and an outdoor lounge with a viewing deck, ensuring that you'll find plenty of spots to relax. Relish a relaxing massage or choose from a wide range of traditional Indian and contemporary spa treatments at the Voyager Spa, which has two treatment rooms. Adjoining the spa is a gym with a treadmill, an exercise bike and an elliptical machine. Complimentary yoga classes, geared towards beginners, are offered to all guests early each morning. Cooking classes are another onboard activity. 
Atop the ship's partially covered Sun Deck, the Governor's Lounge is a lovely place to relax over a drink and take in the splendid views through its large windows. Furnished with reclining chairs, and thoughtfully outfitted with shaded areas, the alfresco Observation Deck is a delightful place to unwind, while enjoying some sunshine, a full drinks service, and panoramic views.
In the ship's elegant East India dining room, meals are served buffet style three times a day, and while each meal presents the chance to dine on the incredibly flavourful cuisine of India, Western-style favourites are also served here. The chef will be happy to accommodate special requests and dietary requirements. A wide range of Indian and international wines is available, along with specially handcrafted cocktails, teas, coffees, and other beverages.
Activities
In the evenings, you can watch cultural dance performances onboard, highlighting India's rich heritage and culture through synchronized moves and costumes. Nightly recaps and lectures also take place.
The onshore, expert, guide-led excursions to untouched sites and communities will come alive with fascinating stories about local culture and customs. There is a maximum of 20 guests per guide when you're out and about, and the experience is made seamless through the use of the VOX listening devices.
Destinations
The Ganges is one of the most revered waterways in the world, slowly coursing through an extraordinarily fertile and populated area, where you'll get a glimpse of life away from India's big cities, providing you with the rare opportunity to explore the remote and idyllic Indian villages along the banks of the river and interact with the local people.
Stop in Murshidabad for an excursion to Azimganj and Jiaganj, tour a historic mansion and see a gold and silver making demonstration. See muslin weaving in Kalna and candy making in Matiari. Explore the intriguing Hare Krishna headquarters in Mayapur and visit Saint Mother Teresa's former home in Kolkata. Alternatively learn about the astonishing biodiversity of the Bay of Bengal from an expert naturalist guide, and view wildlife from forest camp watch towers and a spectacular canopy walkway in the Sundarban National Park.
An enthralling Ganges Voyager river cruise allows couples, solo travellers, and families with kids to discover the history, culture, people, and the wildlife of the Indian subcontinent in comfort and style.
Accommodations
Social Areas
Spa
Restaurant
Lounge
Bar
Terrace
Gym
Suites & Cabins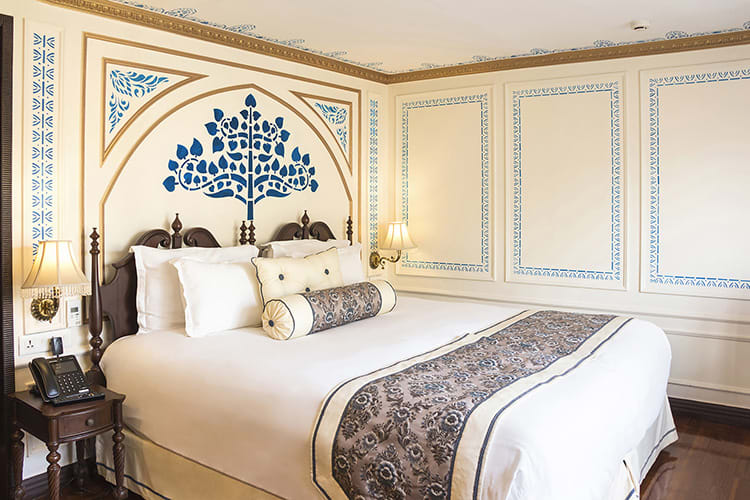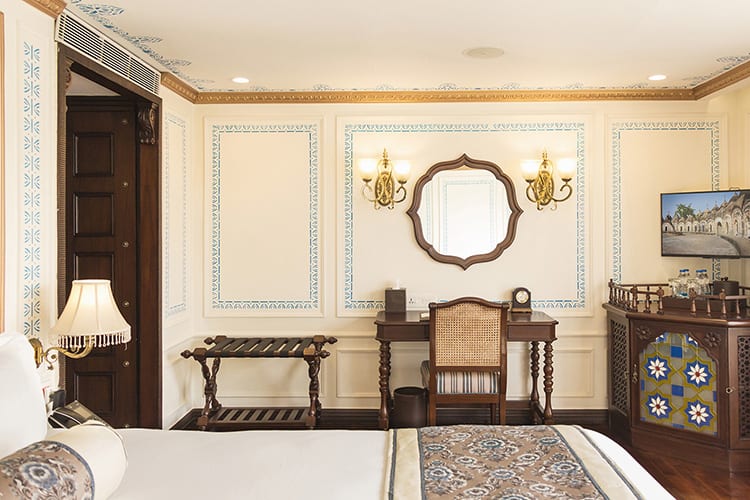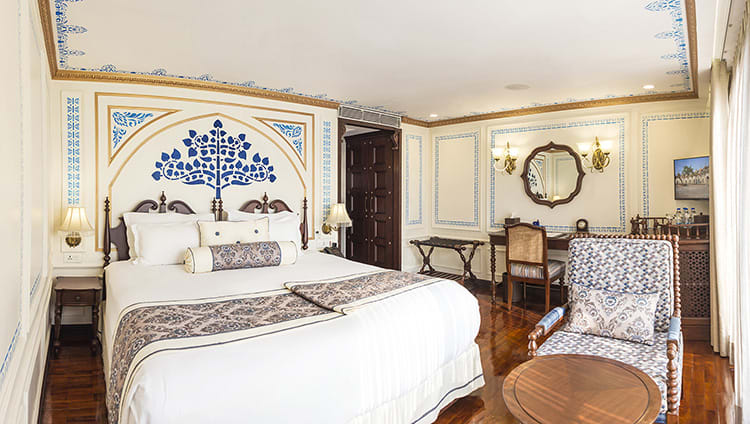 10 Cabins
Signature Suite
Our Signature Suite offers two styles of arrangements – 2 twin-size beds and 1 queen-size bed. It has a comfortable seating area and floor-to-ceiling glass doors to enjoy the view outside. Decorated with hand-stencils, local murals, and fine wood furniture, the suite is meticulously designed for comfort.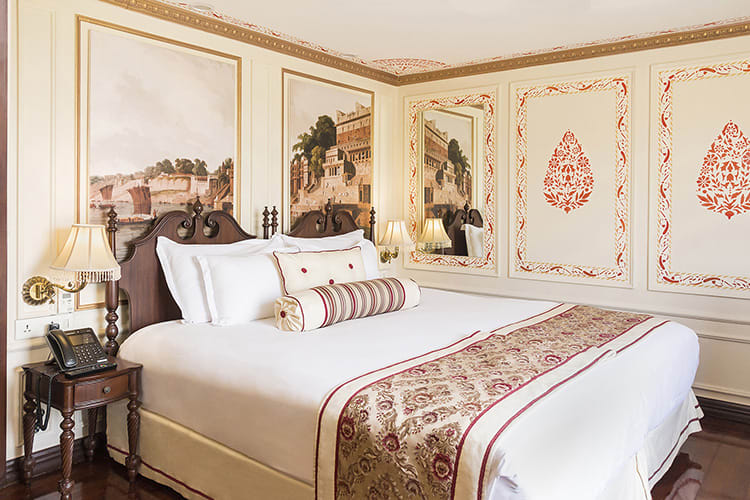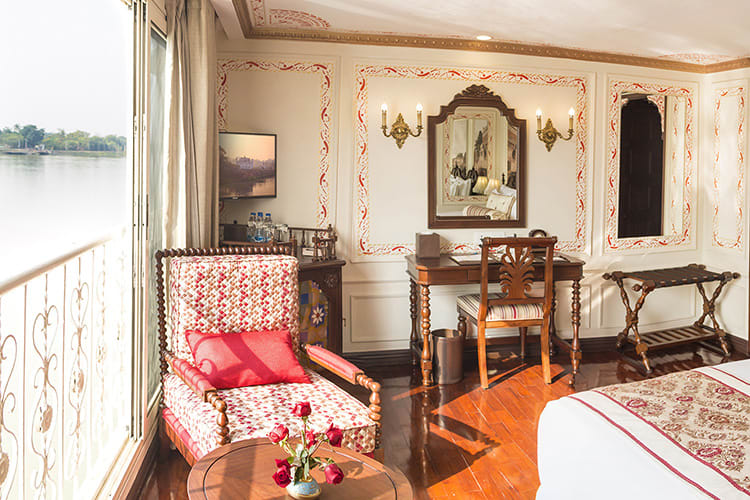 The Colonial Rooms are painted in vibrant and inviting colors with picturesque prints that uplift the mood. There is a comfortable seating area in the suite and also a beautiful French balcony.
Offering utmost privacy and comfort with a spacious French balcony to witness the panoramic views, Heritage Suite is a perfect retreat. It is fitted with an exquisite four-poster bed, Persian rugs, and floor-to-ceiling glass doors. The hand-painted walls add to the charm of these suites.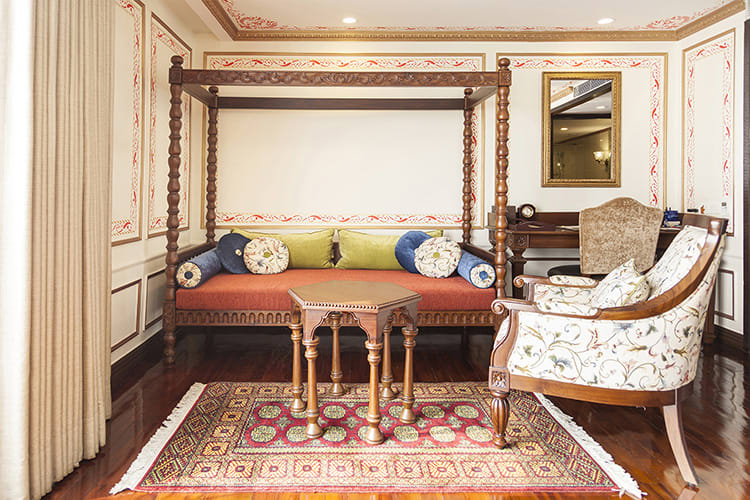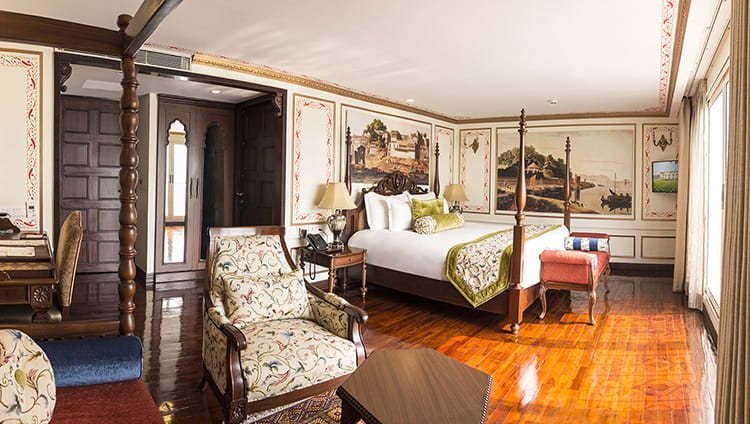 Regal and ornate, the Viceroy Suite is furnished with colonial decor, Persian rugs and hand-stencilled walls. It has more than 360 sq. ft. of living space, a finely crafted day bed, and a spacious bathroom fitted with all modern amenities.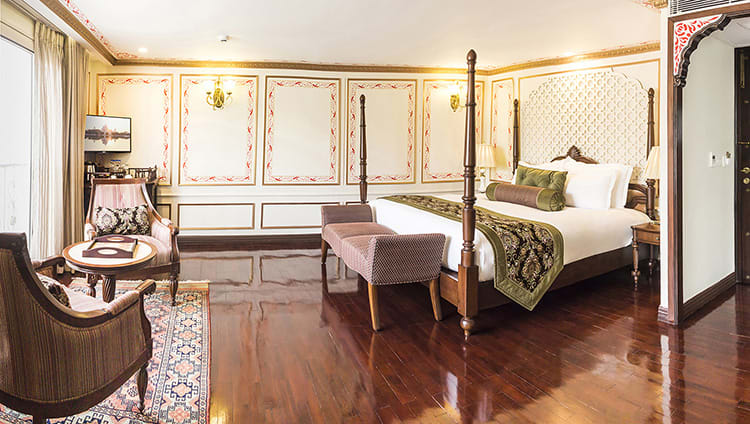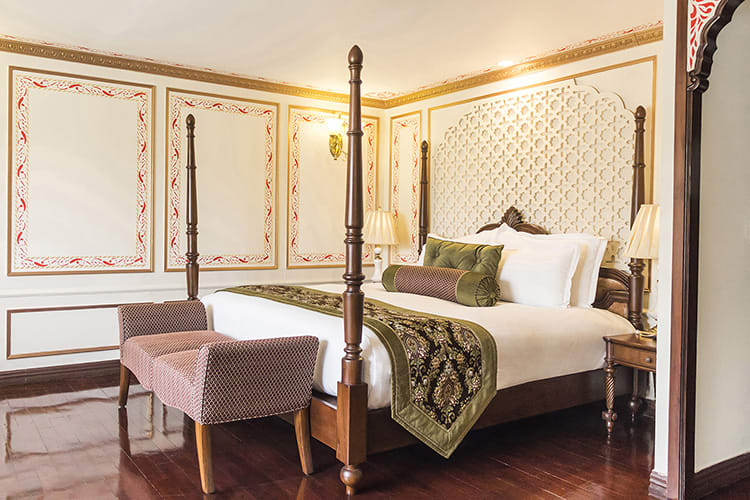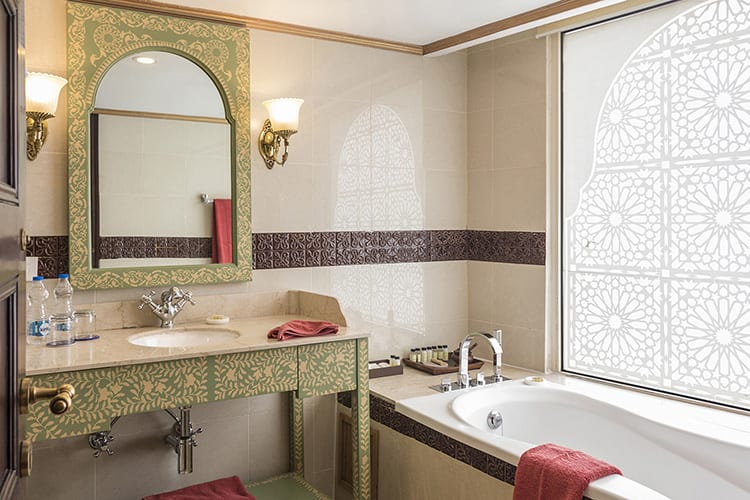 The most luxurious and spacious suite aboard, with 400 sq. ft. of space, the Maharaja Suite is a haven of luxury. Embellished with Persian rugs, Burma teak floors and rich tapestry, it also has a flat screen TV, on-demand movie service, and a writing desk. Bathrooms are as luxurious as the room and are fitted with both spacious bathtub and shower panels. Daily butler service and in-room dining are also available on request.
Technical Information
Deck Plan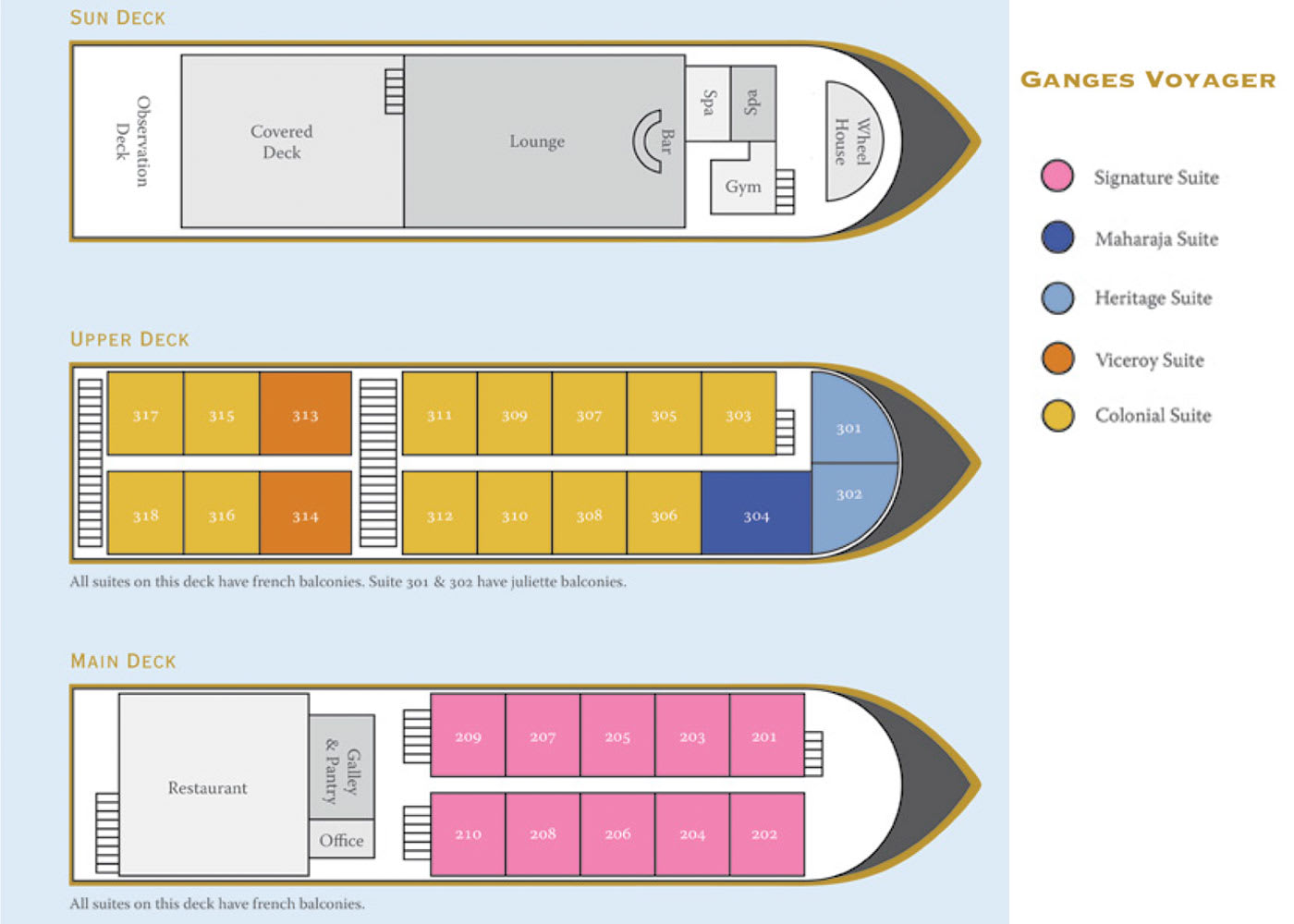 Features
Air conditioning

Excercise room

Massage room

Lecture room

WIFI available

Spa

Souvenir shop

Hot showers

Heating

Charging areas for electronic equipment
Equipment
Yoga mats

Flash lights

Water canteen/bottle

Insect repellent
** Use of certain equipment at additional cost, ask for details