Overview
Ikan Terbang – the name means Flying Fish − is a classic 60-foot wooden sailing boat, hand-built by the master phinisi craftsmen of Sulawesi to provide private chartered cruises through the Komodo National Park. The boat is yours and yours alone with accommodations for a total of three adults or two adults with two small children.
An Exclusive Experience
Ikan Terbang delivers an exclusive cruising experience, private adventure, and discovery for the purpose of your choice. A yoga retreat, or an intimate getaway for a small family. Maybe you're looking for a one-of-a-kind honeymoon experience, or perhaps you're a couple of divers wanting to explore the superb marine diversity of the Komodo National Park. If you're looking for a solo getaway from the world, this boat is just perfect.
Sleeping arrangements
Ikan Terbang has one master cabin with a comfortable double bed and another cabin that can accommodate one adult or two kids under 8yo (bathroom shared with master bedroom).
Social areas
Above deck, two large lounging areas are provided for you to relax or sunbathe, while enjoying the open sea breeze and the astonishing vistas of the natural landscape passing by. A canopy covers part of the deck ensuring shelter and shade from the tropical sun.
Tables, as well as a communal bathroom, are found below the deck. The five-star hospitality ensures that you are provided with extra comforts and attentive services from the onboard crew.
Meals on board
You can look forward to a dining room with a view, where an exciting selection of western and local delicacies is served along with delicious desserts, freshly prepared by the experienced onboard chef. Additionally, snacks and beverages are available throughout the day.
Facilities
A flat-screen TV and children's games are provided. Snorkeling equipment for adults and kids is included, as well as a stand-up paddleboard, WiFi, TV, and children's games. The yacht is fully staffed with a skilled captain and crew, who will cater to all your comforts and needs while onboard.
Excursions
Immerse yourself in the Komodo National Park from an intimate perspective, cruising through a panorama of islands and encountering new wonders on a daily basis. A range of activities is available to satisfy all ages while exploring the spectacular scenery. Hike at sunrise or sunset to jaw-dropping viewpoints. Explore the islands and meet the sea gypsies on a trip to a local Bajo stilted village.
Take the stand-up paddleboard and go bird watching. Encounter the famous Komodo dragons in their natural habitat. Discover the deserted beaches and relish a private sunset picnic on the sand. Be awed by the sight of thousands of flying foxes that commute at dusk in search of food. Discover vibrant reefs of soft and hard corals and come face to face with colorful fish, turtles, and giant manta rays.
The very able crew will ensure that you are well-looked after, not only on board and on land, but also on and under the water. The Ikan Terbang Yacht Charter is the perfect customized private adventure for small groups seeking to explore an incredible diversity of nature, wildlife and scenery.
Itineraries & Prices
Embarkation
AM: Pick up time is around 8 AM. On the way to our first stop, Siaba Besar, you will enjoy our light welcome breakfast. Before lunch time, jump and swim or scuba dive into the deep blue water of Siaba.
PM: In the afternoon, the boat will cruise towards the famous Pink Beach where you'll enjoy the sunset and have dinner in a magic atmosphere.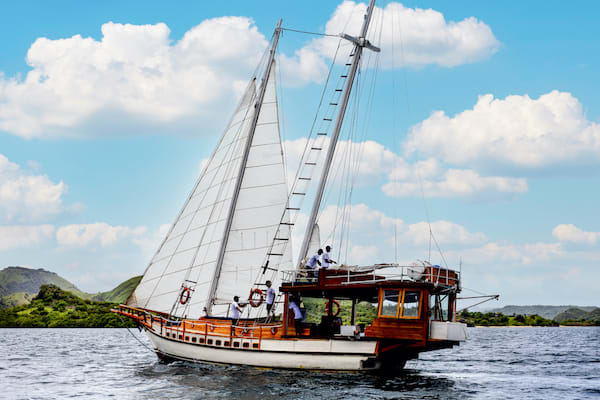 Dragons & Land of Fire
AM: After breakfast, our guide will take you to the famous and impressive Dragons of Komodo. You will trek for approximately 2 hours, surrounded by incredible fauna and flora.
PM: After lunch, enjoy the crystal clear water and admire the pink sand of Pantai Merah. In the afternoon, the boat will move to Padar island where you will trek, and watch the sunset.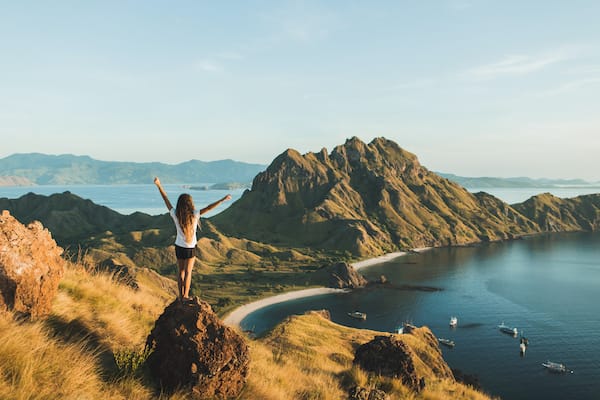 Follow The Path
AM: Today you'll have the opportunity to snorkel or scuba dive with the famous Manta Rays in Makassar point.
PM: After your lunch, you'll walk on the Makassar white sand bar, snorkel in the crystal water or just relax on the lounges areas of the boat. The boat will move towards Pulau Kelor and her famous bats. After enjoying and admiring these flying friends, our team will prepare your barbecue dinner on the beach or on the boat as you wish.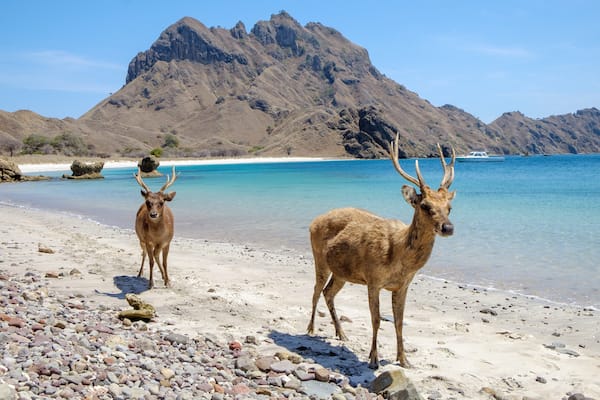 Cabotage
AM: After breakfast, we will make our way to Tatawa Besar for a drift dive or snorkeling.
PM: After lunch we will give you a few options for diving in the area. Manta Ray and reef shark are dancing together while divers watching them. After a small Indonesian snack mixing sambal and traditional crackers, we will sail our sunset point for a dinner under the stars.
Disembarkation
AM: After breakfast, is time for one last dive or favorite activity.
PM: Lunch will be served during our way back to Labuan Bajo. All our team will be waiting for you on the main deck at 3pm to say goodbye and let you take our shuttle back.
1 / 5
Accommodations
Social Areas
Suites & Cabins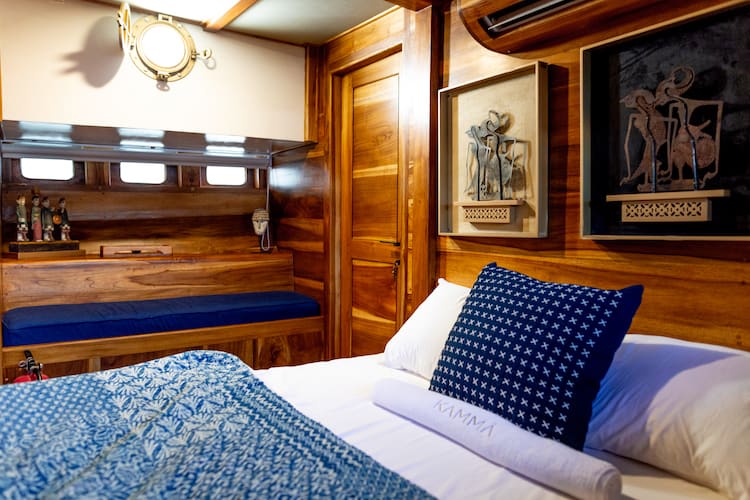 This standard cabin has been designed and furnished with teakwood interiors creating a warm and welcoming atmosphere. The room also features a lounge area with sofas for guests to relax and unwind after a busy day of various activities.