Overview
Enjoy a once-in-a-lifetime holiday in the Galapagos aboard a 161-foot luxury yacht: the Infinity. Built in 2018 and clad in gleaming wood tones and classic yacht style with a modern twist, this ship is exactly what you envision an upscale cruise to be.
Life Aboard The Infinity Motor Yacht Galapagos
Greet the day on your private balcony before heading to the indoor dining room for a bountiful buffet breakfast. From there, the day spills out before you, mixing adventures ashore and in the water with moments of peace and relaxation aboard the ship. Perhaps you will relax on the sun deck while a Frigatebird flies overhead, or maybe you will sip a cocktail from the outdoor bar while soaking in the Jacuzzi.
If you crave a bit of time away from the sun, you may opt to watch a film on the comfortable couch in the indoor lounge or nap in your spacious cabin. The Infinity features eight cabins, plus two larger suites, so there is a room that is right for everyone. At night, feast on a gourmet meal prepared by the ship's chef or enjoy a casual barbeque at the alfresco dining area on the sundeck.
Excursions From Your Infinity Galapagos Cruise
The Galapagos Islands are a magnet for wildlife lovers, and the four itineraries offered aboard the Infinity offer up-close encounters with the island's most famous inhabitants. Each itinerary mixes major sites and the most popular spots with less-traveled areas of unspoiled beauty. A highlight of the four-day cruise is sure to be a visit to Darwin Bay on Genovese Island.
Starting on a white sand beach, take an easy hike through mangroves, searching for red-footed boobies and swallow-tailed gulls. Venture a bit further, and you will be rewarded by the sight of sea lions playing in tide pools. During the five-day itinerary, you will be thrilled by a visit to Suarez Point on Espanola Island. Here, a blowhole shoots water high into the air while waved albatrosses use the cliff face as a landing pad.
Can't choose between the shorter itineraries? There's no need to since the eight-day "A" cruise combines them into one in-depth exploration of the islands. However, the eight-day "B" cruise opens up a whole new realm of possibility and features five stops along Isabela Island, with other islands sprinkled in as well. During a two-hour dingy ride from Elizabeth Bay, you will explore the mangrove forest, see blue-footed boobies and watch penguins waddle over the rocky inlets. You might even be privileged to see a shark or two.
Regardless of which itinerary speaks to you, your days will be filled with morning and afternoon excursions and plenty of snorkeling and hiking. During activities, two naturalist guides with expert knowledge will answer all your questions and make your time in the Galapagos is full of magical memories.
Small Group Size For A Personalized Experience
The Infinity might be big on both style and adventure, but you will enjoy it all with just 20 passengers. This small group allows plenty of space to spread out, both on the ship and during excursions. The Infinity is also home to 10 crew members plus an additional cruise director. This low crew-to-guest ratio, which surpasses many other boats in the region, ensures personalized service. While aboard the Infinity, you will want for nothing.
Whether you want to disconnect during a peaceful escape from the rest of the world or seek to explore a place few ever have the opportunity to see, the Infinity provides the ultimate floating retreat in the Galapagos.
Accommodations
Social Areas
Bar
Breakfast
Coffee Station
Crew
Dining Room
Lounge
Meals
Muster Area
Sundeck
Suites & Cabins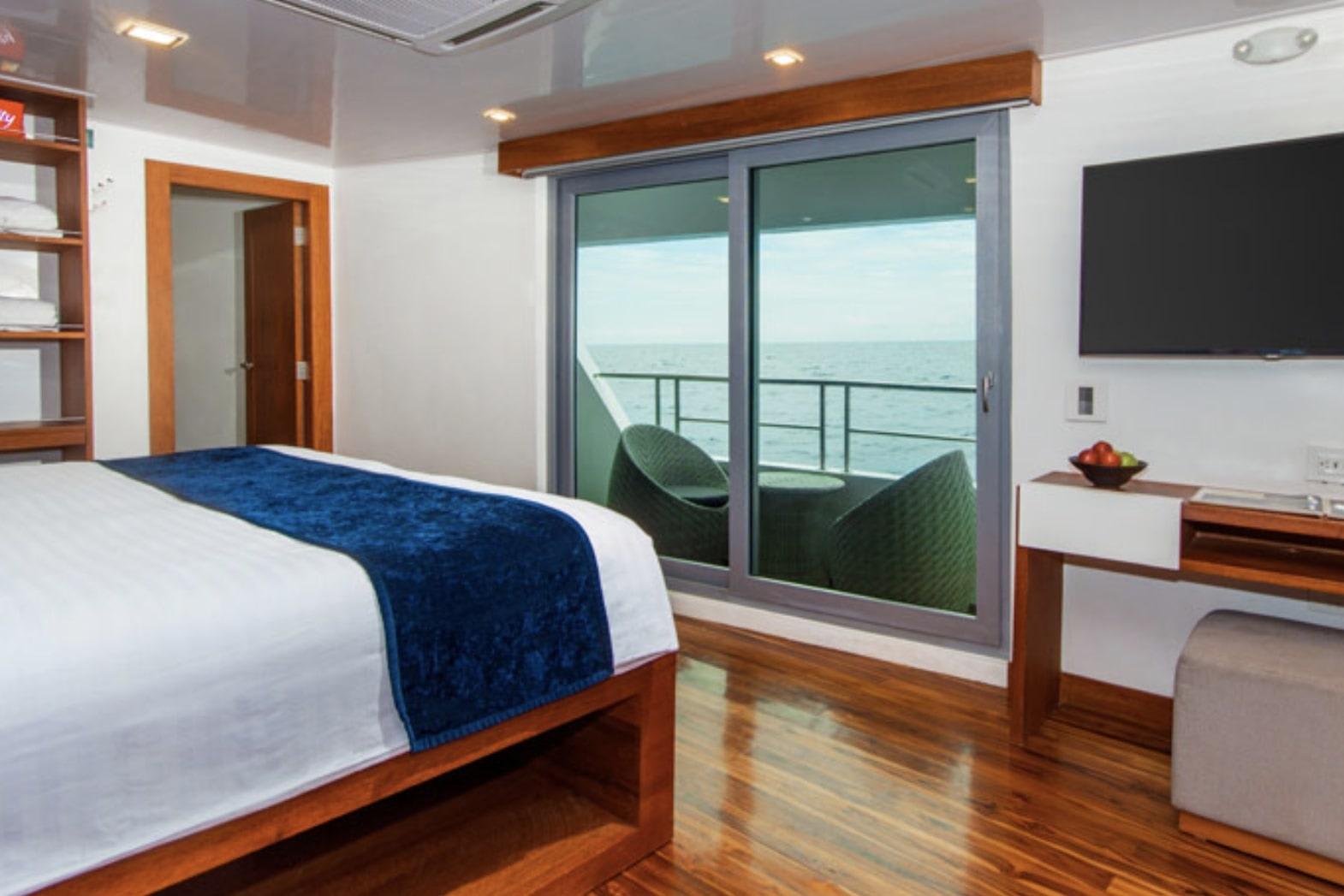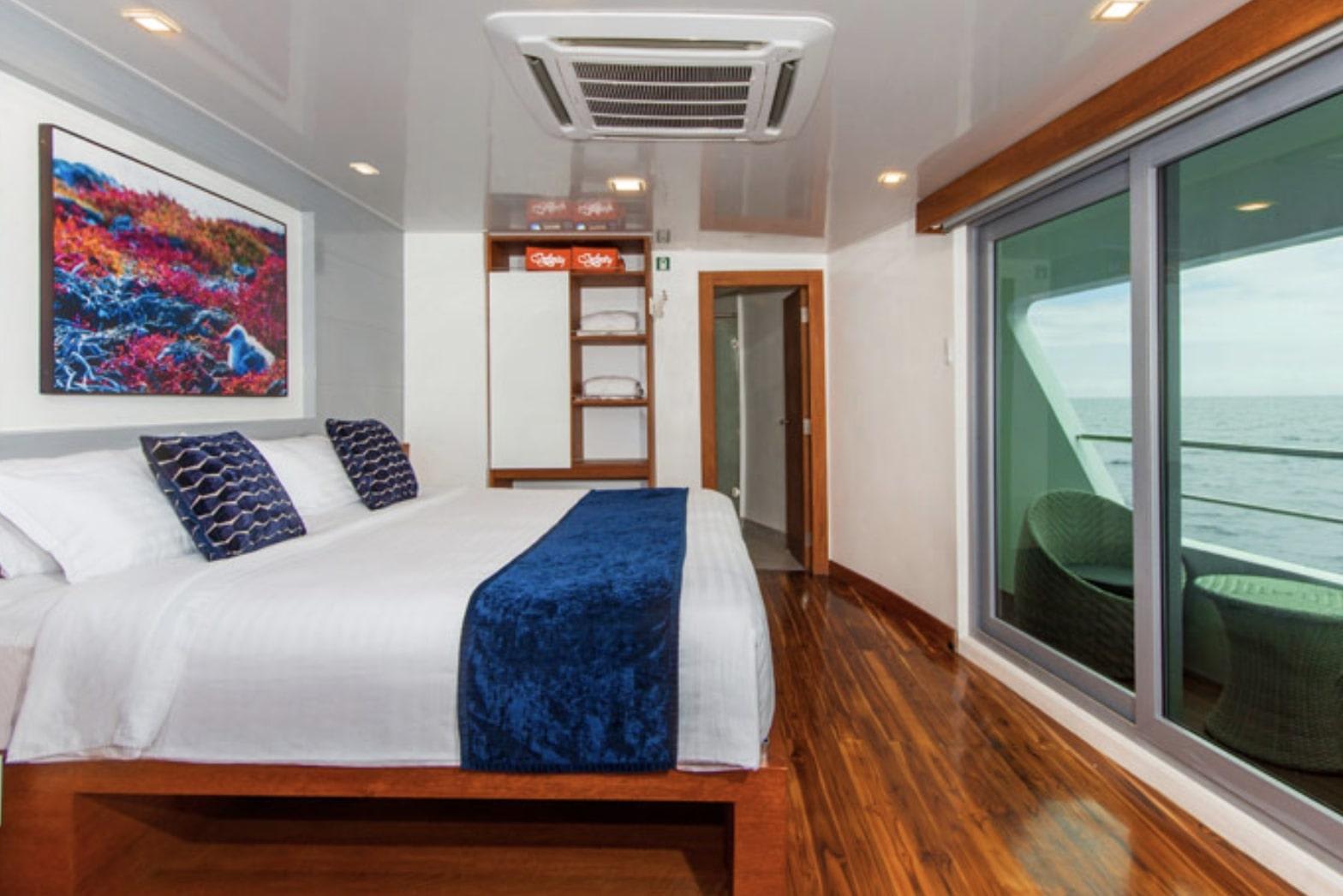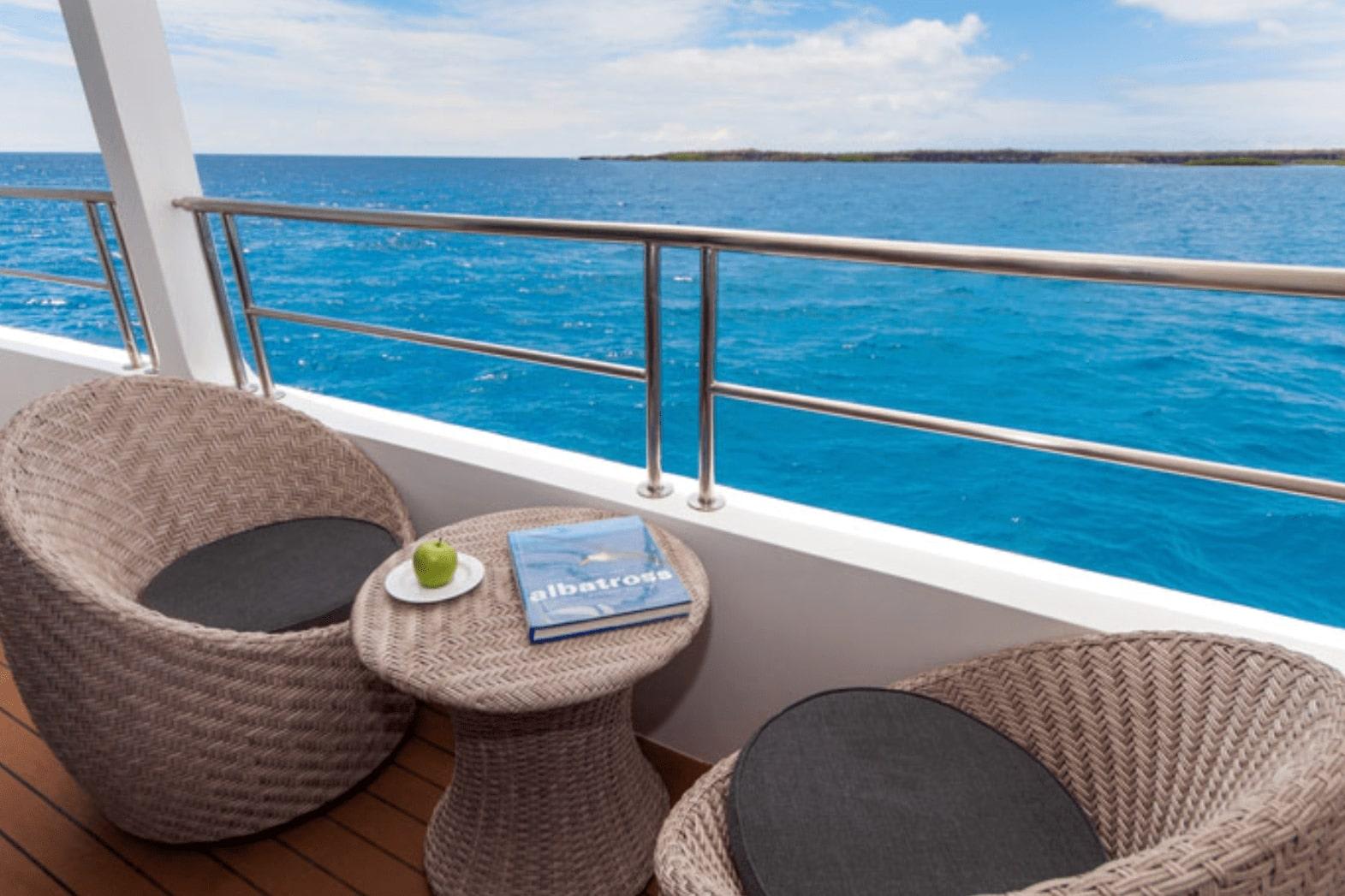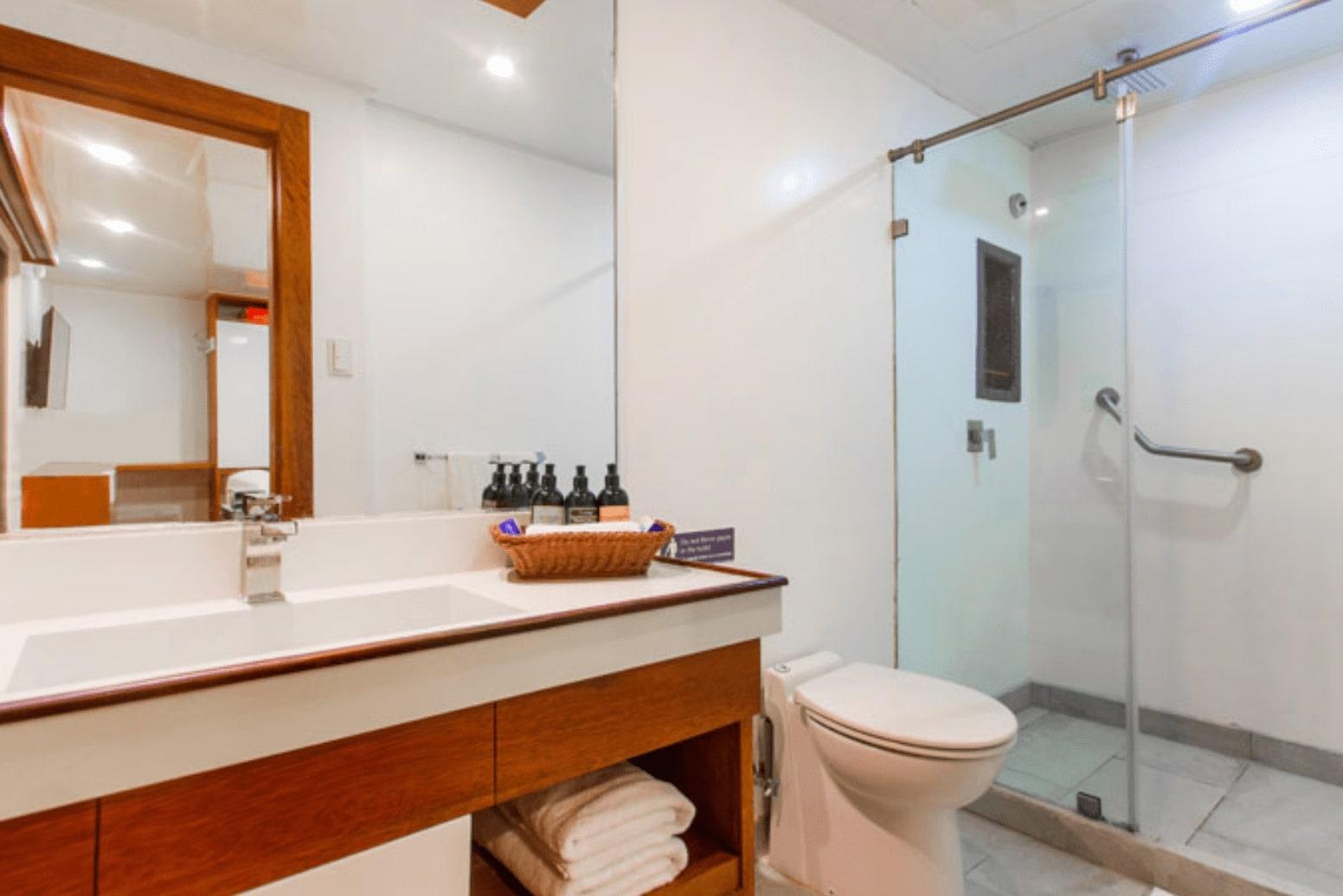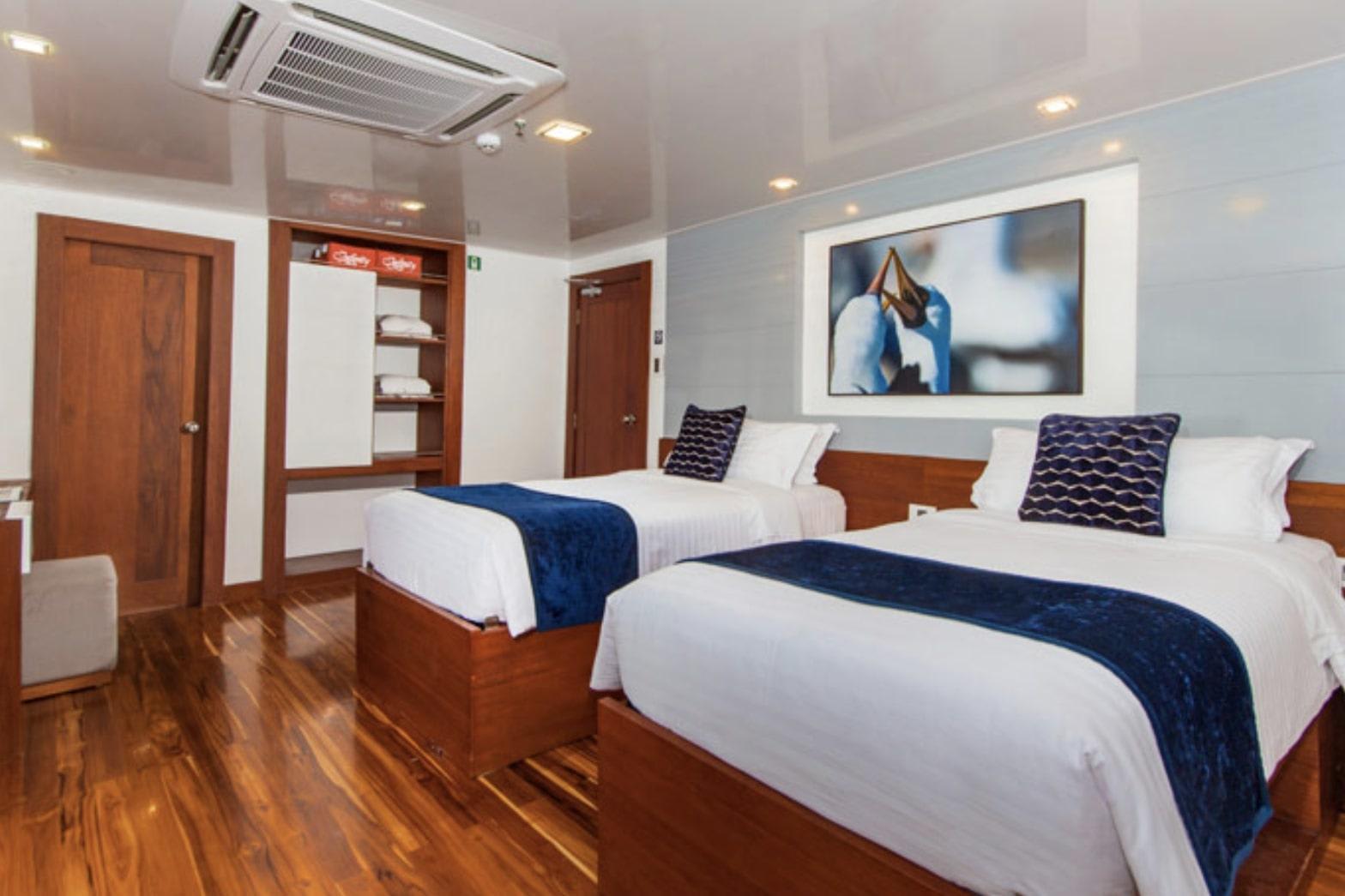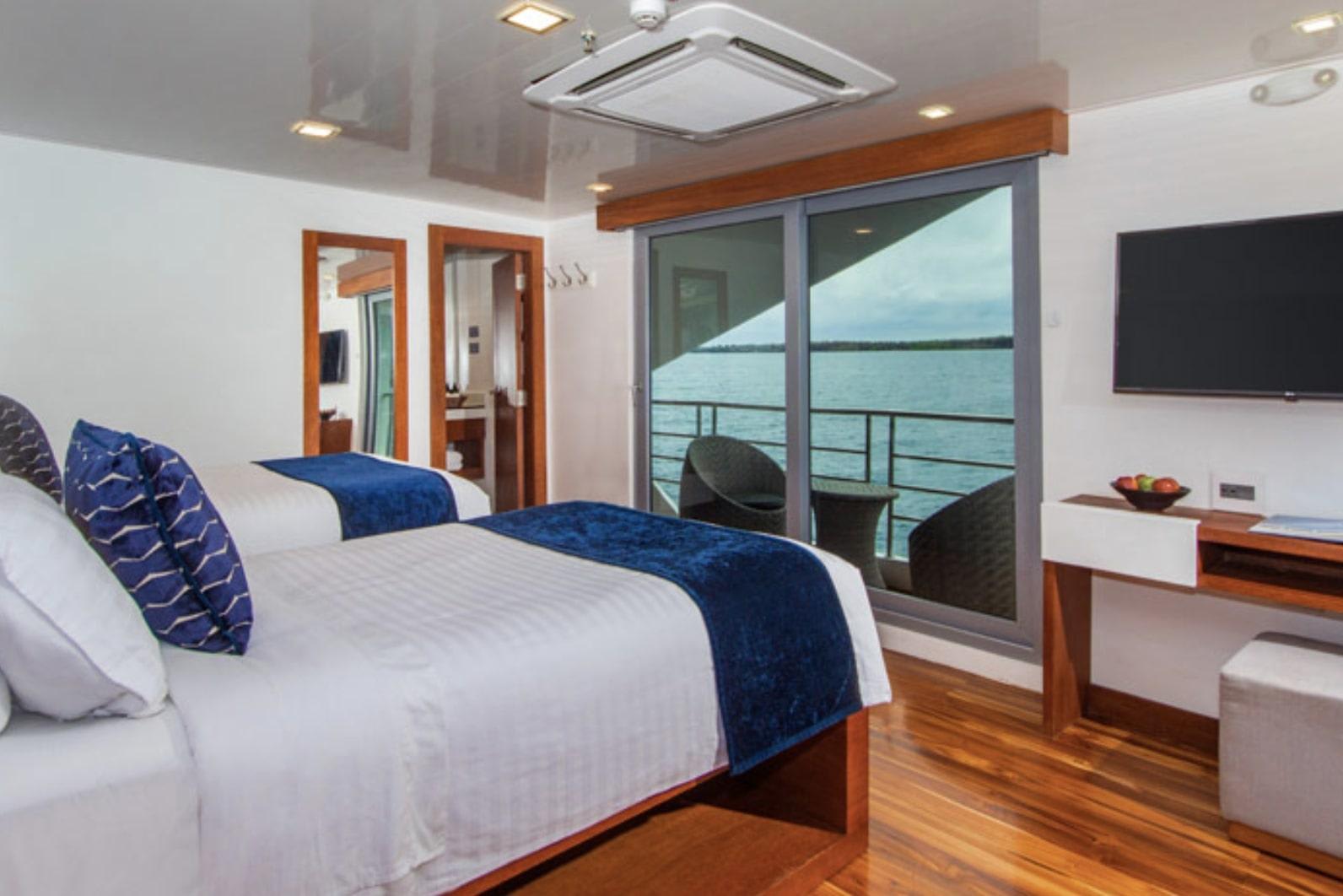 They give you the space you need to relax and unwind. It features a private balcony for you to take in the scenery by yourself and a TV for entertainment. There are also interconnected units in case you are traveling with friends.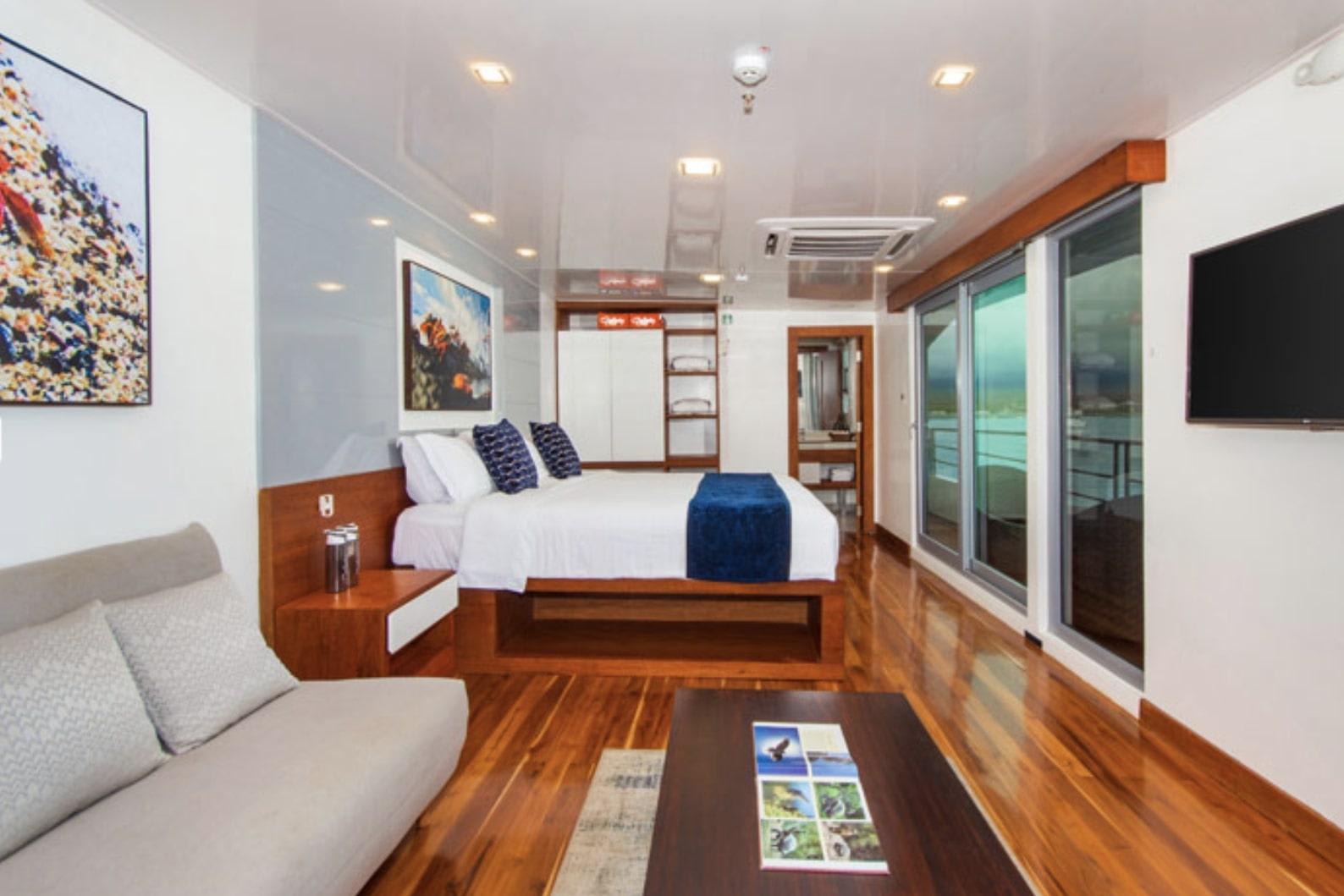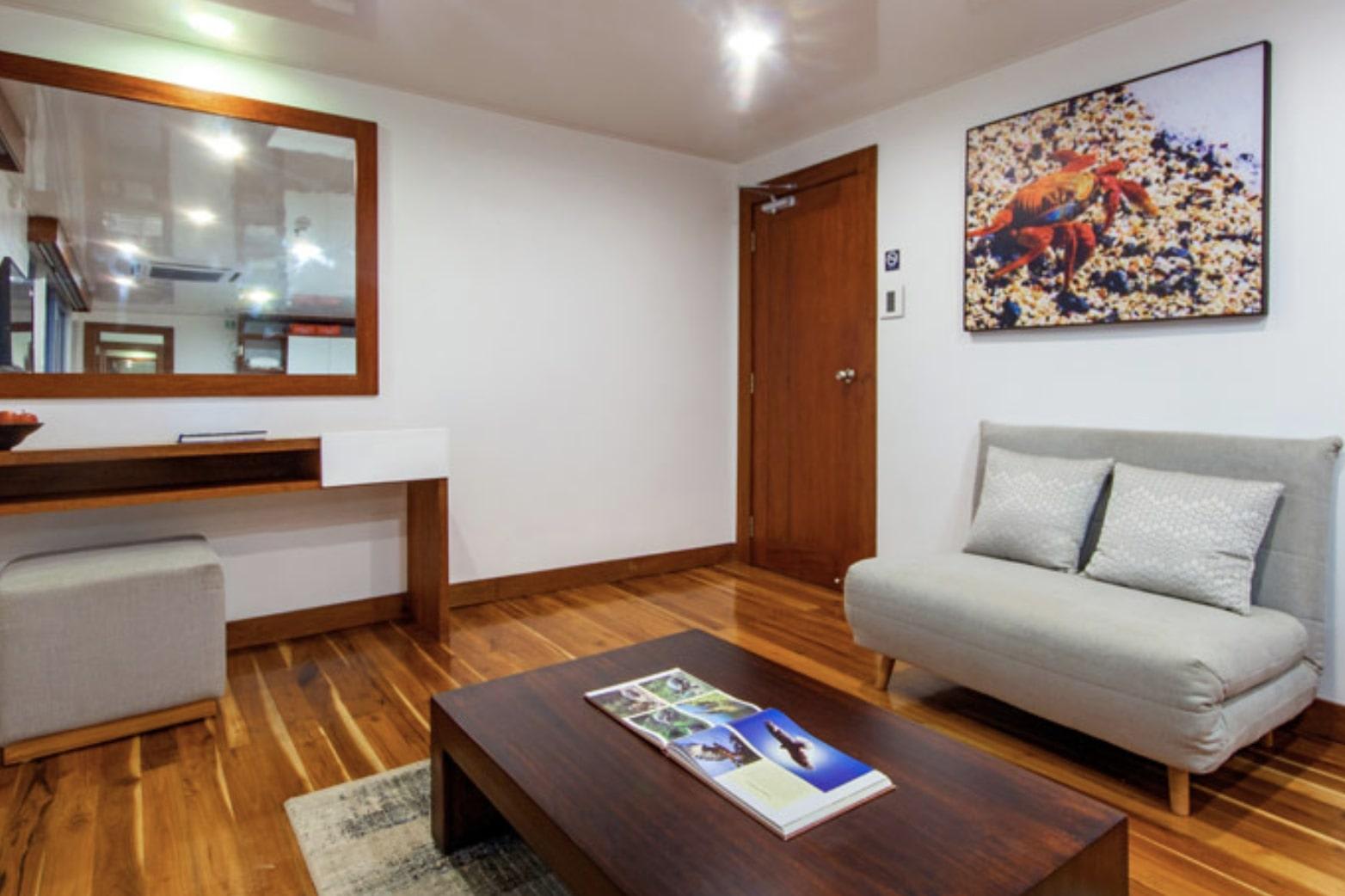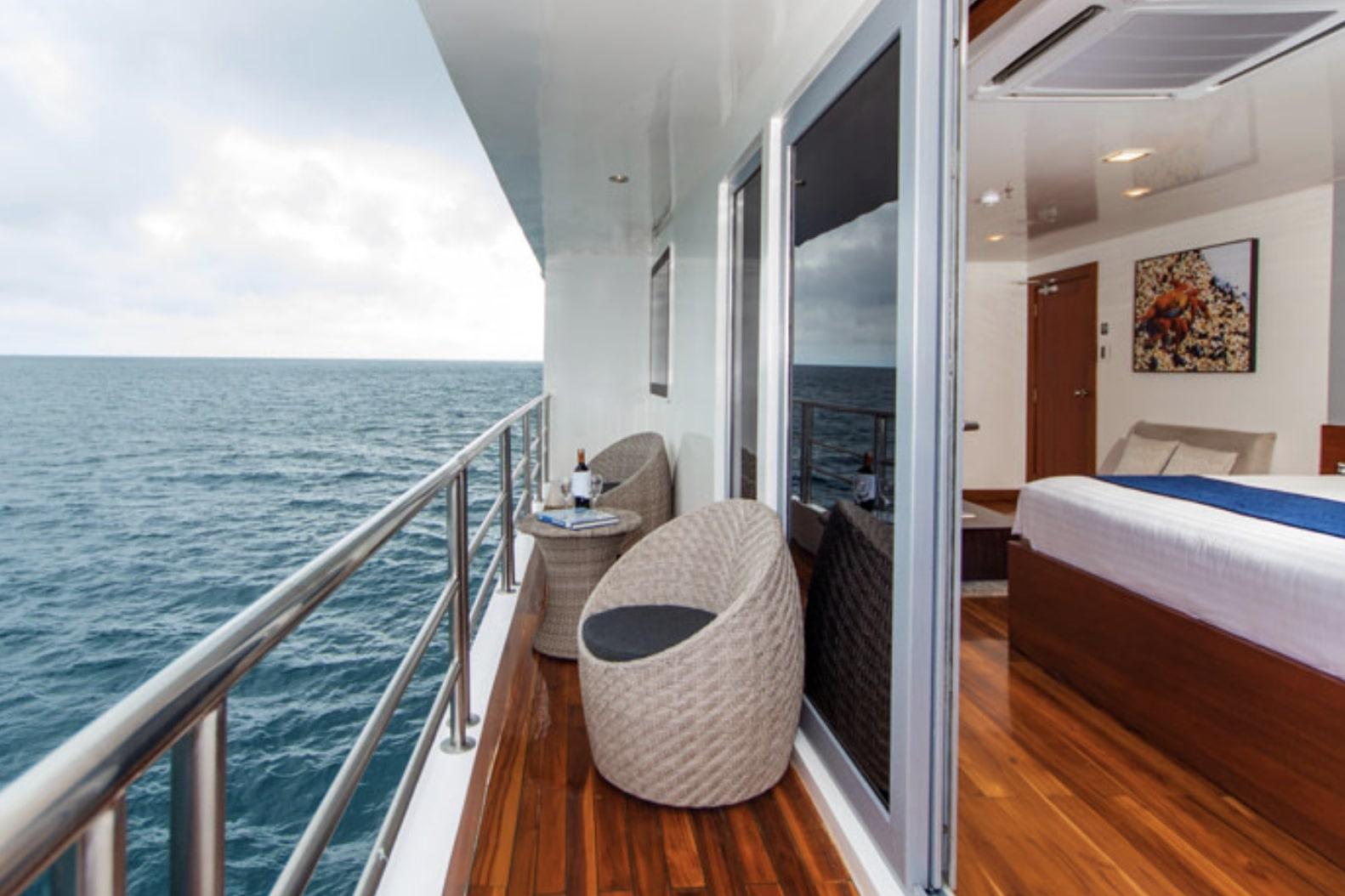 Passengers can expect luxury and comfort in these suites, featuring a panoramic window, a balcony, and a TV for entertainment. There is an interconnected suite for family groups traveling together. The bathrooms are beautifully designed with hot water and all the necessary amenities.