Overview
The Loy River Song Cruise delivers a lavish way to experience the 'Land of Smiles' along Thailand's majestic Chao Phraya River. The vessel is an historic teak rice barge, which has been impeccably restored and reincarnated as an intimate river cruise ship that takes her cue from a bygone era of travel. You can expect graceful décor, white-glove hospitality ‒ including round-the-clock butler attention ‒ gourmet meals prepared by a private chef and the services of an expert tour guide well-versed in regional history.
Your Stateroom
Loy River Song offers four air-conditioned staterooms that vary in size from 290-sq-ft to 388-sq-ft, outfitted with precious antiques, vintage Thai silks, Jim Thompson fabrics, reading nooks and either king-size or queen-size beds, as well as en-suite bathrooms with double-vanities, dressing tables, Jim Thompson bathrobes, slippers and a choice of herbal soaps.
Each room accommodates a maximum of two guests, while two of the rooms have a private hallway with a connecting sliding door if families would like to stay together. Two of the staterooms have river views so you can watch life unfold from the comfort of your bed. The softest of linens and freshly cut flowers add to the dreamy ambiance.
Gourmet Dining
Presented in a dining room that seats up to eight people and offers exceptional views of the water, the daily-changing Michelin starred menu by the acclaimed Thai chef, Thitid "Ton" Tassanakajohn, of Le Du Bangkok restaurant, features Royal Thai cuisine and European dishes, with locally sourced produce.
You can also look forward to afternoon tea and sunset cocktails served with canapés such as tiger prawn wrapped bacon, and coriander tofu skewer with peanut sauce. Decadent brunches feature delights such as Canadian lobsters, an oyster bar, and caviar paired with fine wines.
What To Expect On Board
The boat's sophisticated interiors showcase traditional craftsmanship and regional influences evoking the heritage of old Siam with hand-printed wallpapers, original hardwood surfaces and low-slung furniture upholstered in lavish earthy hues with splashes of royal yellow, ocean blue and gold. Communal areas have been purposely designed to host sunrise yoga, Muay Thai demonstrations, traditional dance performances and other activities promoting cultural immersion.
Relish a traditional Thai massage, while you're on board, administered by skilled therapists who will stretch and pull your body through a variety of poses to stimulate your blood flow, reduce stress, increase your flexibility and boost your energy.
On Shore Activities
Every day is filled with adventure, serendipitous moments and discoveries. Guided excursions might include cycling on Bang Kachao island, a tuk-tuk ride around the royal palaces, and walks around the UNESCO World Heritage Site ancient town of Ayutthaya. During your exploration of some of the region's most spectacular sacred temples, you can participate in Thai rituals ranging from feeding the fish and encouraging the cycle of life, to making a donation to the monks.
Placing you in the very heart of old Siam, this epic and exceptionally private luxury river cruising experience is best enjoyed with extended families or groups of friends traveling together.
Itineraries & Prices
Embarkation
AM: Guests arrive in the morning and savor a delectable lunch onboard as we cast off into the River of Kings.
PM: First port of call, Bang Krachao island, an urban oasis proudly nicknamed the 'Lung of Bangkok' due to its rich and verdant landscapes and thriving ecosystem. After an energizing cycling tour and a visit to Bang Nam Pheung Temple, guests will enjoy a bespoke afternoon tea, before continuing south to the river's estuary for a quick tour of Phra Chulachomklao Fortress. As the sun goes down, guests will savour sunset cocktails while meandering back up river to Bang Krasop Temple, where the boat will dock for the evening.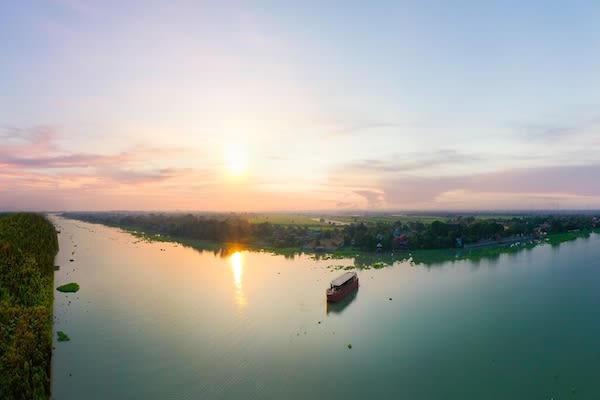 Pak Khlong Flower Market, Wat Boast
AM: Start Day 2 with an optional sunrise yoga session, before heading to Pak Khlong Flower Market, which dates back to 1782 when it was one of the city's busiest floating markets. Then, cross the river to visit Wat Arun or 'Temple of the Dawn' arguably the most inspiring temple in the city.
PM: Enjoy a delectable lunch followed by a sumptuous afternoon tea to help guests unwind as they journey to the final resting stop for the day, Wat Boast. Observe a traditional Muay Thai demonstration as you sip sunset cocktails, whetting the appetite for the inevitable feast to follow.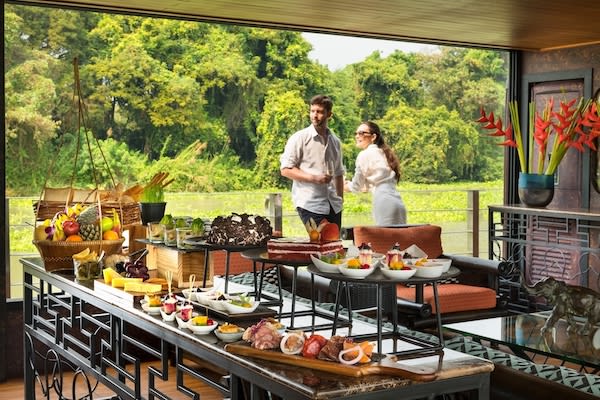 Wat Panan Choen, Ayuthaya Historical Park
AM: Day 3 begins with a long, leisurely breakfast as guests continue their voyage upriver to the next destination; Wat Panan Choen, a temple famed for its hand-made, terracotta tiled roofs. Guests will then board a traditional long-tail boat and explore the myriad serpentine canals that dissect the city.
PM: After lunch, guests will enjoy a guided tour around Bang Pa-In Palace and Ayuthaya Historical Park, visiting the crumbling ruins of the spectacular Wat Mahathat and Wat Phra Si Sanphet renowned for its three imposing pagodas that were once covered in solid gold. Then, head back to the boat to behold a traditional Thai dance as you delight in a scrumptious dinner showcasing Ayuthaya's famous river prawns.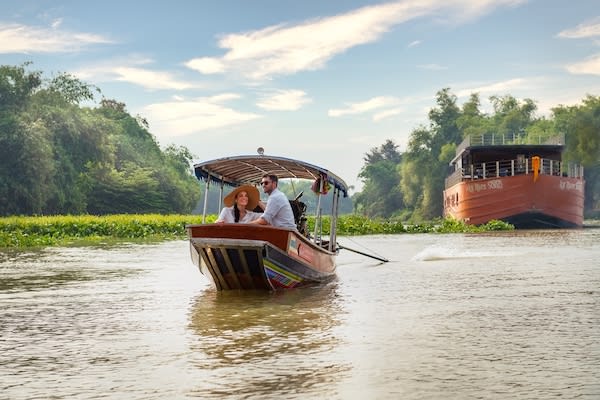 Disembarkation
AM: Wake up on the final morning, bid farewell to Ayuthaya, and spend the entire day at leisure, with a lavish buffet brunch, brimming with gourmet Thai delicacies. Raise a glass of bubbly, and toast to an exceptional journey as you retrace your steps back to Bangkok. Once again, take in the sights and sounds of everyday life along the banks of the River of Kings.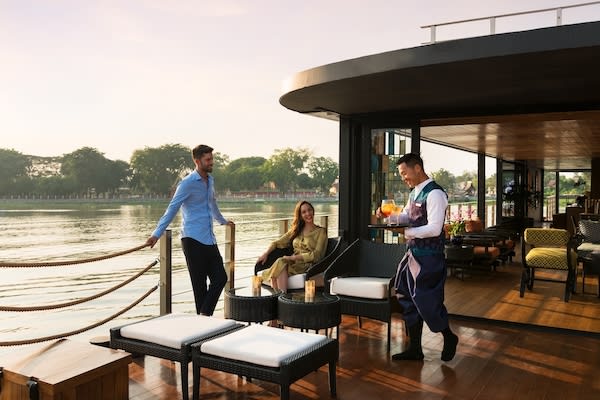 1 / 4
Accommodations
Social Areas
Breakfast
Outdoor Lunch
Lounge
Terrace
Suites & Cabins
These cabins are elegantly designed with modern accents creating a dreamy ambiance. Two of the cabins can be interconnected to accommodate large families. Each cabin comes with an ensuite bathroom featuring bathrobes, slippers, and a variety of herbal soaps.