Overview
Explore Darwin's famed islands in style aboard the 111-foot Natural Paradise. Built in 2016 to meet the highest standards of luxury and comfort, the Natural Paradise is an intimate ship that features just nine cabins spread over three decks.
Life Aboard The Natural Paradise
A mere 16 fortunate passengers will call the Natural Paradise home during your cruise. As one of them, you will enjoy top-of-the-line facilities, modern décor, and ample social spaces for relaxation and savoring the landscapes that surround you.
Open and airy indoor spaces, including a lounge and bar, encourage you to sip a cold beverage while chatting with new friends. If you need a little pick-me-up after a busy morning of activities, head to the 24-hour coffee station.
Outdoors, a teak sundeck is filled with lounge chairs perfect for a nap in the sun, stargazing, and wildlife spotting as your cruise between stops. A soak in the Jacuzzi is an ideal way to refresh a tired body after hiking or paddling a kayak. Be sure to pick up a drink at the outdoor bar before enjoying a barbecue dinner in the alfresco dining area.
Excursions From Your Galapagos Natural Paradise Cruise
Though life aboard the Natural Paradise is elegant and comfortable, the wild Galapagos Islands await. The Natural Paradise sails a total of four itineraries. The four-day route, which features stops on far-flung Genovesa Island, and the five-day route, which highlights San Cristobal Island, are also combined to create the eight-day "A" route.
Kayak through Kicker Rock, where a narrow water channel divides a stunning rock formation that stands hundreds of feet out of the sea. Then, snorkel at Egas Port on Santiago Island, where fur seals bathe in the sun and hike along the coastline to see tide pools, lava lizards, and Galapagos hawks. To explore Isabela and Fernandina Islands, opt for the eight-day "B" itinerary. During this jam-packed cruise, you will visit eight islands, making it one of the most complete itineraries available.
You will stop at Vicente Roca Point, where you may spy fascinating Mola Mola sunfish, seahorses, and sea turtles. A stop at Moreno Point is an opportunity to hike alongside tide pools to an area where flamingoes graze in brackish water. A visit to the Arnaldo Tupiza Breeding Center, home to 330 juvenile and adult tortoises, is always a favorite.
Excellence In Service
The luxurious style of the Natural Paradise is perfectly complemented by the level of service offered onboard by a staff that is well known for their hospitality. Ten crew members, along with a dedicated cruise director, not only provide an impressive guest-to-crew ratio, but are delighted to help make every aspect of your cruise a success.
In addition to the ship's crew, a certified bilingual naturalist guide will lead each excursion, ensuring that you can make the most of your time in the Galapagos with up-close animal encounters and educational discussions.
Whether you are looking for a leisurely cruise with plenty of opportunities to relax in a refined space, or seek a thorough introduction to the wildlife of the Galapagos, a cruise aboard the Natural Paradise is an excellent way to make memories with family and friends.
Accommodations
Social Areas
Sundeck
Social Areas
Lounge
Jacuzzi
Dining
Coffee Station
Bar
Al Fresco
Suites & Cabins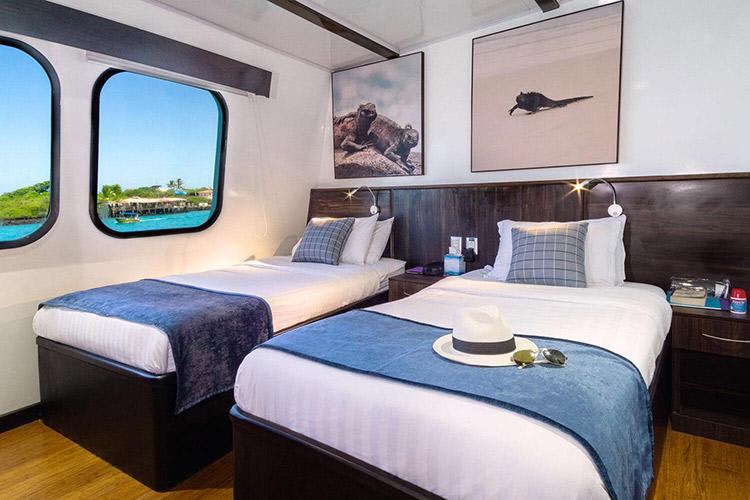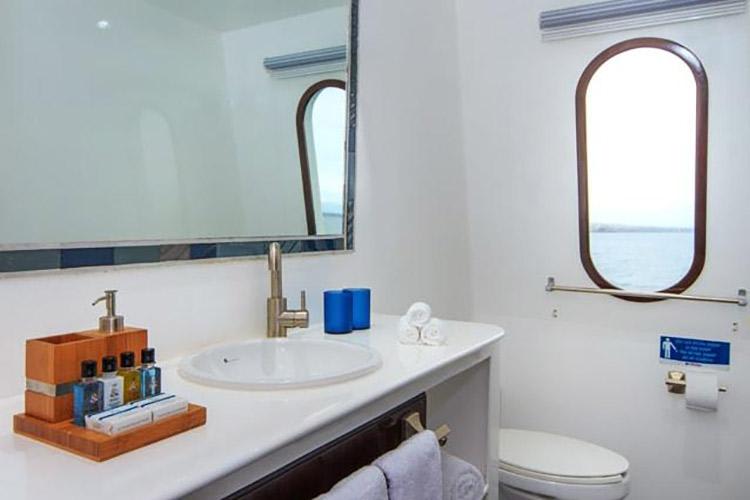 The stylish standard cabins feature a sizable wardrobe with enough space for guests' belongings. The room comes with enough power supply and a safety deposit box. The main deck standard cabins also come with panoramic windows for guests to take in the beautiful scenery.
Size
21-33 m² / 226-355 ft²
Junior suites on the upper deck have a private balcony where visitors enjoy the incredible views of the Galapagos. All the suites feature large wardrobes with safety deposit boxes and hot shower bathrooms with a hairdryer and bathrobes. The main deck junior suites also have a TV and sofa for guests.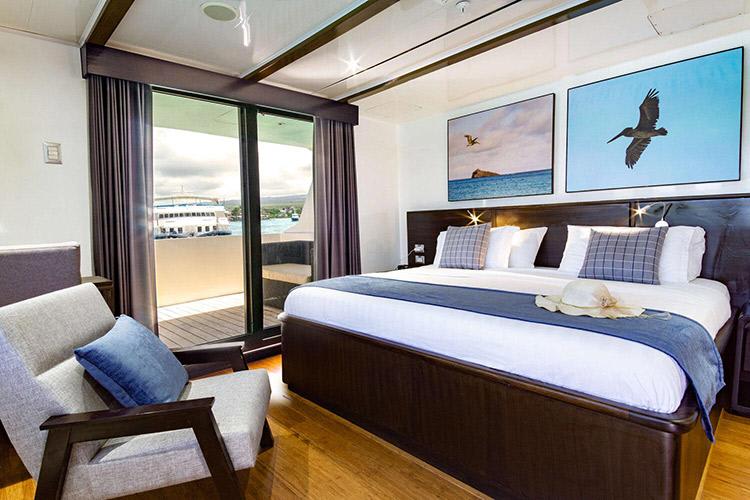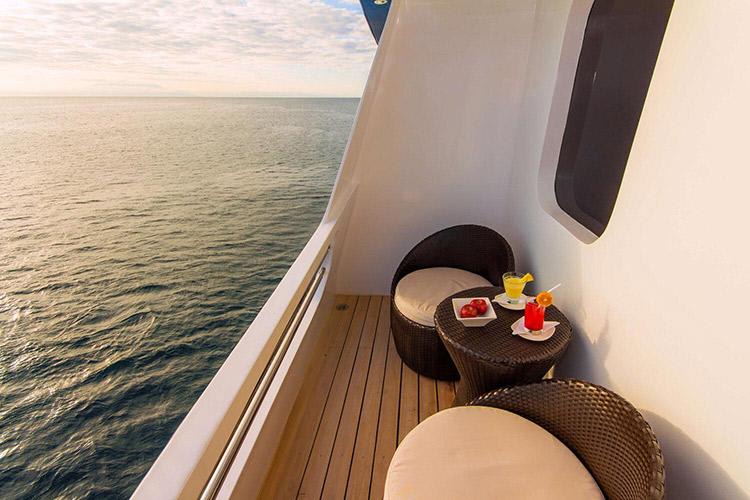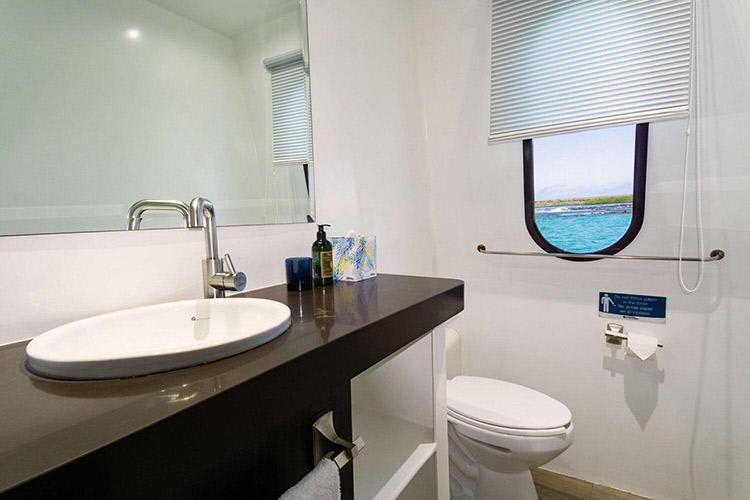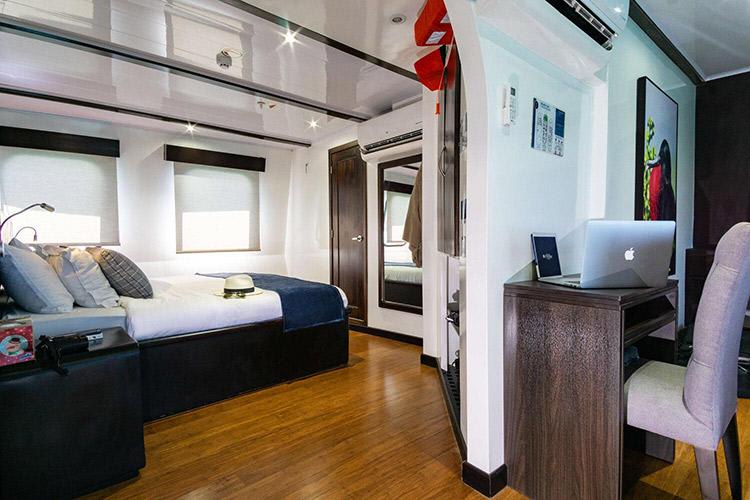 They are the perfect sanctuary for guests looking to relax and unwind. Two of the suites come with balconies for guests who desire some privacy. The rooms all feature a spacious wardrobe and a safe box for your belongings. They come with lamps for ample lighting, Binoculars, a Coffee maker, Bathrobes, and a Hairdryer.