Overview
Constructed from fine teak and ironwood, Samara I is a spacious, 88-foot, modern phinisi boat designed to accommodate 12 guests for voyages of discovery through the waters of the spectacular Komodo National Park. Cruises can be anywhere from three to eight days long according to your preferences and depart from Labuan Bajo.
Available For Private Charter Or For Shared Trips
Samara I is available for private charter, which is ideal for a family or a group of friends, giving you the freedom to personalize your itineraries and activities according to your preferences. The other option is a shared or open trip, which is all about making new friends, creating memories, and learning new things together, allowing you the opportunity to share a wonderful island-hopping experience, even as a solo traveler or as a couple. There is plenty of room onboard for you to find your own space if you want to.
Comfortable Cabins
There are five bright and spacious cabins onboard Samara I, offering sea views, comfort, and convenience during your adventure. Each cabin is named after an island within the Komodo National Park – Kelor, Kanawa, Komodo, Rinca, and Padar. There are two cabins with a double bed and a bunk bed on the lower deck, one cabin on the main deck with a double bed, and two cabins on the upper deck with double beds. Each cabin is tastefully decorated and features a private en-suite bathroom and individually controlled air-conditioning.
Life On Board
There is ample multi-level deck space on the Samara phinisi including sundecks for relaxing in peace or mingling with your fellow guests. The shaded front deck has a delightful modern bar and lounge area, perfect for taking in the passing scenery and enjoying a drink while you catch up on the day's events amid the cool sea breezes. The salon provides space for 12 guests, and delicious home-cooked Indonesian cuisine is served family-style here at the indoor dining table. All meals, tea, coffee, and soft drinks are included. There is a Bluetooth music system and a deck shower.
Snorkeling equipment is provided for you to make use of during your trip, as well as two stand-up paddleboards for gentle exploration.
About Komodo National Park
Covering around 900 square miles of sea and land, Komodo National Park is the natural habitat of the famous Komodo dragons; it is a true privilege to see them in the wild. The park is also home to over 150 species of birds. It features a Jurassic landscape of rough hillsides lined with dry savannah and green thorny vegetation, together with perfect sandy beaches surrounded by crystal clear blue waters with amazing reefs. This is one of the world's most biologically diverse marine environments with over 1000 species of fish.
Cruise through azure seas, magnificent scenery and a panorama of islands, discovering new wonders on a daily basis with opportunities to encounter an amazing variety of wildlife including the famous Komodo dragons. Snorkel the kaleidoscopic beauty and colorful coral reefs of the underwater world. Visit the beautiful Pink Beach, ascend the savannah-wrapped hills offering dazzling views, and witness the sight of thousands of flying foxes commuting from Kalong Island at sunset.
Accommodations
Social Areas
Side
Observation Area
Kitchen
Dining
Dining
Deck Sitting Area
Relax Area
Bar
Bow
Day Bed
Suites & Cabins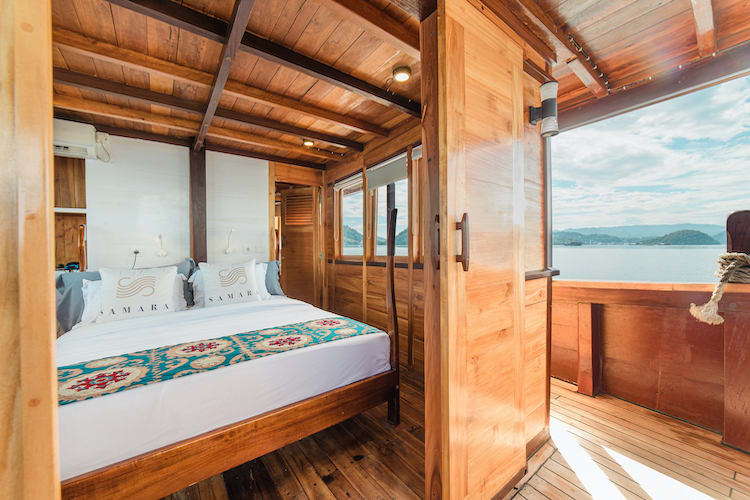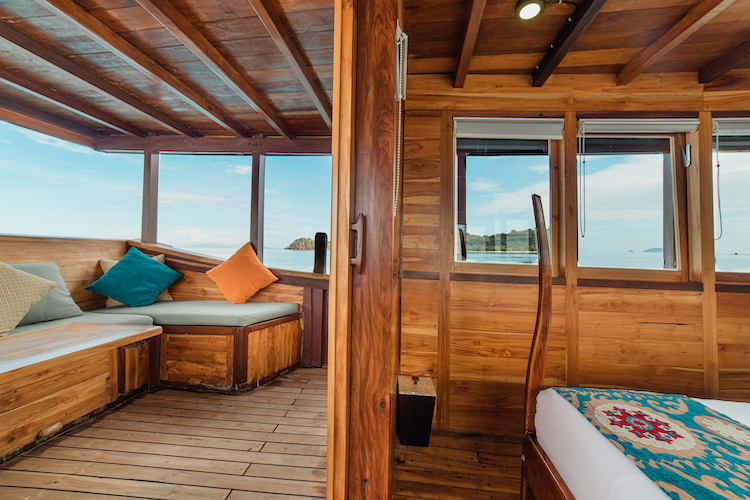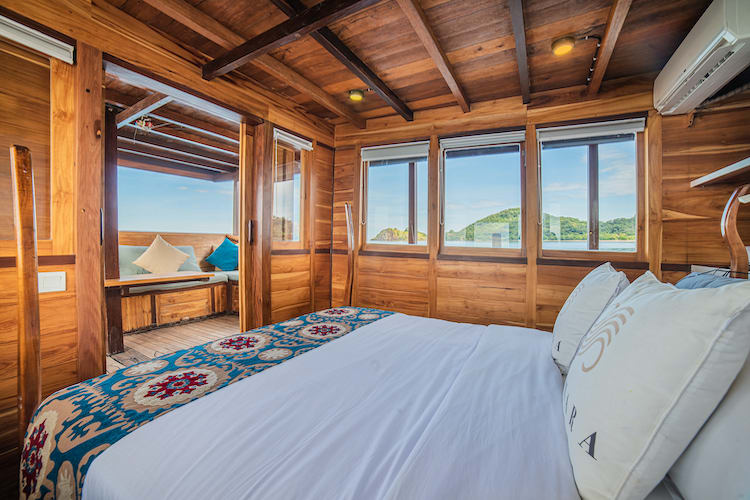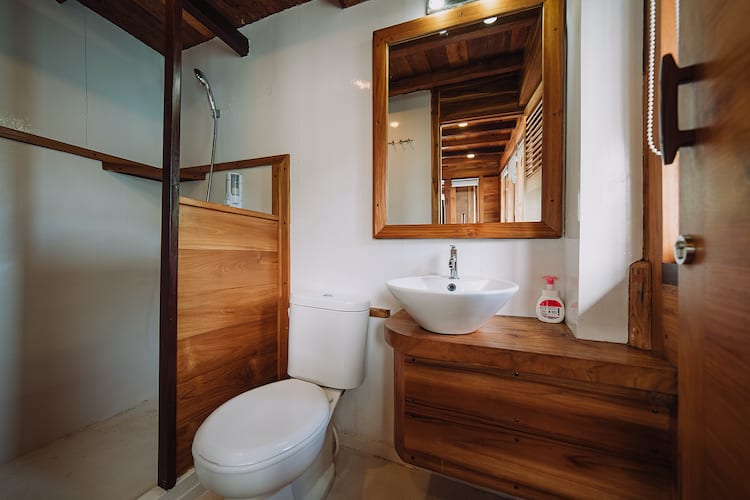 Each of the five standard cabins are prepared with either a Queen-sized bed, whilst two include an additional single bed for triple occupancy. Rooms are located on both the upper and lower decks, both providing bright sea views, equipped with individually controlled air-conditioning.