Overview
Sanctuary Ananda is a 48-passenger river vessel, custom built by local craftsmen and launched in 2014. This luxurious all-suite ship will take you in style on voyages of astonishing beauty and discovery on the mystic rivers of Myanmar. Visit temples, pagodas, palaces and monasteries along the Irrawaddy River, or journey along its great tributary, the Chindwin, to places visitors rarely see – through the jungles of the north, forgotten villages, and ancient towns.
Cabins
Sanctuary Ananda's 21 cabins, located on three decks, include four lavish Staterooms measuring 334 to 356 square feet. Other cabins range from 291 to 301 square feet, and all have floor-to-ceiling windows and private balconies, while the Staterooms have full balconies with outdoor furniture.
Additionally, the signature Owner's Suite, which measures an expansive 807 square feet comes with a king-sized bed, dressing area, separate living and dining areas, a freestanding bathtub and a monsoon shower, and also offers butler service.
In every room, vintage photographs, lush silks, polished teak and exquisite lacquerware pieces celebrate Myanmar's rich heritage of arts, crafts and textiles, while Egyptian-cotton sheets ensure a comfortable night's rest. Each has an en-suite bathroom, individually controlled air-conditioning, a safe deposit box, and an iPad with free Wi-Fi albeit with limited internet coverage outside of the main cities of Mandalay & Bagan.
The smaller suites each have double or twin beds and a bathroom with a monsoon shower; the Staterooms have additional indoor seating areas and an extra convertible bed for a child. Two pairs of interconnecting cabins are also available for families.
Dining
Look forward to the delicious cuisine of Myanmar alongside a choice of Western favorites and international dishes. Specially crafted menus and inspired dining experiences encompass dishes such as soft-shell crab, red curries, and mango and pomelo salad enhanced with fragrant flavors including lemongrass, kaffir lime and sweet chilli.
Meals are served in the main dining room, Talifoo Restaurant, and alfresco lunch is available in the Mindoon Restaurant. The on-board library can also be used for private dining.
Facilities on board
The upper Bhamo Deck, where all the Luxury Suites are situated, houses the Kansi panorama lounge and there is also a Sun Deck and an outdoor plunge pool. Other facilities on your Sanctuary Ananda Cruise include the Thambayadine Spa by L'Occitane, where you can indulge in traditional therapies and soothing massages.
On board Activities
Be captivated by performances of Burmese dances which often tell stories of local myths and legends. Enjoy lectures on an array of interesting topics about Myanmar's history and culture. Join a cooking demonstration run by the ship's professional chefs and learn how to cook some of the delicious local meals served on board. Learn how to tie a longyi − the skirt that both men and women traditionally wear − and how to make and apply tanaka natural sun cream.
Excursions
Shore excursions on these voyages of discovery combine the 'must see sights' and fabulous landscapes with visits to small villages to meet the local people and observe the hand production of time-honored crafts.
Suitable for families, couples, solo travelers and friends, the Sanctuary Ananda offers a wonderful insight into Myanmar on a choice of cruises from Mandalay to Bagan, Bhamo or Yangon.
Accommodations
Social Areas
Talifoo Dining Room
Dufferin Library
Kansi Panorama Lounge
Lounge
Mindoon Al Fresco
Pool
Spa
Suites & Cabins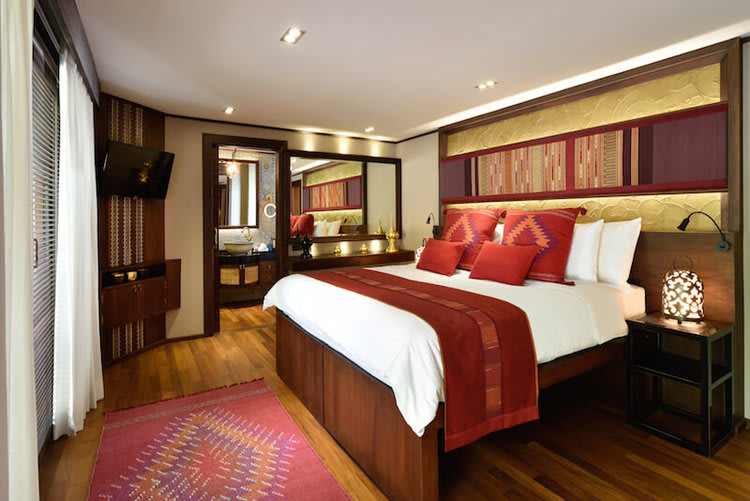 Guests can enjoy these expansive suites that come with large windows and private balconies. These suites also feature individually controlled air conditioning and a luxurious bathroom equipped with a monsoon shower, a basin, and a separate toilet.
7 Cabins
Mandalay Deluxe Suite
Size
27-28 m² / 291-301 ft²
These suites are designed to ensure comfort and luxury. They feature a private balcony that comes with chairs and tables, allowing guests some intimate time to take in the breathtaking oceanic view. The Mandalay suites also feature one set of interconnected suites for bigger groups.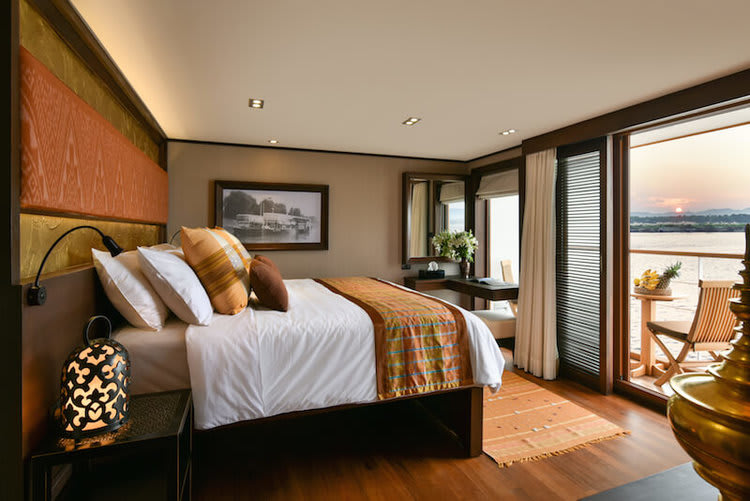 7 Cabins
Bagan Deluxe Suite
Size
27-28 m² / 291-301 ft²
These suites feature one set of interconnecting suites that is ideal for either a large family or a group of friends. The suites also have a private balcony with outdoor chairs and a table where guests can relax as they sunbathe.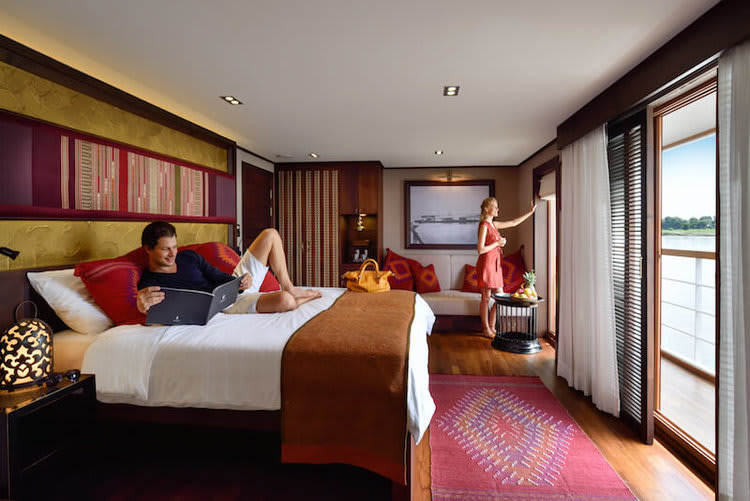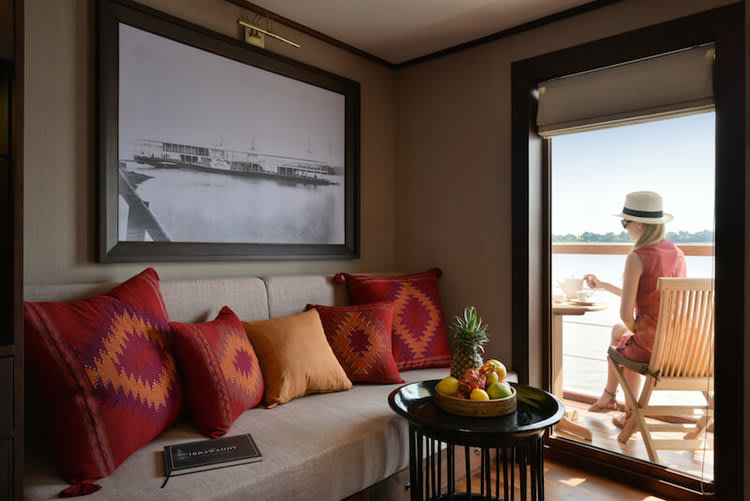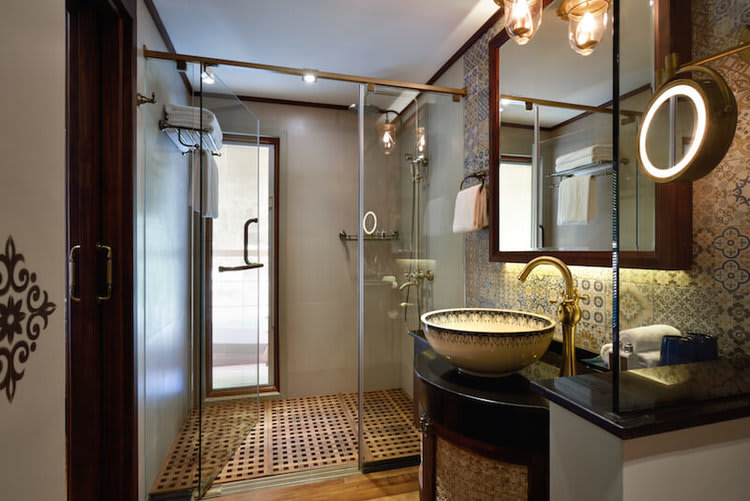 Size
31-33 m² / 334-356 ft²
The luxury suite features a private balcony with tables and chairs where guests can enjoy some alone time. The suites come with a stylish bathroom fully equipped with a monsoon shower and other amenities, ensuring a guest enjoys a refreshing shower.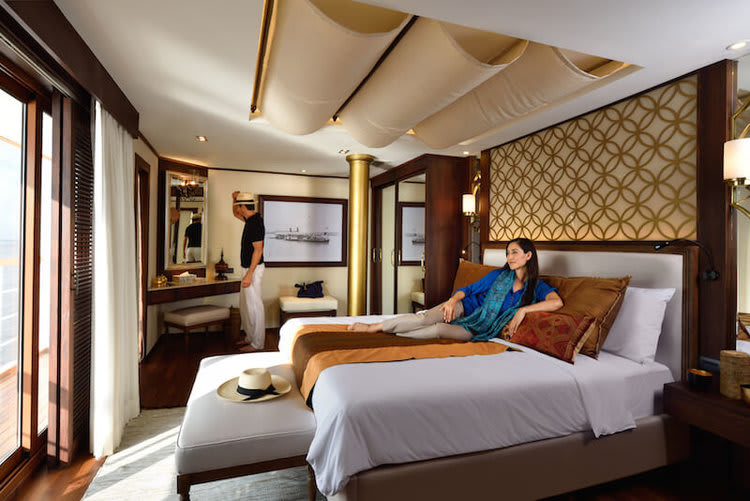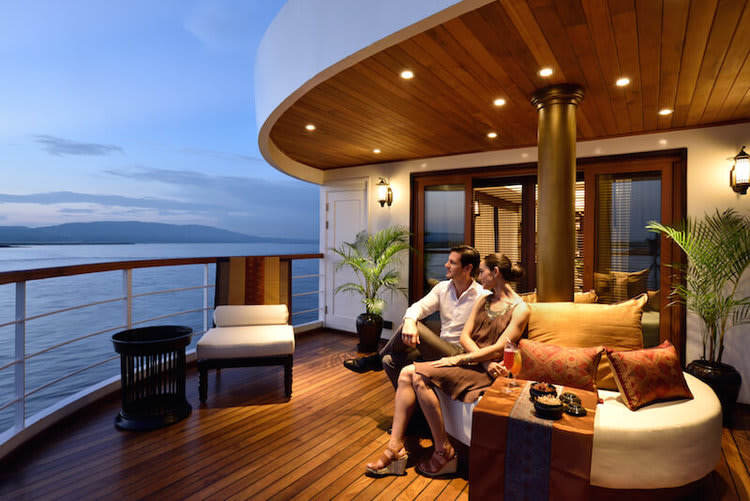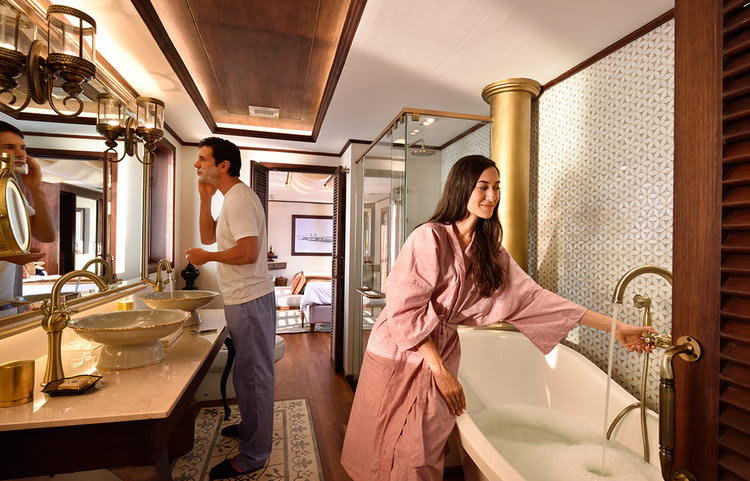 The owner's room is very spacious, featuring ensuite living areas, a separate dressing, and a big verandah where guests can sunbathe and take in the cool breeze. The expansive bathroom oozes luxury with a fully equipped freestanding tub, monsoon showers, and his-and-hers sinks.