Exclusive, private cruise based on full occupancy
Overview
Have you dreamed of sailing through the Galapagos Islands with the wind in your hair while frigate-birds soar overhead and dolphins race alongside? The twin-hulled catamaran Seaman Journey makes that vision come true for up to 16 passengers in eight cabins.
Life Aboard The Seaman Journey Catamaran
At 90 feet in length, the Seaman Journey is a boutique ship that is big on both style and comfort. The intimate size makes this the ideal vessel for bonding with family and friends and building a sense of camaraderie with fellow sailors. The ship's spacious sundeck invites you to take a midday nap on a lounge chair, flip through the pages of a good book while keeping an eye out for wildlife spottings, or watch the sun set into the ocean.
Indoors, stop by the well-stocked bar for a beverage before sinking into a plush sofa to reflect on the day's adventures. With a careful mix of social and quiet areas, you are sure to find your perfect way to unwind between excursions. At the end of each day, be sure to attend the nature lecture hosted by the ships' English-speaking certified naturist guide. These discussions are a chance to learn about the history and wildlife of the area, ask questions about what you saw during previous excursions and get a sneak peek into the next day's activities.
Excursions From Your Seaman Journey Galapagos Cruise
Are you hoping to discover specific islands within the Galapagos on a schedule-friendly cruise? The Seaman Journey offers four-, five- and seven-night options, each focusing on a few islands. But, why choose? If you want the ultimate experience of touring the vast majority of the region, combine all the shorter itineraries into one epic 14-night adventure. Your journey could start with a visit to the Interpretation Center at Charles Darwin Center on San Cristobal Islands.
This museum is a must-see for establishing a solid understanding of the Galapagos Islands. During a visit to Suarez Point on Española Island, you may watch the famous blowhole shoot water up to 245 feet into the air and see albatrosses use the cliff face as a launchpad for their soaring flights. Not to be missed is a stop on Rábida Island, where a short walk leads to a secluded lagoon filled with bright pink flamingoes. No matter which route you select, your days will be filled with dinghy rides, snorkeling, kayaking, and time at the beach.
Fine Dining Aboard The Seaman Journey Catamaran
No holiday is complete without exquisite meals, and the crew of the Seaman Journey ensures you are delighted with every bite. The ship's chef uses top-quality local ingredients to create both international and local specialties. Each meal presents a choice of meat, poultry, or seafood. The chef is also happy to accommodate food allergies and dietary restrictions.
For creating family memories, exploring one of the world's most sought-after travel destinations, or disconnecting from your hectic day-to-day routine, a Seaman Journey Galapagos cruise is the experience you are craving. The ship's friendly nine-person crew is ready to welcome you aboard.
Accommodations
Social Areas
Sun Deck
Outdoor Lounge
Indoor Lounge
Indoor Dining Room
Dining
Boarding Area
Al fresco Dining
Bar
Suites & Cabins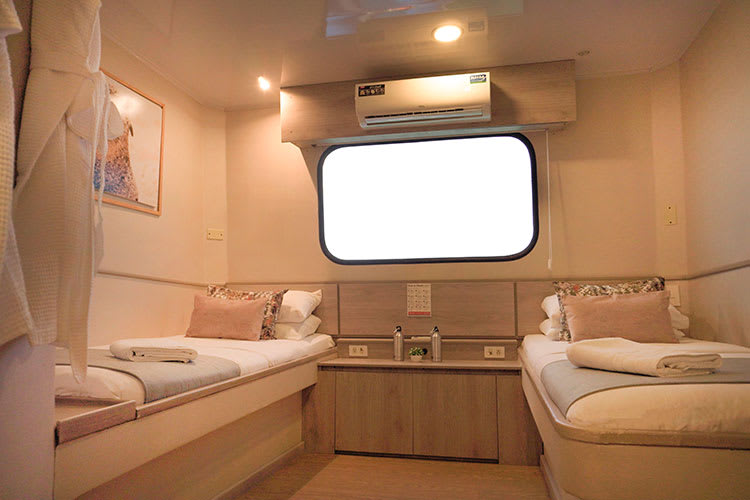 The Galapagos Seaman Journey has six twin cabins located on the main deck. These cabins offer great comfort with twin beds, a private bathroom, hair dryer, safe, table-lamps and air conditioning. The windows in the cabins offer guests a pleasant panoramic view of the Galapagos landscape.