Itinerary & Prices
Welcome to Siem Reap
Welcome to Siem Reap – a getaway to the ruins of ancients Angkor.
Your guide will meet you at the arrival hall of the airport. If you require a visa on arrival, we will have a representative at the immigration office to take care of the process. Once you have your visa stamped and your luggage collected, you will transfer to the hotel by private car. The remainder of the day is yours to rest and relax before the upcoming adventure.
Meals: x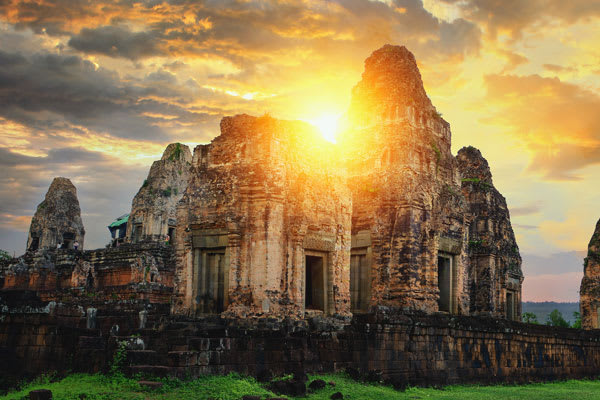 Angkor Wat with Khmer Scholar
Wake up before sunrise to see the spectacle of the sun rising over Angkor Wat (your driver and your guide will accompany you to the complex) or sleep in and start sightseeing after lunch.
Meet your guide in the early afternoon for the exclusive visit to Angkor Wat with a scholar specializing in the subject of Angkor history.
Angkor Wat is one of the modern wonders and most important religious monuments in the world.
Your guide for the day will be able to share with you his vast experience and give you a concise overview of Khmer history, culture, archaeology, and civilization. He has been working with the Angkor Temple Conservation Institution for many years and has a detailed knowledge of the temple's history as well as how they will be preserved in the decades to come.
Take a stroll through the elaborately carved hallways of Angkor Wat as the Khmer empire is brought to life through the scholar's explanations of the various stories contained in each of the bas reliefs and murals. This private tour takes approximately two hours and will be customized to your interest level.
Meals: B
Ancient Temples and Haute Couture
Explore the majesty and awe of the temples of Angkor, then spend the afternoon visiting several hot spots of Khmer arts, fashion, and culture.
Transfer by private vehicle and visit some of the highlights of Angkor including Ta Prohm; the walled city of Angkor Thom, with the Bayon Temple; the Terrace of the Elephants, and Terrace of the Leper King.
In the afternoon, visit a selection of Siem Reap's best-known hot spots for fine art and fashion.
Theam's House, the home cum-atelier of Cambodian artist and designer Lim Muy Theam featuring beautiful handmade crafts.
The atelier of fashion designer Eric Raisina to see his exquisite handmade collection blending African, European, and Asian influences through its textures and creations.
Artisans Angkor, a Cambodian social business creating job opportunities for young people in rural areas while reviving traditional Khmer craftsmanship.
Samatoa, a social enterprise where spinners, weavers and tailors custom-make clothing in just 24 hours using natural fiber fabrics from lotus, silk, banana, and organic cotton.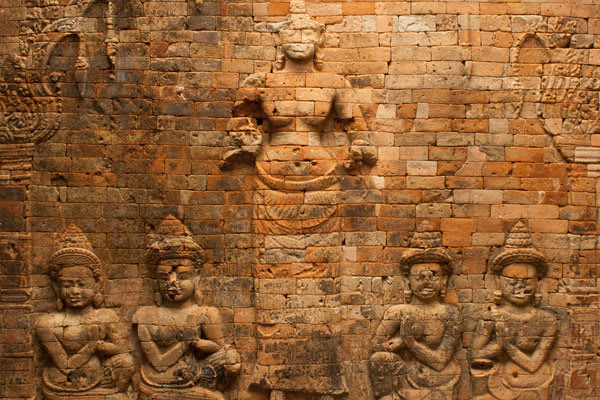 Luxury Camp Among the Temples
In the morning, you will be transferred to the remote temple complex of Banteay Chhmar and be welcomed by the local community before inspecting its faded grandeur. Although nature's implacable advance now root out the work of masonry, intricate carvings remain to be seen, a testament to the craftsmen's remarkable skill.
A picnic lunch will be served at the west gallery, close to the incredible Avalokitesvara carving, depicting a fantastic 32 armed figure. After lunch, take a short trip to the other side of the village and explore the impressive remains of another temple. Children play amongst the ruins and local villagers come to wash their clothes and bathe in its nearby reservoir.
Return to your camp to refresh yourself with a cold drink while watching the sun go down over the temple. As night falls, settle into your accommodation for the night – a safari-styled tent made from high-quality Gore-Tex, equipped with toilet facilities. There are two tents and each can accommodate two people comfortably.
The local community will prepare a meal for you onsite, using a variety of regional ingredients. Enjoy this exquisite meal whilst overlooking the temple's façade, with lit torches (weather permitting) casting scattered shadows across its ancient stonework. A traditional band from the local village will also serenade you with traditional Khmer music for a truly magical experience.
When the musicians depart, settle into your tent and enjoy some free time before falling asleep in comfort.
Meals: B, L, D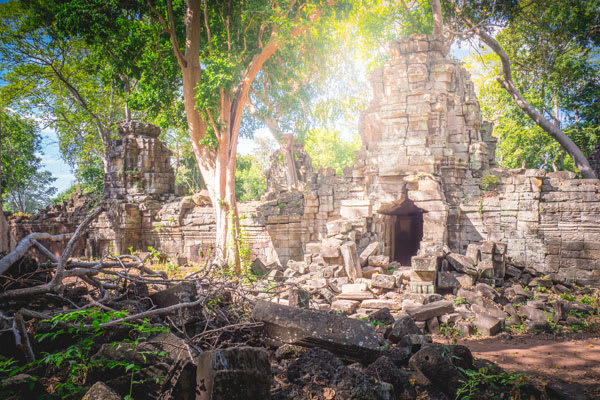 Location
Siem Reap to Banteay Chhmar
Transfer to Siem Reap and a Circus Show
Early in the morning, before breakfast, follow your hosts to the temple and join the monks in their morning prayer. Observe the ritual of sharing food brought by the villagers and if you wish, receive your chanted blessing from the orange-robed monk. Return to the camp to enjoy your breakfast before departing for Siem Reap.
Check in to your hotel back in Siem Reap and enjoy your leisurely afternoon.
Tonight we take you to a very special show. Phare Circus works mainly with disadvantaged young people. They learn circus skills, theatre performance, music, and a range of visual arts. It combines local traditions with new creative and innovative genres. Daring athleticism is combined with stories that speak powerfully to Cambodia's not-too-distant history. More than simply a circus, Phare is an amazing blend of traditional and modern theatre, music, dance, acrobatics, juggling, and contortion beautifully choreographed and performed in a story about Cambodian lives and society.
Meals: B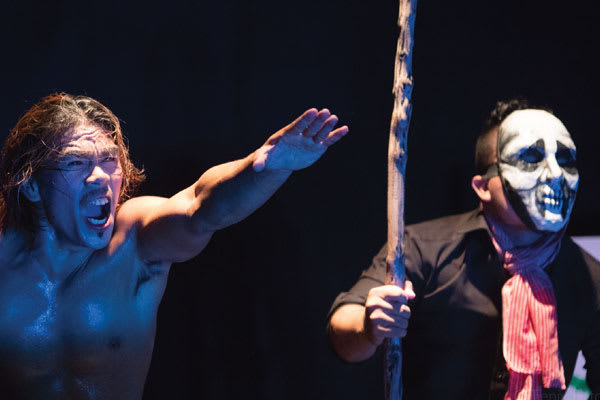 Location
Banteay Chhmar to Siem Reap
Embark the Luxury Boat
This morning check out from your hotel and meet the Aqua Mekong team at the meeting point. Board the air-conditioned bus for the scenic 45-minute countryside ride to the dock on the Tonle Sap Lake for check-in to your 3-story, five star Mekong abode. Settle into your floating retreat, with its window wall conferring an endlessly captivating panorama. Enjoy these private Mekong moments on your California king bed, terrace or daybed.
Meals: B, L, D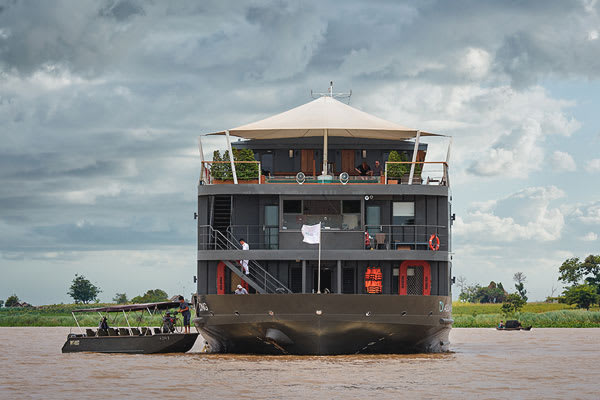 Location
Siem Reap to Aqua Mekong
Bird Reserve on the Tonle Sap Lake
Set off by skiff into the 22,000-hectare Prek Toal Core Bird Reserve on the Tonle Sap Lake, one of the largest freshwater bodies in Asia and the last refuge in Southeast Asia for large waterbirds like the spot-billed pelicans, milky stork, black-headed ibis, and the elusive masked finfoot.
After lunch, we visit the floating village of Moat Khla, accessible only by water, and attend a Buddhist blessing ceremony in this isolated community.
Meals: B, L, D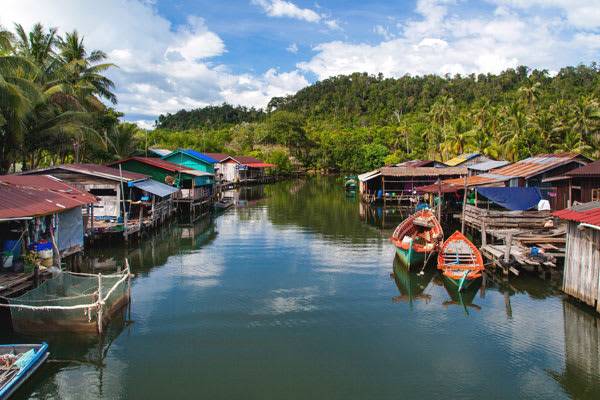 Pottery Village
Explore remote villages around the Tonle Sap Lake, designated as a UNESCO Biosphere Reserve in 1997. In Chhnok Tru, we "slide" into an ice factory and learn from locals what it's like to live in a town where schools, churches, pagodas, and even the karaoke bar and police station all float.
We continue learning about Khmer riverside life in Kampong Chhnang, the 'Port of Pottery' so called because archaeological findings here date to the 6th century.
Meals: B, L, D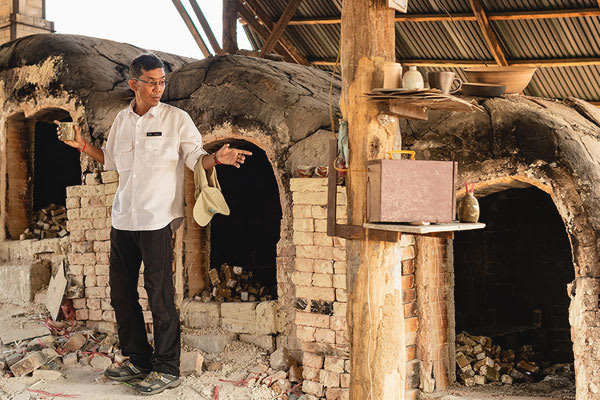 Silversmiths and Weavers
This morning, we visit Koh Chen, a silversmith village known for its fine craftsmanship. Keep an eye out for their famous silver bowls, regularly chosen by Cambodia's king as gifts for visiting dignitaries.
In the afternoon, we set off for the Mekong's 'silk islands' where renowned weavers allow us to wander freely, admiring their intricate craftsmanship.
Biking is optional for those who wish to explore deeper into the island.
Meals: B, L, D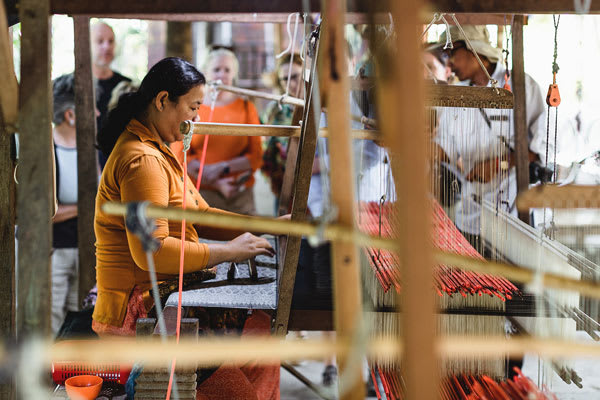 History of Phnom Penh
We show off the Cambodian capital to our passengers by motorized tuk-tuk, the Royal Palace, Silver Pagoda and the National Museum of Cambodia, home to the world's largest collection of Khmer art. For those who wish, we visit the Tuol Sleng Museum of Genocide and the Killing Field or shopping at Russian Market.
After  you disembark in Phnom Penh, your guide and your driver will meet you at the port, to transfer you to the hotel.
Enjoy the remainder of the day at leisure.
Meals: B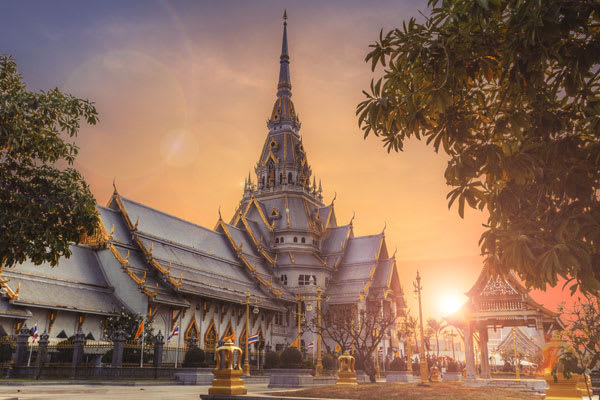 Location
Aqua Mekong to Phnom Penh
Philanthropy Cooking Class and RIde to the Wilderness
Since 1995, the founder of our cooking school today has been at the forefront of retraining Cambodia's marginalized youth. Whether helping abandoned street children or the families working in the brick factories, Mr. Mith took on the challenge of offering education to the teenagers in his care by opening his cooking school and training center.
Start the day with a small tour of a beautiful house, equipped with a professional-grade kitchen, before heading out to explore a bustling market to source your key ingredients and sample famous snacks.
Return to the house and be expertly led through the creation of 3 dishes, along with 2 cocktails, a great way to learn about Cambodia's unique culinary culture.
This afternoon, meet your driver after breakfast and embark on 2.5 hours drive to the most beautiful, secluded resort near the Kirirom National Park.
Welcome to the Bill Bensley-designed, extravagant resort in the middle of the wilderness, the choice of National Geographic Unique Lodges, and Wildlife Alliance partner. Your accommodation for the next 3 nights will be the luxury tent with breathtaking views of the river valley.
Meals: B
Location
Phnom Penh to Kirirom National Park
Ultra Luxury in the Wilderness
Choose any of the resort's activities or just listen to the sounds of nature and indulge in the blissful spa treatments.
Ideas for today: join, anti-poaching patrol, go tenkara fishing, birdwatching, or swimming. One of our favorites: Foraging & Cooking Class.
Overnight at Luxury Tent, surrounded by pure nature.
Meals: B, L, D
Location
Kirirom National Park
Blissful Day in Nature
Join the picnic at the waterfalls, go for a hike, watch the birds or join the anti-poaching patrol. The day in this incredible place can be as active or as peaceful as you wish. Take it all in, and partake in as many activities as you feel like.
And at night listen to the river and the cicadas around, and don't forget to look up – in places like this the stars are like nowhere else!
Meals: B, L, D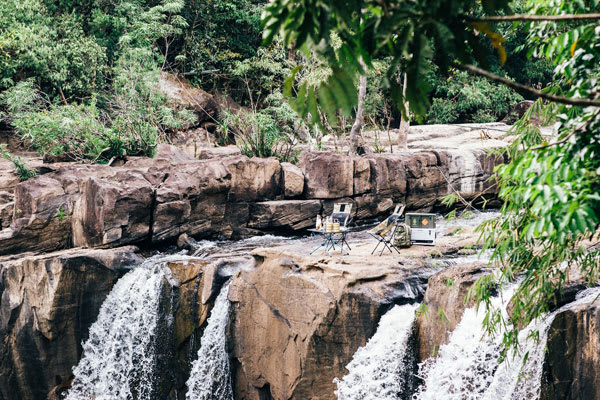 Location
Kirirom National Park
Return and Departure
At the right time, take a drive back to Phnom Penh airport for your flight home. If time permits you can stop by in Phnom Penh for lunch and last minute shopping.
Meals: B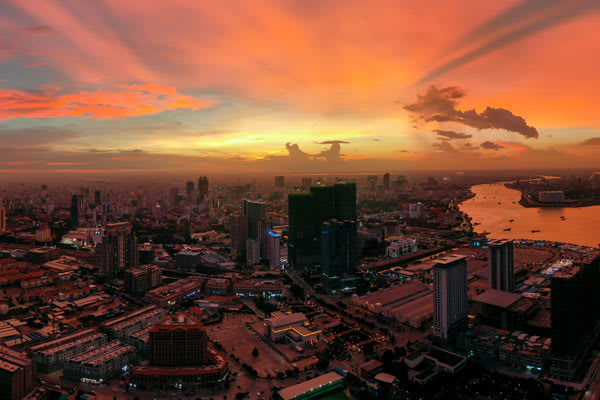 Location
Kirirom National Park to Phnom Penh
1 / 14
Accommodations
Cruises & Lodges
Aqua Mekong
A river expedition vessel with modern state-of-the-art design and the highest levels of luxury.
Hotel Options
5 Star
Shinta Mani Wild
Cardamon Mountains