Topas Ecolodge
Topas Ecolodge
A rustic, sustainable spa resort with dramatic mountain-top location amid Sapa's stunning scenery.
Lodge stay with flexible excursions and start date
Overview
Surrounded by rice terraces, rolling hills, green forests and villages, Topas Ecolodge Sapa is a Danish-owned boutique property situated atop two conical hills deep in the mountains of Hoang Lien National Park, 45 minutes' drive from Sapa in northern Vietnam.
Chalet-style Chic
Accommodation comprises 41 chalet-style stone bungalows in four different categories: Premium Executive Bungalows, Suite Bungalows, Deluxe Suite Bungalows, and the new and exclusive Pool Villas. Each bungalow and villa is constructed in local white granite, with its own private balcony offering glorious views of the rice terraces, the lower Sapa Valley and the Tonkinese Alps beyond.
The rooms are furnished in a cool minimal style in an unmistakably Scandinavian aesthetic, all with ensuite tiled bathrooms. Solar panels heat the water and provide electricity for the lights. Heating is provided during the winter months. There is no television or Wi-Fi in the rooms so be prepared to unplug and reconnect with nature. All bungalows can be configured with either one queen size or two twin beds.
Dining With A Danish Touch
All meals are served in a central two-storey building. Downstairs is a relaxing bar with cushioned furniture, while dining takes place on the upper floor. Topas Ecolodge is flanked by its own farm, which supplies the kitchen with fresh vegetables.
The Danish owners have developed a sustainable food supply system created from premium international ingredients such as imported meats and cheese as well as high-quality local ingredients. The Danish head chef works closely with a local team to create hearty Asian meals, served on a set-menu basis, which changes daily depending on seasonal produce.
Sublime Spa & Infinity Pools
Topas Ecolodge has two infinity pools, both with jaw dropping views of the peaks and valleys. The upper pool has a shallow section suitable for children and is heated with an eco-friendly system using 85% less energy than standard heating technology. The lower pool and jacuzzi is for adults only.
The Rice Spa offers traditional Red Dzao herbal baths and an array of wellness treatments, including massages and facials, created from the combination of ancient knowledge, local materials, and modern techniques. Mountain bikes are available free of charge, and the lodge offers a great range of excursions around the area.
A Base For Exploration
The epic natural scenery and mountain trails surrounding Topas Ecolodge Sapa, make it an ideal base for exploring the awe-inspiring nature of northern Vietnam as well as the diverse minority villages of the area via active pursuits such as hiking and biking as well as cultural immersion through ethnic village visits, market stops, and textile workshops. A free shuttle bus operates daily to and from Sapa Town, 11 miles away.
Ideal for active families, couples and honeymooners, a stay at Topas Ecolodge is the perfect way to experience the authentic charm of Northern Vietnam, its landscape, fresh air and ethnic minorities. Furthermore, you will enjoy all the comforts of a pleasant stay in an environment that is making a commitment to preservation and sustainable development of the nature and people of Sapa Valley.
Itineraries & Prices
Hanoi - Topas Ecolodge
AM: Head for the impressive mountains and valleys of Sapa by private car for the five-hour journey from Hanoi to Topas Ecolodge. Arrive just in time to enjoy lunch at leisure in the Stilt House Restaurant or to stretch your legs on your bungalow's private balcony.
PM: Then head out at 14:00 for a 3-hour hike to Lech Village, a Red Dzao community high in the mountains of Thanh Kim commune surrounded by rice terraces and magnificent views.
Your guide will teach you about Red Dzao standards of beauty as well as aspects of daily life in the village before returning to Topas Ecolodge to catch an unbelievable sunset from the infinity pools' upper deck.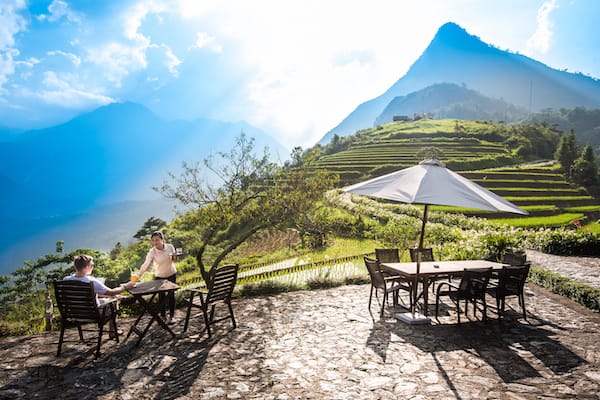 Nam Cang Village
AM: Take a drive down the mountain after breakfast this morning to remote Nam Cang Village and have a brief tour learning about embroidery and silversmithing up close and personal in different Red Dzao homes before starting a 1-hour up-hill walk through lush green jungles and glittering rice fields to our latest attraction, a brand-new mountain hut framed by rushing rivers and rice paddies, the scene of our sumptuous Sapa-inspired BBQ lunch.
PM: Rest inside or take advantage of the stunning scenery and climb over make-shift suspension bridges while the BBQ is set up. Whatever the case, make sure to sample the wide array of freshly smoked trout, vegetables, tofu, mushrooms, and jungle herbs straight from the grill.
Once you've had enough to eat, make the return 1-hour walk back to Nam Cang Village and catch the van back to Topas Ecolodge for an afternoon at leisure.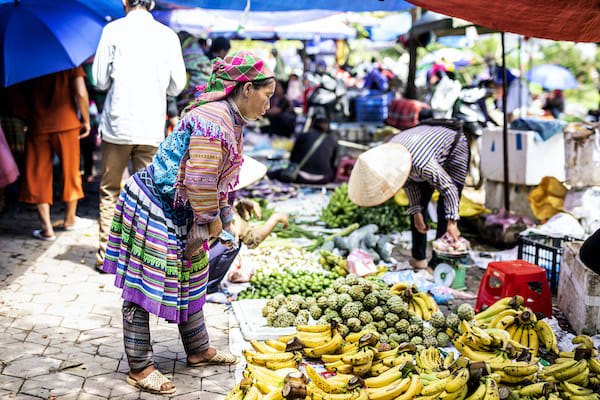 Topas Ecolodge - Hanoi
AM: The day is yours at leisure until time for transfer back to Hanoi. Sunbathe and splash in the two infinity pools, sample delicious cuisine at the restaurant, breathe in the fresh mountain air from your bungalow's patio, or indulge in some locally-inspired treatments at the wonderful spa on site.
We also have a selection of amazing day-tours to choose from if you prefer to be more active. Let us know if you'd like to add any of them when making your booking!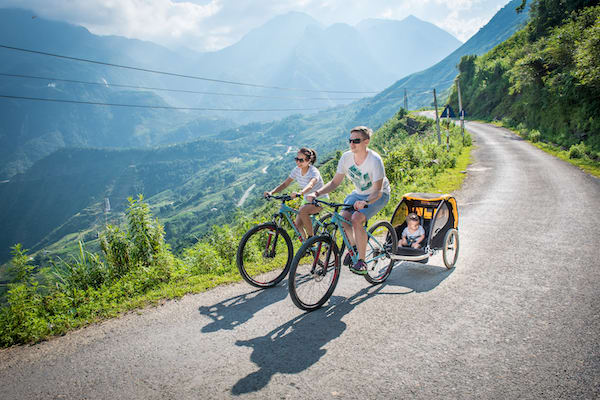 1 / 3
Accommodations
Social Areas
Terrace
Terrace View
Terrace View
Terrace Breakfast
Fireplace
Lounge
Buffet
Suites & Cabins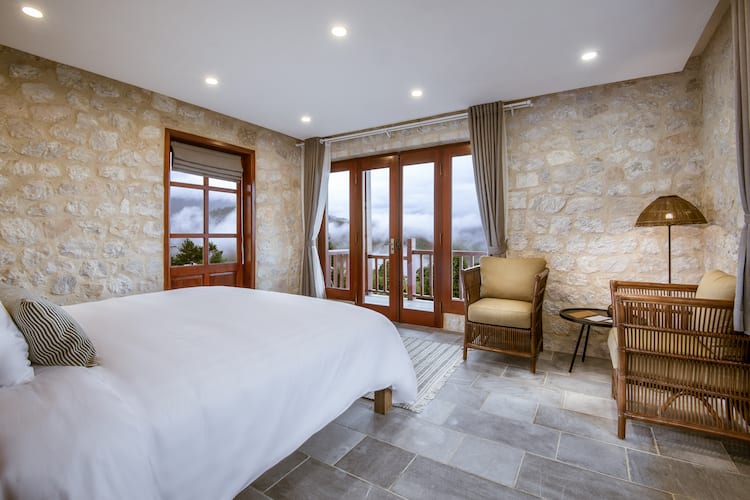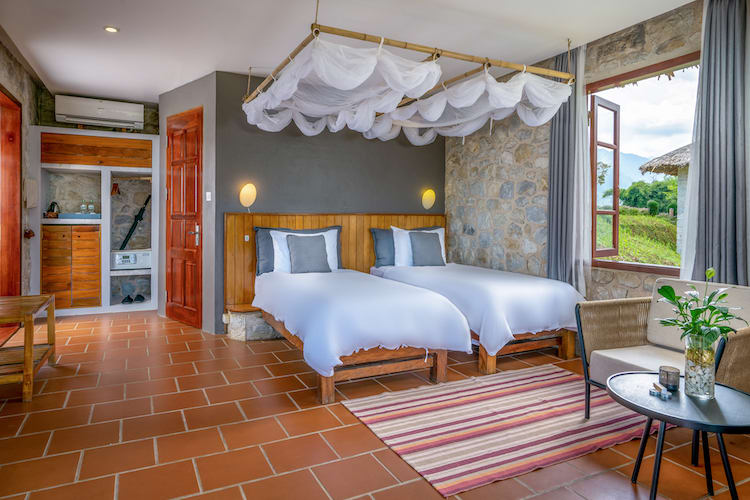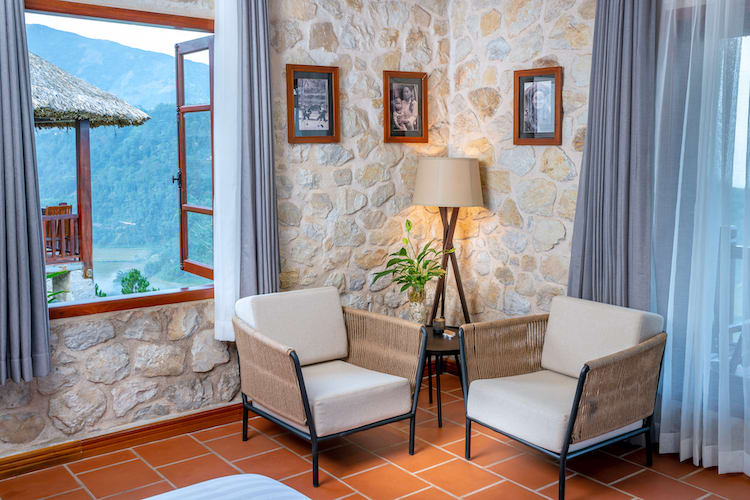 29 Cabins
Premium Executive Bungalow
The one that started it all! Each Premium Executive Bungalow exudes a rustic coziness from the sturdy stone walls, plush bed in neutral tones, wooden furniture, and large private balcony overlooking the mountains and valleys outside.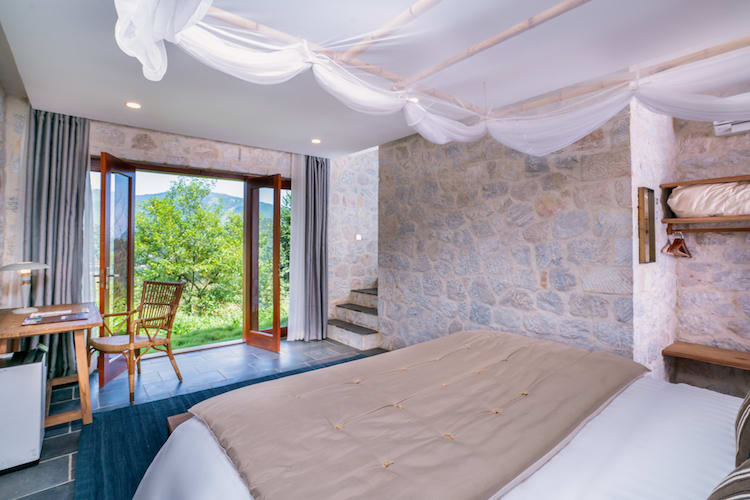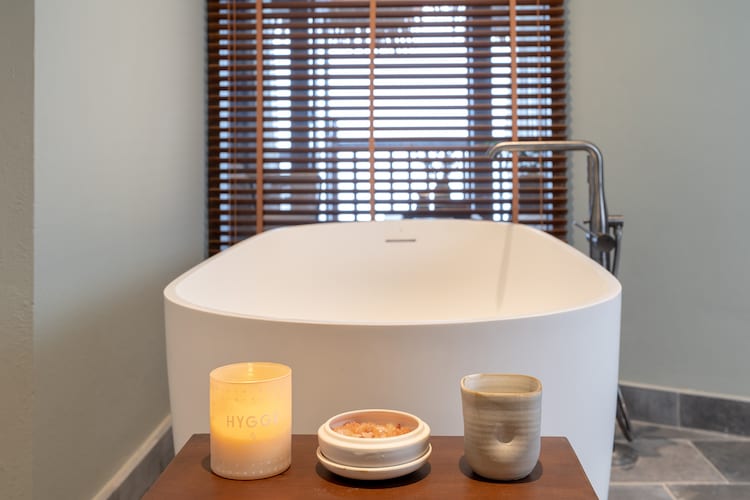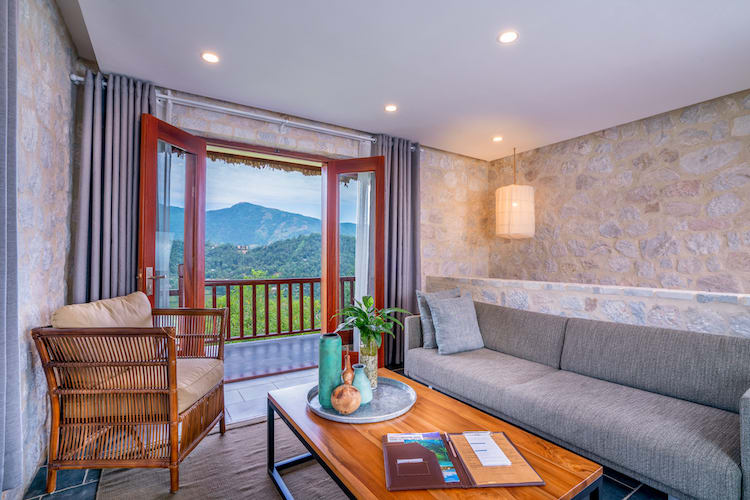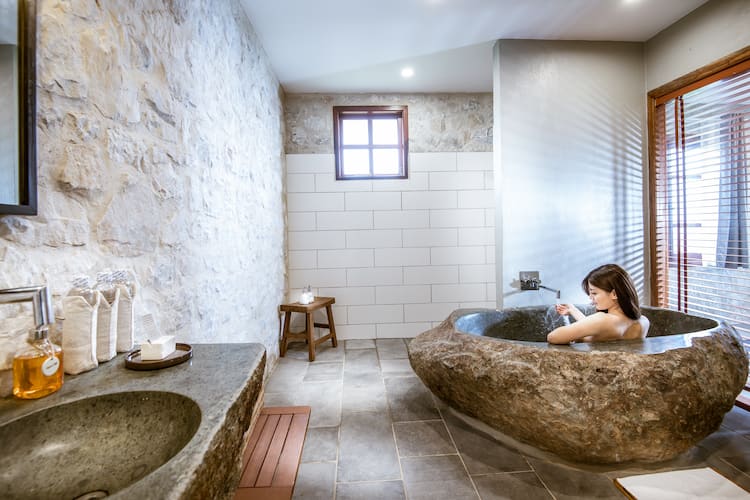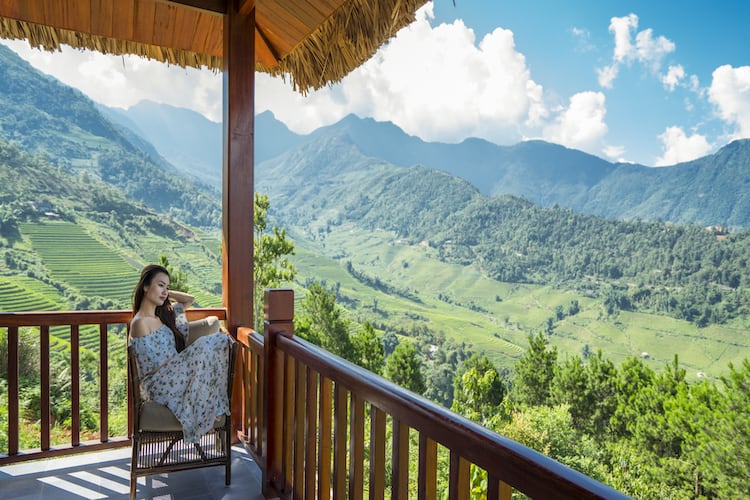 Spacious yet cozy, our Suites are built in a two-storey chalet style with a large living area as well as a separated bedroom. Perfect for couples looking for a romantic getaway or families who want to stay together in one space.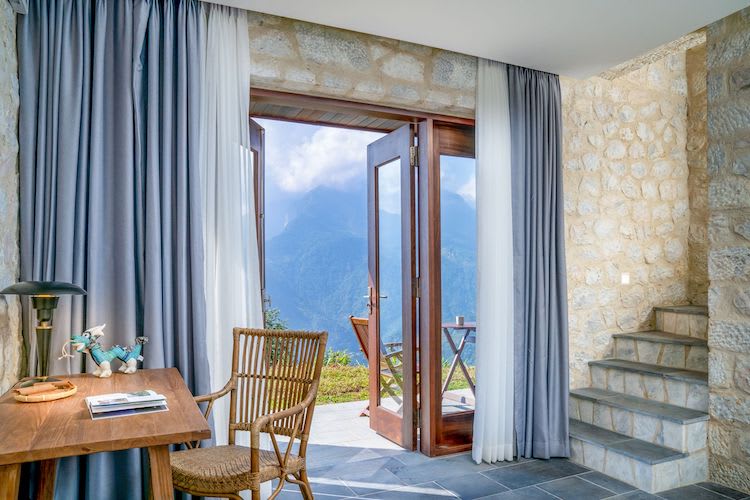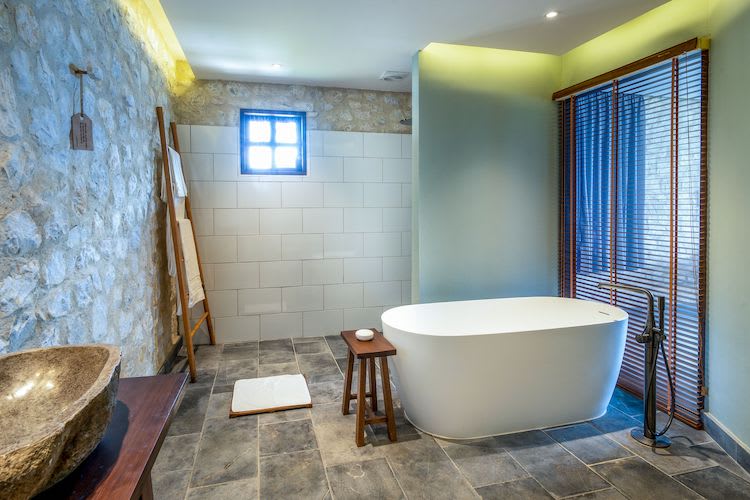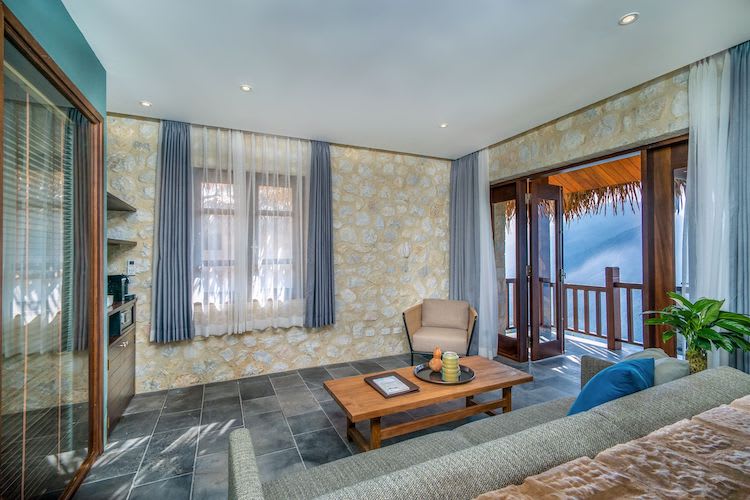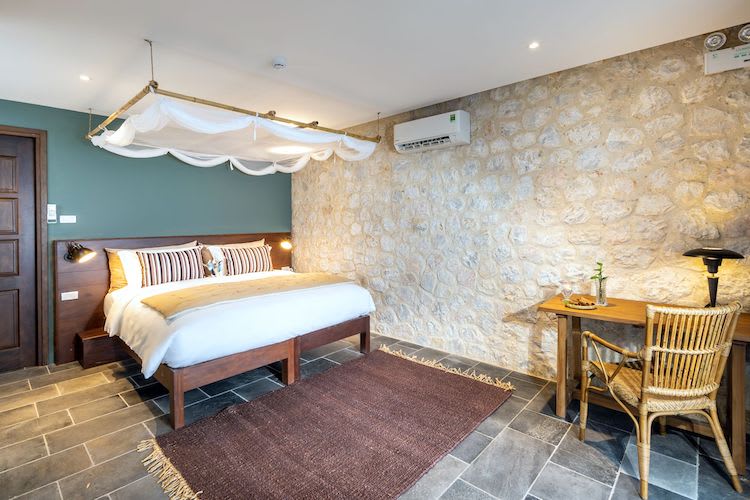 6 Cabins
Deluxe Suite Bungalow
Our latest addition to the ecolodge family – the Deluxe Suite – has all the latest in modern sustainable technologies. With heated floors and very close to the Rice Spa, you can relax in total comfort and style while ensuring the environment is protected.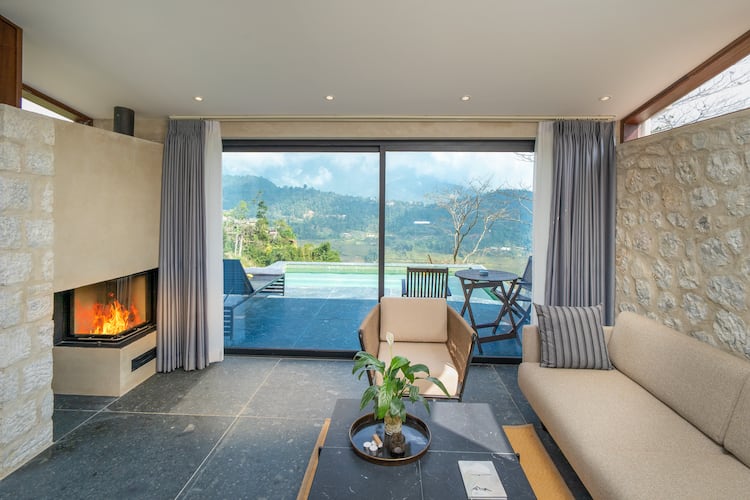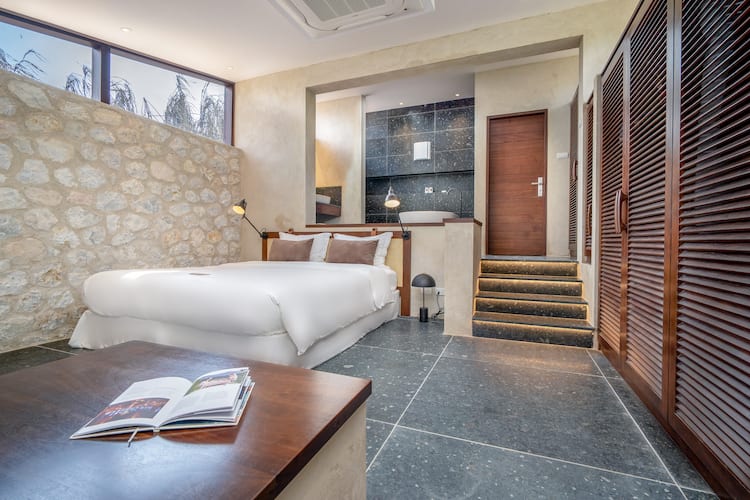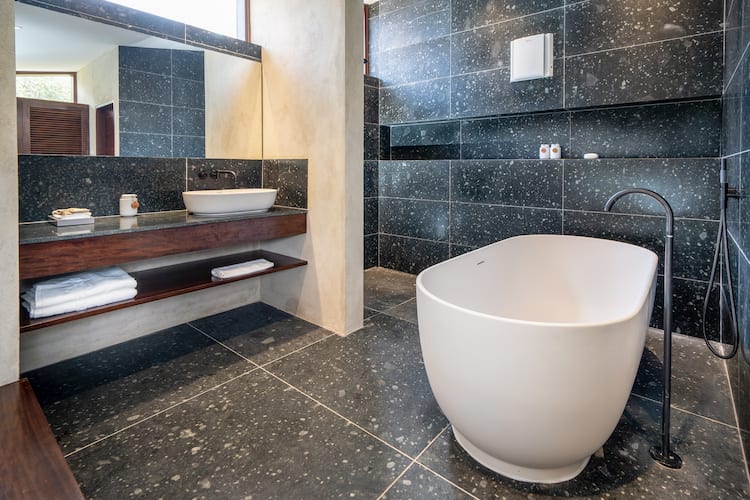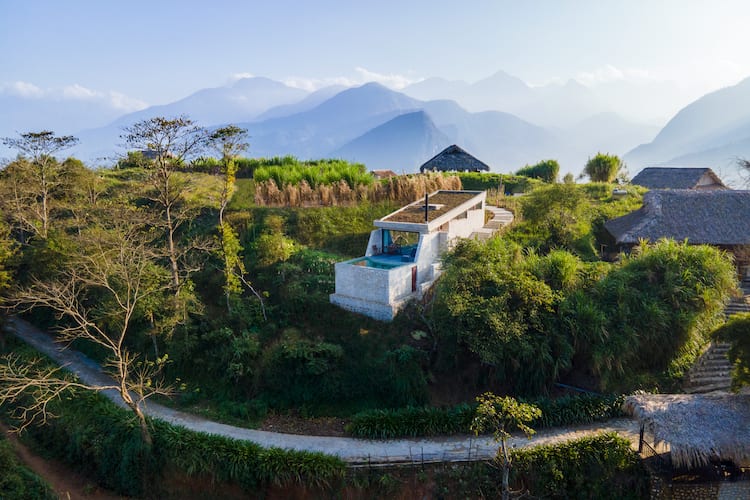 These true eco-"luxury" retreats have astonishing views of the surrounding mountains and valleys from their large balcony and swimming pool, while inside you'll find tasteful Scandinavian accents and all the latest in modern sustainable technologies, including heated floors.
Located near a quiet countryside road on the way to Lech Village, the Pool Villas are separated from the rest of the resort to provide the utmost in privacy and exclusivity, ideal for couples, honeymooners, or special occasions.
Pool Villas are suitable for two adults or two adults and two children under 12 years old.
Interested in the Topas Ecolodge?
Please fill in the form beneath and we'll get back to you ASAP.