Travel Insurance
Protecting your travel investment with comprehensive insurance should help safeguard travelers from unexpected financial losses in the event your travels are interrupted, canceled, or disrupted for any reason.
With any form of travel, but especially with expedition cruises, taking out travel insurance is always a sensible decision in case something goes wrong. South America and Southeast Asia as exotic cruise destinations are no exception, and Rainforest Cruises strongly recommend purchasing travel insurance immediately upon booking your vacation. Most policies require insurance to be purchased within 14 days of initial booking.
Make sure the policy you choose is right for you, checking it has adequate levels of coverage for the activities you will be participating in, including cruises. We recommend coverage should, at a minimum, include:
Emergency Medical and Medical Evacuation
Trip Delay or Missed Connections (interruption or after departure coverage)
Baggage & Repatriation
Ideally, the ability to Cancel For Any Reason (CFAR)
Before you go ahead and purchase insurance though, you might want to check whether any – and sufficient – travel insurance is included with your credit card as policies are often included in the perks. If it isn't, citizens of the United States may like to consider Travel Guard's Preferred and Deluxe plans, which offer a variety of coverage options and allow you to add on benefits like Cancel For Any Reason.
If you can't find what you're looking for with a Travel Guard plan, or if you wish to compare Travel Guard's plans to other insurance providers, US citizens can compare and purchase travel insurance policies via the travel insurance comparison website Squaremouth. If you are not a US citizen, (AIG) Travel Guard may still have some options for you here, dependent upon your nationality.
Questions relating to coverage must be referred to the relevant insurer. Always read the terms and conditions of the policy wording and description of coverage before you buy. Please note it is the sole responsibility of the traveler, not Rainforest Cruises, to ensure your insurance requirements are met for your vacation.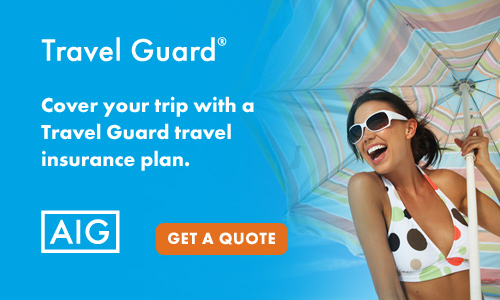 ---
Why should US citizens buy travel insurance through Squaremouth?
You can compare travel insurance quotes from more than 30 of the most reputable travel insurance providers in the US with A.M. Best Ratings of "Good" or higher, all in one place.
They have a multi-award-winning customer service team whose goal is to downsell, recommending the least expensive policy matching the coverage you required.
As they earn no commission, we know that you will receive unbiased recommendations tailored to your specific needs rather than being pushed a more expensive policy for the sake of it.
Squaremouth have a unique Zero Complaint Guarantee giving you the confidence that every provider on their website will handle any claim fairly and honestly (otherwise those providers are removed from their website).
In the event of a claim, if you are unhappy with how it is handled, their team of licensed claims adjusters will investigate your case and mediate with the insurance provider on your behalf.
Squaremouth is rated the number one finance and insurance company by ResellerRatings.