Overview
Due to launch in August 2023, the Anouvong is the first luxury boutique ship to cruise the majestic upper-Mekong river in Laos. This lesser-traveled stretch of one of the world's most spectacular waterways is home to serene nature, quaint villages and stunning temples. The boat, with a capacity for 20 guests, was fittingly named after a former King of Lao and blends traditional Laotian ambiance and artwork with French-Colonial finesse.
Your Accommodation
Step aboard Anouvong for an unforgettable voyage as you leisurely cruise past a captivating picture of serene nature, isolated villages and magnificent temples, discovering the most beautiful, remote, riverside areas of Laos in utmost luxury.
Anouvong exudes an aura of exclusivity with just eight Deluxe Staterooms and two sumptuous Signature Suites, occupying both the main and upper decks, with four rooms on each level, all of which are characterized by floor-to-ceiling windows and an attractive French balcony or private terrace overlooking the verdant shores of the Mekong River. The two 30sqm Signature Suites are located at the front of the Main Deck and each has a spacious bathroom with a jacuzzi.
On Board Dining
The exquisite De-Lagrée Dining Hall—named after the leader of the French Mekong Expedition of 1866-1868—honors Luang Prabang's temples and presents five-star cuisine showcasing the rich and flavorful dishes of Laos and Southeast Asia. Your voyage includes à la carte meals and bountiful buffets, alfresco breakfasts and barbecues, sandbank aperitifs and in-suite afternoon teas.
From the dining hall, walk up the classic wooden staircase to find the glass-encased Café-bar & Lounge, offering a laid-back experience in air-conditioned comfort with elegantly designed sofas, cushioned rattan chairs, and massive windows allowing fabulous views of the dramatic scenery. Shaded sunbeds line the Terrace Deck, and it's here that cultural shows take place, such as the traditional Baci ceremony for good blessings.
Relaxation
Every morning at sunrise, find your inspiration and get ready for the day at the meditative Tai Chi class against a backdrop of rural life, where stilt houses and rice fields look like something straight out of a movie set.
The most peaceful place aboard Anouvong is the Bodhi Spa, filled with the calming aromas and gentle music. This blissful wellness sanctuary with its Laotian spiritual theme and grand tree of life mural offers various treatments for singles and couples at any time of the day. Watch evening cinema screenings or learn about the country's rich culture through fascinating on-board demonstrations, or lectures conducted in the lounge by local historians. Other activities include local dance & music performances, cooking classes, kayaking and board games.
Your Experience
Laos is Asia in slow motion. Here, vivid nature, voluptuous landscapes, a vibrant culture and hospitable people invite you to discover a country untainted by mass tourism. The Anouvong Cruise leisurely meanders through unchanged local life and captivating riverscapes on different itineraries between the Thai-Lao border, Luang Prabang and Vientiane, and vice versa.
From its colonial and religious heritage to more nature than you can ever imagine, these splendid voyages through fabled Laos possess all of the ingredients for an unforgettable adventure.
Accommodations
Social Areas
Bar
Cocktails Time
Cook
Dining
Hallway
Lounge
Lunch
Massage
Restaurant
Spa
Suites & Cabins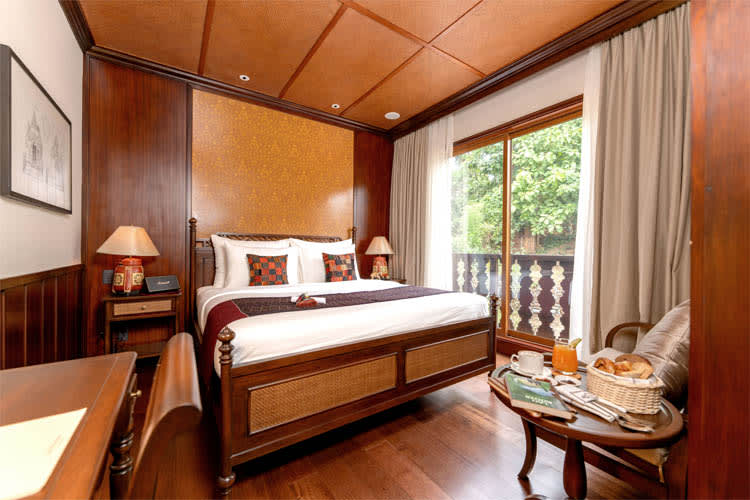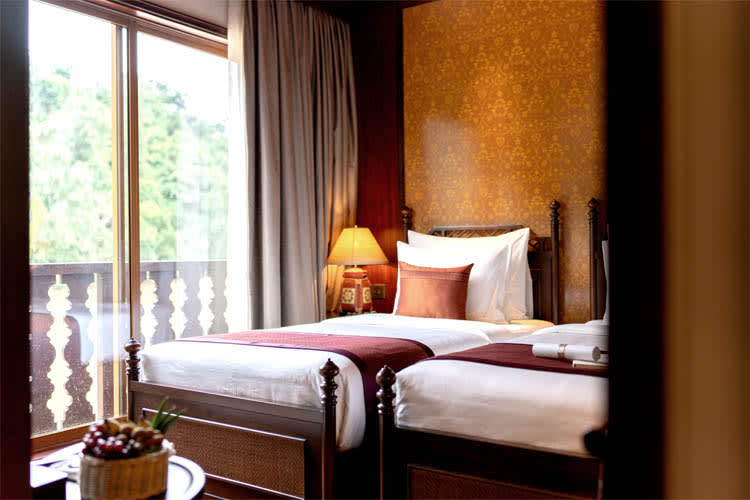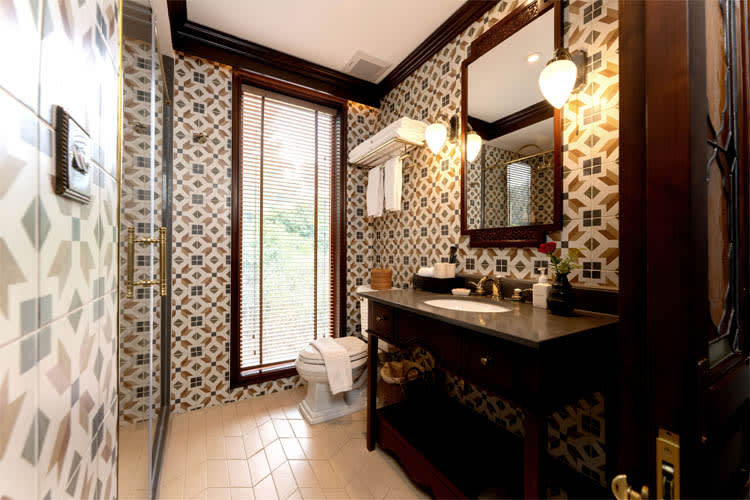 4 Cabins
Deluxe Stateroom
These gorgeous air-conditioned suites feature panoramic sliding doors that open up to a french style balcony, offering guests breathtaking views. The spacious bathroom is fully equipped with a walk-in shower and a vanity holding luxurious toiletries.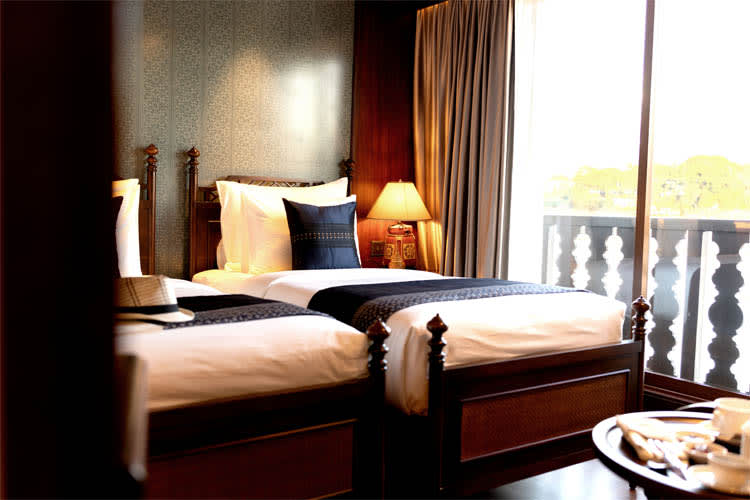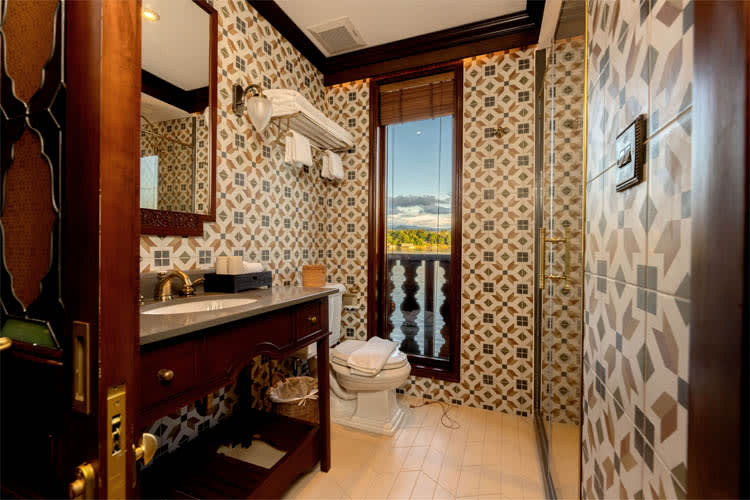 4 Cabins
Executive Stateroom
These staterooms are decorated with handpicked Laotian artwork giving them an exquisite look. They also feature large windows with amazing views allowing maximum natural light to flow in the room. The gorgeous bathrooms are equipped with luxurious amenities to ensure guests enjoy their showers.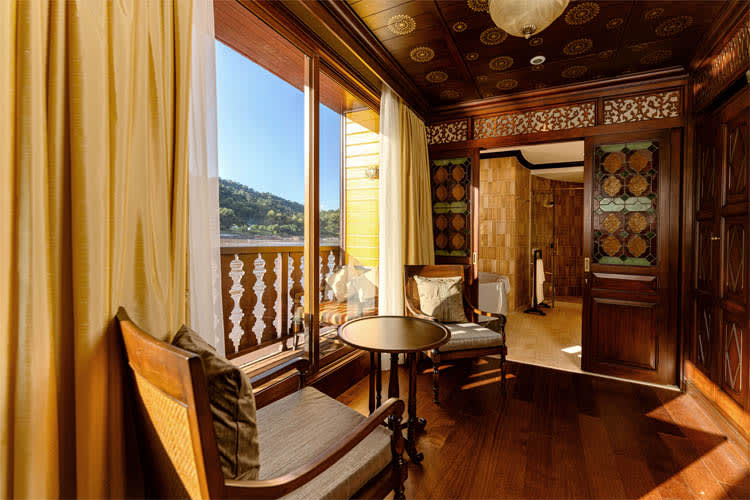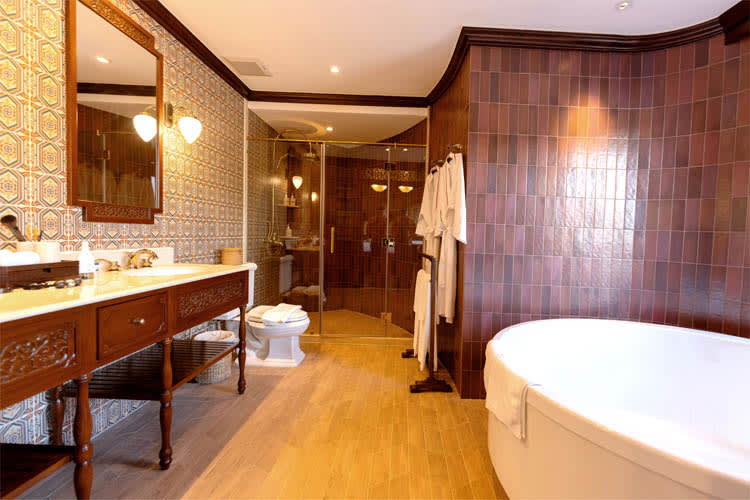 These spacious rooms come with a private balcony featuring a coffee table and chair for guests to enjoy the fantastic scenery. The vast floor-to-ceiling windows light up the room naturally, and the luxurious bathrooms feature a walk-in shower and a jacuzzi overlooking the amazing landscape.