Overview
The 127-foot Grand Majestic expertly blends luxury and exploration. With eight staterooms for a total of 16 passengers, the ship is filled with chic décor and modern amenities that rival the natural beauty of the Galapagos Islands.
Life Aboard The Grand Majestic Yacht
Picture yourself soaking in a Jacuzzi with a cocktail in hand as you approach your next postcard-worthy stop. This type of relaxation will be yours from the moment you step aboard the Grand Majestic. Built in 2018, the ship offers a perfect mix of indoor and outdoor spaces so that you can be comfortable all day long. If you crave sunbathing, stargazing, or wildlife spotting, the sundeck, which is outfitted with comfortable lounge chairs, an alfresco dining area, and a bar, is the place to be.
The air-conditioned indoor lounge, complete with a large TV, library, and coffee station, is a quiet moment of respite. No matter where you spend your time, a crew of nine will pamper you with excellent service.
Excursions From Your Grand Majestic Galapagos Cruise
The Grand Majestic cruises four itineraries through the islands of the Galapagos. The four-day cruise features the southern islands and includes a stop at Post Office Bay on Floreana Island. You'll also enjoy snorkeling at the volcanic crater at Devil's Crown and hike at Gardner Bay, which is a breeding site for 12,000 pairs of waved albatrosses.
Opt for the five-day cruise and see giant tortoises at the Charles Darwin Station and watch sea lions frolic on Lobos Island. Once you see the Galapagos' ecological paradise, you will never want to leave, so a more extended cruise is always an excellent choice.
The eight-day "A" cruise is a combination of the two shorter itineraries. However, the "B" cruise is a unique itinerary, focusing on Isabela, Santa Cruz, and Santiago Islands. At Targus Cove, a rare opportunity to snorkel with penguins is not to be missed. Hiking at Egas Port provides a chance to spot Galapagos lava lizards and playful fur seals. Black Turtle Cove, which is surrounded by mangroves, is accessible only by dinghy and is a haven for young wildlife, including baby hammerhead sharks, rays, and sea turtles.
You will experience two excursions each day guided by an expert naturalist guide who will answer all of your questions with local knowledge.
A Fast Ship For More Adventures
The Grand Majestic, which was modeled after American luxury yachts, tops out at 25-knot cruising speeds. Surprisingly quick for a ship cruising in the archipelago, the Grand Majestic motor yacht allows you to spend more time playing and less time traveling between islands. You'll enjoy longer hikes, spend more time snorkeling, and enjoy smooth sails between islands.
The Grand Majestic, available for both pre-scheduled cruises and private charters, is ideal for small, sophisticated groups looking for an upscale way to experience the Galapagos Islands.
Accommodations
Social Areas
Dining
Al Fresco
Jacuzzi
Lounge
Sun Deck
Porch
Reading Area
Refreshments
Dining
Lounge
Lectures
Suites & Cabins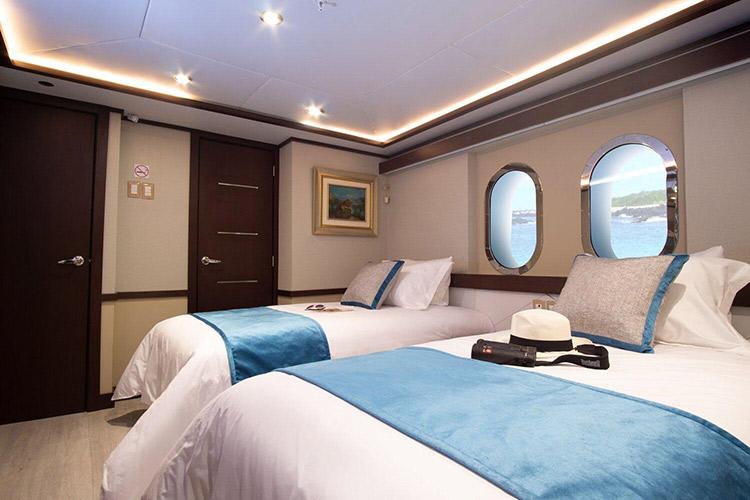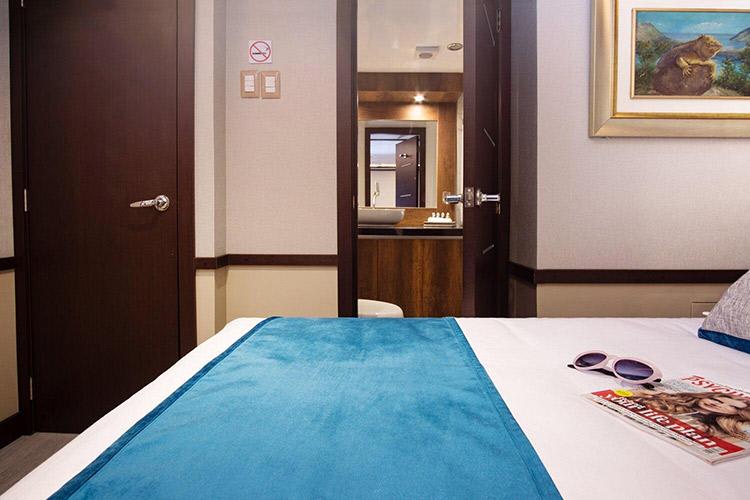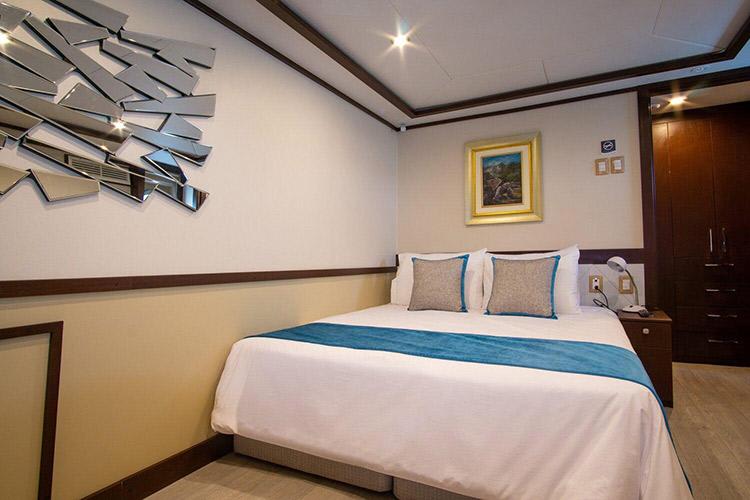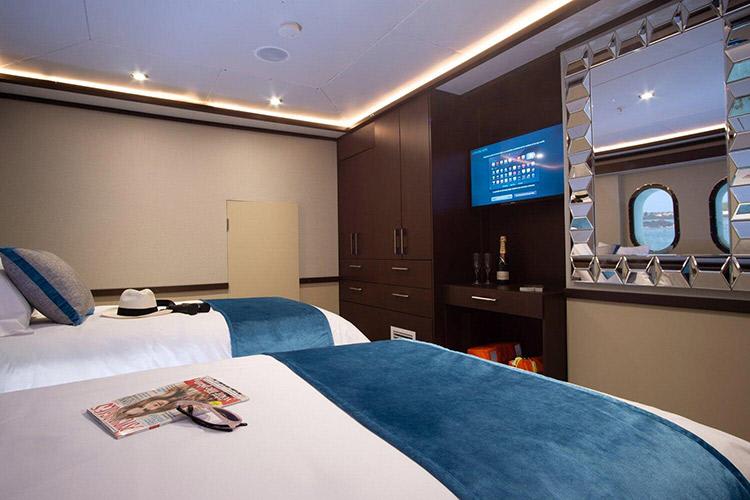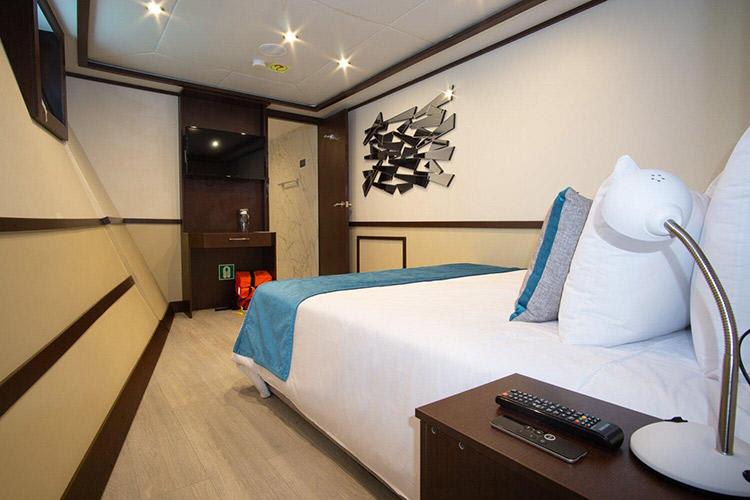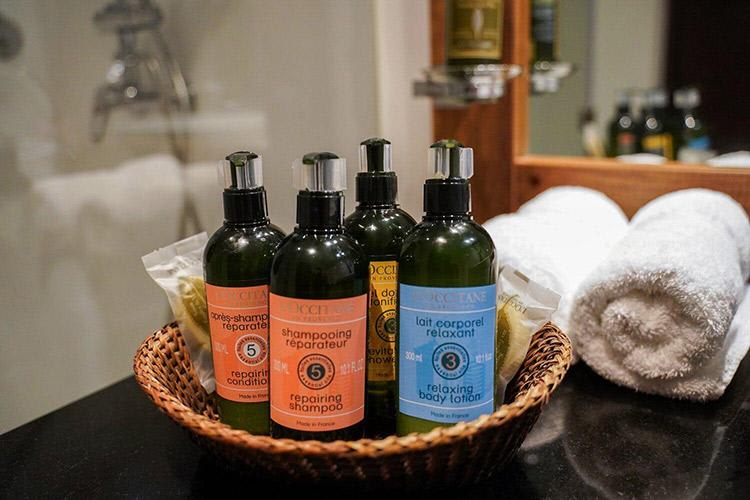 Size
15-18 m² / 164-198 ft²
Passengers can relax in these ample-sized cabins equipped with a large deposit box, a safe deposit box, and enough power connection. The rooms are air-conditioned with a porthole window to let in enough natural light. There are also gorgeous and fully equipped hot shower bathrooms.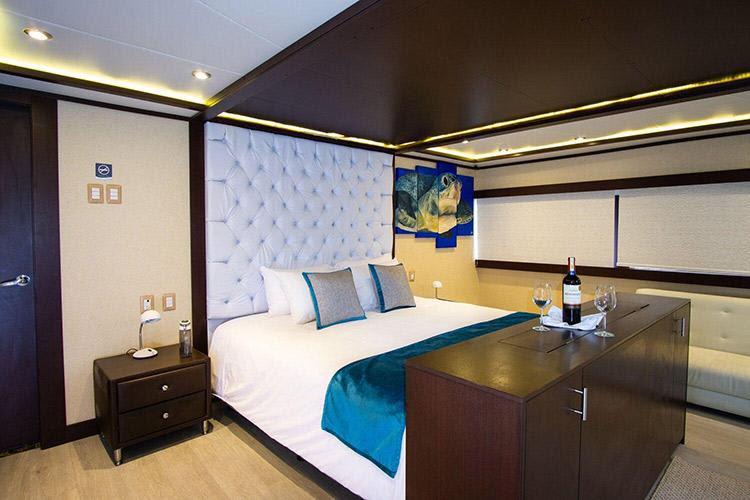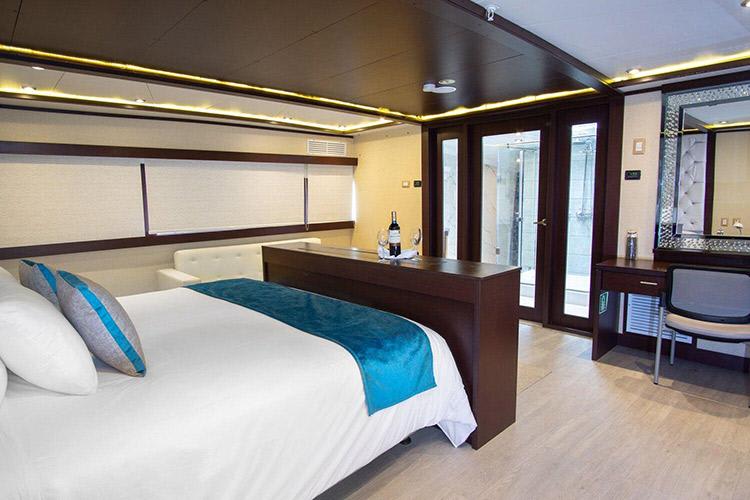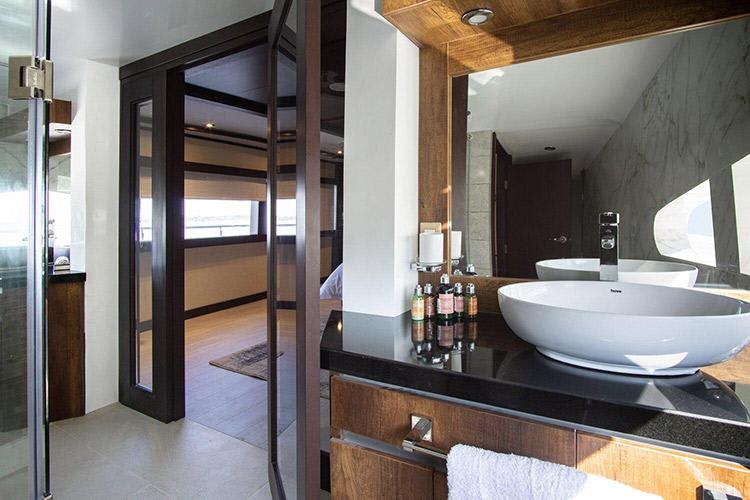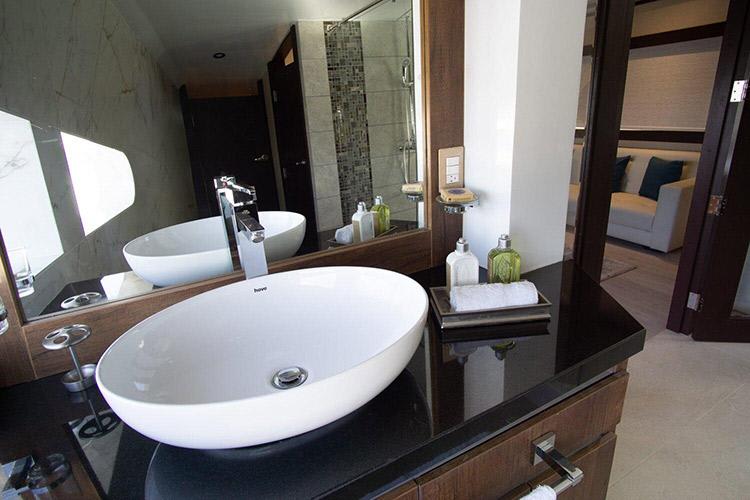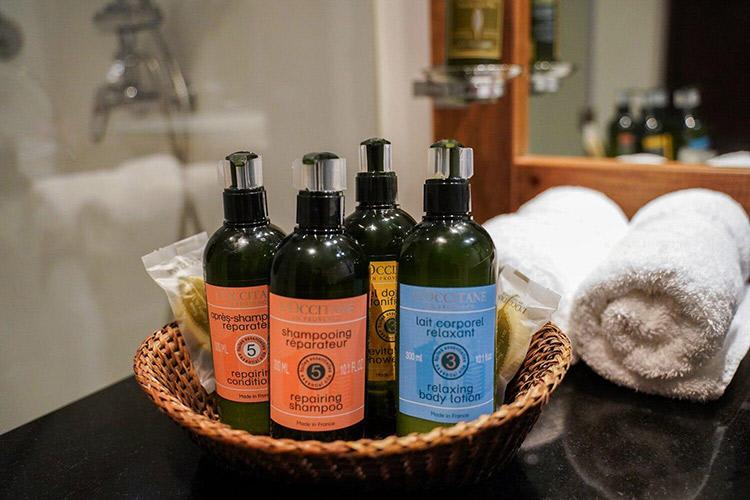 The suite has a panoramic window allowing you to take in the view of the sea while unwinding in your room. It features a private hot water bathroom with a hairdryer, body wash, hand and bath towel, among other amenities.