Overview
Every day is a new adventure aboard the 72-foot sailing ship, the Nemo II. With seven cabins for 14 passengers, this twin-hulled catamaran pairs a yacht's stability with the grace and romance of a sailboat.
Life Aboard The Nemo II Catamaran
As you set sail aboard the Nemo II, you will immediately feel a kinship with the other guests and the ship's crew, as the experience of sailing together fosters a close-knit, family atmosphere. Settle into a chair on the sun deck to watch as birds fly nearby and dolphins escort you along your route. The alfresco dining area is the ideal spot to enjoy a snack or a casual meal between activities.
Indoors, a large saloon temps you out of the sun for educational presentations, and the well-stocked bar provides the perfect opportunity to enjoy a sundowner while reliving the day's experiences with your fellow sailors. Watch as the crew unfurls the jib and hoists the mainsail to let the winds speed you to your next destination. Though the sails are used whenever possible, the ocean currents and wind conditions in the Galapagos often call for motor cruising, allowing you to arrive at your site in time for plenty of exploration.
Excursions From Your Nemo II Galapagos Cruise
The Nemo II sails along two eight-day itineraries. The northern route includes stops on Genovesa Island, where you may take a cliff hike searching for red-footed boobies and storm petrel colonies in their nesting sites. On Santiago Island, you may snorkel near playful sea lions and fur seals. To visit Floreana, Espanola, and San Cristobal Islands, select a cruise along the southern route.
A stop at Lobos Island, named after the large numbers of sea lions that make their home on the island, is a chance to see the nesting grounds of frigatebirds and blue-footed boobies. A stop on Santa Fe Island includes a dingy ride through a turquoise lagoon and a hike along a loop trail where you may see endemic land iguanas.
A True Sailing Experience
If you have ever dreamed of living aboard a sailboat, the Nemo II is your chance to experience the sailing lifestyle for yourself. The seven air-conditioned cabins feature a range of layouts, including double beds, twin bunks, and double bunks. Each cabin features a private wet-room-style bathroom and storage cupboards.
Though the accommodations may seem less grand than a luxury yacht, the Nemo II offers an authentic sailing experience that you won't find on other vessels. Thanks to the variety of cabin layouts available, cruises aboard the Nemo II are available at several price points, which makes this ship a great option for intrepid travelers and also for groups looking for an affordable charter option.
For sailing through the Galapagos with the wind in your hair and exploring the Galapagos Islands with a low guest-to-guide ratio of 14:1, the Nemo II offers a charming way to explore the Galapagos.
Accommodations
Social Areas
Boarding Area
Bridge
Lounge
Outdoor Dining
Sun Deck
Top Deck
Trampoline
Suites & Cabins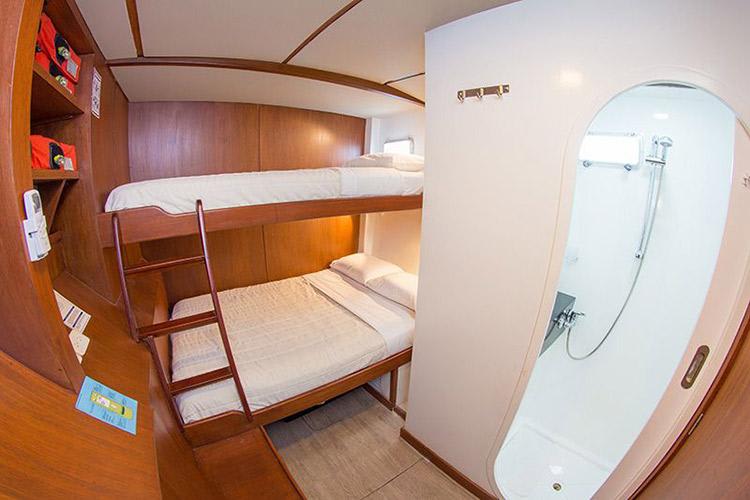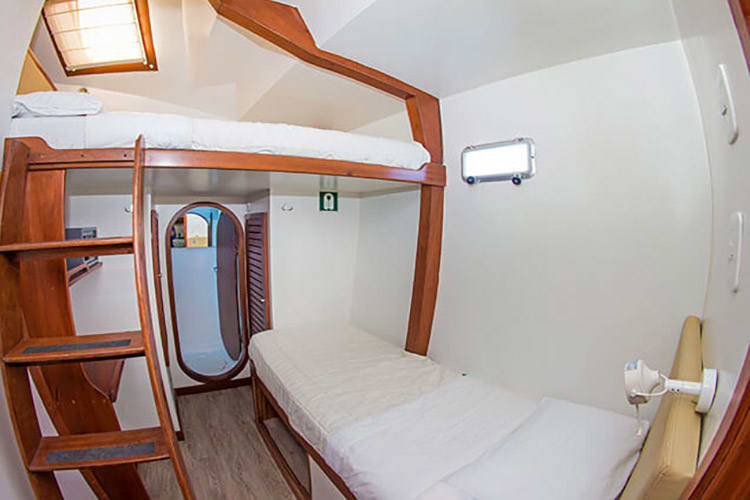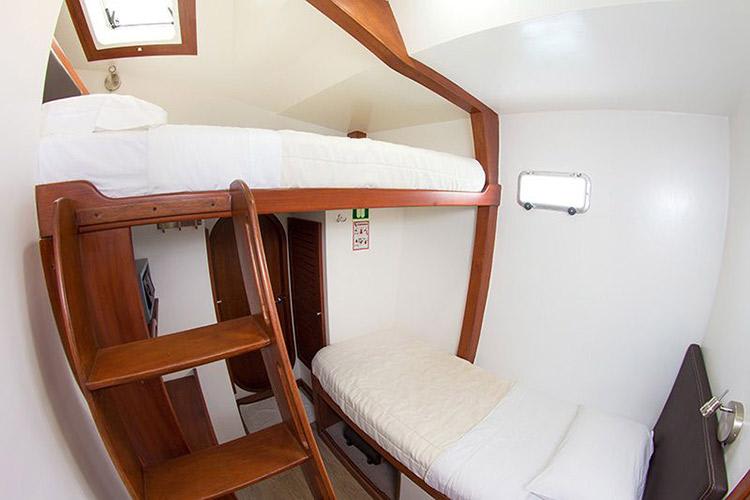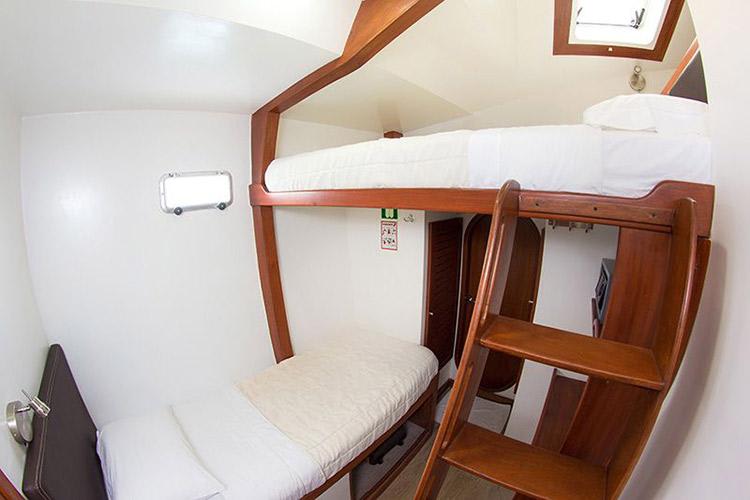 Size
2.5 m² / 27 ft² (approximately)
These sizeable cabins receive adequate natural light from the skylights and the small high-set rectangular windows. These air-conditioned rooms also feature several electrical outlets for your gadgets, a cupboard, a lamp, plus stylish private bathrooms with hot water, a wet-room style shower, and a toilet. Cabins #6 & #7.
Size
2.8 m² / 30 ft² (approximately)
Beds
Double/Double+Single / Bunkbed
The cabins are air-conditioned and furnished with a drawer and a cupboard to ensure you can fit items. The cabin comes with an ensuite bathroom equipped with hot water, a wet-room style shower, and a toilet. The windows are small skylights allowing in natural light. Cabins #1 & #2 have a double bed, while Cabins #3 & #4 can also have an additional bed for a third person and Cabin #5 features a bunk bed for two people.