Overview
Cocoon yourself in the distinctive sophistication of the 16-passenger Ocean Spray luxury cruise yacht. While exploring the Galapagos Islands, guests of all ages are treated to 180-degree panoramic views, alfresco dining, and high-end furnishings and amenities.
Life Aboard the Ocean Spray Cruise Ship Galapagos
Delight in the best of indoor-outdoor living during an Ocean Spray Cruise. Thanks to a partially-covered sundeck, extended balconies, panoramic windows, and natural-light-infused staterooms, it is impossible to distinguish where nature ends and luxury begins. At 124 feet long and 46 feet wide, the Ocean Spray offers every guest ample space to relax in comfort.
Couples will love the comfortable king-sized beds, while families will appreciate the option of two twin-sized beds and adjoining rooms. Between excursions, grab a drink in the cozy bar, soak in the whirlpool, or nap on a daybed. At the end of the day, unwind in a frosted-glass shower while pampering yourself with premium biodegradable amenities before snuggling into deluxe bed linens.
Excursions from your Ocean Spray Cruise
The Ocean Spray sails a wide range of itineraries, ranging from three to seven nights, making this an ideal ship for travelers looking to indulge in a full week in the Galapagos and those who wish to combine a quick cruise with a resort stay. The ship's top-rated Naturist Guides pride themselves on helping guests experience the most remote islands and visitor points with all the information they need to enrich their voyage.
Hop off the boat at Santa Fe Island, the planet's single spot to see pink land iguanas. Depending on the itinerary selected, you will explore lava tubes on Santa Cruz Island, visit a Palo Santo forest on Genovesa Island where red-footed boobies nest, and snorkel with turtles and rays at Devil's Crown on Floreana Island. Along the way, you will hike, kayak, paddleboard, and take dinghy rides during two excursions each day. No matter the itinerary or island, surprise encounters with wildlife, including flamingoes, penguins, white-tipped sharks, and sea lions, await.
Designed for Wildlife Observation
Wildlife lovers flock to the Galapagos Islands in search of a vast array of native and endemic species that call the archipelago home, including the Galapagos Giant Tortoise, marine iguanas, and Flightless cormorants. The Ocean Spray yacht puts little between you and the area's animal residents. Stateroom balconies with sliding panoramic doors provide quiet, personal spaces to spot birds and marine animals.
To share the experience with friends, family, and fellow sailors, head to the Sky Deck, where you can keep an eye on the skies from both sunny and shaded areas. No matter what species you spy, be sure to ask about them during educational discussions in the briefing lounge.
From breakfast, lunch and dinners served on either the Sundeck or indoor dining area, to the library filled with materials on the islands and Ecuador, the Ocean Spray offers everything you could wish for to make the most of your moment in the Galapagos.
Accommodations
Social Areas
Al Fresco Dining
Dining Room
Sun Deck
Interior Lounge
Plounge Pool
Sky Deck
Suites & Cabins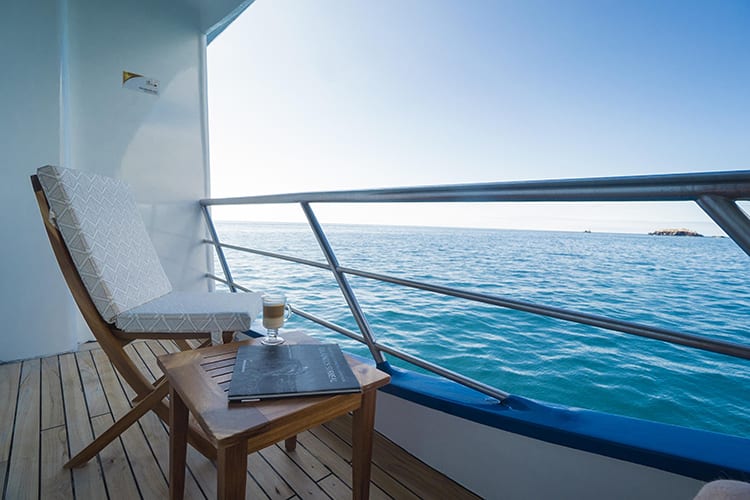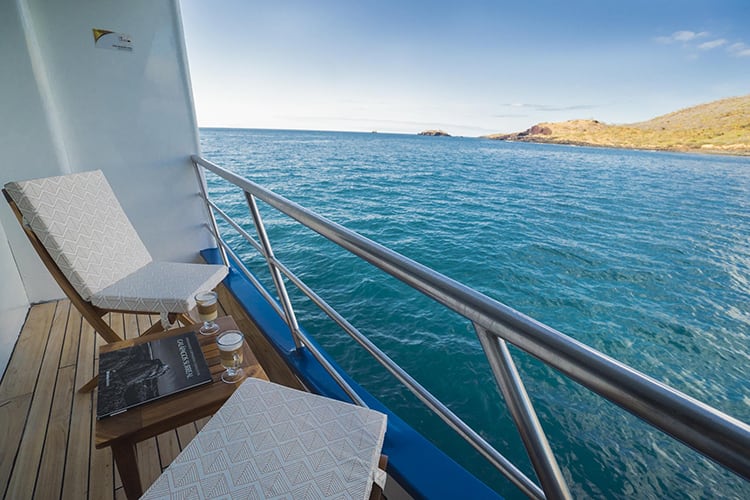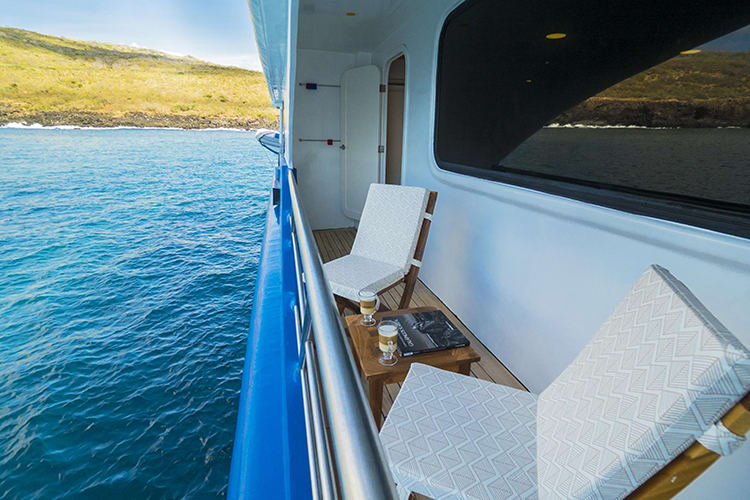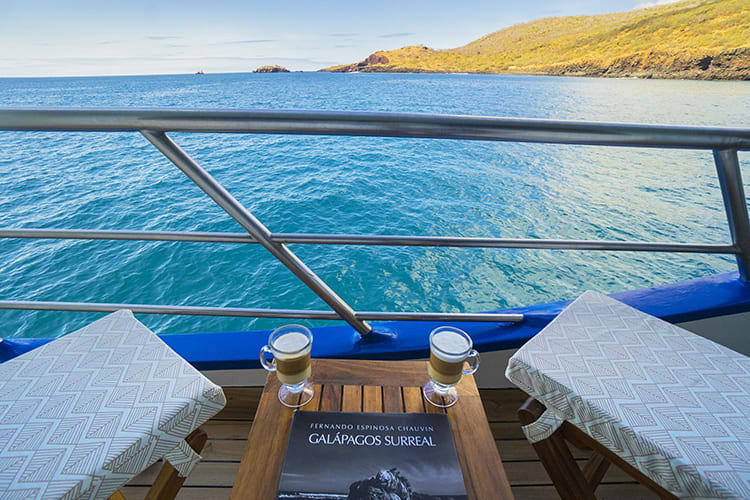 Size
23-32 m² / 248-334 ft²
Beds
King / Twin / Triple
The Ocean Spray cruise has sweeping ocean views from all suites, which are convertible (a king-size bed vs. two twin-size beds) and have luxurious private balconies where our guests can unwind and enjoy the islands while navigating. All staterooms feature premium biodegradable amenities, deluxe bed linens, and natural lighting.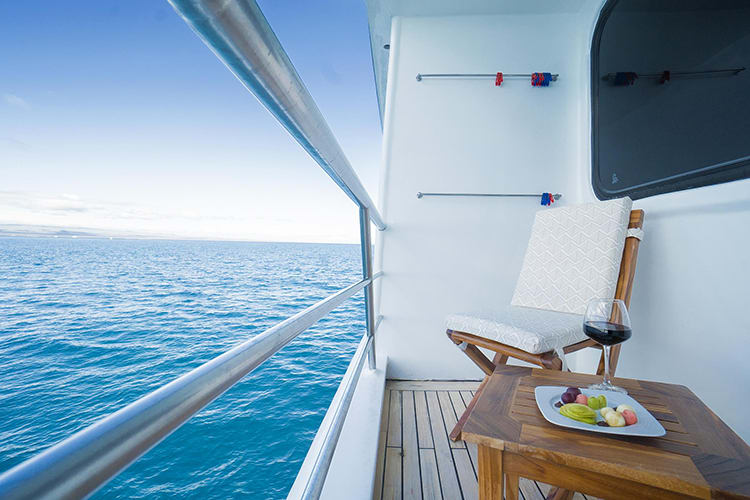 The Ocean Spray's single cabin has sweeping ocean views from its luxurious private balcony. The cabin features premium biodegradable amenities, deluxe bed linens, and natural lighting. This cabin is available with no single supplement for additional travelers who are part of odd-numbered groups and families. This cabin is not available for solo passengers.