Overview
Deep in the heart of Cambodia's untouched wilderness − a landscape of dense rainforest, fast-flowing rivers and cascading waterfalls − Shinta Mani Wild is a pioneering, ultra-luxe retreat of world-class design, all-inclusive hospitality and conservation, where your stay makes a real difference in protecting unique and endangered species. Spread out over 800 acres, this private nature sanctuary is the perfect tented basecamp for adventure activities across the Southern Cardamom National Park.
Tented Accommodations
Positioned upon a mile-long-stretch of a swiftly moving river and waterfalls, 15 custom-designed private tents provide views and an experience unlike any other resort in Asia. The interiors are flamboyantly designed with a vintage feel, gold accents and a few contemporary pops of color. Canopied tented ceilings hang opulently over splendid beds of dark Khmer wood.
Retro lighting and antique-style furnishings bring character, while rich fabrics add a regal touch. The sides of the tents fold away completely, leading directly to the jungle and river below. Sit on your private terrace enjoying the fresh air, or lie back in the blissful warmth of an outdoor bathtub listening to the sounds of the forest.
Dining Experiences
You can look forward to an impressive daily changing menu of meals centered around foraging; forest-to-table. Every afternoon, a gardener or chef sets out on a foraging trip. He'll comb the jungle and streams for the edible prizes hidden beneath bushes and between knotted branches. The result is a medley of herbs and other delights: greens, mushrooms, nuts, bamboo shoots, fruits such as pomelos, figs and mangosteens, wild potatoes, waterlilies, and fresh mud crabs. Foraging jobs bring work for yet more local community members, including former loggers from surrounding villagers.
Wellness
Harnessing the secrets of traditional Khmer medicine and utilizing home-made lotions and potions from herbs, spices and plants foraged in the rainforest, Khmer Tonics Spa has two treatment rooms set amid huge rocks in the forest canopy. Soul-soothing ministrations include hot herbal compresses, river-stone foot massages in a waterfall pool, natural heat healing, full body massages that employ acupuncture techniques, body scrubs and detoxifying facials. Spa treatments are inclusive, unlimited, and can be enjoyed anywhere you desire.
Life at Shinta Mani Wild
No two days are the same here. There's a dream team of expert guides on hand for activities and excursions and there is something for all levels of experience, from orchid-spotting hikes to adrenaline-pumping motorcycle patrols with the rangers. Trek through the jungle on wildlife conservation walks to monitor camera trap footage, explore dusty trails on a mountain bike, visit butterfly sanctuaries, go wildlife-spotting while kayaking down narrow streams, or go birdwatching on the backwaters of the estuary on Shinta Mani Wild's private pontoon.
Accompany the chef on a foraging walk through the forest, picking mangosteens, moringa and wild vanilla, or take a luxurious boat trip up the river to catch prawns and crabs for a barbeque feast. Try your hand at fly-fishing, or spend a lazy afternoon tubing down the river. Return to the delights of a river-size hammock and a petal-scattered bath.
A zipline entrance over a river and waterfalls straight into the cocktail bar sets the tone… or you can arrive in a Jungle Jeep if you prefer.
Itineraries & Prices
Welcome to Shinta Mani Wild
Welcome to Shinta Mani Wild - the adventure-packed luxury tent resort in the Cambodian Cardamon Mountains, set on a wild river bank and surrounded by forests.
During your stay, you can take on the activities from the resort's broad collection. The following is a sample itinerary - feel free to speak to us to customize your stay!
You will arrive at the resort by 1960s-era army jeep and enter the camp via zip-line.
Depending on your arrival time, you might want to take the remainder of the day to just relax and settle in. It might be a perfect day to enjoy your spa treatment at Khmer Tonics spa or enjoy a waterfall picnic. Don't miss out on the golden hour cocktails on a big flat stone in the middle of the river. In the evening, enjoy a drink ver the Big Raging Sister Waterfall at Landing Zone Bar.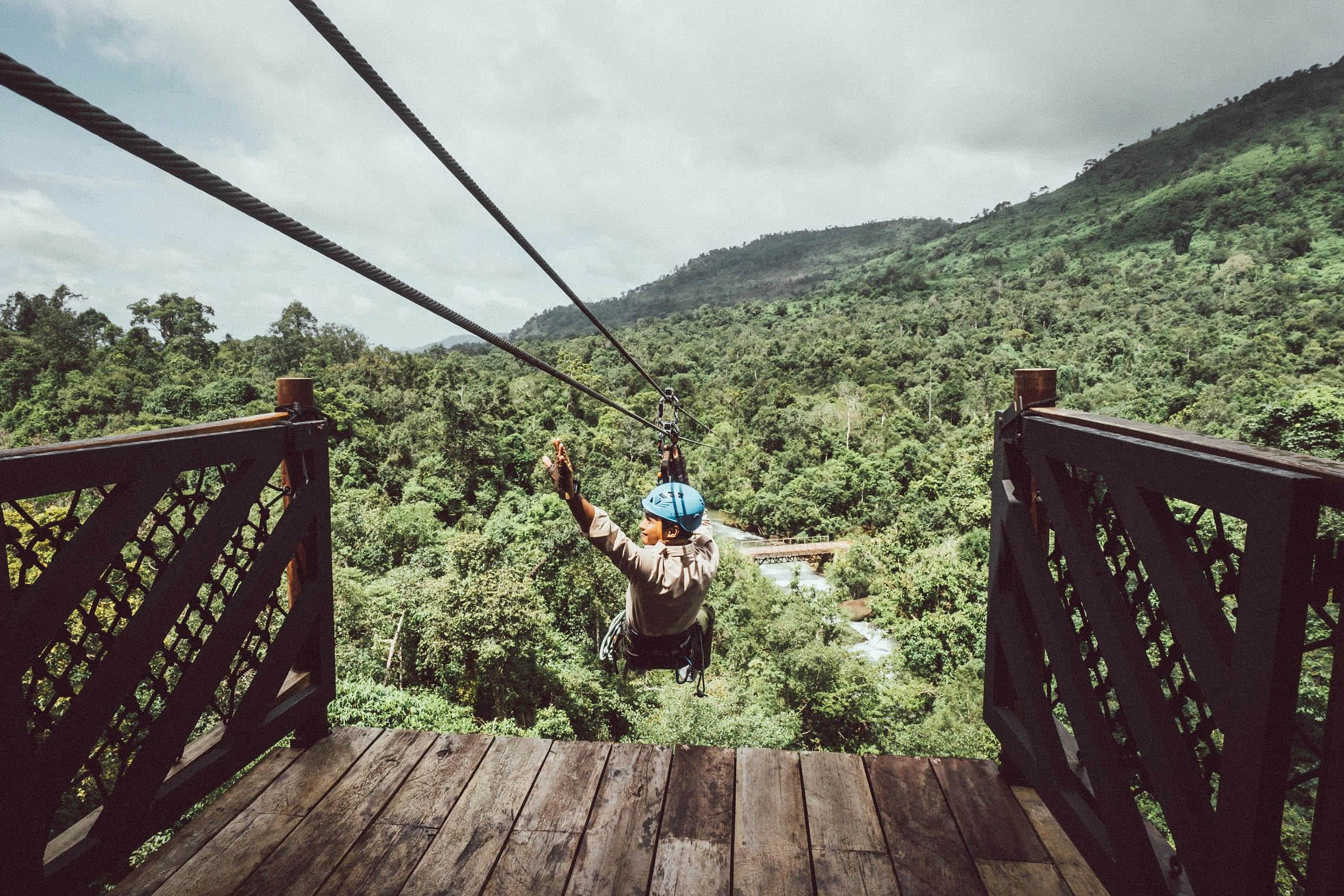 Location
Preah Sihanouk Province
Wildlife Alliance
Start your day with a yoga session and a luscious breakfast.
Next, join an anti-poaching patrol in the surrounding forest. The reason for Shinta Mani Wild's existence is to create a sustainable way to patrol and defend the beautiful forests and their wildlife. Shinta Mani Wild funds a dedicated Wildlife Alliance ranger station within its camp; guests are invited to join the rangers in their diverse work, which includes dealing with a multitude of snares and the animals they catch, arresting poachers and loggers, and seizing the likes of chainsaws and homemade guns and on a happy day the release of captured wildlife. Daily, the rangers seize far too many snares, which can kill nearly any animal, including young elephants. Please do join the rangers on a motorbike for 2-6 hours depending on your stamina, and prepare for an eye-opening experience you will remember for the rest of your life.
After lunch, enjoy a swim in the Cistern - a 33-meter long swimming pool made of a jet black painted steel cistern, where gin-clear groundwater used to be stored. Opt for a poolside massage or a full-body scrub and a detoxifying facial.
Later on, you can spend some time leisurely fishing in one of the many streams at the Wild sanctuary (please note that all fishing is strictly catch-and-release).
In the evening, dinner awaits at the beautiful Headquarters Restaurant and the Landing Zone Bar crew is always happy to see you.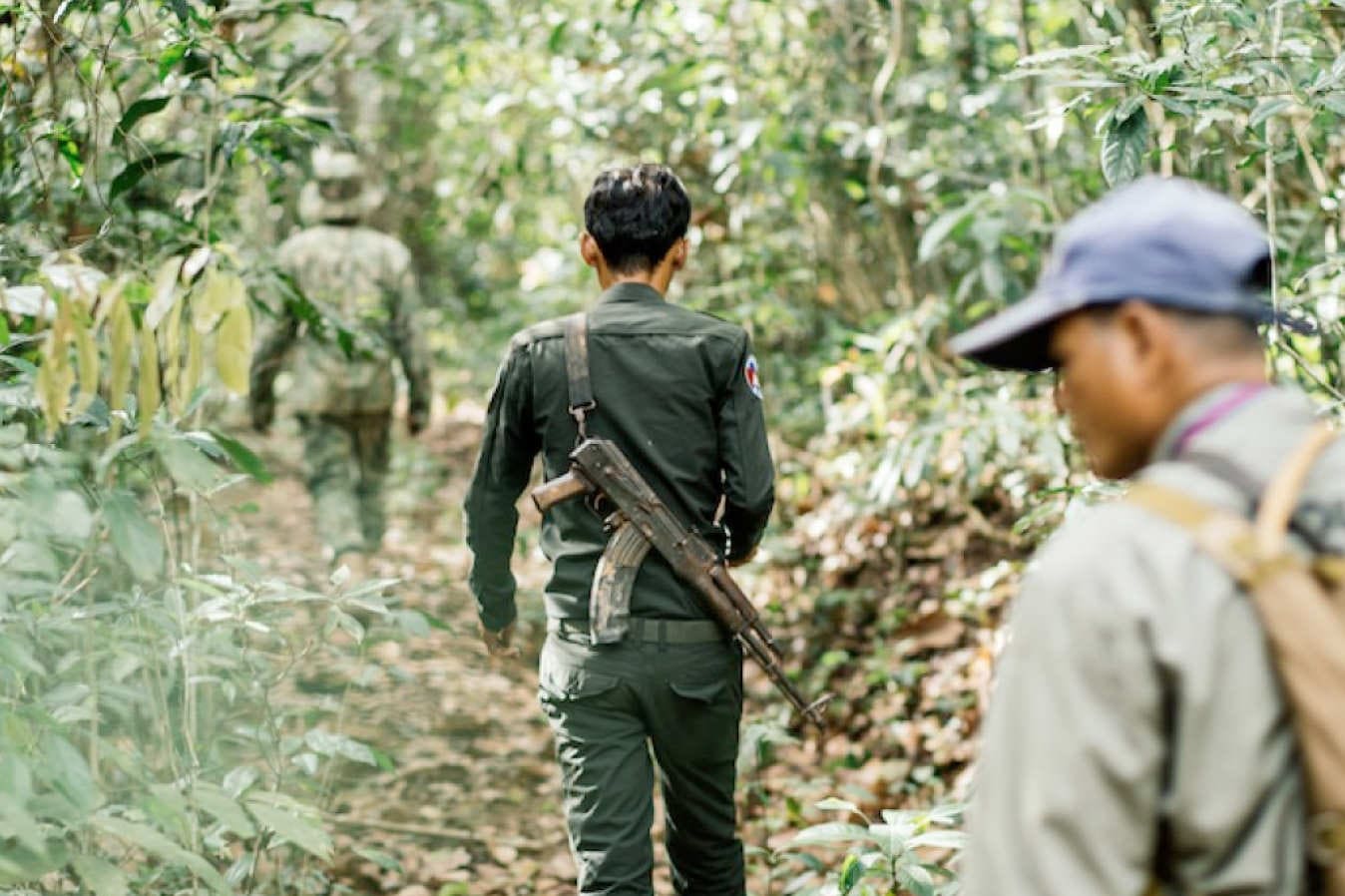 Location
Preah Sihanouk Province
Exploraions
What will it be today - bird watching, foraging, and cooking class with the chef, or a boat exploration of the secret backwaters of the upper Srey Ambel Estuary?
Bird watching
During the migratory season when birds are making their bi-annual pilgrimages you have a good chance to spot numerous rainforest and wet land-dwelling species.
Foraging
You can discover and taste Cambodia's natural larder in the company of the wild foragers; All of whom are reformed poachers and loggers and accustomed to living off the rain forest when camping out in the jungle as part of their past professions.
Boat Expeditions
Each custom-built boat comes with a fully-equipped bar, daybed, kayaks, toilet, a top deck with sun loungers, and a Bensley Adventure Butler. Guests can drop anchor wherever they please, whether to explore the narrow estuarine channels by kayak and enjoy a truly wild alfresco picnic. Enjoy a day exploring this vast and diverse wild area.
Try not to miss the Sundowners by the waterfall after this day full of adventures! Maybe a Khmer massage sounds good to end the day with?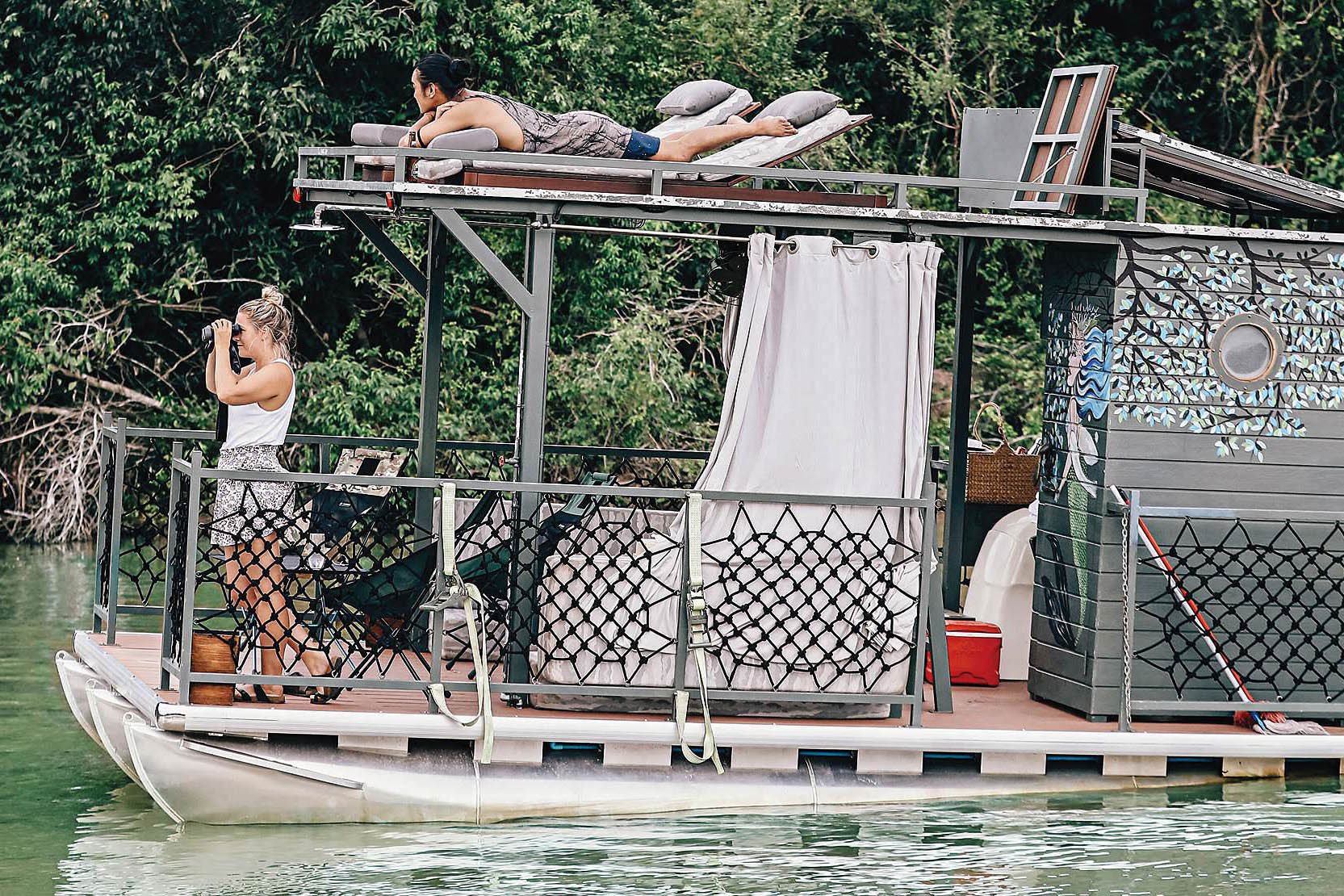 Location
Preah Sihanouk Province
Departure
Wake up early for another morning swim or river kayaking before you have your breakfast and check out.
Embark on a scenic ride back to Phnom Penh.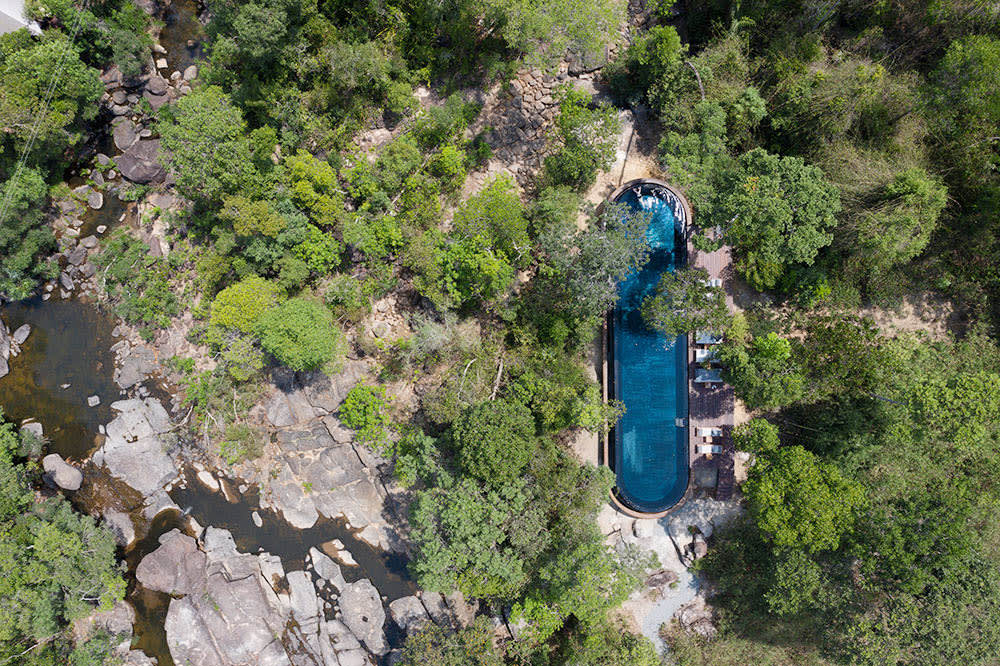 Location
Preah Sihanouk Province
1 / 4
Accommodations
Social Areas
Landing Zone Bar
Dining
Bar
Pool
Terrace
Headquarter Restaurant
Suites & Cabins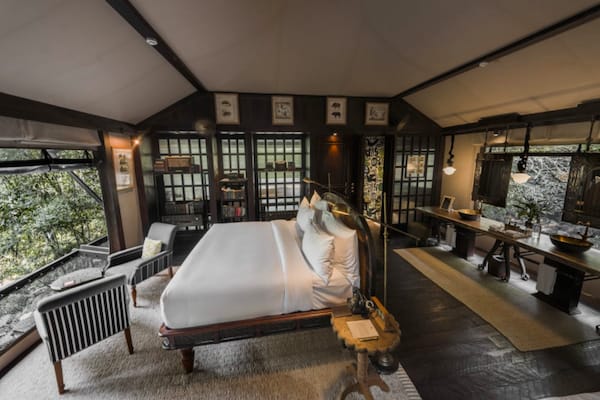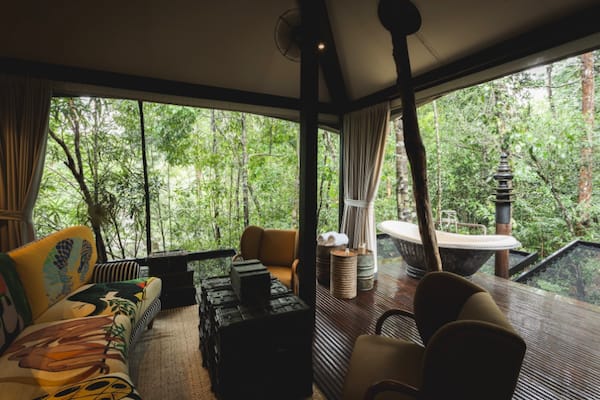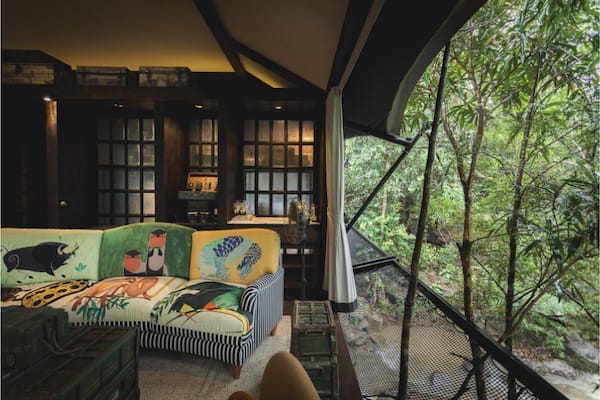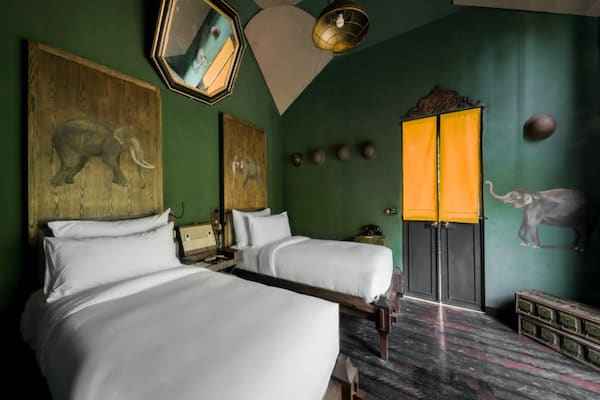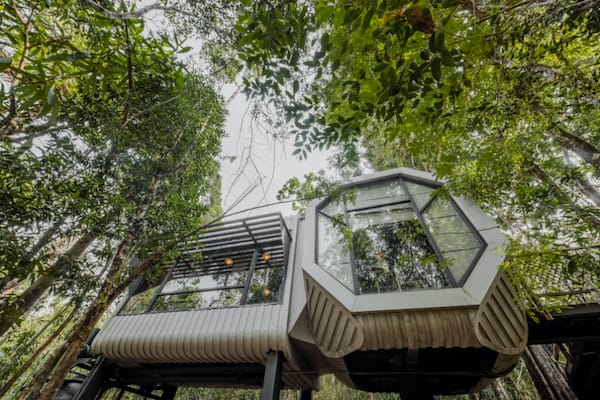 Size
140 m² / 1515 ft² (approximately)
Beds
Queen or Twin Beds (x2)
Just north of Headquarters and the Raging Big Sister Falls floats this unique tent - the Wildlife Alliance Tent.
It's located over the widest but shallow river tributary. The approach is spectacular. One strolls just above shallow rapids (monsoon season) on a succession of narrow wooden walkways that dances around this part of the jungle that thrives on wet roots.
The nearby Jungle Capsule with simple double-bedded accommodation forms the perfect annex.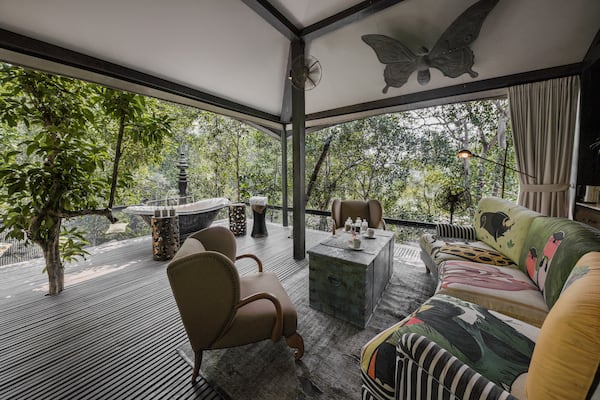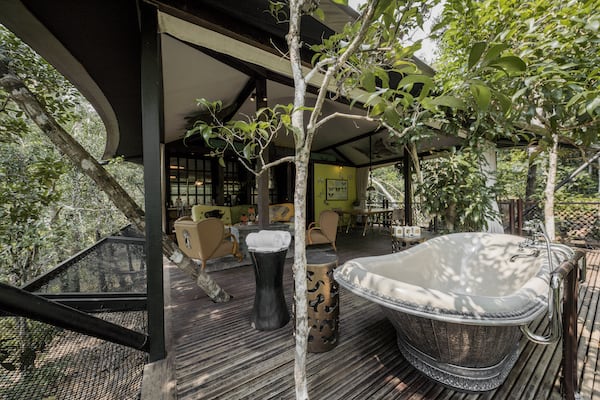 Each of the Shinta Mani Wild tents has its unique theme, character and design. They are placed along the Timor Rung River, with your private jungle space around.
Each has a beautiful salon, overlooking the wilderness, dining table and air-conditioned master bedroom with large en-suite bathroom.
Enjoy the outdoor intimate bathtub and a terrace.
Choose among 10 themes, such as Botanist, Bohemian, Birder etc. Ask our specialist for details.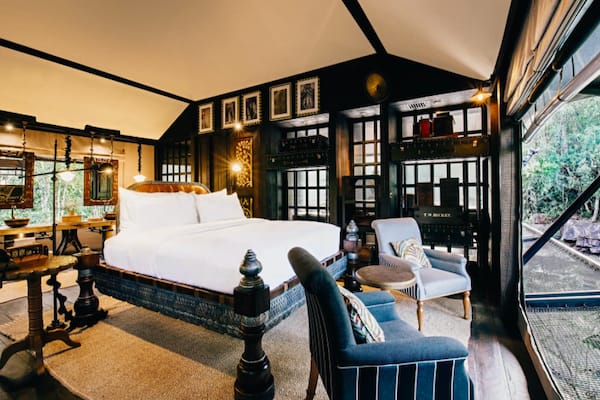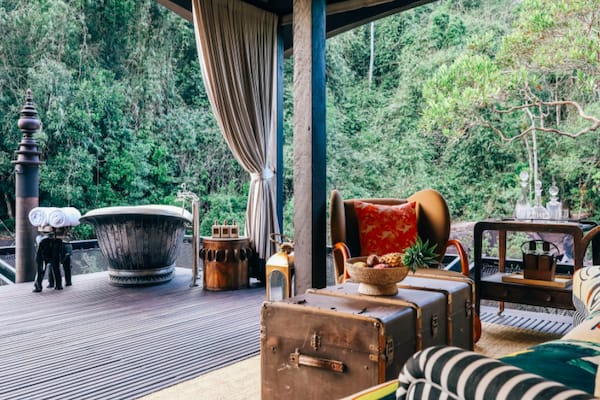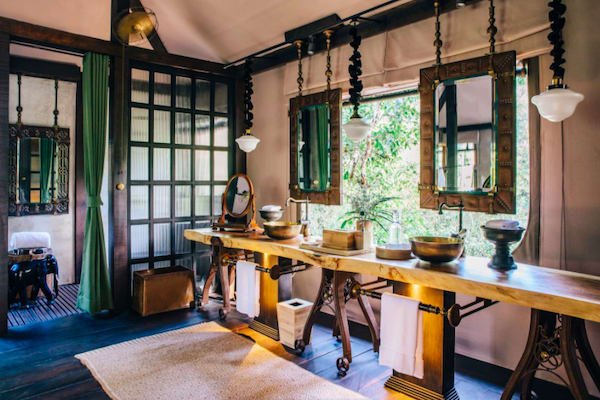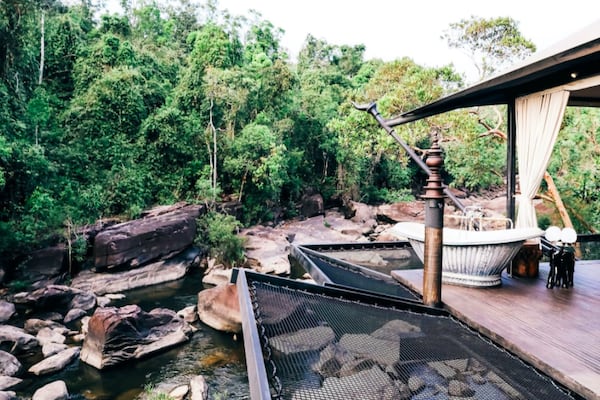 Rustic yet elegant safari-style décor uses local materials such as hardwood, bamboo and leather for customised, handcrafted furniture.
Air conditioned bedroom, with large en-suite bathroom, dining room and a salon, with Cardamon jungle and river view.
Space comfortable for 3 guests.
4 Waterfall Tents with unique theme and design to choose from - ask our specialists for details.
Technical Information
Property Layout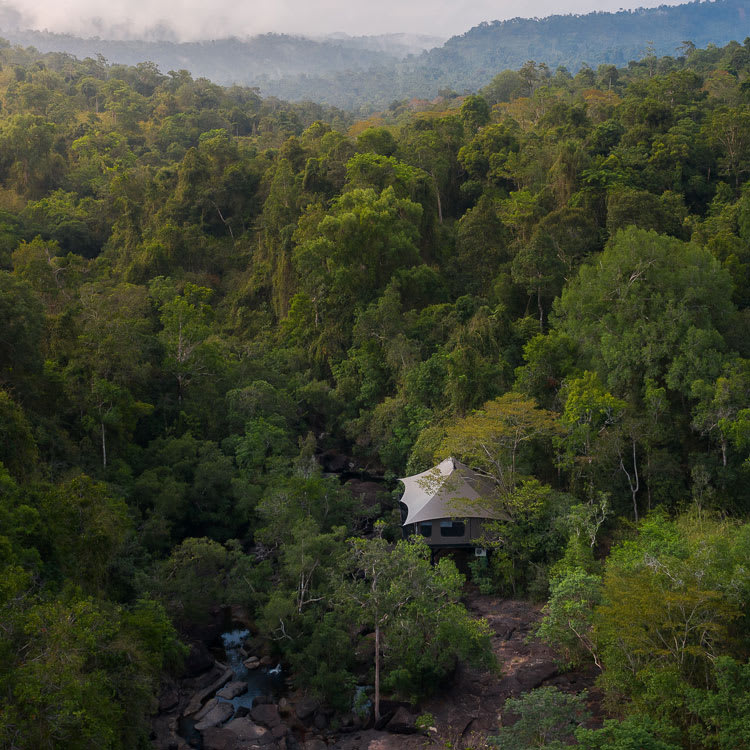 Features
Cabins with balconies

Air conditioning

Pool / Jacuzzi

Massage room

WIFI available

Spa

Onsite tour desk

Mosquito netting

Hot showers

All inclusive

Family Room (Triple or Quadruple)
Equipment
Bicycles

Fishing equipment

Yoga mats

Flash lights

Water canteen/bottle

Insect repellent
** Use of certain equipment at additional cost, ask for details
Interested in the Shinta Mani Wild?
Please fill in the form beneath and we'll get back to you ASAP.