Overview
Are you looking for a Galapagos cruise that combines comfort, stability, and adventure? The Nemo III offers all of that and more. With the sails unfurled, this 75–foot twin-hulled catamaran glides smoothly through the waters of the Galapagos Islands with up to 16 passengers aboard.
Life aboard a Galapagos Nemo III cruise
Your time aboard the Nemo III will be an authentic sailing experience, with comfortable single and double cabins. The boat also offers several social areas, perfect for getting to know your fellow guests and the six crew members. Throughout your cruise, enjoy three catered meals, plus snacks, created from local recipes and fresh ingredients each day.
Between meals, unwind with a soak in the Jacuzzi, which is located on the main deck. When you are ready for a break from the sun, retreat to the airconditioned interior, where a lounge full of cozy seating invites you to settle in and share stories of the day's adventures. Whatever space you are in, the Nemo III invites you to make yourself at home, so prop your feet up, ask the ship's barman for a sundowner and savor the moment.
Excursions from your Nemo III Galapagos cruise
Though the Nemo III may tempt you to relax onboard all day, you are likely traveling to Galapagos Islands to meet the area's famed wildlife. Northern and southern routes through the islands, with options for four-, five, and eight-day cruises, feature plentiful opportunities to snorkel, hike, birdwatch, and kayak while searching for the native and endemic species that call the islands home.
Create the story of a lifetime by snorkeling with sea lions and fur seals during a stop at Santiago Island. Deepwater snorkeling at Gardner Bay on Española Island offers a rare chance to see sea turtles and rays. Keep your camera close at hand during a visit to Santa Cruz Island because you will not want to miss an opportunity to snap a photo of the giant tortoises.
Exemplary service aboard your Nemo III Galapagos Cruise
The Nemo III sailing vessel's team is comprised of industry veterans with the know-how and experience to create safe, enjoyable, and engaging cruises. Though the Nemo III may seem at first glance to be less opulent than a luxury yacht, the friendly and welcoming staff go the extra mile to ensure you have the trip of a lifetime. Along the way, you will be escorted by a professional, English-speaking naturist guide who will provide expert knowledge on the wildlife and history of the region.
From young first-time sailors to retirees excited for the next adventure, cruisers of all ages will find much to love aboard the Nemo III. The availability of single beds is especially enticing to solo travelers hoping to meet new people while exploring the Galapagos Islands.
Accommodations
Social Areas
Sundeck
Living
Jacuzzi
Buffet
Al fresco Dining
Sunset
Suites & Cabins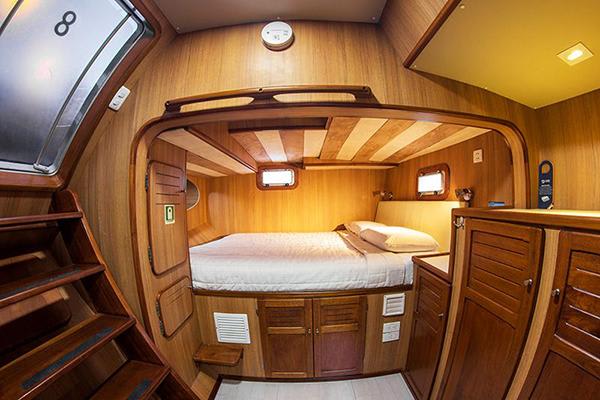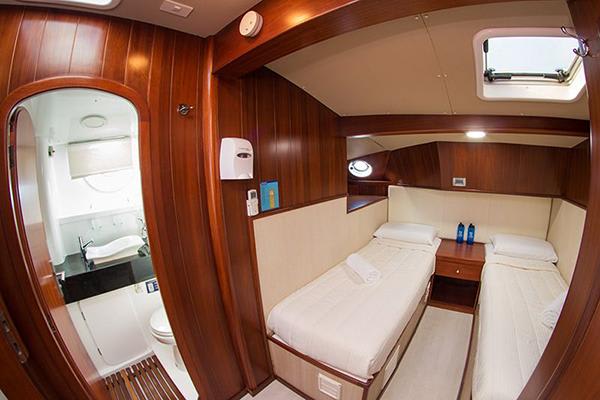 Size
2.5 m² / 27 ft² (approximately)
The Nemo III is home to three cozy double cabins. Each dedicated double cabin has individual air conditioning, a private bathroom and reading lights. Cabins #7 & #8.
Size
2.8 m² / 30 ft² (approximately)
Beds
Double/Double+Single / Twin
The Nemo III is home to six superior cabins. Each superior cabin has individual air conditioning, a private bathroom and reading lights. Cabins #1 & #2 have twin beds, while Cabins #3, #4 & #6 have a double bed and a single bed for a third person and Cabin #5 features a double bed.