Overview
Like her twin sister ship Kindat, the Kalaw Pandaw was originally built and launched in Yangon in 2014 and boasts an ultra light, shallow draft design ideal for sailing the silty waters of the River Ganges' lower stretches along the Hooghly River, and an elegant air reminiscent of the bygone days of the British Raj.
The Vessel
Despite her 36 passenger capacity, the double-decked ship doesn't feel crowded at all, indeed the boat features one of the highest passenger space ratios on India's rivers. Her two ample decks mean there is lots of outdoor deck space to enjoy, and her 18 cabins—10 main deck cabins and 8 upper deck cabins— are all generously sized, each measuring 170 square feet (16 square meters) and include plenty of closet space and under-bed storage, kimonos and slippers, spa-branded amenities, yoga mats and panoramic French windows.
Quite literally named after the historic paddle steamer PS Kalaw that was launched in 1917 and sunk in 1942 in the War—her owner witnessed the salvaging of the Kalaw in 1998 and managed to acquire her name plate and bell, the former of which the vessel now features—she is no longer sports a paddle or steam power, but still resembles upscale versions of the colonial-style ships of the past, all decked out in teak and brass, and her Sun Deck does come aptly adorned in steamer chairs, the perfect spot to settle in with an afternoon G&T and watch the world float by.
She also features a guest relation desk, library with contemporary and classic literature, and a flexible bistro space offering passengers indoor (air-conditioned) or outdoor dining depending on inclination, often prompted by the season. Breakfast and lunch are semi buffet-style, while dinners are served and often themed, all prepared by the master chef who heads an experienced international culinary team.
The Journey
Her seven night round-trip journey from Kolkata takes visitors on a voyage through the rich history and lush countryside of West Bengal to discover places that the average traveler wouldn't ordinarily get to see. Meandering through some of the prettiest parts of deepest India, stop off to walk through mustard fields and mango orchards, explore sleepy villages and traditional towns, and witness some of the most impressive temples and palaces this majestic country has to offer.
Off ship excursions and on board enrichment activities are all focused on engaging with the local culture, religious monuments and rich village life along the banks of one of the world's most sacred and culturally significant rivers. Take a rickshaw ride to see a unique Shiva temple with concentric rings made up of 108 lesser shrines, visit a brass-working village and history-changing battlefield, learn of the Hare Krishna movement and its connections to Henry Ford, and so much more.
An elegant ship with great attention to detail and interesting cultural experiences, not to mention a generous policy of waiving single supplements on several select sailings throughout the year, it's no wonder the vessel is as popular with solo passengers and groups of odd-number size as it is with intrepid couples. For all who step aboard the RV Kalaw Pandaw, an eye-opening exploration of rural India along the lower Ganges' River Hooghly awaits.
Itineraries & Prices
Embarkation
Transfer from your hotel or airport in Kolkata to embark and sail at noon. Sail past the old Danish colony of Serampore to Barrackpore to land and take a walk through the cantonment - past the Semaphore Tower, Government House, the Temple of Fame, and Flagstaff House.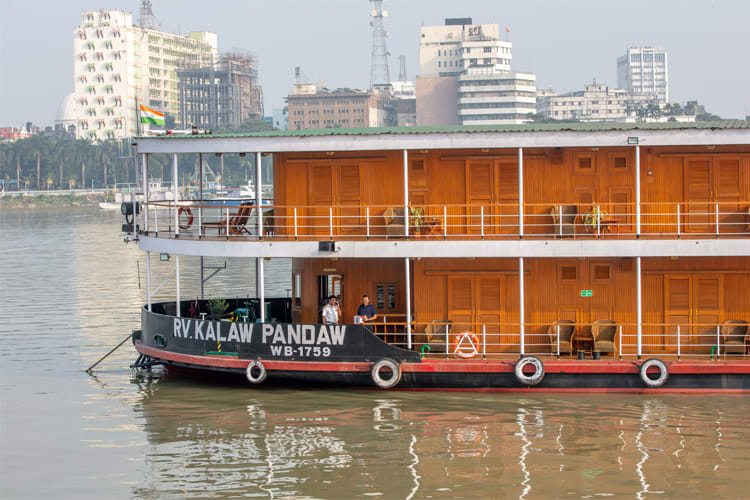 Kalna
After breakfast sail upstream and land at the country town of Kalna and take rickshaws to see a group of some of Bengal's most attractive terracotta temples, as well as the unique Shiva temple with concentric rings made up of 108 lesser shrines. Sail on through the night to a mooring near Matiari.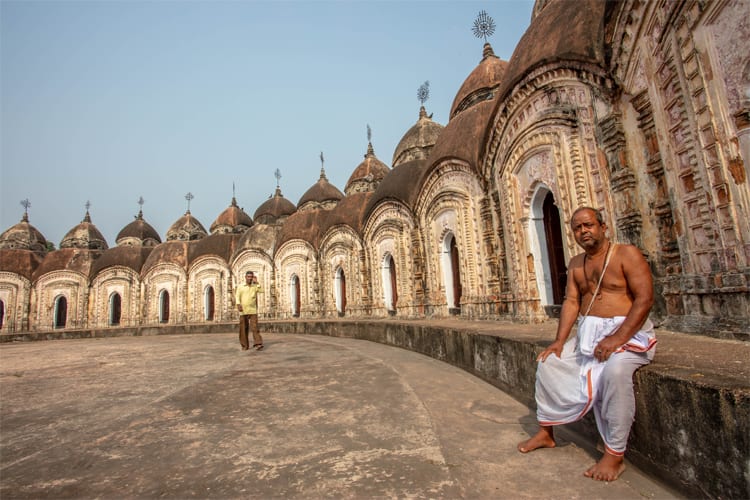 Matiari
Visit the brass-working village of Matiari, a charming riverside village. Interact with the locals of Matiari and witness the whole primitive process of beating out brass water pots and other vessels. Continue cruising upstream and time permitting visit the battlefield of Plassey where, in 1757, Robert Clive, the Commander-in-Chief of British India, defeated Siraj-ud-Daulah, the last independent Nawab of Bengal, to change the course of Indian history. Moor close to Murshidabad for the night.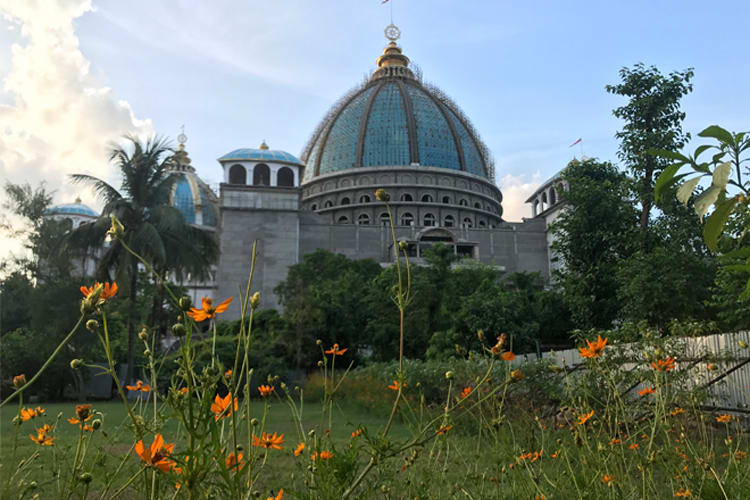 Murshidabad
This morning, walk to the Khushbagh, a peaceful Mughal-style garden that encloses the tombs of Siraj-ud-Daulah – the last independent Nawab of Bengal – and his family. Continue a little way upstream to where the great Hazarduari Palace dominates the waterfront. Built by an English architect in 1837, the palace hosts an extensive collection of pictures, china, weapons, and other objects. Carry on to visit the great Katra Mosque and Nashipara Palace before driving out to see the Katgola Palace. Built-in classical Georgian style by rich local merchants, Katgola Palace represents the other side of the coin of the 'White Mughal' period when English and Indian cultures came close to fusion. Moor overnight on the riverbank across from town.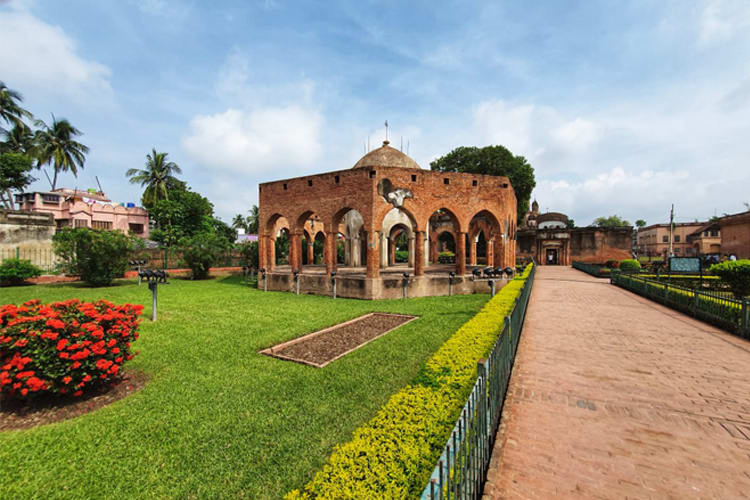 Baranagar - Ajimganj
Continue up the Hooghly which transforms into a charming waterway twisting and turning between banks lined with mustard fields and mango orchards. Morning walks through the fields of the delightfully sleepy village of Baranagar to visit its three gorgeous miniature terracotta temples. This is rural India at its most idyllic. Visit the Jain temples at Azimganj and continue downstream.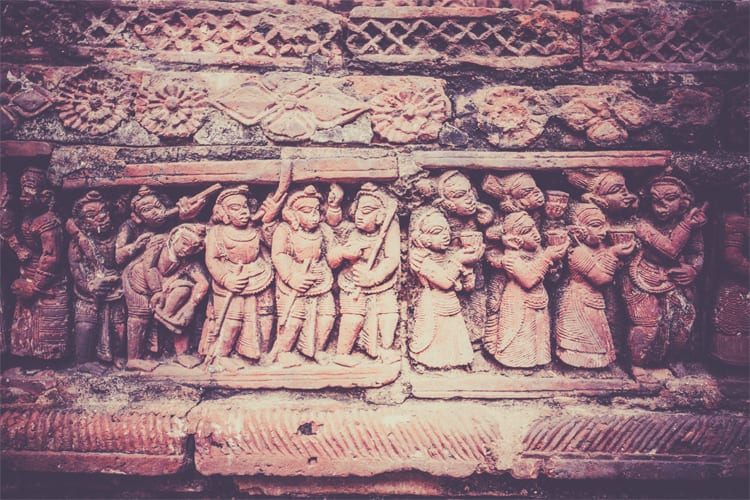 Mayapur
Explore the village of Mayapur, the headquarters of the ISKCON movement with a new temple comparable in size to the Vatican and largely funded by Alfred B. Ford, the great-grandson of car maker Henry Ford. Meet Krishna followers and walk through the pilgrims' bazaar.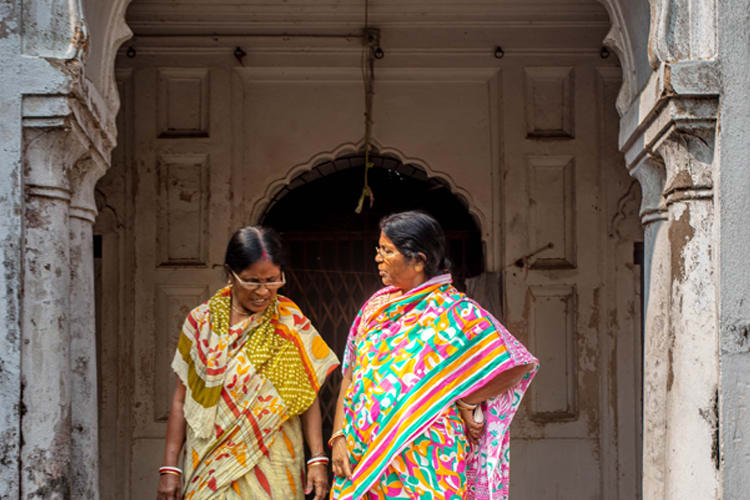 Chandernagore – Hooghly
Continue sailing downstream before landing to visit the imposing Imambara at Hooghly. With verses from the Koran written on its walls, the Imambara is an opportunity to step back in time and relive a slice of Islamic history in Bengal. Sail past the old Dutch settlement of Chinsura to Chandernagore, a French possession until 1950. Visit the 18th-century church and Dupleix's House, erstwhile Governor-General of French India. Sail into the night to a mooring near Kolkata.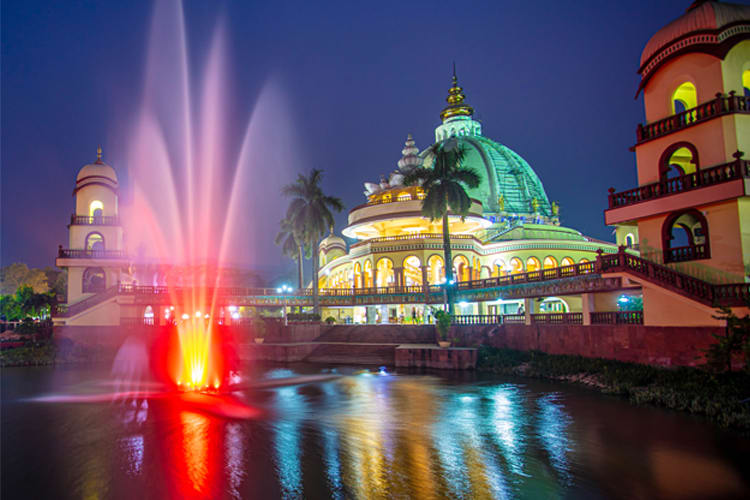 Disembarkation
After breakfast, disembark and receive a group transfer to the disembarkation point hotel for your onward journey.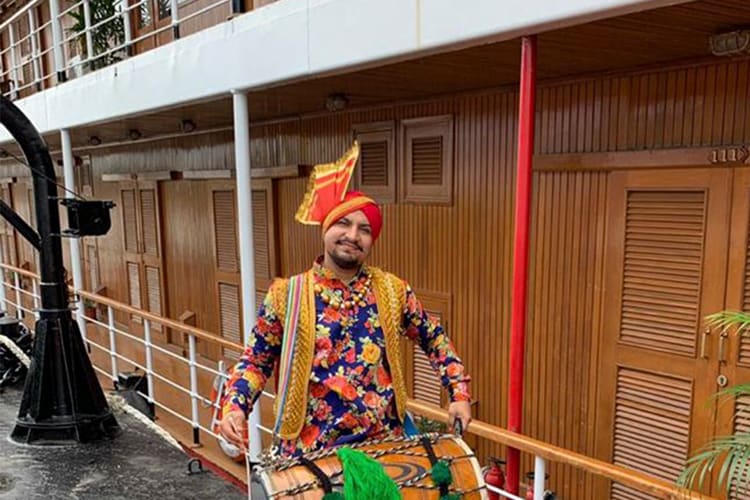 1 / 8
Accommodations
Social Areas
Salad Bar
Dining
Front Deck
Relax
Sundeck
Outdoor Restaurant
Recreation
Traditional
Local Performance
Suites & Cabins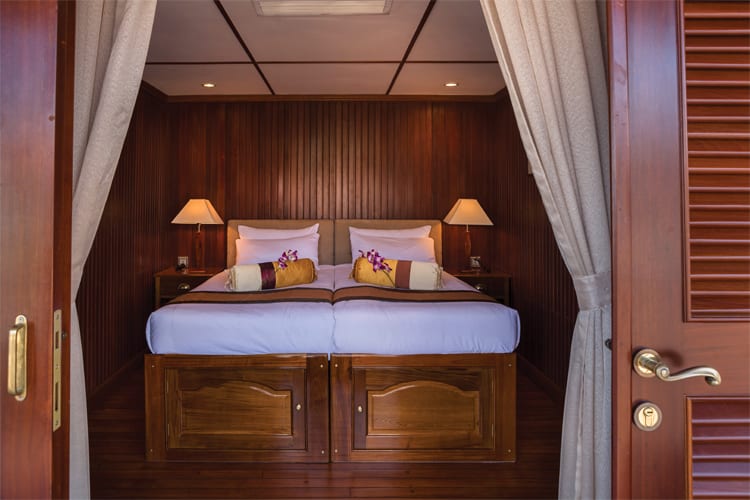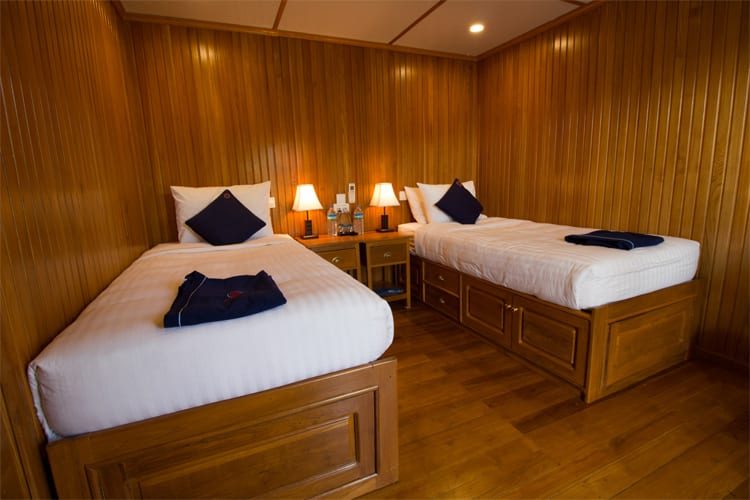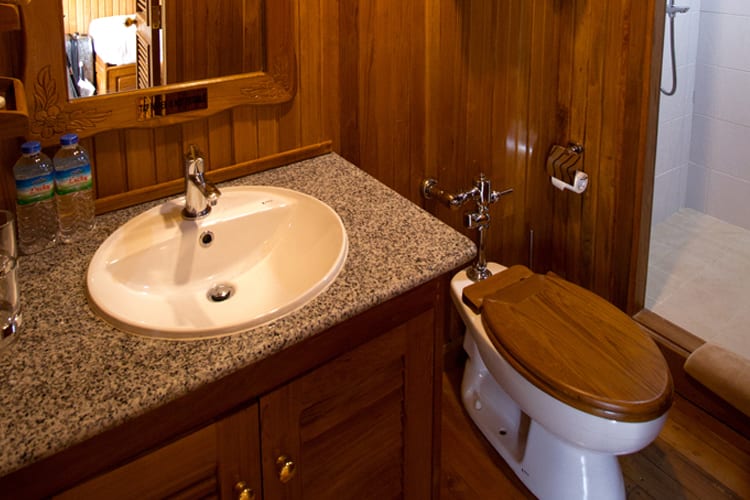 The river level cabins of the Main Deck have been delightfully finished in teak and brass, and feature panoramic French windows and an ensuite bathroom with spa-branded amenities and hairdryer. Inviting beds with premium mattresses and linens are convertible between twin and double as desired.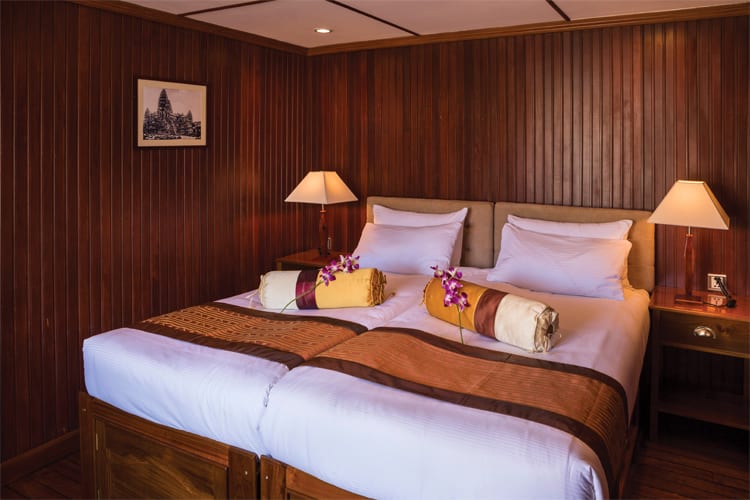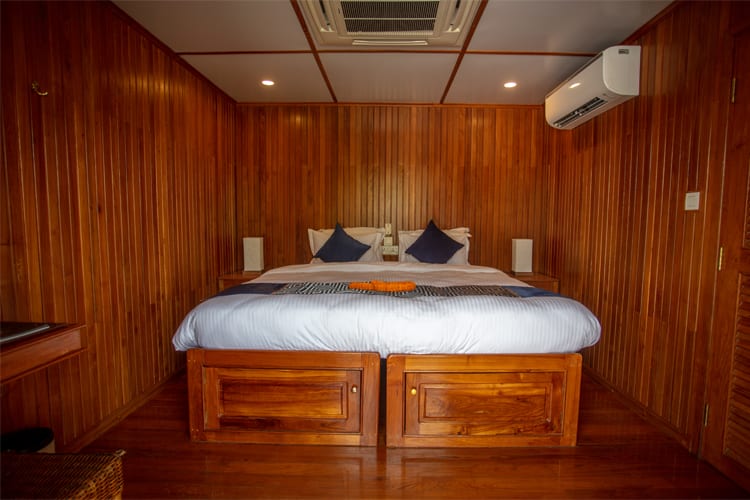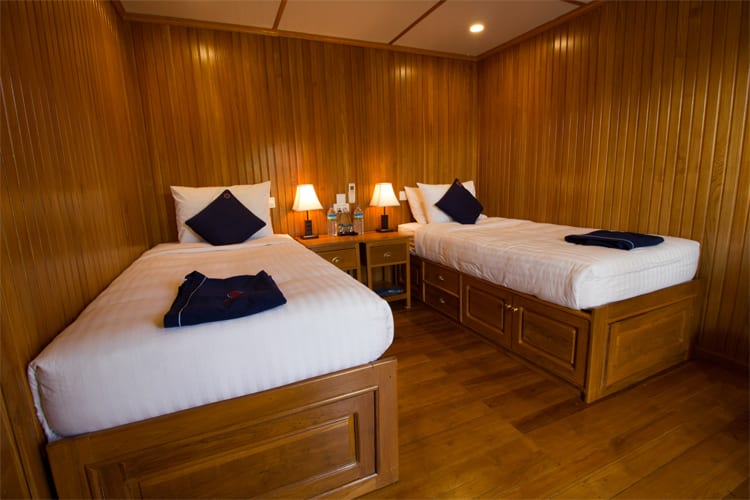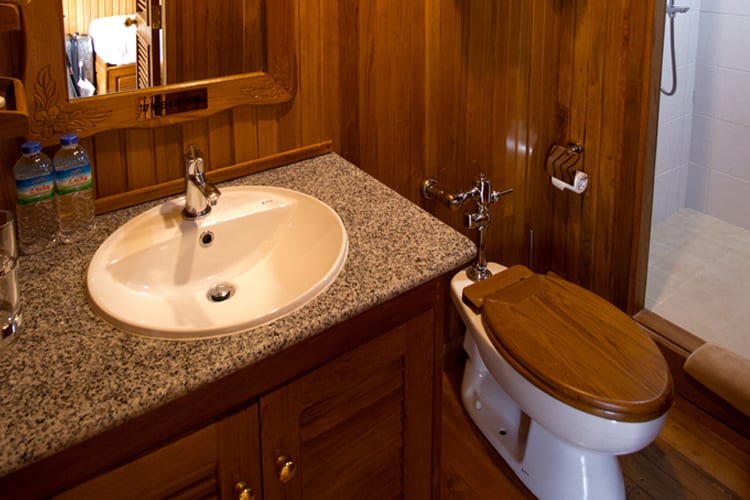 The Upper Deck cabins are slightly fewer in number but equally spacious and well equipped to ensure guests have a comfortable stay. Whichever cabin you choose, guests can expect air conditioning, kimonos and slippers, an electric mini safe, multi-configuration plugs, and generous closet space and under-bed storage, not to mention unlimited mineral water.
Technical Information
Deck Plan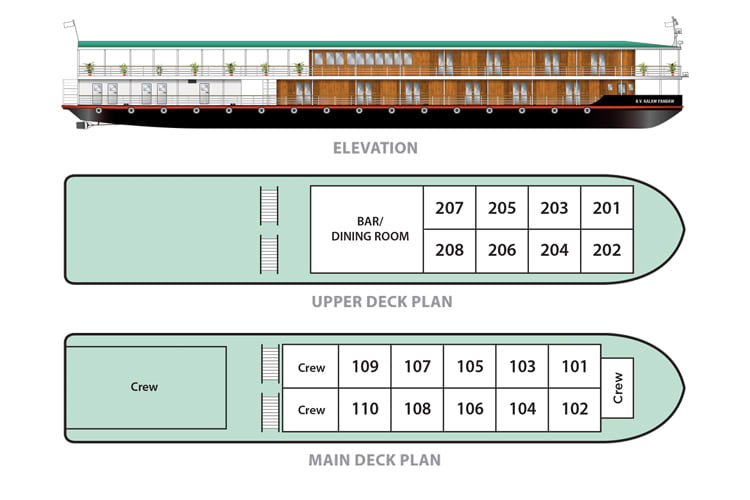 Features
Air conditioning

Lecture room

WIFI available

Kosher Meals

Medical staff

Souvenir shop

Hot showers

All inclusive

Charging areas for electronic equipment
Equipment
Bicycles

Yoga mats

Flash lights

Water canteen/bottle

Insect repellent
** Use of certain equipment at additional cost, ask for details