Shared, small group cruise based on DBL occupancy
Overview
Accommodating just 56 guests in old-fashioned luxury that rivals the fine hotels of India, the family-friendly Ganges Voyager river cruise will take you back in time with the grace and style of the British colonial era. There are 35 crew members, which means you're assured a gracious and personalized onboard experience, while gaining an in-depth perspective of one of the most culturally significant parts of India from Kolkata to Varanasi. 
Life on board
With 28 large, high-ceilinged suites, in five different room categories, your personal space for the journey is equipped with everything that you could possibly need. You can look forward to regal décor, characterized by beautiful hand-painted murals, wooden furniture, teak floors and Bengali antiques, as well as an ensuite bathroom, sliding patio doors and a private panoramic balcony offering an extraordinary perspective on slow river life and the beauty of the Ganges. The communal areas on board include a dining room, a bar, an air-conditioned indoor lounge and an outdoor lounge with a viewing deck, ensuring that you'll find plenty of spots to relax. Relish a relaxing massage or choose from a wide range of traditional Indian and contemporary spa treatments at the Voyager Spa, which has two treatment rooms. Adjoining the spa is a gym with a treadmill, an exercise bike and an elliptical machine. Complimentary yoga classes, geared towards beginners, are offered to all guests early each morning. Cooking classes are another onboard activity. 
Atop the ship's partially covered Sun Deck, the Governor's Lounge is a lovely place to relax over a drink and take in the splendid views through its large windows. Furnished with reclining chairs, and thoughtfully outfitted with shaded areas, the alfresco Observation Deck is a delightful place to unwind, while enjoying some sunshine, a full drinks service, and panoramic views. In the ship's elegant East India dining room, meals are served buffet style three times a day, and while each meal presents the chance to dine on the incredibly flavourful cuisine of India, Western-style favourites are also served here. The chef will be happy to accommodate special requests and dietary requirements. A wide range of Indian and international wines is available, along with specially handcrafted cocktails, teas, coffees, and other beverages. In the evenings, you can watch cultural dance performances onboard, highlighting India's rich heritage and culture through synchronized moves and costumes. Nightly recaps and lectures also take place.
Excursions 
The onshore, expert, guide-led excursions to untouched sites and communities will come alive with fascinating stories about local culture and customs. There is a maximum of 20 guests per guide when you're out and about, and the experience is made seamless through the use of the VOX listening devices.
Destinations
The Ganges is one of the most revered waterways in the world, slowly coursing through an extraordinarily fertile and populated area, where you'll get a glimpse of life away from India's big cities, providing you with the rare opportunity to explore the remote and idyllic Indian villages along the banks of the river and interact with the local people. Stop in Murshidabad for an excursion to Azimganj and Jiaganj, tour a historic mansion and see a gold and silver making demonstration. See muslin weaving in Kalna and candy making in Matiari. Explore the intriguing Hare Krishna headquarters in Mayapur and visit Saint Mother Teresa's former home in Kolkata.
This enthralling Ganges River cruise allows couples, solo travellers, and families with kids to discover the history, the culture and the people of the Indian subcontinent in comfort and style.
Itineraries & Prices
Embarkation
PM: Embark the ship in Kolkata. (a city formerly known as Calcutta founded by the British Raj in 1773), the gateway to our journey along with the world & holiest river, the sacred Ganges. Welcomed on board with a refreshing beverage followed by a safety briefing.
This evening, delight in the Cruise Director's Gala dinner and welcome reception.
The highlight of the Day: Welcome to the Big City of Kolkata, often regarded as the Cultural Capital of India. Be entertained onboard by Baul musicians, whose music represents a long heritage of preaching mysticism through songs in Bengal. Although Bauls constitute only a small fraction of the Bengali population, their influence on the culture of Bengal (Both in India & Bangladesh) is considerable. The Baul tradition has been included in the list of Masterpieces of the Oral and Intangible Heritage of Humanity by UNESCO.
Overnight onboard Ganga Voyager.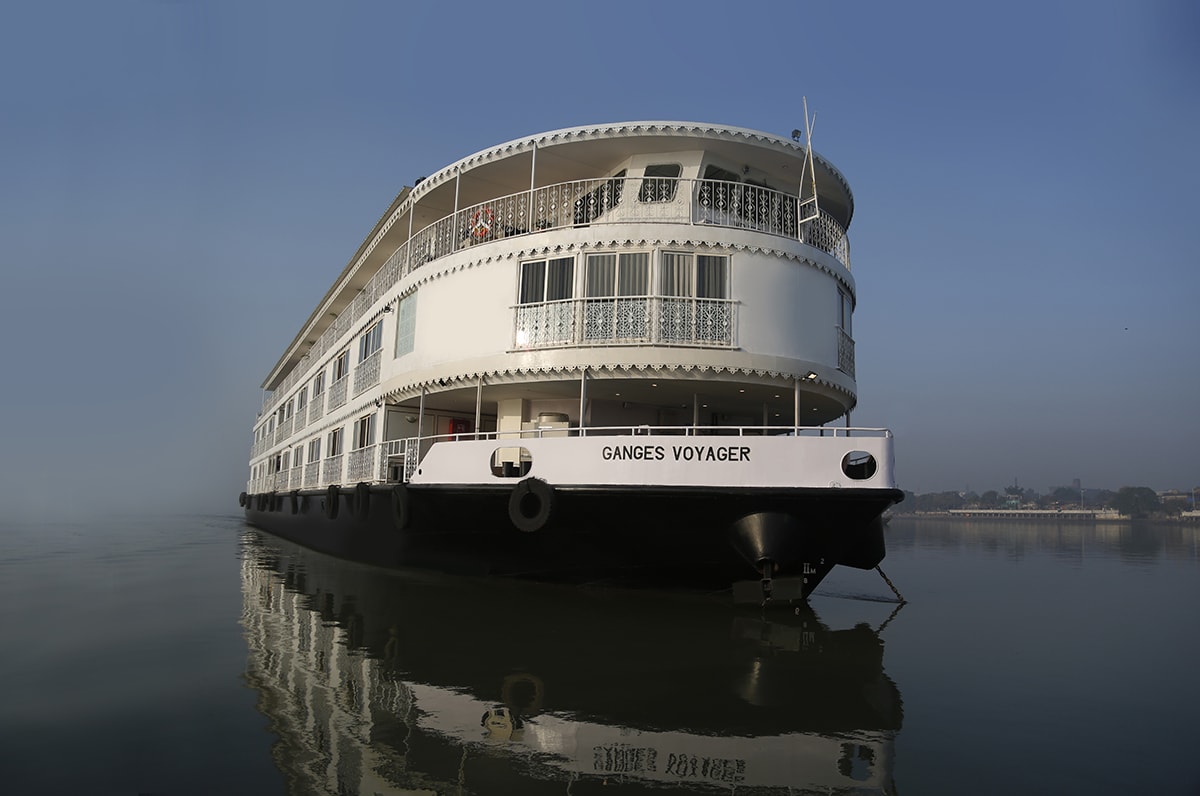 Kolkata – Namkhana
AM: Depending on the tide, you set sail along the Hooghly River to reach the fishing port of Namkhana, the gateway of the Sundarbans National Park, a World Heritage Site. You cruise past the boat-building yard of Nurpur and the historic Diamond Harbour towards the Bay of Bengal. Sundarbans are the world's largest delta mangrove forest and habitat of the famous Royal Bengal Tiger.
After breakfast; enjoy interaction with the Naturalist on the unique ecosystem of the Sundarbans.
Visit the fishing port of Namkhana (time permitting) or sail forward towards Sundarbans to visit protected areas.
Highlight of the Day: Full day sailing viewing historic sites and unique landscapes following the river to the Bay of Bengal and learning about the Sundarbans from the Naturalist.
Overnight onboard Ganga Voyager.
Namkhana – Bony Camp – Bali Island
AM: Anchoring in the Western Sundarbans today is your first foray into this rich and unique mangrove ecosystem, scaling the Bony Camp Watchtower on an excursion to sight endangered crocodiles, terrapins and many species of Migratory Birds.
Sailing along the Matla river to the Hero Bhangra Islands, keep a keen eye out for Irrawaddy Dolphins and other marine life.
PM: After lunch; visit the serene Nethidopani Watchtower and experience the spectacular nature of the surroundings. Sail onward to Bali Island, a typical village whose inhabitants are engaged in farming, paddy husking, honey packing and fishing.
Highlight of the Day: Bali Village & NGO Interaction – The Bali Nature & Wildlife Conservation Society in collaboration with the Wildlife Protection Society of India (WPSI) helps support the communities living around the Tiger Reserve, and to encourage them to view wildlife and their environment as an asset rather than a threat. Enjoy a village walk and interact with the villagers engaged in creating handicrafts, visit a local home, and witness a tribal dance.
Overnight onboard Ganga Voyager.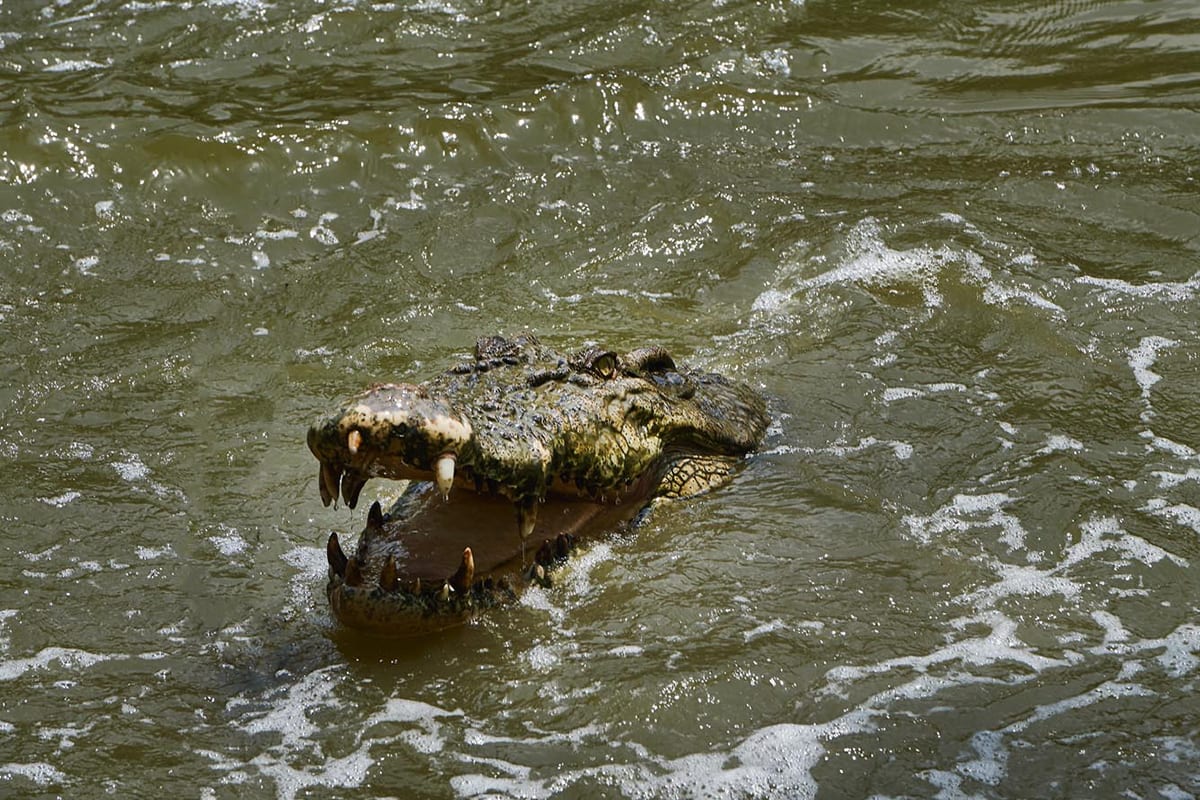 Bali – Sudhanyakhali – Do Banki – Namkhana
AM: With a gorgeous sunrise you'll scale the Sudhanyakhali Watchtower, the most popular locale to spot the elusive Royal Bengal Tiger; this vast habitat endows invigorating possibilities of crocodiles, wild boars, axis deer and a wide range of migratory and local birds.
Thereafter you'll take a small country boat through the narrow creeks to climb the Dobanki Watchtower and enjoy a canopy walk at an elevation of 20 feet from the ground and about half a kilometer in length, to reveal the riveting flora and fauna.
PM: Return to the ship for late lunch and sail to Namkhana.
Highlight of the Day: Interaction with Fishermen at work during creek ride.
Overnight onboard Ganga Voyager.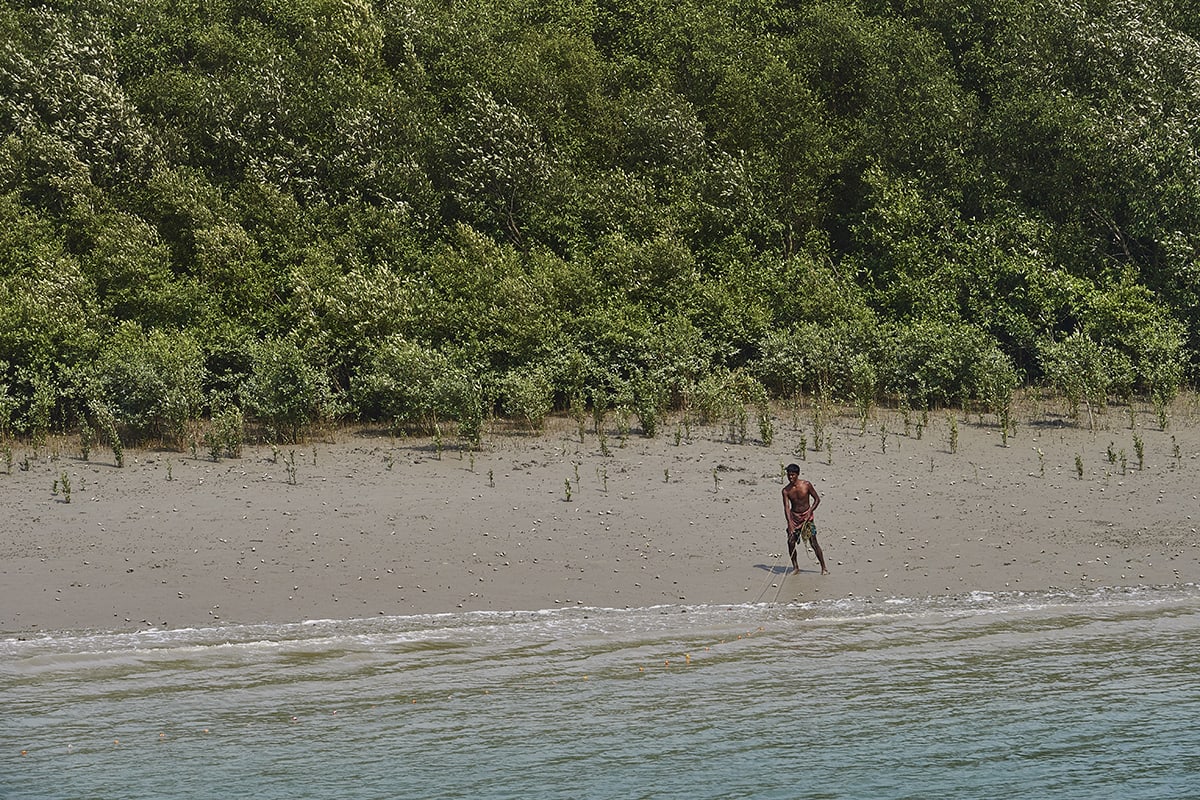 Namkhana – Kolkata - Chandernagore
AM: Early this morning we sail back to Kolkata enjoying breakfast and lunch on board, arriving late in the afternoon.
Depending on tide timings we will depart during the night or early morning upstream towards Chandernagore. We sail past the city of Kolkata and its iconic bridges.
PM: Enjoy a Tea Tasting session while reminiscing the wonderful experience of the Sundarbans.
Celebration and Grand Dinner onboard.
Highlight of the Day: Tea tasting event to explore the different flavors of Indian teas to entice your palate.
Overnight onboard Ganga Voyager.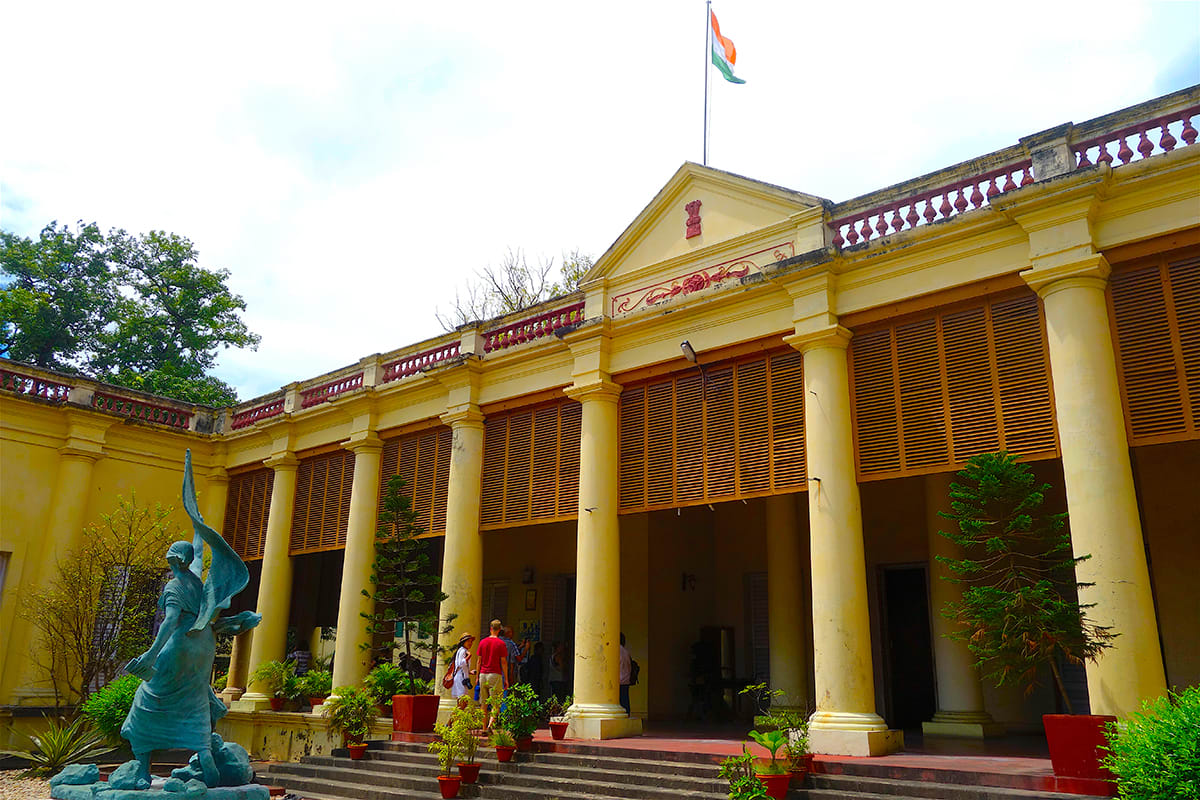 Chandernagore – Bansberia
AM: You'll be amazed this morning to breakfast overlooking striking Chandernagore, a French colony established in 1673 & still retaining a Francophone flavour. After breakfast we visit the "Prabartak Seva Niketan", a shelter for destitute children established in 1943 with a vision to provide education and rehabilitation of the girl child and is one of the oldest such institutes in India.
The children are also trained in yoga, music, dance and handicrafts. Thereafter, walk along the Promenade to see the French heritage monuments and enjoy the local ambience. Also visit a local Sweetmeat shop.
PM: Back onboard, thereafter you'll witness ever-increasing meanders and rolling fields of crops and local industries as you sail to Bansberia, a quaint village said to have derived its name from the legend that a fort was built by the Landlord's son after clearing a Bamboo (locally called Bans) grove.
Late afternoon, enjoy a short walk to visit the Haneswari Temple, known for its unique Ratna architectural style of 12 minars or Ratnas, each shaped like a lotus bud, and the inner layout following human anatomy. You'll also see in the complex the Ananta Basudeb temple, a terracotta (burnt brick) temple constructed in the traditional Ekaratna style with curved cornices and richly carved terracotta panels depicting gods and goddesses.
Prior to dinner, you'll have the opportunity to witness a traditional Hindu Deepdan ceremony celebration and a dance performance.
Highlights of the Day: At Chandernagore explore the French colonial heritage and visit a sweetmeat shop to see the making and taste the local sweets. At Bansberia walk in the village and marvel at the unique temple architecture.
Overnight onboard Ganges Voyager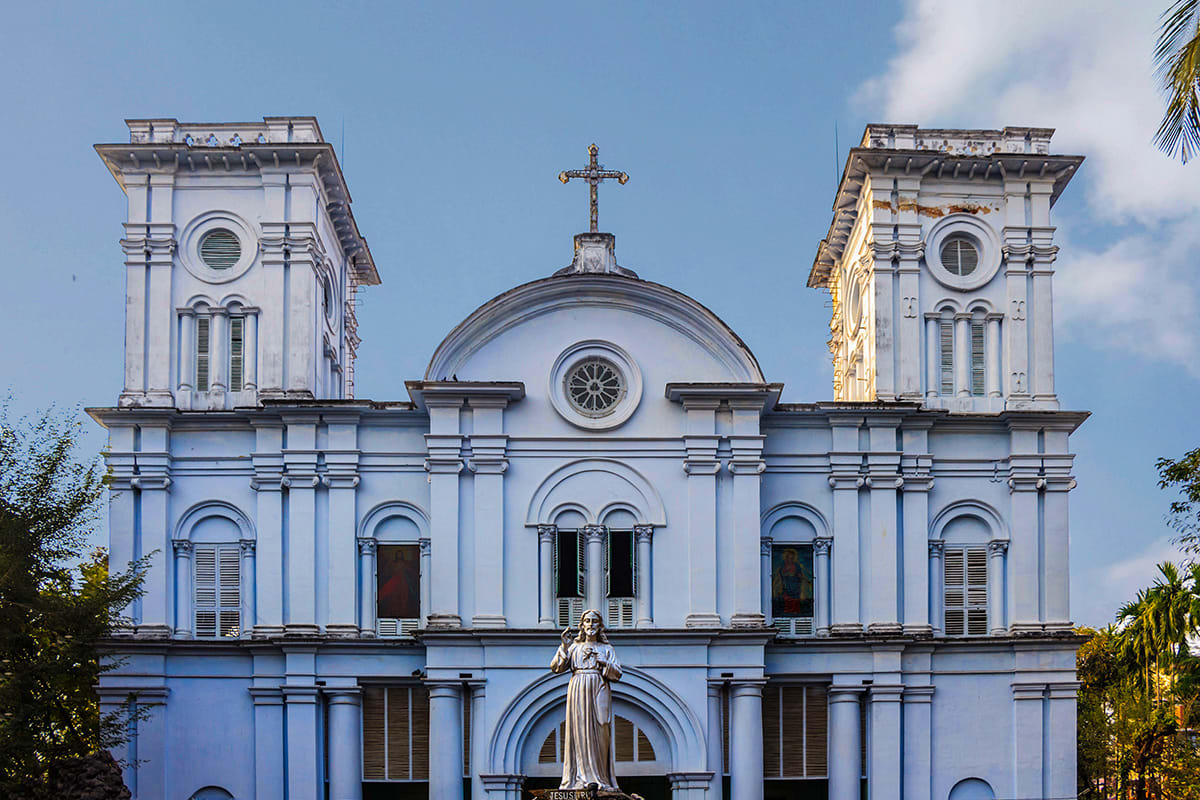 Bansberia – Serampore – Bally Bridge
AM: Sailing from a French enclave to a Portuguese settlement you'll enjoy breakfast as we traverse the landscape to Bandel, the meaning wharf in Bengali, where you'll visit the Hooghly Imambara one of the famous Shiya pilgrimage centers in West Bengal built in 1841. The two-story building and surrounding rooms provide housing for pilgrims as well as classrooms. The structure contains a Victorian-era clock with a winding key weighing 20kg, along with large Persian chandeliers and lamps that light the Imambara's stunning hallways and passages.
Now sailing to an erstwhile Danish colony, Serampore, you'll enjoy a late afternoon walk in the old quarters to see the Danish Tavern, St. Olav's Church and other Danish heritage monuments. With Serampore being a popular pit-stop for Danish and English traders in 1786 a British innkeeper called James Parr opened the Denmark Tavern & Hotel, popularly called the Danish Tavern, which became a favorite among Europeans.
PM: You'll also visit St. Olav's Church, locally known as the Danish Church, that were constructed by the Danish Management between 1755 and 1845. Ride the "Toto", an e-rikshaw to visit a textile factory, which is known for its block printing.
Enjoy dinner on board as we sail towards Bally Bridge.
Highlights of the Day: A unique Shiya pilgrim center at Bandel; Danish heritage and a "Toto" joy ride to visit the textile factory in Serampore.
Overnight onboard Ganges Voyager
Bally Bridge – Belur Math – Disembark
AM: After breakfast you will visit Belur Math, a significant institution in Kolkata, founded by Swami Vivekananda, a monk who was a key figure in the introduction of the Indian philosophies of Vedanta and Yoga to the Western world and is credited with raising interfaith awareness, bringing Hinduism to the status of a major world religion during the late 19th century. The monument is notable for its architecture that fuses Hindu, Christian, and Islamic motifs as a symbol of the unity of all religions.
You'll enjoy a farewell lunch on board and disembark at the Jetty for your onward journey.
The highlight of the Day: Visit of Belur Math a spiritual organization engaged in various forms of humanitarian and social service activities and a special onboard farewell lunch.
1 / 8
Accommodations
Social Areas
Spa
Restaurant
Lounge
Bar
Terrace
Gym
Suites & Cabins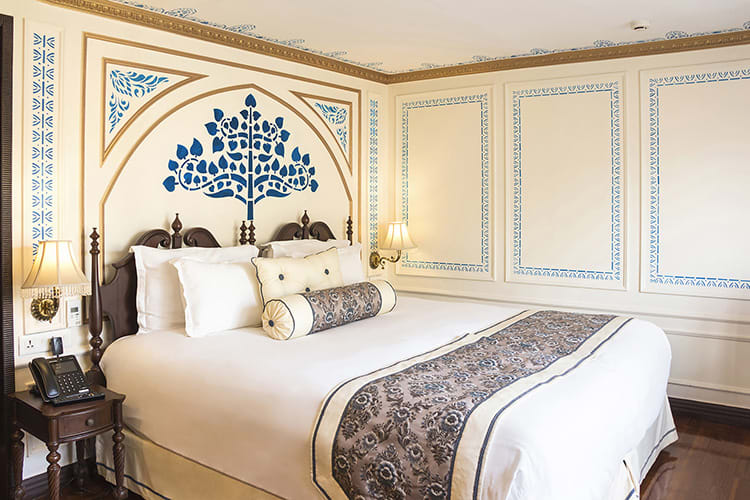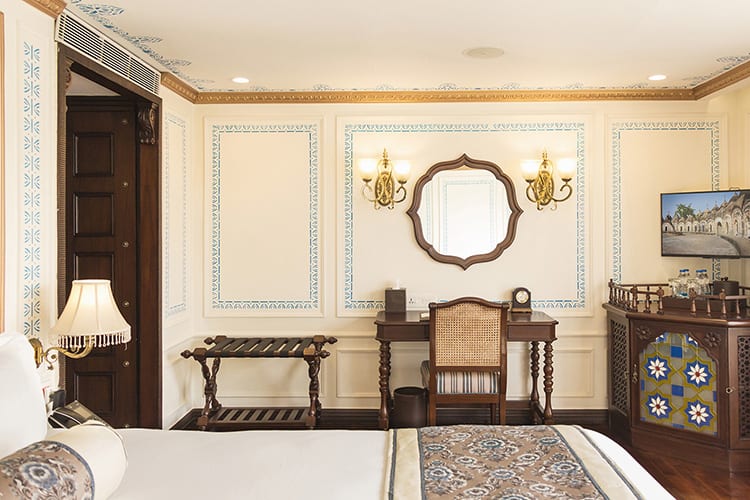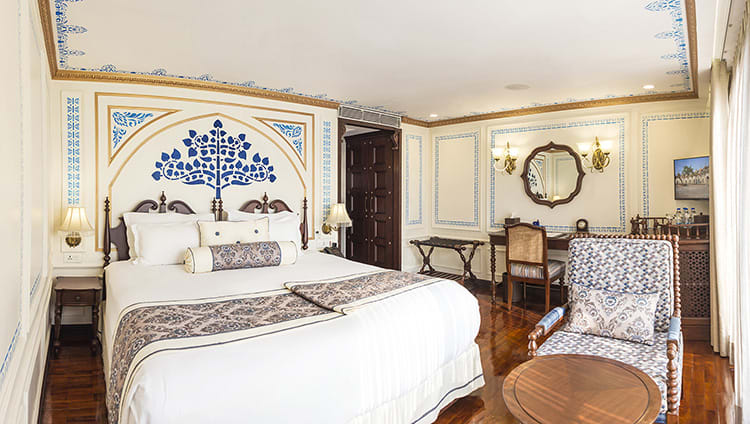 10 Cabins
Signature Suite
Our Signature Suite offers two styles of arrangements – 2 twin-size beds and 1 queen-size bed. It has a comfortable seating area and floor-to-ceiling glass doors to enjoy the view outside. Decorated with hand-stencils, local murals, and fine wood furniture, the suite is meticulously designed for comfort.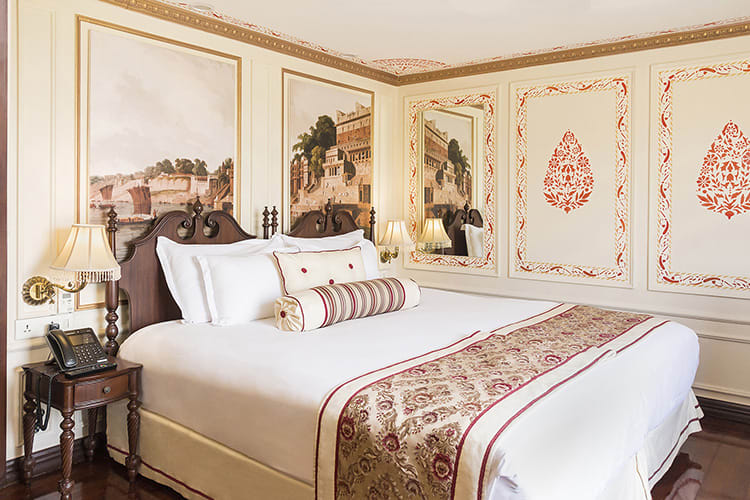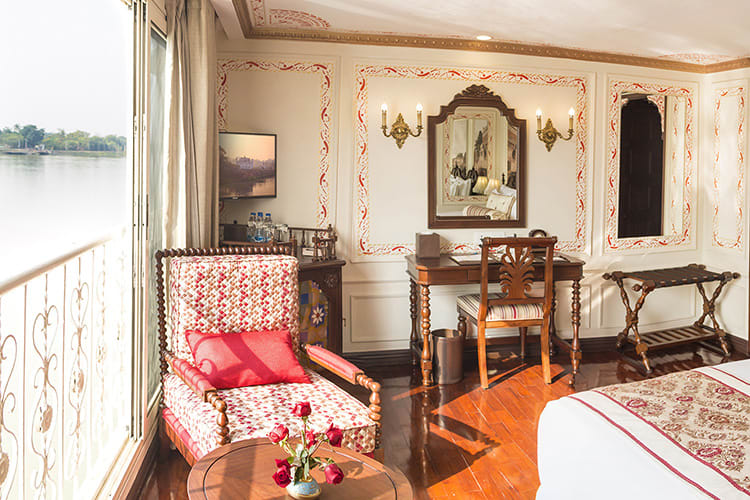 The Colonial Rooms are painted in vibrant and inviting colors with picturesque prints that uplift the mood. There is a comfortable seating area in the suite and also a beautiful French balcony.
Offering utmost privacy and comfort with a spacious French balcony to witness the panoramic views, Heritage Suite is a perfect retreat. It is fitted with an exquisite four-poster bed, Persian rugs, and floor-to-ceiling glass doors. The hand-painted walls add to the charm of these suites.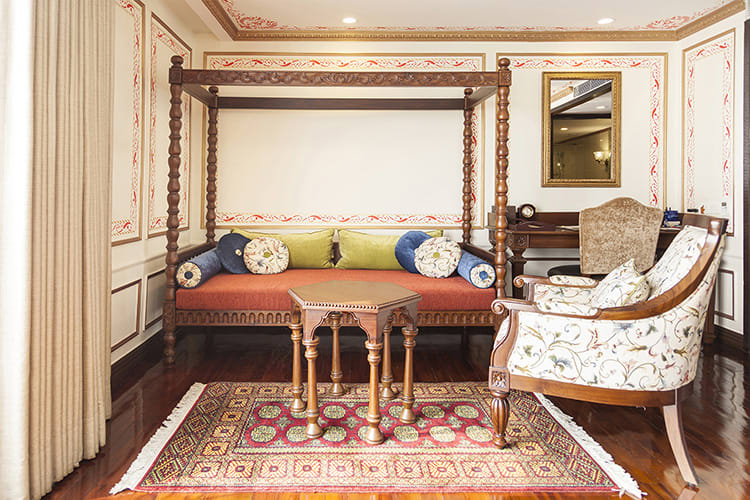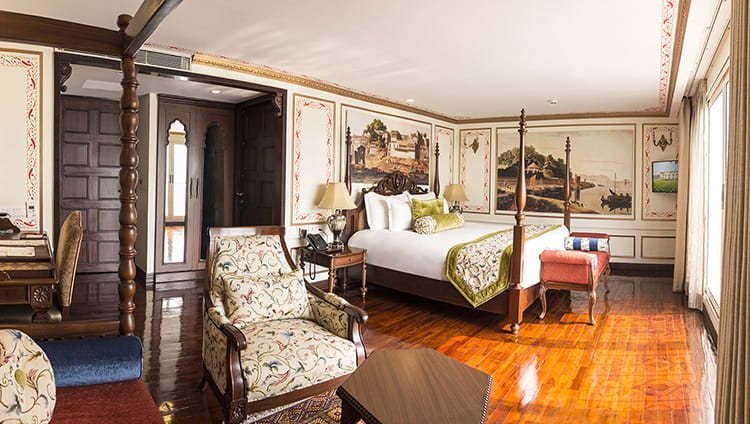 Regal and ornate, the Viceroy Suite is furnished with colonial decor, Persian rugs and hand-stencilled walls. It has more than 360 sq. ft. of living space, a finely crafted day bed, and a spacious bathroom fitted with all modern amenities.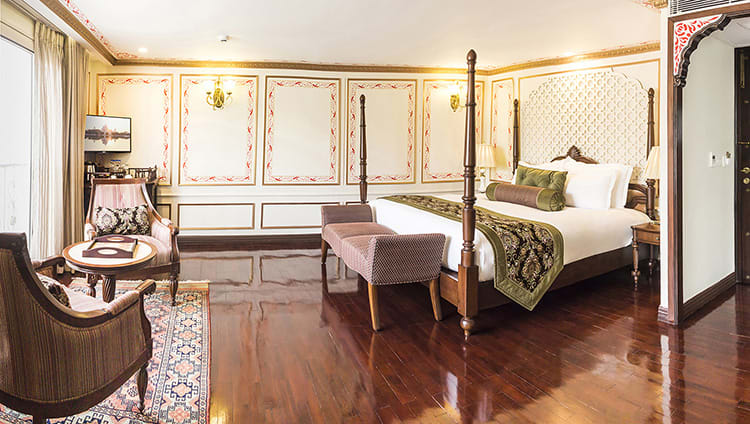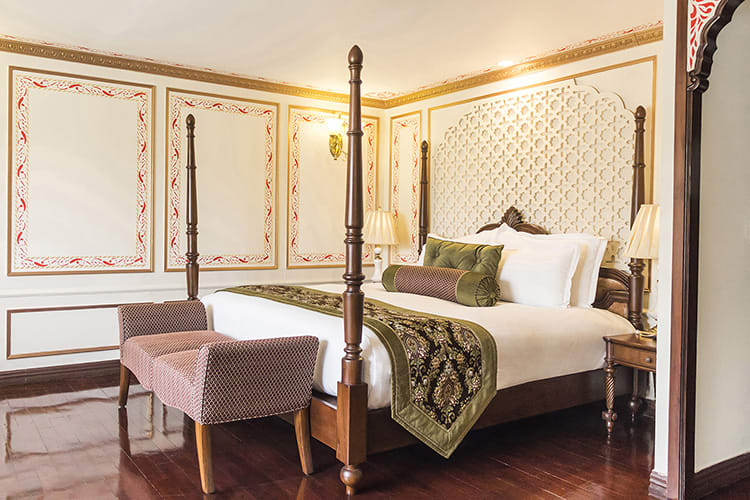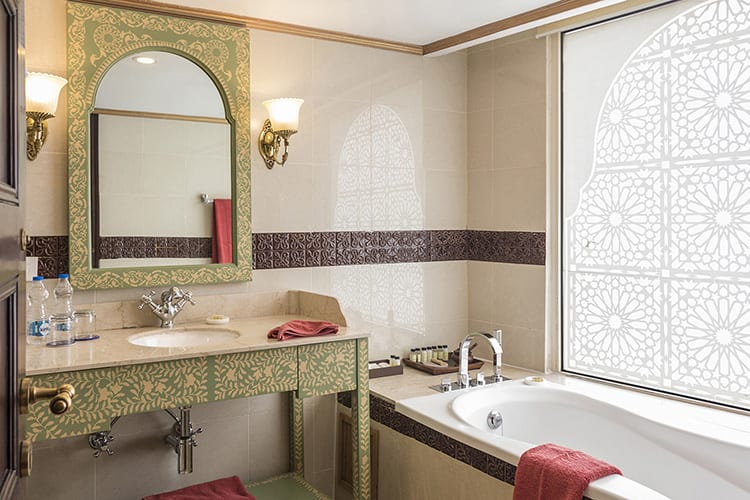 The most luxurious and spacious suite aboard, with 400 sq. ft. of space, the Maharaja Suite is a haven of luxury. Embellished with Persian rugs, Burma teak floors and rich tapestry, it also has a flat screen TV, on-demand movie service, and a writing desk. Bathrooms are as luxurious as the room and are fitted with both spacious bathtub and shower panels. Daily butler service and in-room dining are also available on request.
Technical Information
Deck Plan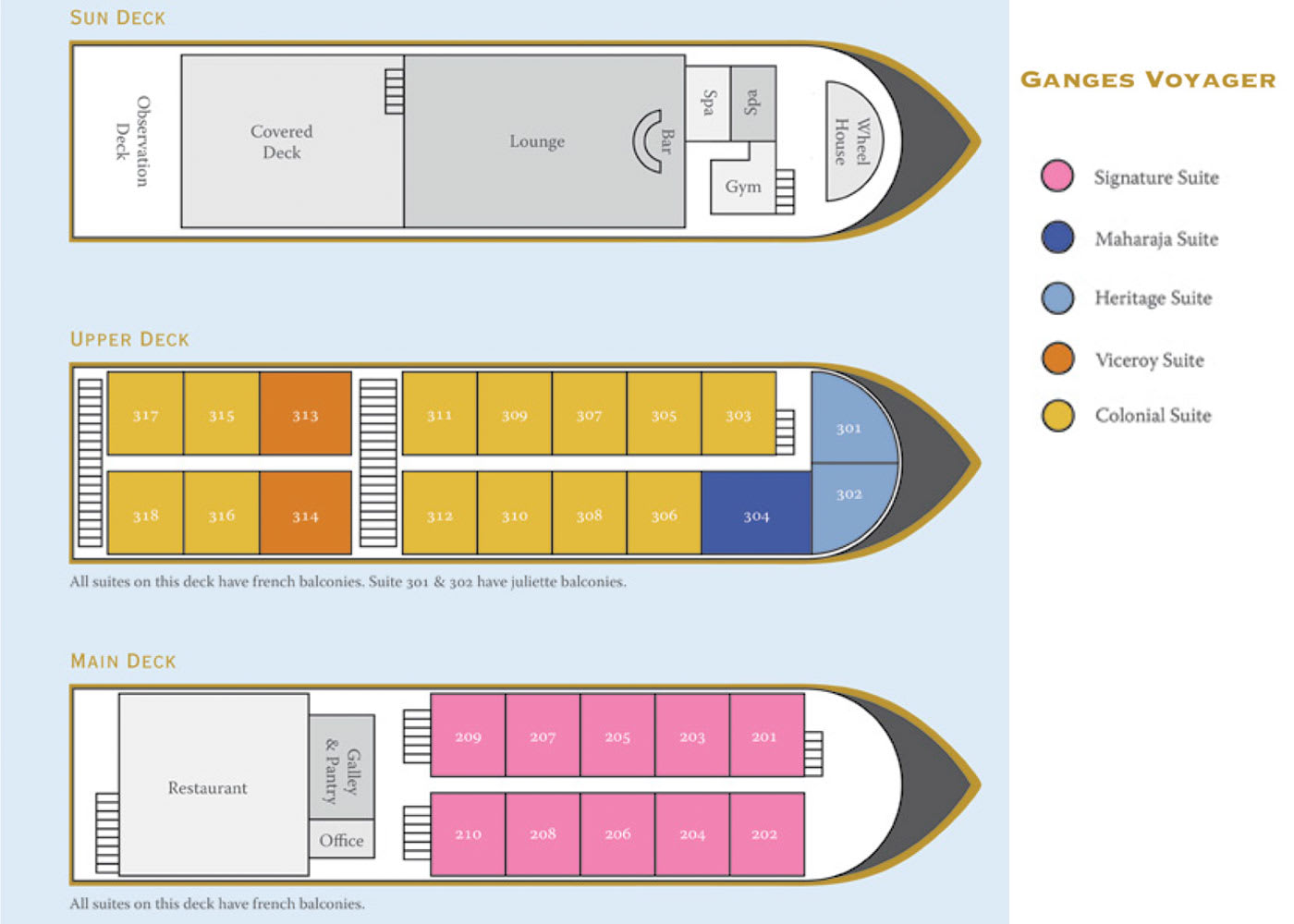 Features
Air conditioning

Excercise room

Massage room

Lecture room

WIFI available

Spa

Souvenir shop

Hot showers

Heating

Charging areas for electronic equipment
Equipment
Yoga mats

Flash lights

Water canteen/bottle

Insect repellent
** Use of certain equipment at additional cost, ask for details