Overview
The 102-ft Senja private yacht is a modern-built, boutique phinisi vessel available for private charters through the incredible waters and scenery of the Indonesian Archipelago. Conceived for couples or for a small family, this beautiful boat has just one expansive Master Cabin as well as an extra cabin for two additional guests to rest comfortably, accommodating up to four guests in total.
Cabins
Designed with exclusivity in mind, the splendid Master Cabin is more than a place to rest and recharge. Large wraparound windows invite the sunlight inside, while a combination of natural wood and neutral textiles adds to the airy feel of this beautiful bedroom. French doors lead onto a secluded private terrace and sun deck furnished with daybeds.
The open layout allows you to take in the fresh breeze and bask in the serenity or your personal quarters. If you are accompanied by your children, or friends, there is an extra cabin below deck with two smaller beds that can be converted into a large one, also comfortable and spacious. Both cabins are air conditioned, and each has a large en-suite large bathroom with hot water and a generous range of reef-friendly amenities.
Life On Board
On the Main Deck, Senja's outdoor spaces comprise a cushioned bow for catching the breeze while the yacht is cruising, as well as an alfresco dining area and comfortable sofas for relaxing. You'll find 220V power plugs to charge your electronics and cameras, and there is a camera table for photographers. Upstairs on the private deck, you have a fantastic all-round view of the turquoise ocean and the blue skies.
At night, drift off into another world or watch a movie under the stars. A crew of nine, dedicated, trained staff is on hand to cater to your every need. Massage and spa services are available on request.
Dining
Three gourmet meals per day including freshly prepared juices, breakfasts and snacks are catered especially for by your personal on-board chef. You can also enjoy moonlit romantic fine dining under the stars and by candlelight. Freshly ground coffee, and a selection of teas & herbal infusions, fine wines, beers, spirits and cocktails are on board for you to take advantage of and enjoy.
On Board Facilities
Scuba diving is available for certified divers with one free introductory dive per person, and has everything you need for water activities including Air or Nitrox (enriched Air O2 :30-32%), scuba diving equipment, snorkel gear, a sea kayak, and a paddleboard for exploring Indonesia's extremely rich marine life. Yoga mats are also provided. If you're looking for more adventure, you can head off on island excursions.
The Senja yacht is yours and yours only, ideal for the one-of-a-kind honeymoon experience, long-awaited anniversary treat, or an intimate getaway for a small family, delivering romance, adventure, discovery and an incredible experience for couples seeking a private adventure in Indonesia, cruising among some of the most remote and beautiful islands on this Earth.
Accommodations
Social Areas
Cabin
Outdoor Lounge
Deck
Dining
Table
Suites & Cabins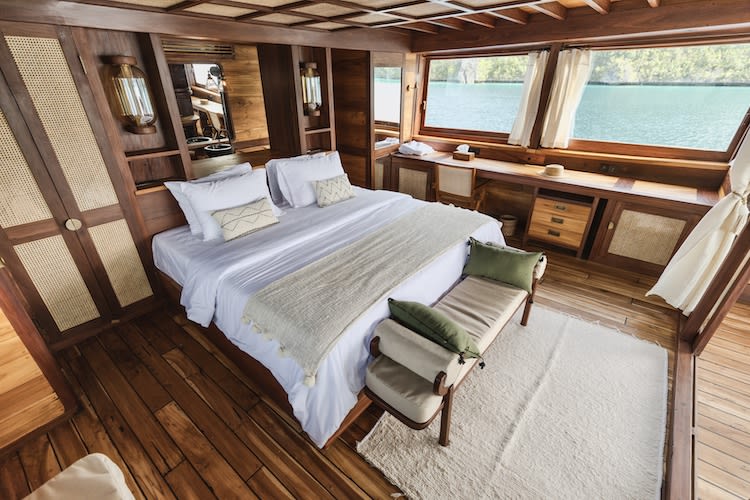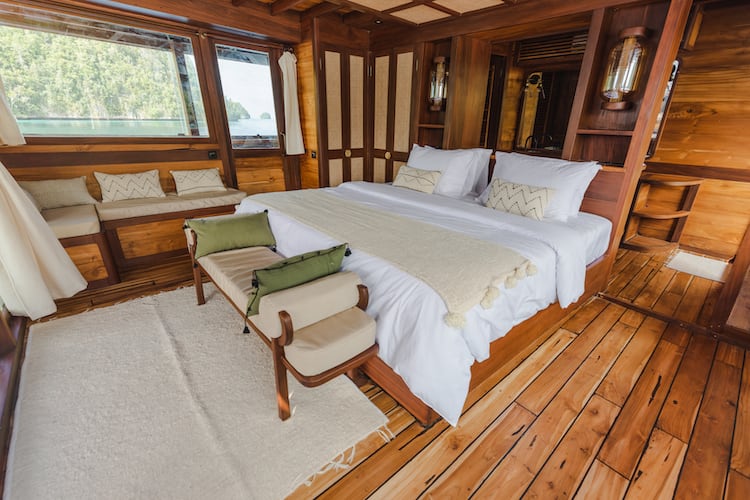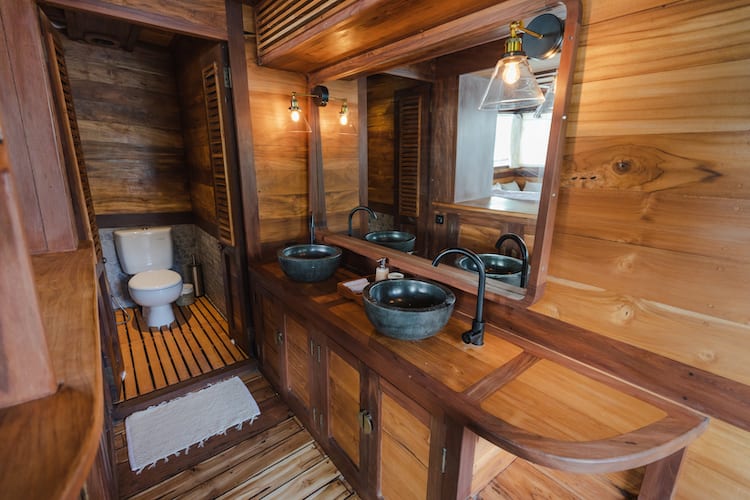 This suite is designed with luxury and exclusivity in mind. The room features large wraparound windows that allow the sun to flood the room. The room also features French doors that lead to a secluded private terrace furnished with a daybed for relaxation.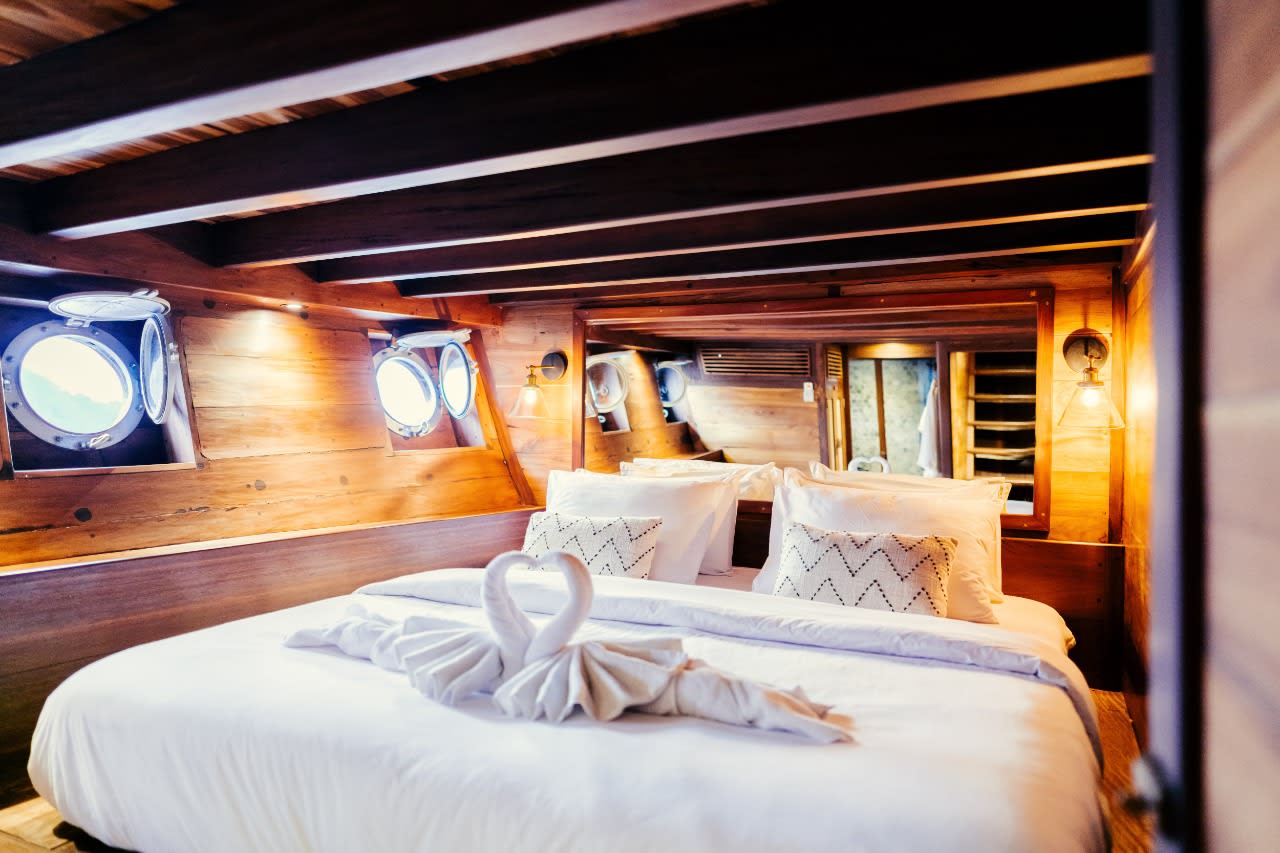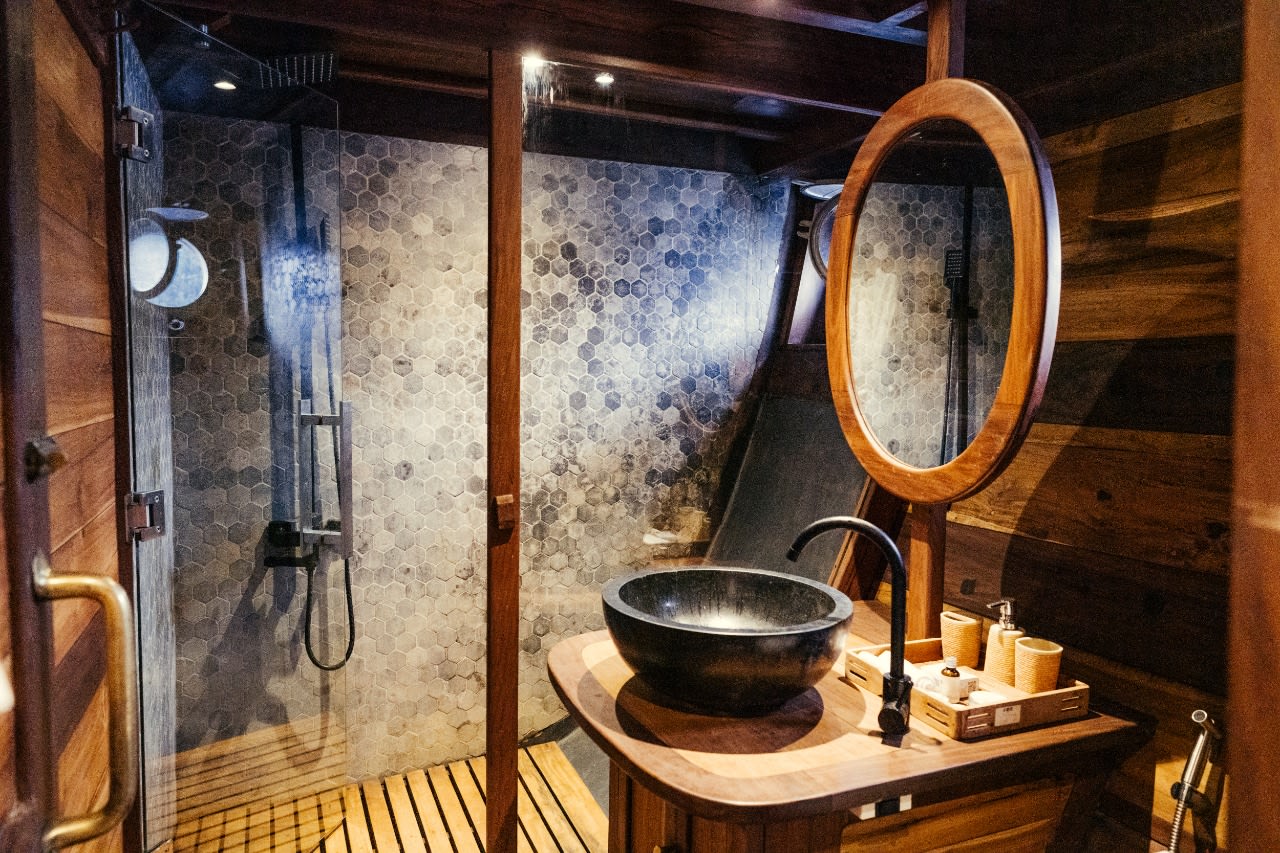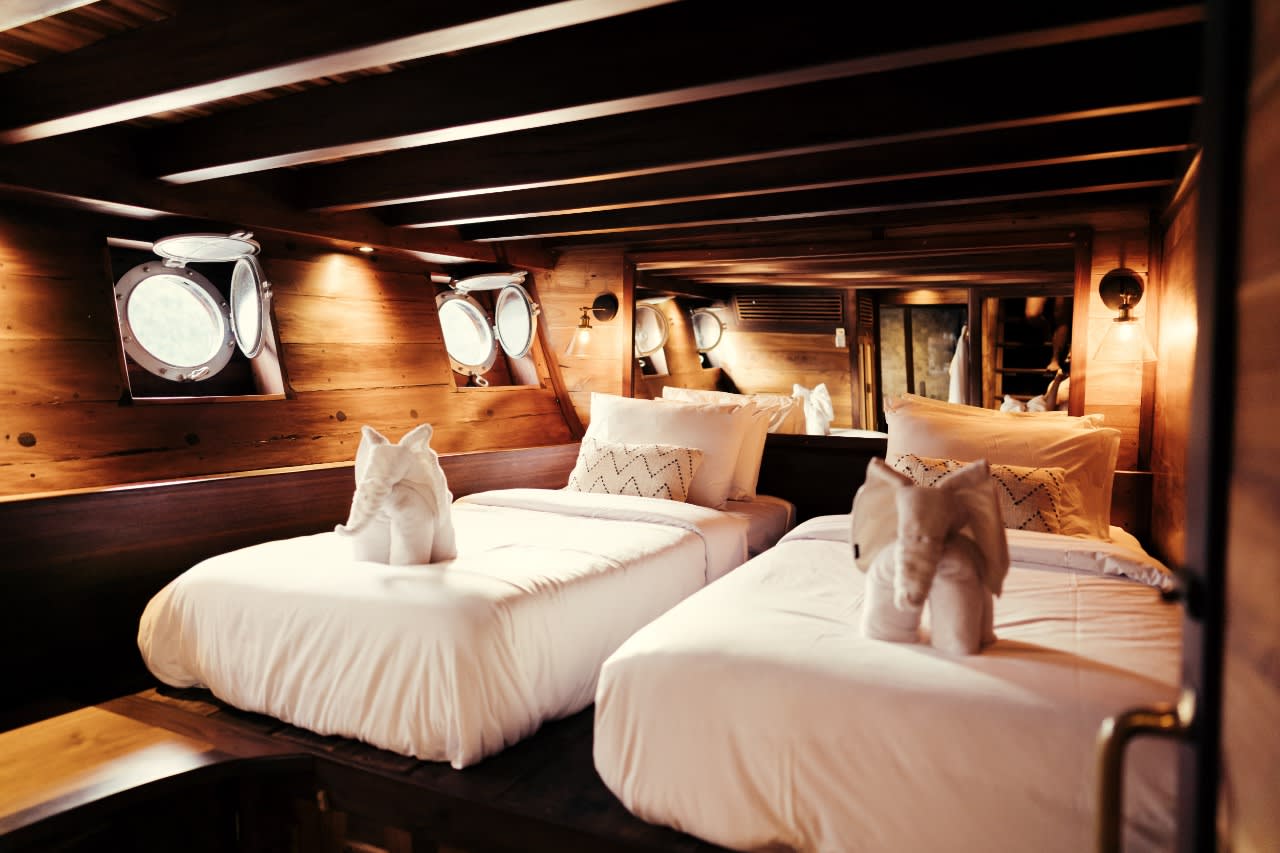 If you wish to come with your children, 2 extra guests or your private staff, another cabin is available for them on the lower deck. Senja private yacht holds twin beds convertible to Australian king size bed, with en-suite bathroom and AC.