Overview
Embark on an extraordinary voyage of discovery aboard the Mutiara Laut, a vessel that seamlessly blends the elegance of an 18th-century North Atlantic schooner with the exotic charm of Indonesia. Mutiara Laut, meaning 'Pearl of the Sea' in Indonesian, offers the perfect fusion of old-world luxury and modern convenience, elevating the quintessential Indonesian voyage with a relaxed, luxurious elegance combining natural hues, glass, and contemporary touches while focusing on space, optimal comfort and privacy.
Life On Board
Mutiara Laut features seven exquisite en-suite guest cabins with king beds, including a magnificent master suite on the main deck which has its very own private deck to the aft of the yacht. The remaining six deluxe cabins can be found on the lower deck, four of which offer the flexibility of converting their sofa into an additional single bed, and the other two being front facing cabins. Their interior decor showcases a harmonious blend of handcrafted wooden items and intricate art, creating a charming atmosphere reminiscent of an old-world European sailing vessel.
At the heart of every Mutiara Laut experience lies a spacious environment designed for relaxation and connection, with great care and meticulous attention to detail invested in crafting the living areas to create inviting spaces that harmonize with the breathtaking natural beauty of the archipelago. Her indoor lounge and dining area provide a climate-controlled multi-purpose space where guests can savor a mix of gourmet Western and Indonesian meals or simply unwind in the utmost comfort, encircled by large panoramic windows which provide an open and airy ambiance while keeping guests connected to the rugged landscape. The doors lead to the covered outdoor lounge and dining space, offering the chance for morning yoga, a place to unwind on comfortable day beds and sofas, and open-air dining beneath the stars.
Destinations & Activities
Mutiara Laut's voyages span a range of captivating destinations. From April to September, it explores the Komodo National Park, where you can walk alongside the legendary Komodo dragons, relax on pink sand beaches, and explore world-class dive sites in this UNESCO World Heritage site. In October, the vessel sets sail for the Spice Islands and Banda Sea, offering a glimpse into the world's epicenter of the Spice trade, with opportunities to delve into the islands' secrets and tales through expert local guides. From November to March, Mutiara Laut takes you to Raja Ampat, known as the "Four Kings." This remote paradise, situated at the heart of the Coral Triangle, is a global center of marine biodiversity and offers unforgettable underwater adventures, including snorkeling and diving in vibrant coral reefs.
The yacht's cruise director has been sailing the Indonesian archipelago for more than 20 years, and his intricate relationships in the places less traveled, including Papua, is an extraordinary asset to guests looking for unique experiences. From authentic encounters with indigenous tribes such as the legendary Asmat tribe of Papua, the Ikat weavers found in the lesser Sunda Islands, or the Dayak tribe of South Kalimantan, to private beach dinners on paradisiacal islands, birdwatching for Birds-Of-Paradise in Indonesia's untouched rainforests, or trekking to hidden waterfalls or the summit of active volcanoes, there is so much to see, do, and feel.
The boat also features a host of equipment to facilitate all kinds of water sports and beach activities, from full scuba diving equipment and onboard PADI dive masters, Nitrox, snorkeling gear, two sea kayakas, two stand-up paddle boards, a wakeboard and set of waterskis, plus a wide selection of board, card, and beach games including volleyball. 
Mutiara Laut is the ideal choice for families and groups of up to 14 guests who seek an authentic, luxurious sailing experience. The vessel's crew of 13, including an Indonesian captain, a chef, and a dive guide, provides expert attention and a tailored discovery of Indonesia's wonders. Whether you're an avid diver, a culture enthusiast, or a family looking for engaging activities, Mutiara Laut promises an adventure beyond the extraordinary, where each day creates memories that last a lifetime.
Accommodations
Social Areas
Chill
Stairs
Front Deck
Back Balcony
Outdoor Dining
Outdoor Lounge
Dining
Lounge
Bridge
Suites & Cabins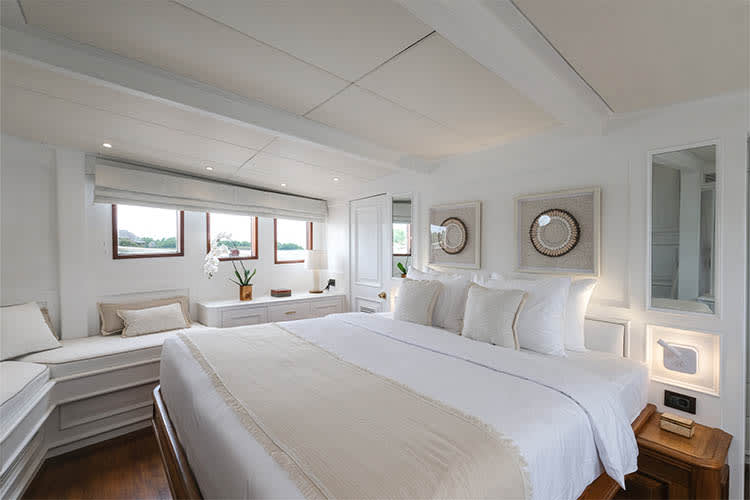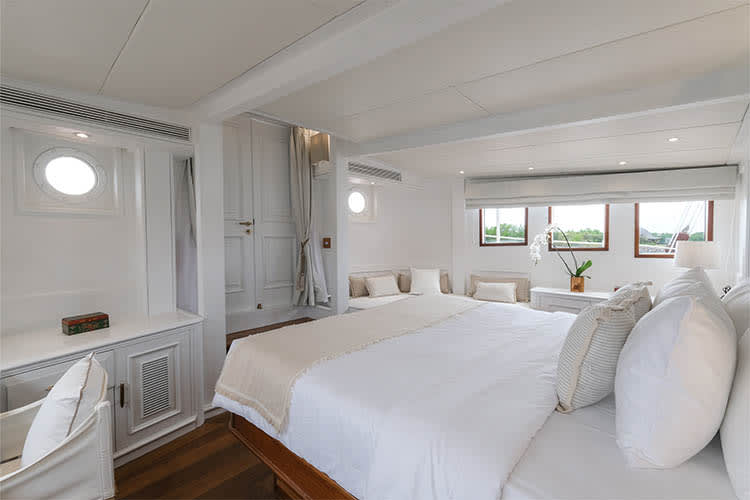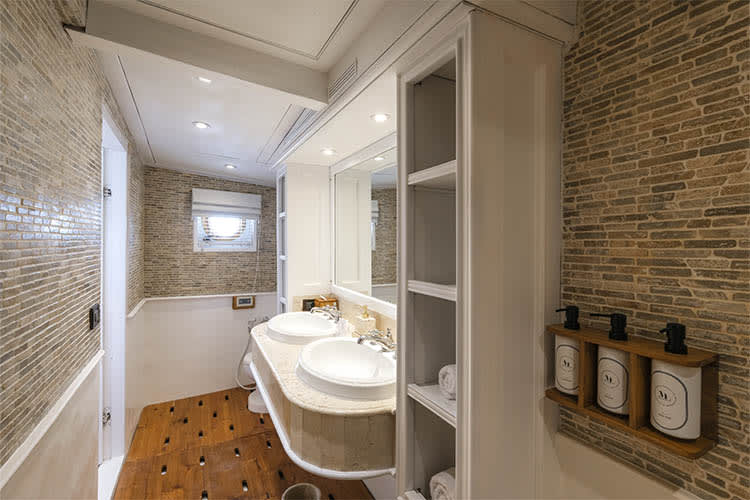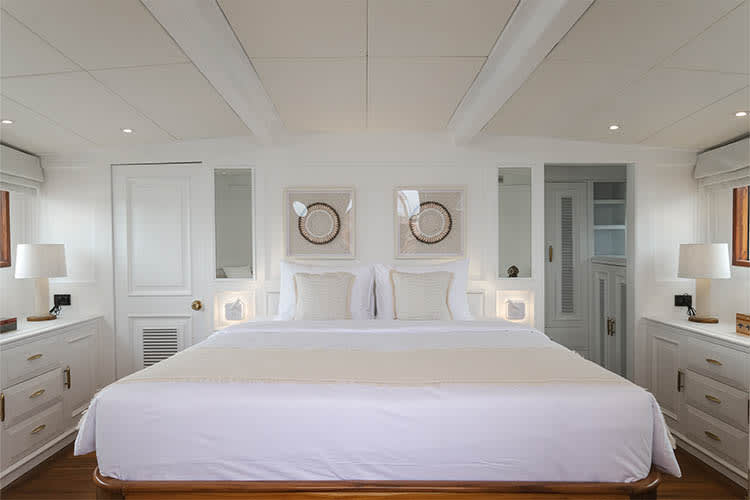 The Master Cabin on the main deck is the ultimate retreat aboard the vessel. With its spacious terrace located at the aft, you can enjoy stunning views and soak up the sun in style. Equipped with its own ensuite bathroom, wardrobe, and air conditioning, this cabin truly offers both comfort and convenience.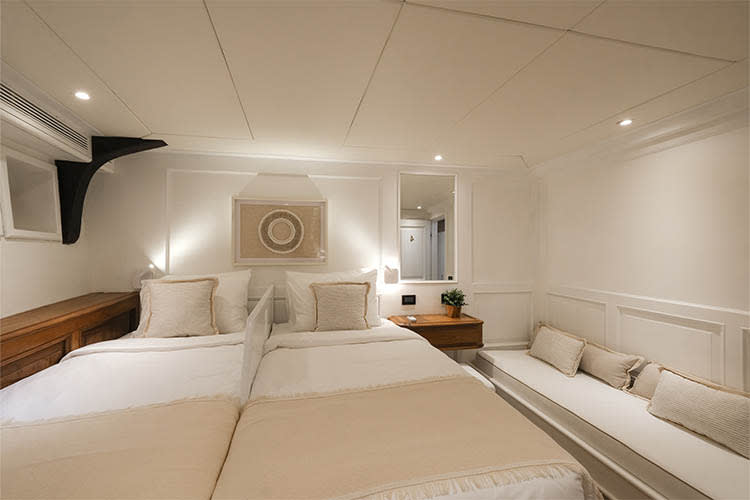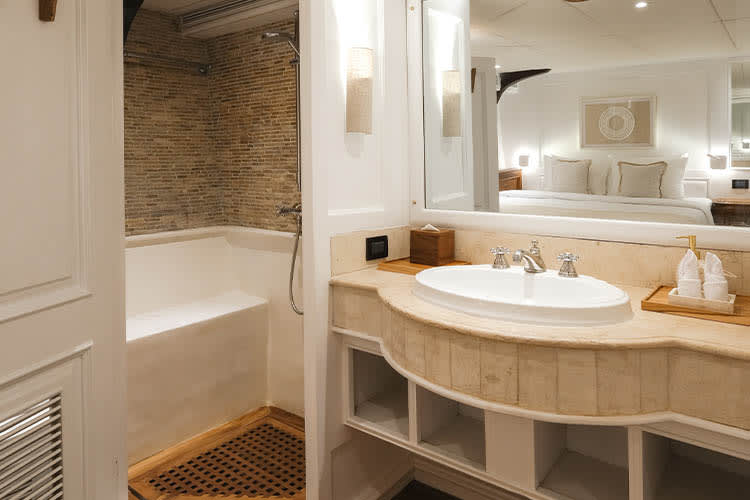 Beds
King / Twin + Sofa-Bed
The Double Cabins are truly a haven of comfort and convenience. With its king size bed and the option to transform the sofa into a single bed, it is perfect for both couples and families. The ensuite bathroom and wardrobe add a touch of luxury, while the AC ensures a comfortable temperature throughout your stay.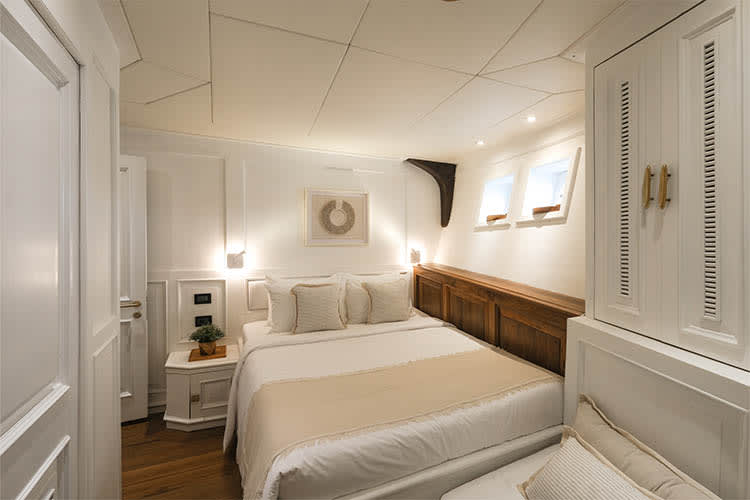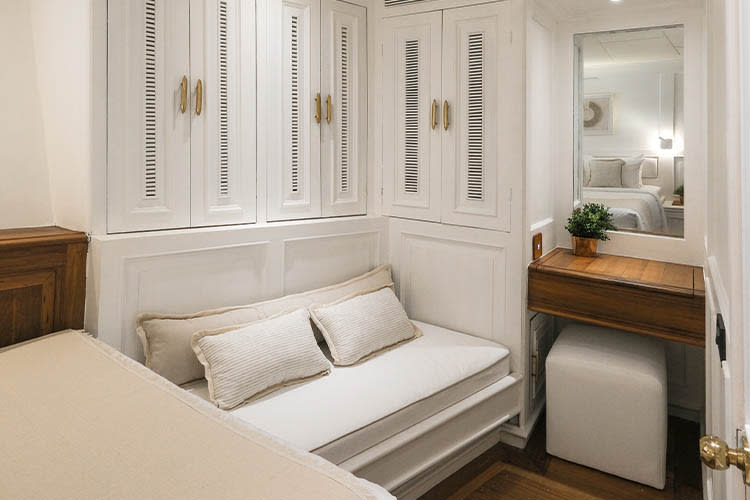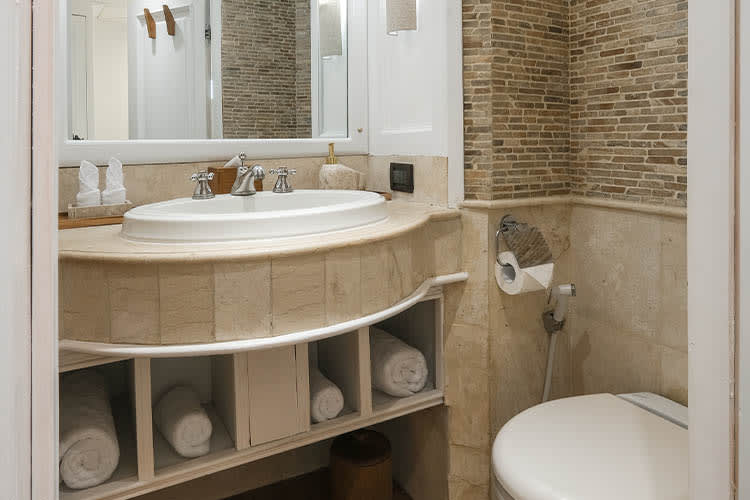 The Front cabins are truly something special. With its convenient location on the lower deck, you'll have easy access to all the exciting activities and amenities onboard. And let's not forget about the ensuite bathroom and wardrobe, ensuring you have everything you need right at your fingertips. Plus, with the AC keeping you cool and comfortable, you'll feel like you're in your own little oasis.
Technical Information