Overview
A private charter cruise aboard the Spondias ensures you and seven of your nearest and dearest are at the center of attention during a four- to eight-day cruise through the Amazon. With four staterooms, the 73.5-foot Spondias is a boutique boat offering luxury service.
Life Aboard The Spondias Cruise Ship
As you step aboard the Spondias, the first thing you will notice is the number of crew members ready and waiting to assist you. Eight crew members, for a 1:1 passenger-to-crew ratio, provide unparalleled service. Everywhere you look, modern style will remind you that you are on an upscale cruise, even while traversing the remote regions of the Amazon.
On the upper deck's outdoor lounge, breathe in the fresh air and feel the breeze on your skin while the oversized canopy protects you from the sun. In the dining room, cutlery and glass imported from Europe complement gourmet meals. And, of course, you will still have spectacular views of the river from your comfortable seat at the table.
Excursions from your Spondias cruise
The Spondias sails a variety of itineraries of different lengths that can be tailored to your needs, so there is something to fit every group, schedule, and season. There are special birdwatching cruises – which offers unique opportunities to observe the Amazon's feathery inhabitants, such as the Yellow-rumped Cacique, the Scarlet Macaw, and the Ringed Kingfisher – and Tres Fronteras (Three Frontiers) cruises exploring the Amazon River, its tributaries and tribes, all the way to the triple border where Peru meets Colombia and Brazil.
Other itineraries feature chances to explore the wildlife-rich Pacaya-Samiria National Reserve by small boat and on foot. Enjoy an evening picnic in the jungle before taking a night trek to search for poison dart frogs, bats, and other nocturnal animals. Or explore the Amazon's tributaries, either by skiff boat or canoe, before visiting a local village to learn about the local people's farming and fishing traditions.
There is even the rare opportunity to meet a local Shaman to learn about shamanic out-of-body travels to the spirit world, go fishing for piranha, spotlighting for caimans, and even go swimming with pink dolphins. Whatever the route, expert naturalist guides will lead the way and provide in-depth information on local cultures and the area's flora and fauna.
Perfect For Groups Of All Types
A Spondias Amazon cruise is an ideal getaway for your family or your family of friends. Additional children after the fifth passenger and upwards, under 12 years of age may be added to the cruise for just $150 per child, per day, subject to availability, with one roller bed able to be fitted in each of the generously-sized suites, two of which are interconnecting.
For a family reunion cruise, a corporate incentive trip, or a holiday for adventure-loving friends, a Spondias Amazon cruise charter allows you to follow in the footsteps of the great Amazonian explorers in exclusive privacy while also being pampered with personalized service.
Accommodations
Social Areas
Breakfast
Dining Room
Meals
Cabin
Kitchen
Sun Deck
Suites & Cabins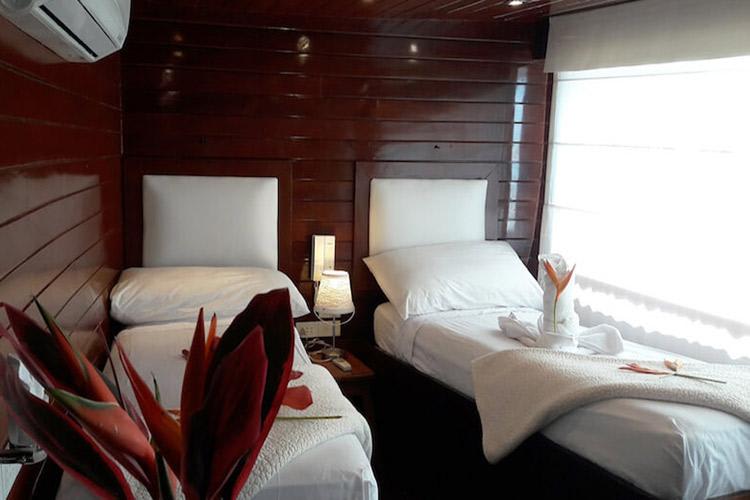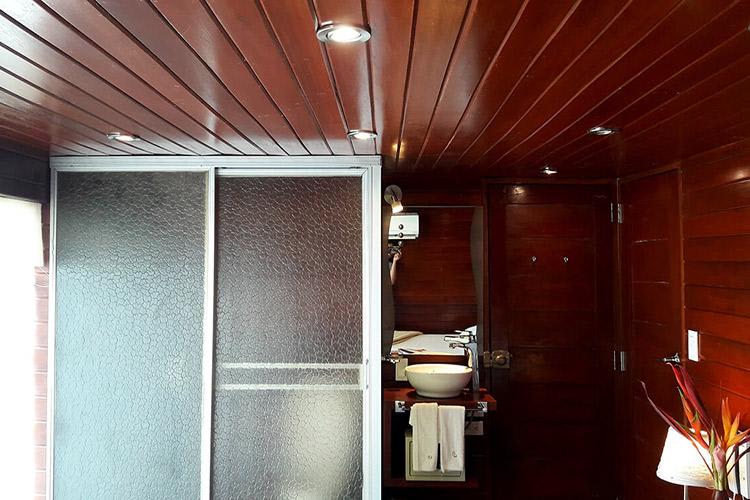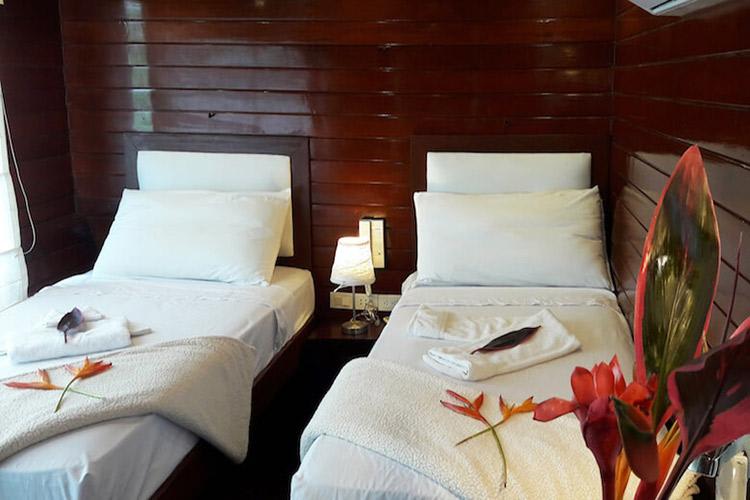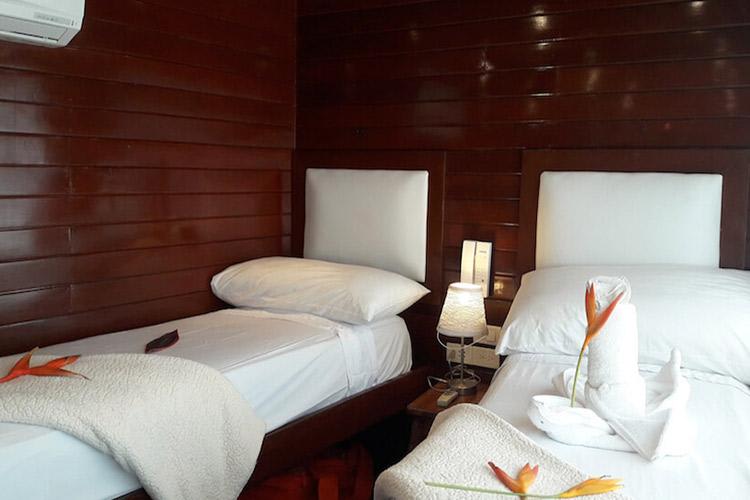 The large main deck amazon suites are large enough to accommodate double occupancy with no inconveniences. Also, guests get to enjoy the organic bathroom accessories and a hot refreshing shower, after which they can wrap themselves with the finest towels and bathrobes.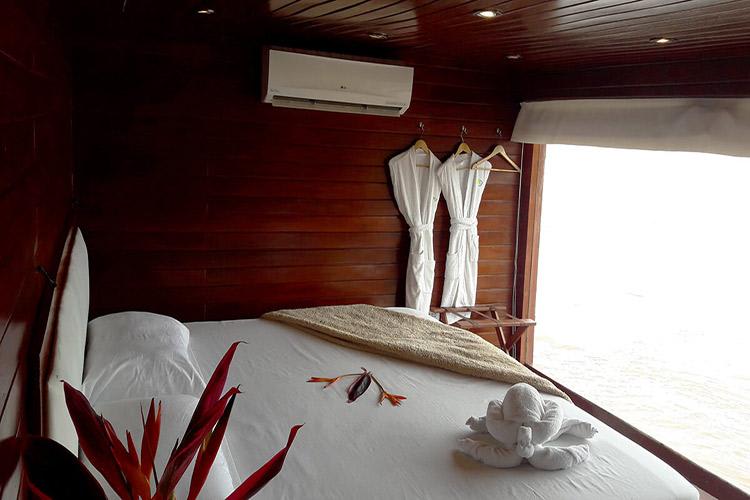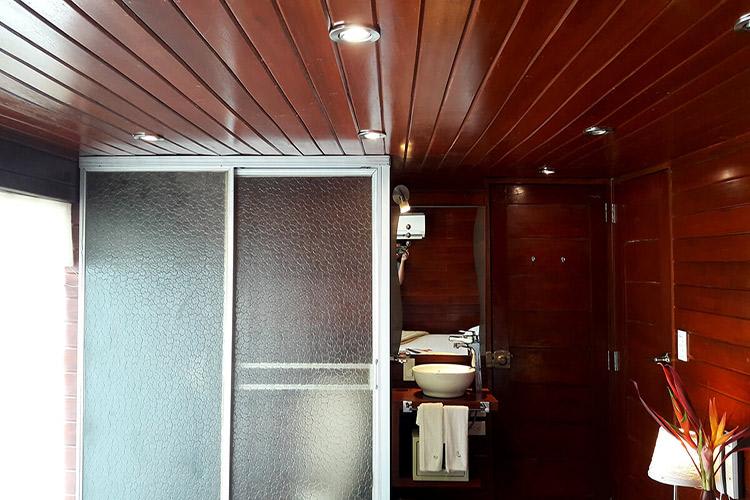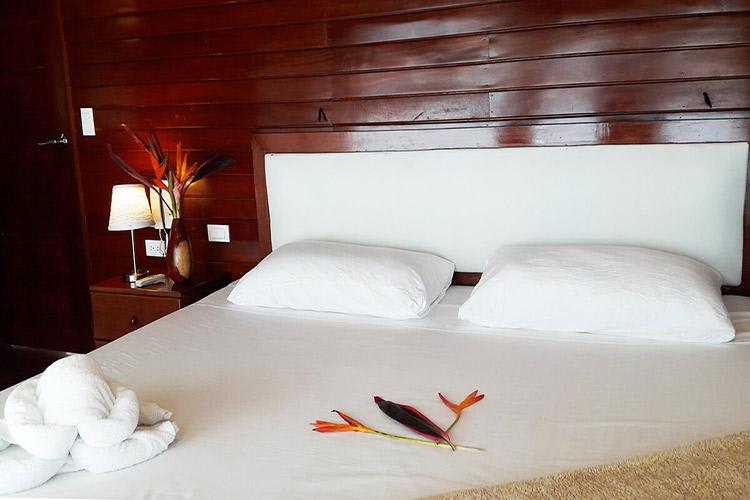 Each chamán suite is air-conditioned and spacious with a panoramic window for a great view of the tropical rainforest vegetation. A safe deposit box allows you to put your valuables and a wardrobe for your clothes. Enjoy a few drinks from the minibar when relaxing.