Overview
Surrounded by tropical nature but conveniently close to the thriving arts and cultural hub of Ubud, the Viceroy Bali is a luxurious boutique hotel featuring 40 individual pool villas with spectacular views of the Petanu River gorge. Here you can enjoy the facilities of an indulgent spa, two restaurants, and a massive infinity pool overlooking the lush jungle. There is even a helicopter pad for zippy arrivals and departures.
Accommodations and Service at Viceroy Bali
The Viceroy emphasizes the importance of privacy and comfort, and this is one of the reasons why it is such a compelling destination. Each villa is a jungle oasis, complete with a huge open-plan bedroom, living room and marble bathroom, a spacious terrace that seems to dangle over the rich beauty of the emerald gorge, and a delightful balé relaxation pavilion positioned beside your very own private pool. Natural colors and local materials have been blended to create a haven that harmonizes with the environment. Elegant teakwood furniture, soaring 'alang alang' grass roofs, oversized bathtubs and powerful rain showers blend traditional form with contemporary function.
What sets Viceroy Bali apart is the level of service and attention to detail. With a 2:1 staff-to-guest ratio, your every need will be anticipated. This, coupled with immaculate housekeeping and room service, means it's very likely you won't want to leave the comforts of your lavish villa.
Culinary journeys at Viceroy Bali
With knee-buckling views during the day, you will feel like you are sitting on the edge of the world at the 1920s-inspired Apéritif restaurant. The menu takes you on an exciting fine dining exploration of the Indonesian archipelago. Your other dining option is Cascades, which serves exquisitely prepared and presented gourmet dishes, showcasing Indonesian and European classics.
Wellness
The tranquil Lembah Spa has an extensive menu of holistic treatments that combine Western knowledge with traditional Balinese wellness techniques, including four hands massage, Intraceuticals oxygen facials, and a choice of romantic couples' treatments. There is also a fitness center and a squash court.
Activities and excursions
During your stay at The Viceroy, you can look forward to in-house Balinese dance performances, yoga classes and Balinese cooking classes. The hotel offers a pleasing menu of Bali tours, outdoor activities and gentle cultural diversions that might include visiting traditional villages or temples, climbing a volcano, taking a helicopter tour, or going on a bicycling or sunrise trekking expedition. Whether you feel like walking in the rice fields, rafting on the river, hitting the market, museums and art galleries of Ubud, or flopping on a sun-kissed poolside lounger with a direct view of emerald tree-tops and the plunging ravine below, the Island's allure can be enjoyed at every pace.
A secluded haven for romantics, adventurers, and the mindful, Viceroy Bali is a dazzling private retreat. A place where time slows down, connecting you with raw nature, culture and wellness experiences. It is an ideal choice if you're looking for luxurious facilities next door to a very special piece of untouched Bali.
Itineraries & Prices
Welcome to Viceroy Bali
Welcome to the stunning Viceroy Resort in the heart of Ubud.
This is a sample itinerary of your 3-nights stay - you can choose your activities out of the rich resort's offer.
You will be picked up from the airport by a private driver and transferred to the hotel.
During your stay, you are invited to an hour-long massage per person, Royal Balinese Rijsttafel lunch at Cascades Restaurant, Daily cocktail at Cascades or Apéritif Bar, and 2 half-day or 1 full day private guided tour, and a treck or cycling tour through Ubud with guide.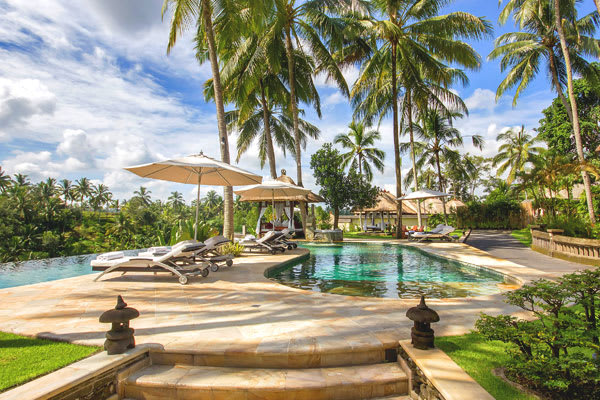 Tour Bali or relax at the resort
Choose the sites you want to visit, and we'll create a great private tours for you.
PADANGTEGAL MONKEY FOREST
Commonly known as Ubud Monkey Forest, the Wenara Wana is home to Padangtegal's Pura Dalem or temple of the dead. It is also home to a group of mischievous long-tailed macaque who will entertain you with their antics. Do keep shiny objects out of their sight, as they have been known to kidnap such items for ransom of a sweet or treat.
PURA SARASWATI, WATER PALACE
This temple and water garden was built at the end of the 19th century, by commission of the royal family, and named after the Hindu goddess of art and learning. The "padmasana" or, main shrine, features fine carvings. Traditional Balinese dances are performed to a gamelan orchestra at the outer courtyard, next to the lotus pond twice a week.
PURI SAREN AGUNG, THE ROYAL PALACE
Currently home to descendants of Ubud's last king, Puri Saren Agung was the seat for the village's ruler from the late 1800s to the mid-1940s. Parts of the grounds are open to visitors for a glimpse of what the royal abode holds: well-preserved pavilions with intricate carvings furnished with colonial-era European pieces, and hand-carved stone reliefs dotting the premises. A traditional Balinese dance is held in the evenings – good weather permitting – at the courtyard, which forms a dramatic backdrop for these entertaining performances.
PASAR SENI, THE ART MARKET
The Pasar Seni is a treasure trove of local handicrafts, home wares and quaint souvenirs for anyone looking to bring home a made-in-Bali product, spread over two floors. Fresh produce such as fruit, vegetables, poultry and local snacks can be purchased from the wet market located at the basement of the building. To snag the best bargains, arrive early in the morning and do not be afraid to haggle with the shop owners – it is a way of life here, and they enjoy the exchange.
MUSEUM PURI LUKISAN
Follow the evolution of art in Bali through the collection of paintings and sculptures at the Museum Puri Lukisan, which was founded in 1956 by a prince of Ubud and a Dutch artist. The museum was recently renovated and its gate is a fine example of traditional Balinese architecture. There is also a space committed to a revolving showcase of up-and-coming local artists.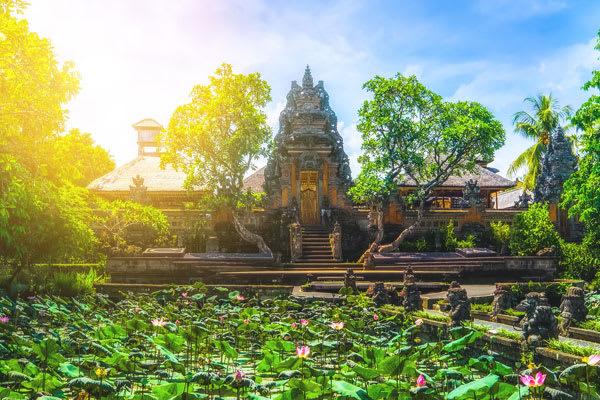 Cycle or walk through Ubud's rice paddies
Choose one of the offered activities (or stay at the resort and relax):
CYCLING
Take a leisurely bicycle tour around the Villages to see the culture and diversity that Bali's heartland has to offer! Your English-speaking guide will entertain you with mythical stories and various facts to enhance your experience. The bike tour travels through traditional villages, Petulu Heron Village and stops at numerous temples. We also visit Tegallalang, the world famous rice terraces.
RICE PADDY TREK
It starts from the hotel by the car then you will be dropped off to Tegellalang Rice Terrace which is located 15 minutes drive. With an English Speaking Guide, this trek goes to the vista sprawls down and away to the rice terraces on the slopes across the valley so you will see closely the farmer about what He does in the rice fields. This is where you really get an understanding of the Balinese daily life.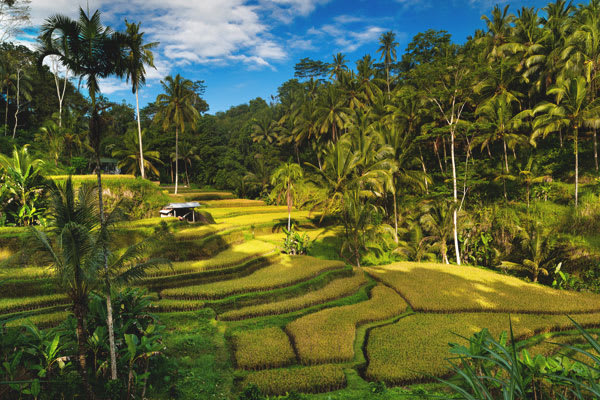 Departure
It's time to go, but make sure you had your Balinese massage.
Lembah Spa offers spectacular views of the Petanu River Valley to complement the therapeutic international and local treatments offered at this professional day spa. Traditional Balinese massage, the most popular treatment, is characterized as a firm finger and palm massage and is the village technique that has been practiced for centuries by members of the community to help relieve muscle pain caused by working long and hard hours in the rice fields. This endearing massage relaxes weary muscles and is ideal for stiff backs after long-haul flights, or just before one ;)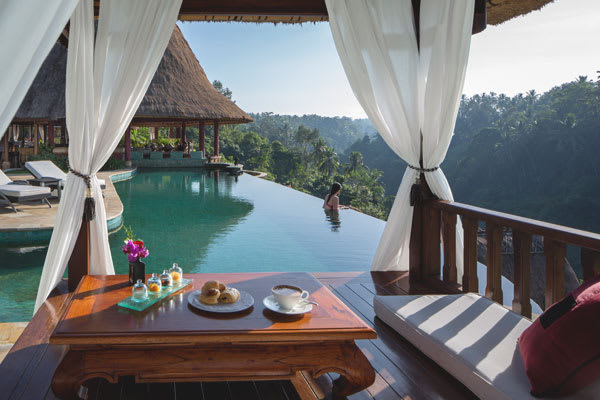 1 / 4
Accommodations
Social Areas
Aperitif Bar
Aperitif Dining
Aperitif Wine Cellar
Bale at Main Pool
Garden Bale
Cascades Lounge
Cascades Lounge
Lower Lobby
Main Garden
Pathway
Main Pool
Villa Balcony
Villa View
Suites & Cabins
Junior Suites are our newest accommodation category, which will open from 1 April 2022.
The Junior Suites will have similar design features to Deluxe Terrace Villas such as marble floors, walk-in robe, ducted air-conditioning. They will also feature a separate bedroom and lounge area. Whilst the Junior Suites will not have a private swimming pool, they are located very close to our main infinity pool, allowing guests to walk or enjoy a buggy ride.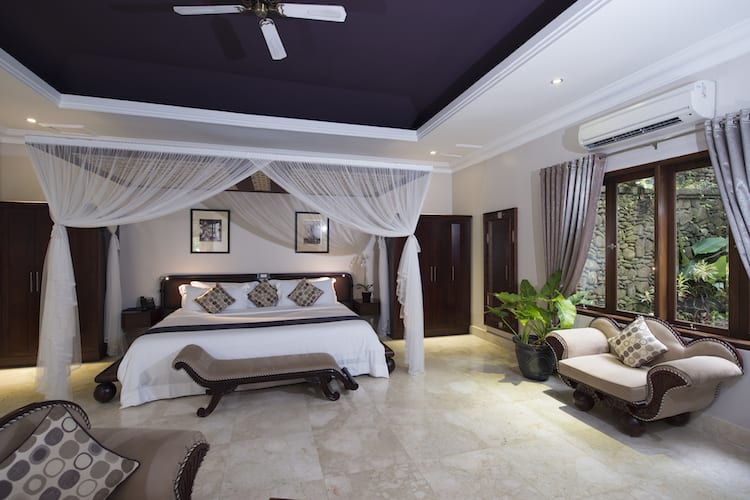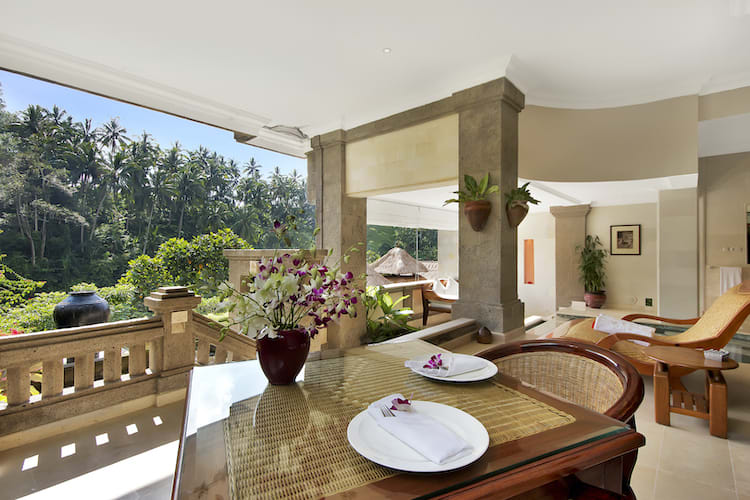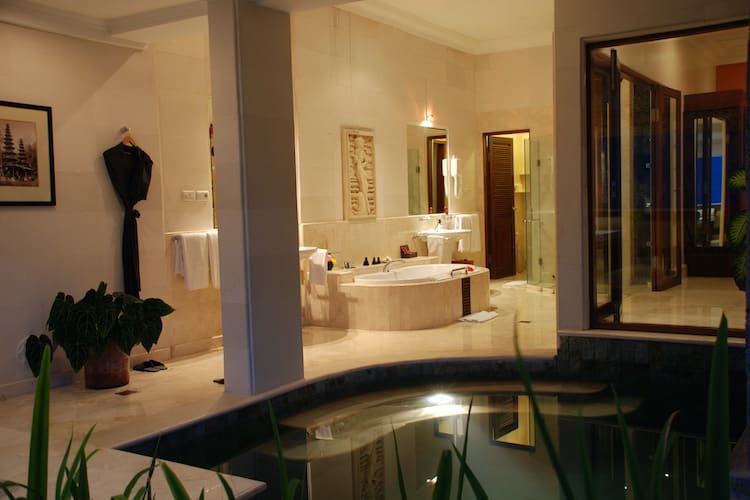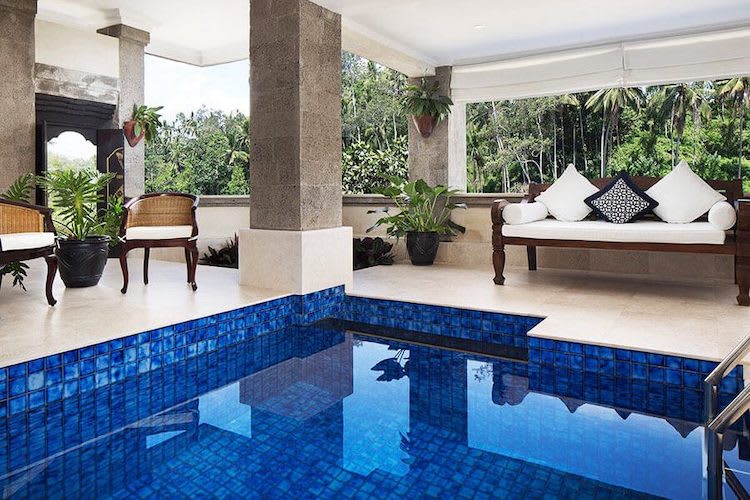 These suites provide an intimate feeling, with their spectacularly spacious interior, heated plunge pool and semi-outdoor bathroom beautifully blending indoor and outdoor living spaces. Luxury hotels in Bali rarely see a starting room as elegant as ours. This private pool villa in Bali with a stunning jungle view will not disappoint you!
Elegant yet discreet, the modern open-plan design is ideal for couples wanting their own luxurious space. The semi-outdoor marble bathroom allows you to effortlessly step to your heated undercover plunge pool, due to the beautiful blending of indoor and outdoor living spaces in these Balinese private pool villas. The daybed and covered deck provide ample comfort and space to soak in the spectacular jungle views whilst being protected from the elements. Inside the bedroom and lounge, expect a generous space to relax.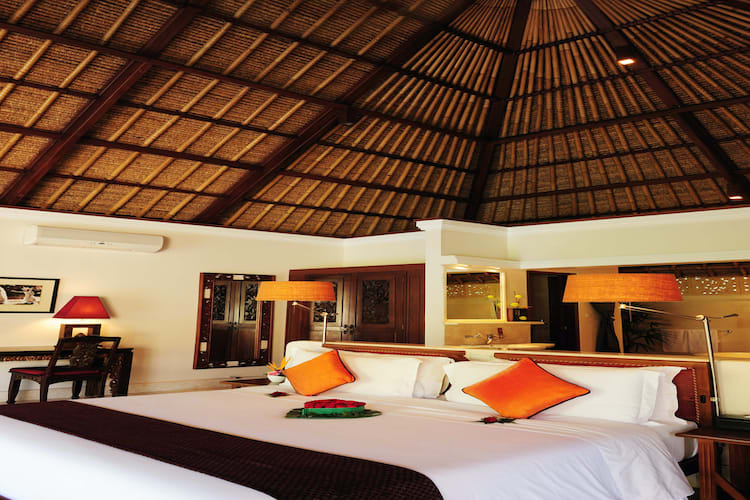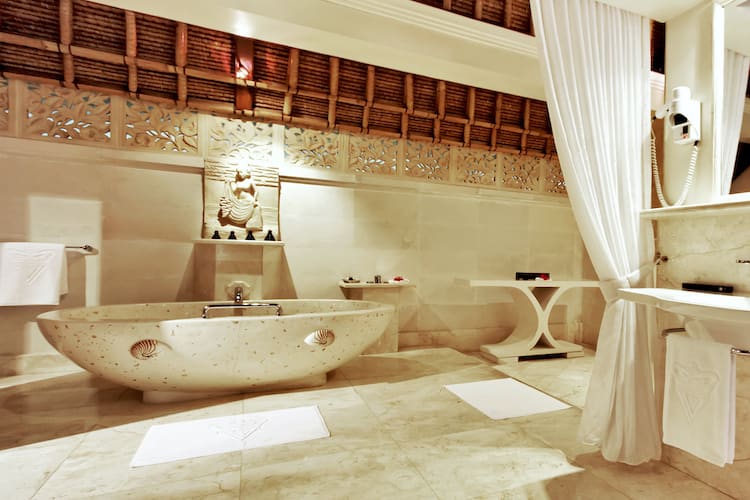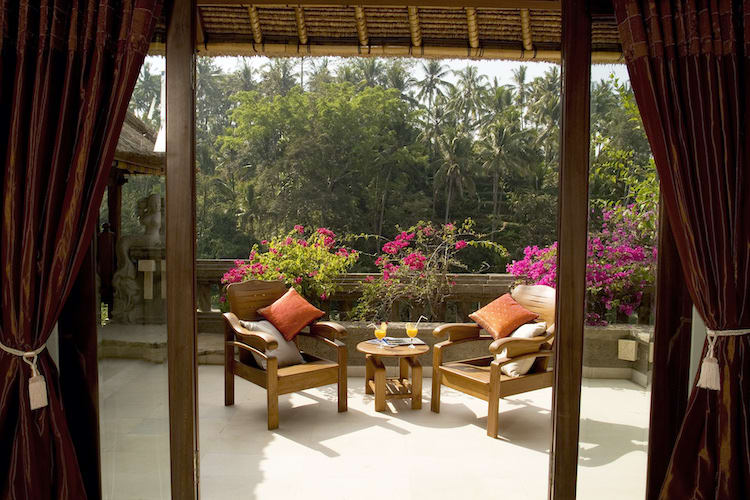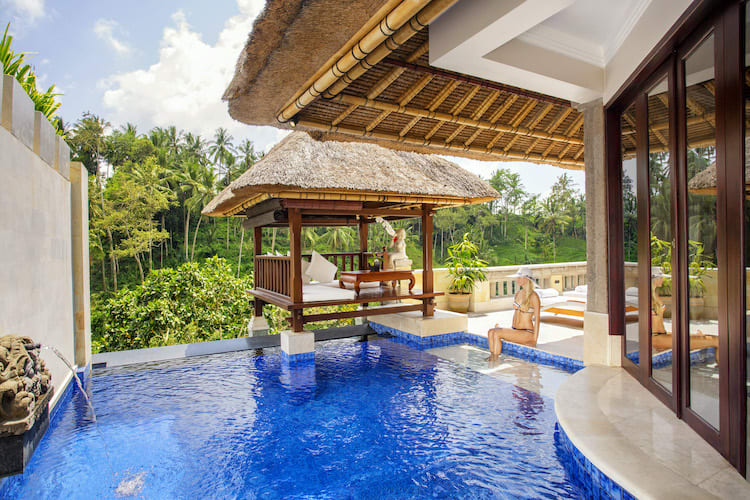 The highlight of the Viceroy Bali Terrace Pool Villa is the traditional balé perched elegantly over the private outdoor heated pool. These bungalows are the ideal place to look out to the spectacular jungle valley views; relaxing and reading or for an afternoon siesta.
This Bali jungle villa also boasts an alang-alang grass thatched roof and open plan marble bathroom. The bedroom is integrated with a generous living space and fitted with luxury amenities.
Viceroy Bali Terrace Pool Villas are ideal for couples, those seeking a romantic dream vacation or a quick de-stress weekend getaway.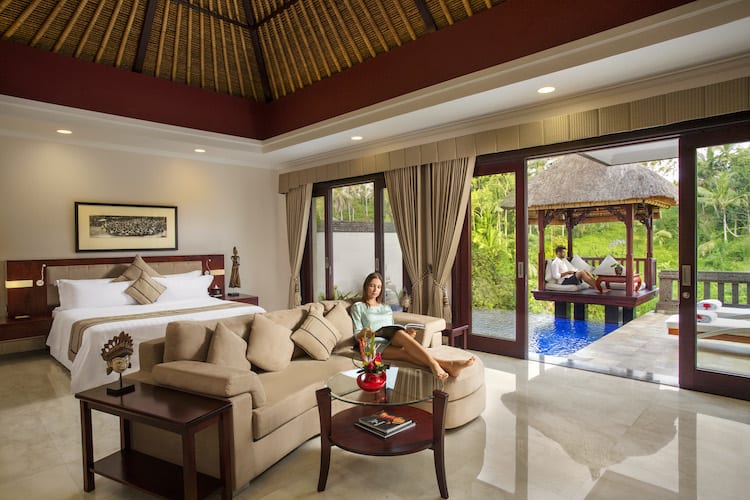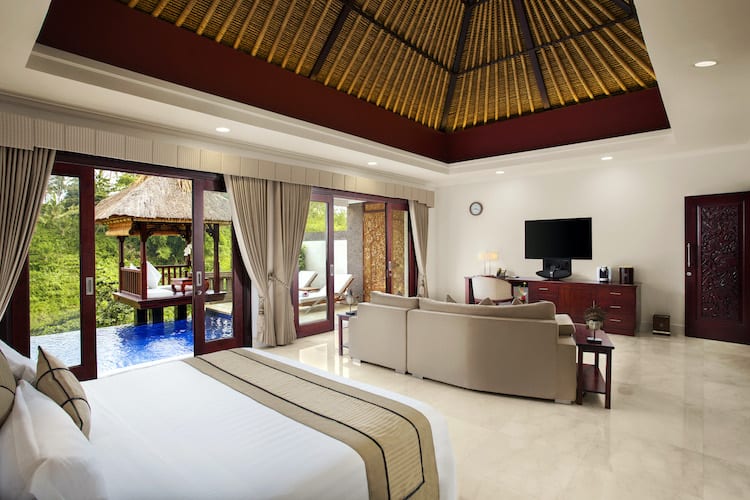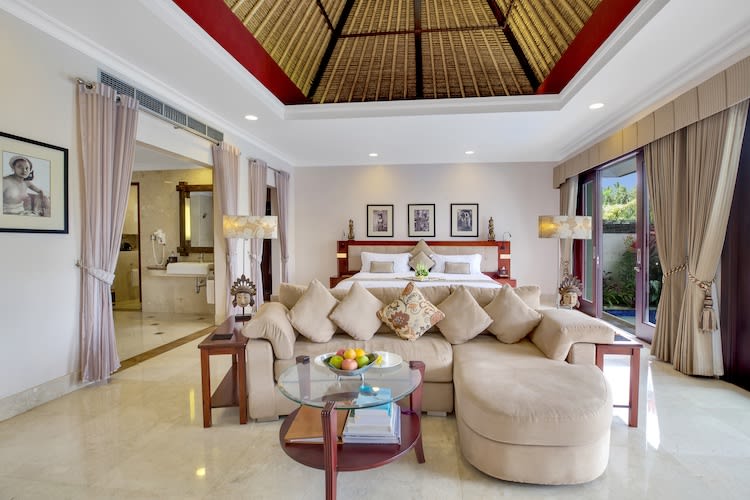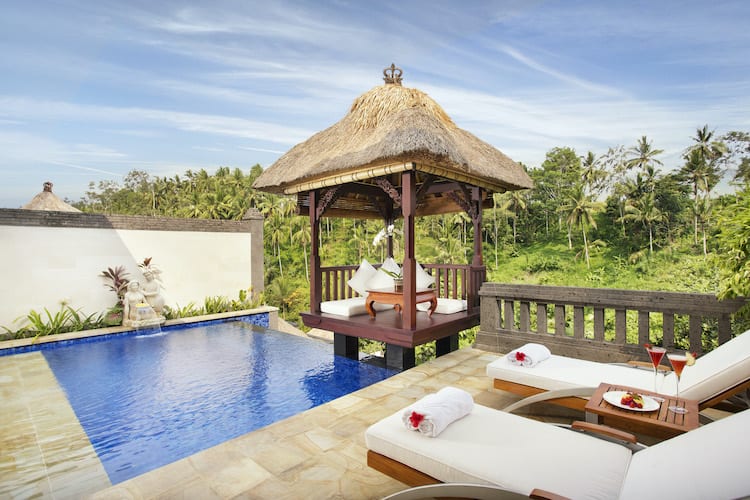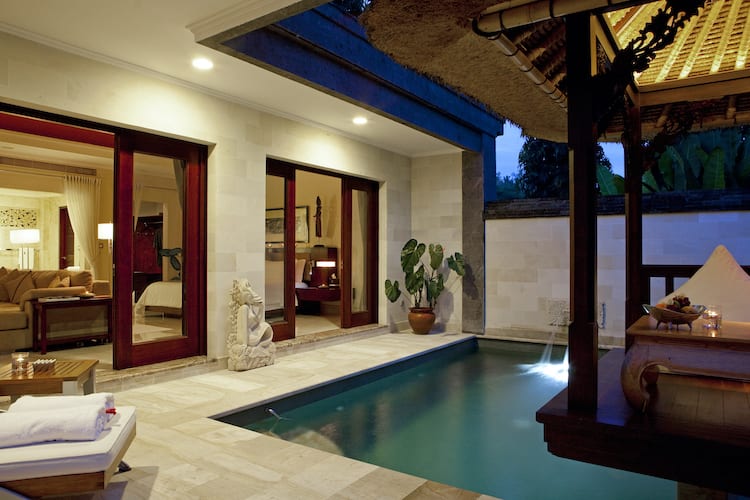 14 Cabins
Deluxe Terrace Villa
The Deluxe Terrace Villa took their design from their original Terrace Villa counterparts, however with larger infinity pool and a newer design that integrates Balinese architecture seamlessly. Located on three different levels of this honeymoon resort Bali, you can choose your villa favorite spot – up close to the Petanu river and immersed in greenery, or near the main pool and restaurant facilities with expansive valley views.
The bedroom is integrated with a generous living space and large marble bathroom fitted with luxury amenities such as a 30cm rain shower and twin vanities. Espresso coffee machine and 24 hour room service mean you can enjoy lounging in your indoor and outdoor living spaces with feeling the need to leave your villa sanctuary. With views like this, you may never want to leave.
Two villas in this category have been modified to be handicap accessible with specially fitted features and conveniently located to all main hotel facilities. The Deluxe Terrace Villa is also an option for families by adjoining two villas via the pool terrace.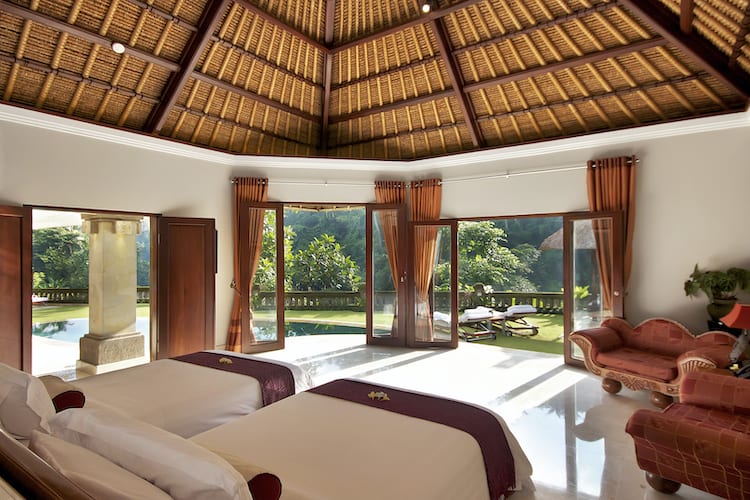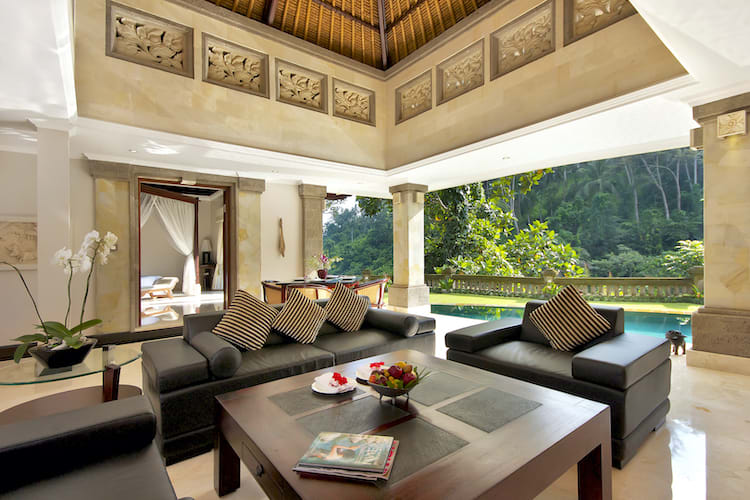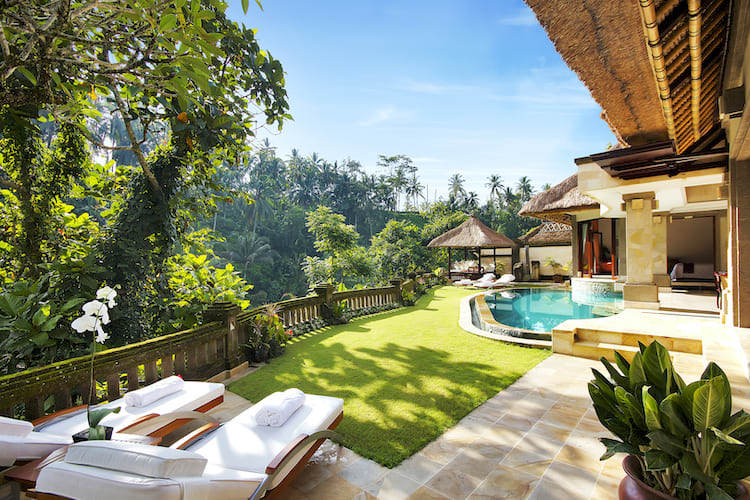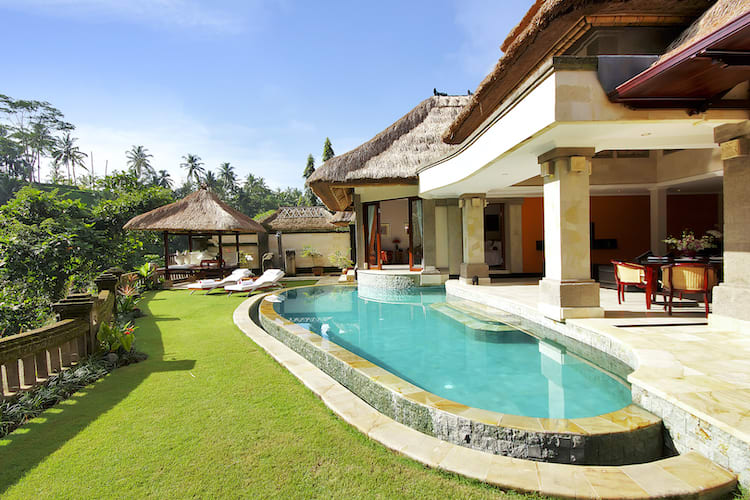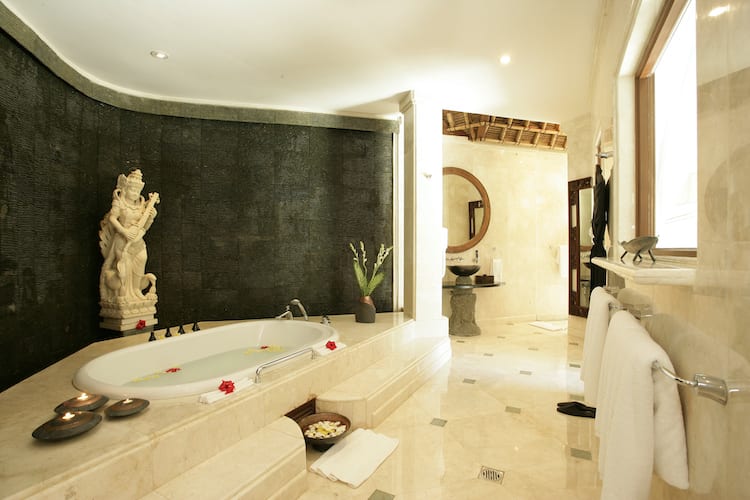 Viceroy Villa
The crowning jewel of the Viceroy collection, the Viceroy Villa is one of the top family villas in Bali. This 2-bedroom expansive villa has two master bedrooms with lavish marble ensuites, separated by a common semi-outdoor living and dining area adorned by a double tiered thatched roof. Both bedrooms look out to the 15-meter heated pool and grass gardens; with the lush valley as a perfect backdrop.
Bali family villas are often sparing on luxury, however the Viceroy Villa provides top quality amenities and design, such as the master bath with waterfall feature wall, whilst still being family-friendly. The substantial entertaining area allows for private barbecue or chef events to be organized.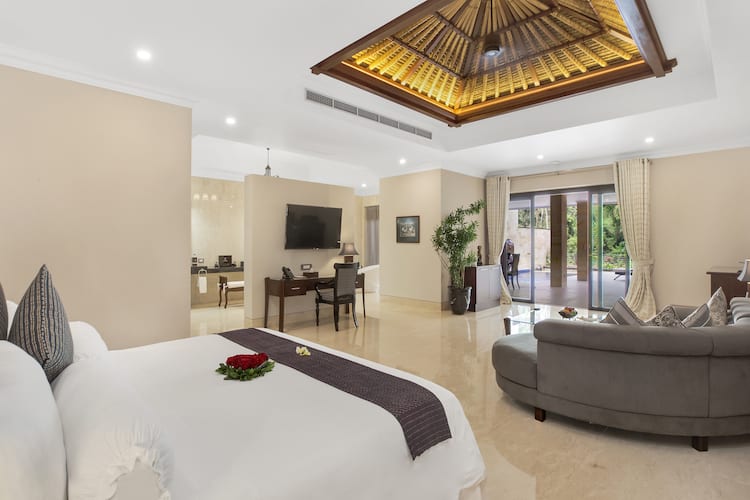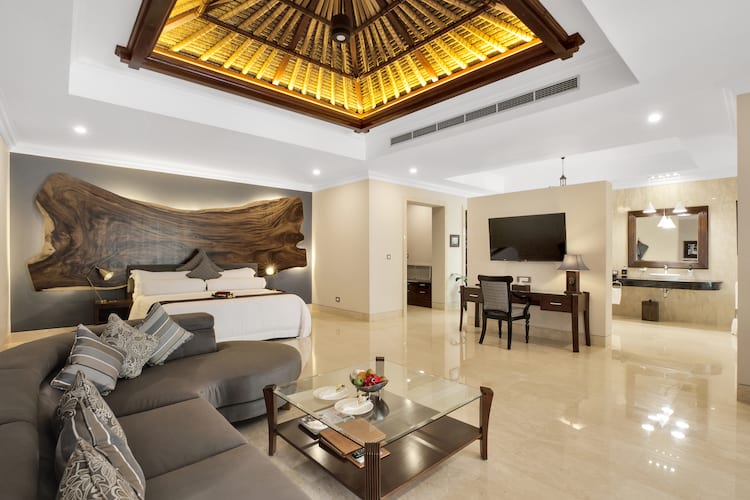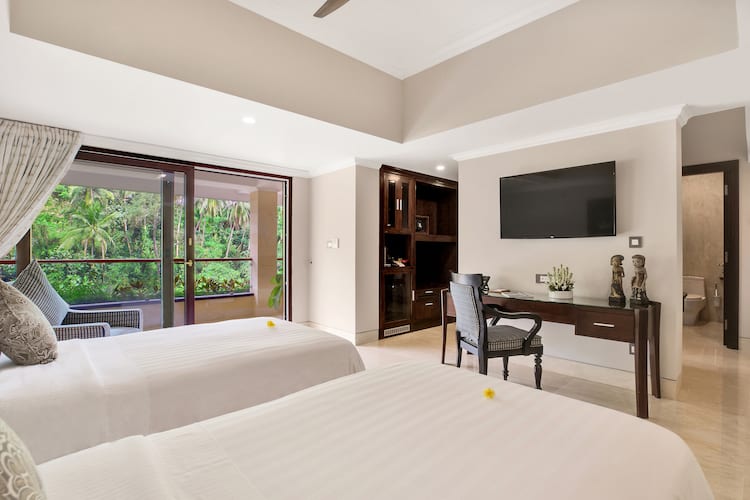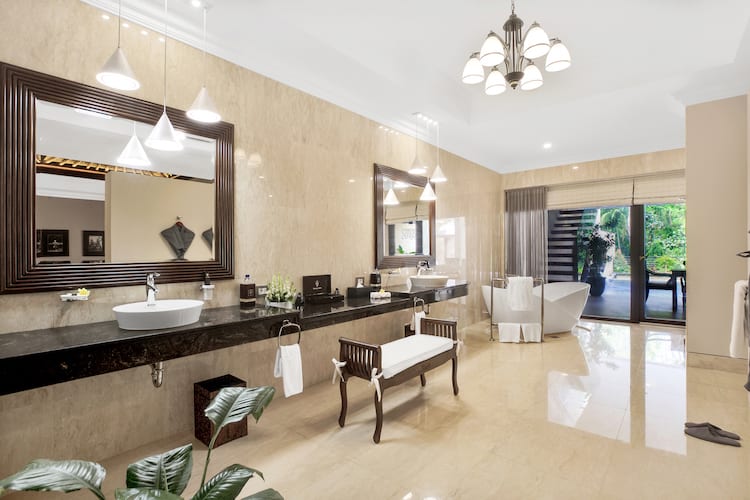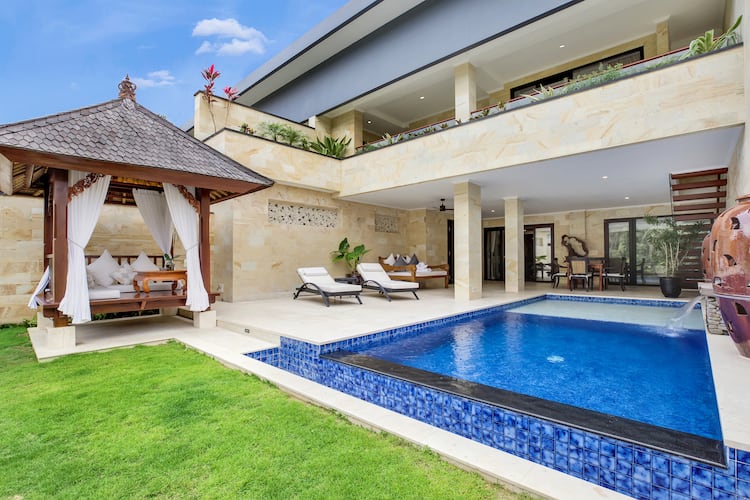 5 Cabins
Vice Regal Villa
The newest private pool villa Ubud the Vice Regal villas are fit for royalty, boasting an expansive master bedroom plus living area that steps out to a deck with stunning jungle views. There is the option for this to be converted into a 2 bedroom family villa with a second bedroom and balcony upstairs. The large outdoor heated pool is partially shaded and overlooks the lush vistas, providing the perfect spot to perch all day and in all weather.
With only 5 of these unique villas in the Viceroy collection, set your sights early when searching for an Ubud private pool villa so as to not disappoint. These villas rest right on the edge of the valley, overlooking the Petanu river gorge and you can relax in the garden whilst listening to the river below.
Interested in the Viceroy Bali?
Please fill in the form beneath and we'll get back to you ASAP.
View last remaining Christmas & New Years availability for Amazon and Galapagos
X