Overview
Few areas in Asia can match the cultural and natural diversity of Indonesia's Lesser Sunda Islands and the majestic Komodo National Park. Your Bali & Komodo Island adventure is an exploration of some of the most beautiful places in Bali followed by a leisure expedition aboard a traditional, wooden, phinisi boat, from Bali to Komodo Island.
Your luxury Bali tour
Beginning with a tour of some of Bali's most iconic temples and spectacular rice terraces, and rising through the magic of a spiritual journey with a cleansing purification ritual and a guided meditation session conducted by a Hindu priest, Bali will continue to enchant you while you relish a very special lunch in a blissful setting in the rice fields. You will also get to enjoy a day to yourself. Go exploring, visit art galleries, museums, and a traditional market where you can shop for handicrafts and souvenirs before a tour of East Bali and the chance to snorkel and unwind beachside.
Your cruise adventure
Aboard the beautiful Ombak Putih, you'll cruise through azure seas, magnificent scenery, and a panorama of islands, discovering new wonders on a daily basis with opportunities to visit quiet coastal villages, waterfall-fed river pools, volcanic islands, and a mysterious crater lake. Meet sea gypsies and boat-builders, witness tribal rituals, and encounter an amazing variety of wildlife from gentle whale sharks to the famous Komodo dragons, flying foxes, sea eagles, cockatoos, and giant manta rays. At the end of your cruise, an uninhabited island will beckon you ashore for a quintessential, toes-in-the-sand, celebration under the stars, complete with a bonfire, barbeque, and dancing to songs and music performed by the ship's crew. Please note, the Ombak Putih is only available during certain seasons, and at other times a different vessel may be proposed.
Activities
Snorkel the kaleidoscopic beauty of the underwater world – home to over one thousand species of marine life; gently trek through river valleys or ascend savannah-wrapped hills offering dazzling views of jungle-clad mountain ranges and towering volcanoes, and encounter, at a safe distance, Indonesia's living dinosaurs, the awe-inspiring, giant lizards known as Komodo dragons. Unlimited use of stand-up paddleboards and sea kayaks adds yet another dimension to your nature explorations.
Accommodation
When not aboard your cruise, you'll spend four nights in a stunning hotel in Bali's hinterland and one night in a charming seaside hotel on Bali's tranquil east coast. Your final night will be spent in an impressive resort on the island of Flores.
Cuisine
Indonesian cuisine is as rich, complex, and varied as the culture and the people that live on the six thousand populated islands of the archipelago, while the luscious creations of Bali's top chefs are testament to the high quality of the fresh produce of this fertile little island. During your tour, you will have the opportunity to taste a selection of delicious and authentic Balinese dishes at a streetside eatery in Bali. Enjoy both Indonesian and Western cuisine in your hotels and during your Bali Komodo cruise aboard the Ombak Putih, where your meals will be served buffet style including plenty of fresh fish and seafood.
Itinerary & Prices
Welcome to the Island of Gods!
Welcome to Bali – the Island of Gods!
Upon arrival, our driver and a guide will pick you up from the airport and take you to the stunning hotel in Ubud – the most serene part of the island.
Take a day to soak up the unique atmosphere of Bali, indulge in the guilty pleasures of scrumptious local cuisine, and take good rest, for tomorrow the exploration starts!
Meals: (x)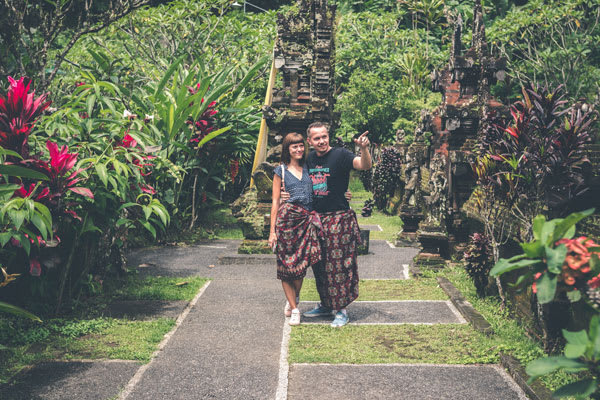 Temples and Rice Terraces
After a lazy morning, meet your guide for the tour to famous temples and rice terraces.
Head to Bali's most photographed spot – Tanah Lot, a 16th-century temple precariously perched upon a craggy, wave-lashed rock.
Continue to Tabanan to visit Taman Ayun, a Royal Family temple. Built in 1634, it is part of the Subak (complex rice-field irrigation system), recognized by UNESCO in 2012. 
Finish the tour with a visit Alas Kedaton, a megalithic sacred temple in a forest inhabited by mischievous monkeys and hundreds of big bats. 
Return to your hotel for a beautiful dinner.
Meals: (B)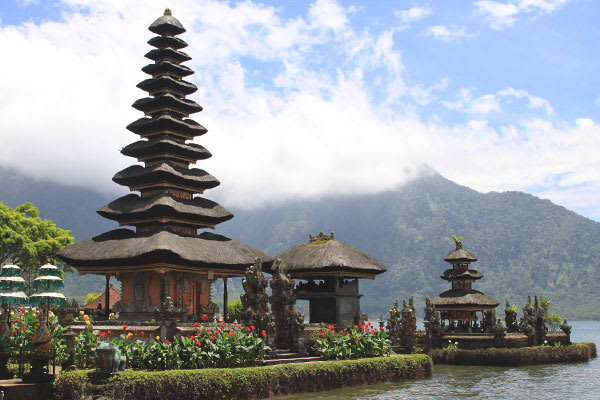 Spiritual Journey
Wake up early for the magical day.
Journey to Pakerisan Valley, an 8th Century World Heritage site and birthplace of the Hindu Darma religion.
Visit the very first Hindu temple in Bali, hidden in a jungle. Experience the cleansing purification ritual conducted by a Balinese priest at Tirtha Mengening.
Have lunch in a hidden spot surrounded by lush rice fields, still grown from the original species of rice brought by the first Hindu priests in the 8th Century. 
Next up is a visit to the priests home for a guided meditation.
Meals: (B, L)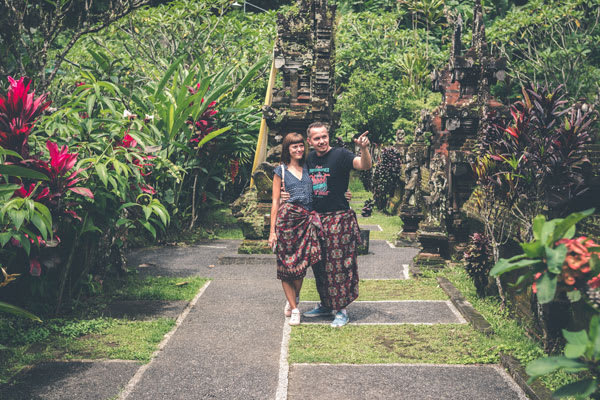 Street Food at Night
Take a morning to explore Bali on your own. Wake up early and practice yoga, buy fresh fruit in the market, grab a coffee in a small cafe. Today is a good day to find the arts and crafts galleries and boutiques and buy all the gifts and souvenirs.
Tonight you'll go where the locals go and eat what the locals eat. We're leaving the touristy areas behind and driving off to find the most authentic food stopping at a secret warung and a roadside café specializing in Bali's most famous authentic dishes.
Meals: (B, D)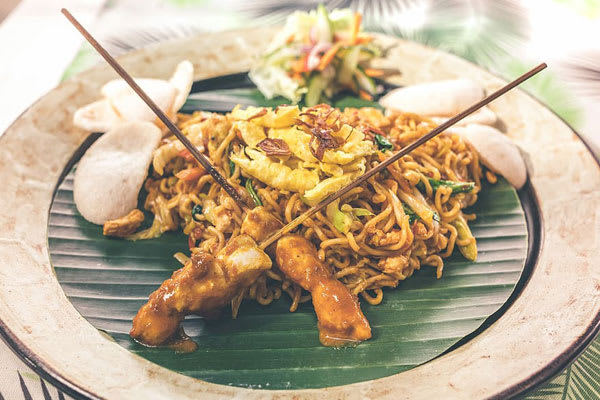 Beach Day Under Volcano
Early pick-up and a drive to the Ombak Putih meeting point. From there join the tour of East Bali.
In the late afternoon, you will arrive at your beachside resort in East Bali and have a chance to unwind, swim, or have a snorkeling lesson with your tour guide.
In the evening join all your fellow guests for a welcome dinner and drinks in the hotel's beachside restaurant.
Sleep in the shadow of Bali's Mt Agung, the mother mountain of all Balinese people, and the most imposing figure on the whole landscape of Bali.
Meals: (B, D)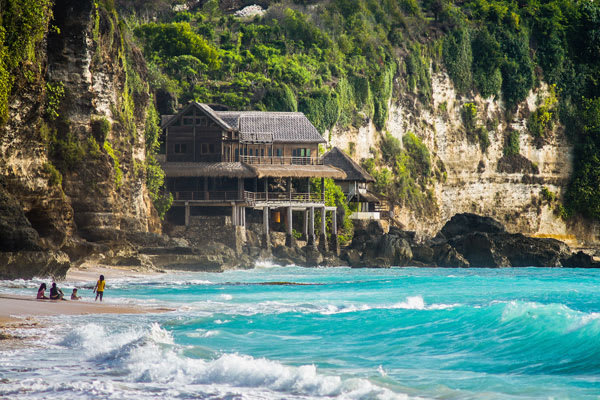 Embark Ombak Putih
Wake up to watch the sunset and your beautiful ship on the horizon.
Embark Ombak Putih after breakfast and sail towards Gili Islands, crossing the Wallace Line.
Spend the afternoon snorkeling in the magnificent coral gardens of Gili Islands.
Meals: (B, L D)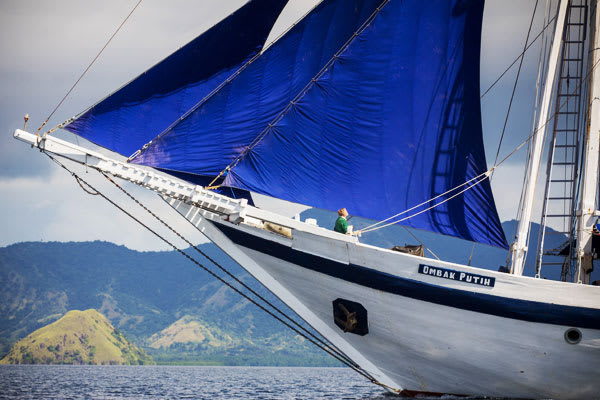 Location
Ombak Putih Bali Komodo Cruise
Sea Gypsies
Wake up off the coast of Kanawa Island under the gaze of Lombok's towering Mt Rinjani – the largest volcanic peak in Indonesia.
Enjoy breakfast on the deck and spend the morning swimming, snorkeling, and exploring.
Later visit a village of the famous Bajao 'Sea Gypsies' of Southeast Asia and discover the secrets of their happy lifestyle.
Meals: (B, L D)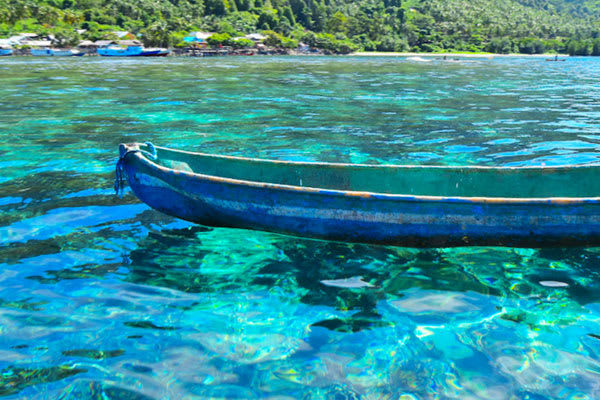 Location
Ombak Putih Bali Komodo Cruise
Whale Sharks
Start your day by swimming with whale sharks in Saleh Bay.
Later, swim, snorkel, and kayak on Satonda Island, where 2 centuries ago a massive tsunami filled up a caldera with water.
At sunset, sip your cocktail watching thousands of giant fruit bats emerge from their forest lair and fly out directly over the boat.
Meals: (B, L D)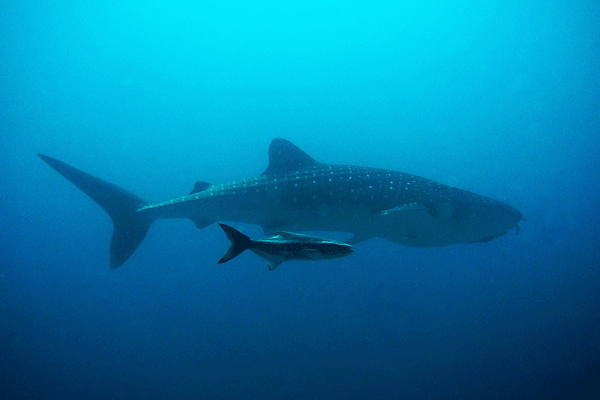 Location
Ombak Putih Bali Komodo Cruise
Beach and Corals
Step ashore on an active, smoking volcanic island, where local villagers are in the process of building a fifty-plus meter, traditional wooden pinisi boat.
Walking around this small village, get a feel for their simple way of life, chat with the locals and maybe buy some handmade textiles as a memento.
Snorkel on a colorful and vibrant coral reef above small geothermal fissures where air bubbles are released from the volcanic chambers below the seabed.
After a few hours under sail, spend the afternoon time on a deserted white sand beach on another volcanic island, this time an extinct one.
Explore the magnificent coral gardens, hike to the crest of the surrounding hills for a view of the surrounding islands, swim, paddle, kayak and laze away the day before enjoying sunset cocktails on the sand.
Meals: (B, L D)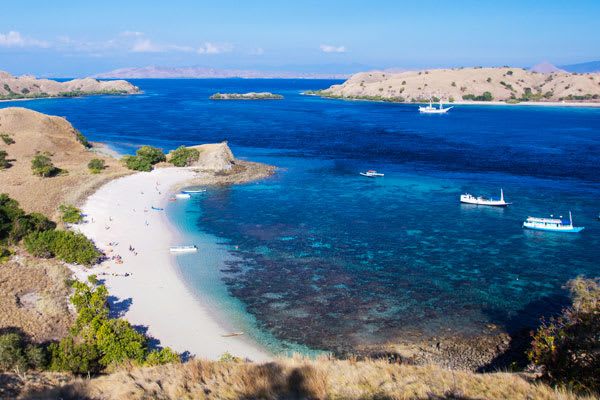 Location
Ombak Putih Bali Komodo Cruise
Manta Rays
Wake up in the most northerly part of the Komodo National Park and enjoy a morning of sea-based activities including a fantastic drift snorkel over the reef, kayaking, and SUP at Gili Lawa Darat island.
Swim with schools of manta rays as they feed on the current and circle the so-called cleaning stations, where small fish remove parasites from their skin. Hover above these giant and noble beasts for as long as you like.
Spend the late afternoon on a local sandbar, where we will enjoy snorkeling, swimming, and relaxing on the sand.
Meals: (B, L D)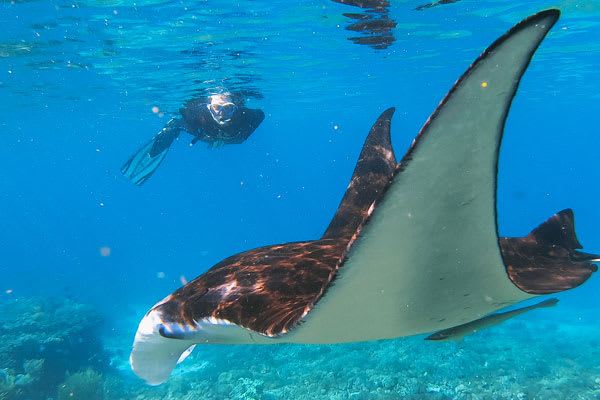 Location
Ombak Putih Bali Komodo Cruise
Komodo Dragons and Beach BBQ
Visit Rinca Island and go on a trek in search of the ancient Komodo dragon, the world's largest lizard. See monkeys, dear, pigs, buffalo, and myriad birds as we walk through the forests and savannah of this large island.
Snorkel at Siaba Island, a favorite hangout of sea turtles, where we will have a chance to swim with these gentle creatures as they cruise along the shallow water of the reef.
Enjoy Indonesian hospitality as your crew hosts a beach barbecue in your honor on a deserted island. On offer is plenty of good food, music, cocktails dancing, and frivolity as we dance and sing the night away next to a bonfire under a clear tropical night sky.
Meals: (B, L D)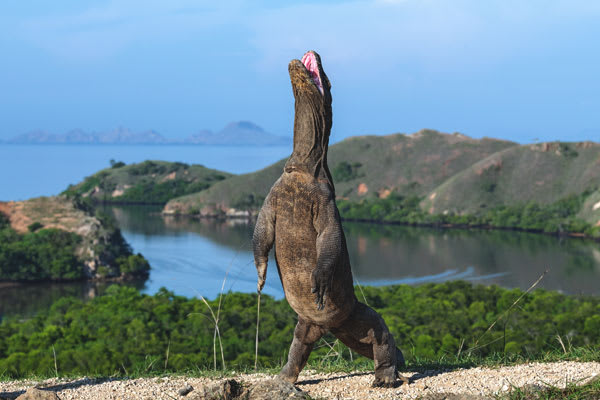 Location
Ombak Putih Bali Komodo Cruise
Local village and Disembarkation
Enjoy your breakfast while the ship enters the Labuan Bajo harbour.
After breakfast take a short drive to a traditional local village. Here enjoy the hospitality with coffee, betel nut and a highly potent local 'arak' (not for the faint-hearted), before a show of traditional dances.
Back onboard for lunch and disembarkation.
As you leave the ship, your local driver and the guide will pick you up and take you to the stunning resort. Take the rest of a day to relax, but don't miss the Flores sunset!
Meals: (B, L)
Location
Ombak Putih to Labuan Bajo
Mirror Cave and Local Market
After an early breakfast you'll be picked up from your hotel for a trip to the spectacular Batu Cermin – Mirror Cave.
Set within an impressive rock formation near Labuan Bajo, rays of light shine through into the cavern to create beautiful reflections that play upon its mirror-like rock surfaces.
Continue on to explore the local market and climb up to an excellent vantage point for panoramic views. 
Back to your resort for lunch. Take the rest of the day to admire the beauty of Flores and pack for your journey home.
Meals: (B)
Departure
Time to go!
Your driver will pick you up from the hotel and take you to the airport for your journey home.
Meals: (B)
1 / 14
Accommodations
Cruises & Lodges
Ombak Putih
A beautiful, traditional Indonesian Phinisi schooner sailing Indonesia's seldom-explored seascapes.
Hotel Options
5 Star
The Purist Villas & Spa Ubud
Bali
4 Star
Sudamala Resorts Seraya
Komodo Island