Bangkok To Bali: Thailand & Indonesia
Bangkok To Bali: Thailand & Indonesia
Discover Thailand and Indonesia's ancient and natural wonders, from Bangkok to Bali and beyond.
Customizable private tour with flexible start date
Overview
This Thailand and Bali 21-day itinerary will take you on the holiday of a lifetime incorporating a river cruise and a sea cruise, as well as temple tours, a floating market experience, a spiritual purification ritual and the opportunity to meet indigenous hilltribes, sea gypsies and boatbuilders. You'll go snorkeling with gentle whale sharks, sea turtles and giant manta rays, and you will encounter Indonesia's legendary Komodo dragons.
Your Thailand tour
Visit a century-old floating market, before stepping aboard a luxurious river barge to feast on gourmet cuisine while discovering Bangkok's rich past through temples and palaces, as well as the ancient ruins of the grand complex of Ayutthaya. Delve into the temples of Chiang Mai on the next leg of your vacation to Thailand and Indonesia, and immerse yourself in the fascinating culture of the traditional hill tribe villages.
Your Bali tour
After flying from Bangkok to Bali, the next part of your journey begins with a tour of some of Bali's most iconic temples and spectacular rice terraces. Experience the magic of a spiritual journey with a cleansing ritual and a guided meditation session conducted by a Hindu priest. Relish a very special lunch in a blissful setting in the rice fields, enjoy a tour of East Bali and relax beachside.
Your Indonesian cruise adventure
Embark on an unforgettable sea cruise, which will take you through gorgeous scenery and a panorama of islands, exploring quiet coastal villages, waterfall-fed river pools, volcanic islands, a mysterious crater lake, a boatbuilding community, and the Komodo National Park. Gently trek through river valleys or ascend savannah-wrapped hills offering dazzling views of jungle-clad mountain ranges and towering volcanoes. Witness the astonishing sight of hundreds of thousands of flying foxes emerging in a steady throng from the forest at dusk, and encounter Indonesia's living dinosaurs, the awe-inspiring, giant lizards known as Komodo dragons. Unlimited use of stand-up paddleboards and sea kayaks adds yet another dimension to your nature explorations.
At the end of your cruise, an uninhabited island will beckon you ashore for a quintessential, toes-in-the-sand, celebration under the stars, complete with a bonfire, barbeque, and dancing to songs and music performed by the ship's crew. Please note, the Ombak Putih is only available during certain seasons, and at other times a different vessel may be proposed.
Your Java tour
Transfer to the island of Java to watch the sunrise over the spectacular Bromo Tengger Semeru National Park and its smoke-spewing volcanoes. Cross the desert-like sea of sand of the ancient caldera and up a steep staircase to the crater rim of Mt Bromo, and peer into the smoking darkness below – the veritable gates of hell. Marvel at the seventh century Buddhist temple of Borobudur, one of Indonesia's most important archaeological sites, and explore the historic and cultural city of Jogjakarta, which is known for its wonderful arts and is still headed by a sultan. Wander through the Sultan's 'kraton' (walled city palace), which remains the hub of traditional life, as well as the Taman Sari water palace and the city market.
This Bangkok, Bali and Beyond tour makes for the most perfect honeymoon. Please note this is just a sample itinerary that can be tailored in accordance with your personal wishes.
Itinerary & Prices
Welcome to Bangkok!
Welcome to Bangkok – the city that truly never sleeps.
Your guide will meet you at the arrivals, for our private car ride to the hotel in the city center.
Take the rest of the day to relax and rest. Time permitting – try some of the spa treatments – Thai traditional massage after the long flight will be a great way to start your holiday!
Meals: (x)
Famous Floating Market and Evening Street Food
Depart early morning for the 2hr drive to the 100-year-old Damnoen Saduak floating market located 100km (62mi) from Bangkok. This vibrant, most famous of the local markets features numerous small boats laden with colorful fruits and vegetables, paddled by Thai women wearing bamboo hats.
Always crowded with hundreds of sellers, buyers, and tourists, the best way to experience the bustling atmosphere of the market up close is to board a boat and float through the small canals, shopping away.
This floating market is one of the most photographed places in Thailand and a Bangkok icon.
Meals: (B, D)
Start Cruise to Ayutthaya
You will be picked up from your resort right after breakfast.
Explore Wat Arun, a Buddhist temple that derives its name from the Hindu god Aruna. Wat Arun is among the best known of Thailand's landmarks.
Lunch served on board.
Take a 10 minutes tuk-tuk ride to the Sunandha Palace – the museum in a beautiful former Royal palace. Explore Wat Chaloem Phra Kiat Worawihan "Wat Chaloem Phra Kita Worawihan" – a "Glorified Grand Temple", an ancient temple of more than 160 years old.
Dinner on board.
Meals: (B, L, D)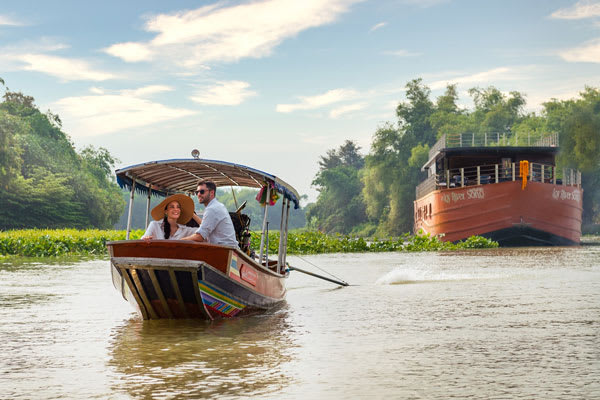 Location
Bangkok to Loy River Song Cruise
Mysterious Ayutthaya and Bang Pa In
After early breakfast, take a private boat trip around the historical island of Ayutthaya provides a relaxing way to see some of the most famous temples in the area.
You'll also have the chance to observe local life and people that live around the river and more recent, active Buddhist temples. Grab some great photo opportunities.
After lunch on board, take a short walk to the Bang Pa In Summer Palace. The original palace was built by King Prasat Thong on the island but after the capital moved to Bangkok, Bang Pa In was abandoned for 80 years.
Drive to Ayutthaya – listed as a UNESCO World Heritage Site. While driving around we explore Wat Phra Sri Sanpetch with its three large bell-shaped stupas.
Visit Wat Rat Burana, one of Ayutthaya's most impressive Kmer style temples, and look out for the head of Buddha trapped amidst the roots of a banyan tree at the famous Wat Mahathat.
Back onboard, sunset cocktails followed by wine pairing dinner.
Meals: (B, L, D)
Location
Loy River Song Cruise
Back to Bangkok and Onwards to the Mountains
Wake up on the final morning and bid farewell to Ayutthaya. Spend the entire day at leisure on deck with a lavish buffet brunch, brimming with gourmet Thai delicacies. Raise a glass of bubbly and toast an exceptional journey as you travel back to Bangkok.
Meet your driver after you disembark and transfer to the airport. Take a short domestic flight to the north of Thailand – to the small city of Chiang Rai.
Here you will be met by a local guide, who will escort you via private car to the resort for the night.
Meals: (B, L)
Location
Loy River Song Cruise to Chiang Rai
Hill Tribes Encounters
North Thailand is famous for its colorful hill tribes. Drive out of Chiang Rai to Mae Chan district and continue uphill along narrow mountain roads to visit the simple Akha and Yao hill tribe villages.
The Akha, who originated in Tibet, are amongst the poorest of Thailand's ethnic minorities and can also be found in the northern part of Laos. They are mainly farmers and known for their artistry.
The Yao, whose origins are in China, is heavily influenced by Chinese traditions, still using Chinese characters in the writing of their language. The two minorities live peacefully close to each other.
Back to the hotel in the afternoon, evening at leisure. Don't miss out on the Thai Spa treatments!
Meals: (B)
Temples of Chiang Rai
Meet your guide in the morning for the half-day tour of the famous temples.
Founded in 1262 AD, Thailand's most northern city boasts a fascinating architectural history in a mix of Thai and Burmese styles.
Begin your tour by visiting the ancient temple of Wat Phra Kae, the original home of the Emerald Buddha which is now housed in Bangkok. A replica was made and placed in the same spot where it was found. Continue with a visit to Wat Phra That Doi Chom Thong with its large gold stupa.
Visit Wat Rong Khun, which is different from any other temple in Thailand. In contrast to the ancient temples, this temple was built in 1997 and was designed using white glass. While traveling through the city, observe the influence of the city's Chinese ethnic minorities.
Return to the hotel for another relaxed afternoon.
Meals: (B)
Transfer to The Island of Gods
We'll drive to the airport for your connection to Bali – the Island of Gods.
After landing in Denpasar Airport, meet your driver for a transfer to a hotel in the "artsiest" region of Bali – Ubud.
Take in the landscapes and marvel at the smiles around you. In the evening, make sure to find local restaurants and cafes, to start your Indonesian adventure by befriending the hospitable locals.
Meals: (B)
Location
Chiang Rai to Bali
UNESCO Rice Terraces and Temples
Spend your morning enjoying the beauty of Ubud. Take in the atmosphere and freshest air.
After early lunch, meet your guide for a bit of cultural insights.
Journey to Bali's most photographed temple, Tanah Lot, a 16th-century temple precariously perched upon a craggy, wave-lashed rock.
Continue onward to Tabanan to visit Taman Ayun, a Royal Family temple located in Mengwi. Built in 1634, it is part of the Subak (complex rice-field irrigation system), recognized by UNESCO in 2012. The huge complex is surrounded by a wide moat to symbolize its status as the mythological home of the gods.
Finish the tour with a visit to Alas Kedaton, a megalithic sacred temple in a forest inhabited by mischievous monkeys and hundreds of big bats.
Meals: (B)
Spiritual Journey Through Time
Today we journey to Pakerisan Valley, an 8th Century World Heritage site and the birthplace of the Hindu Darma religion, to uncover the historical religious roots of modern-day Bali.
The day starts with a short visit to the very first Hindu temple in Bali, encircled by a small village that grew around this sacred structure. Here we meet our guide for the day, an experienced researcher of Balinese spiritualism who will lead us to a temple nestled in the jungle. He will describe how people connect with God through the temple and demonstrate how to open your mind to the spiritual world.
Next, Tirtha Mengening, a very small temple located next to Holy Spring-fed pools. Tirtha Mengening roughly translates into "child waters" and offers a cleansing purification ritual conducted by a Balinese priest.
After the ceremony, take a plunge into the cool spring waters of a gentle river, shaded by a large tree. Soak in the serene atmosphere, for this temple is seldom visited by tourists despite being one of the most sacred in the region.
Lunch at a special place, surrounded by lush rice fields still grown from the original species of rice brought by the first Hindu priests in the 8th Century. After lunch, there is an opportunity to visit the priest's house where he will guide us in quiet meditation.
Return to your hotel in the late afternoon and enjoy your evening at leisure!
Meals: (B, L)
Beach Day Under Volcano
Early pick-up and a drive to the Ombak Putih meeting point. From there join the tour of East Bali.
In the late afternoon, you will arrive at your beachside resort in East Bali and have a chance to unwind, swim, or have a snorkeling lesson with your tour guide. In the evening join all your fellow guests for a welcome dinner and drinks in the hotel's beachside restaurant.
Sleep in the shadow of Bali's Mt Agung, the mother mountain of all Balinese people, and the most imposing figure on the whole landscape of Bali
Meals: (B, L, D)
Location
Ubud to East Bali
Embark Ombak Putih
Wake up to watch the sunrise and your beautiful ship on the horizon.
Embark Ombak Putih after breakfast and sail towards Gili Islands, crossing the Wallace Line.
Spend the afternoon snorkeling in the magnificent coral gardens.
Meals: (B, L, D)
Location
Ombak Putih Cruise Bali Komodo
Sea Gypsies
Wake up off the coast of Kanawa Island under the gaze of Lombok's towering Mt Rinjani – the largest volcanic peak in Indonesia.
Enjoy breakfast on the deck and spend the morning swimming, snorkeling, and exploring.
Later visit a village of the famous Bajao 'Sea Gypsies' of Southeast Asia and discover the secrets of their happy lifestyle.
Meals: (B, L, D)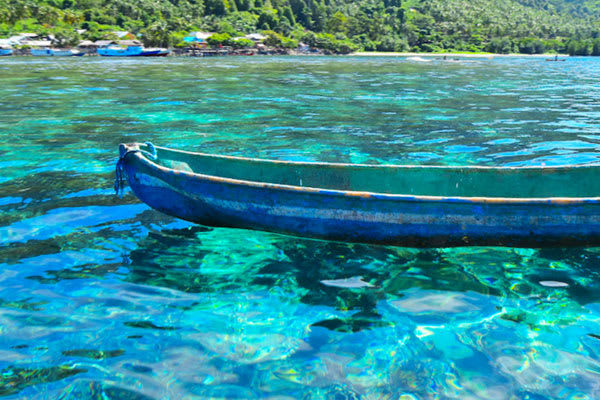 Location
Ombak Putih Cruise Bali Komodo
Whale Sharks
Start your day by swimming with whale sharks in Saleh Bay.
Later, swim, snorkel, and kayak on Satonda Island, where 2 centuries ago a massive tsunami filled up a caldera with water.
At sunset, sip your cocktail watching thousands of giant fruit bats emerge from their forest lair and fly out directly over the boat.
Meals: (B, L, D)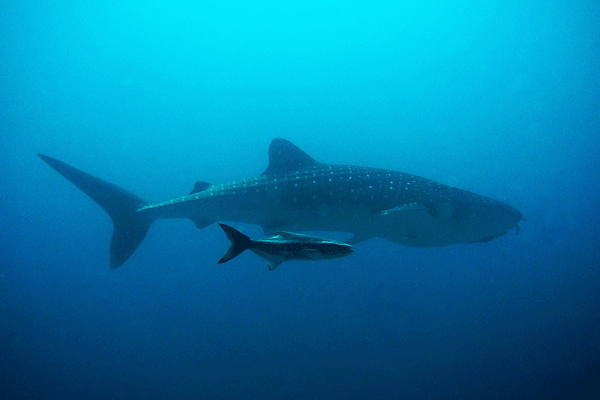 Location
Ombak Putih Cruise Bali Komodo
Boat Building, Beach and Corals
Step ashore on an active, smoking volcanic island, where local villagers are in the process of building a fifty-plus meter, traditional wooden pinisi boat.
Walking around this small village, get a feel for their simple way of life, chat with the locals and maybe buy some handmade textiles as a memento
Snorkel on a colorful and vibrant coral reef above small geothermal fissures where air bubbles are released from the volcanic chambers below the seabed.
After a few hours under sail, spend the afternoon time on a deserted white sand beach on another volcanic island, this time an extinct one.
Explore the magnificent coral gardens, hike to the crest of the surrounding hills for a view of the surrounding islands, swim, paddle, kayak and laze away the day before enjoying sunset cocktails on the sand.
Meals: (B, L, D)
Location
Ombak Putih Cruise Bali Komodo
Manta Rays
Wake up in the most northerly part of the Komodo National Park and enjoy a morning of sea-based activities including a fantastic drift snorkel over the reef, kayaking, and SUP at Gili Lawa Darat island.
Swim with schools of manta rays as they feed on the current and circle the so-called cleaning stations, where small fish remove parasites from their skin. Hover above these giant and noble beasts for as long as you like.
Spend the late afternoon on a local sandbar, where we will enjoy snorkeling, swimming, and relaxing on the sand.
Meals: (B, L, D)
Location
Ombak Putih Cruise Bali Komodo
Komodo Dragons and beach BBQ
Visit Rinca Island and go on a trek in search of the ancient Komodo dragon, the world's largest lizard. See monkeys, dear, pigs, buffalo, and myriad birds as we walk through the forests and savannah of this large island.
Snorkel at Siaba Island, a favorite hangout of sea turtles, where we will have a chance to swim with these gentle creatures as they cruise along the shallow water of the reef.
Enjoy Indonesian hospitality as your crew hosts a beach barbecue in your honor on a deserted island. On offer are plenty of good food, music, cocktails dancing, and frivolity as we dance and sing the night away next to a bonfire under a clear tropical night sky.
Meals: (B, L, D)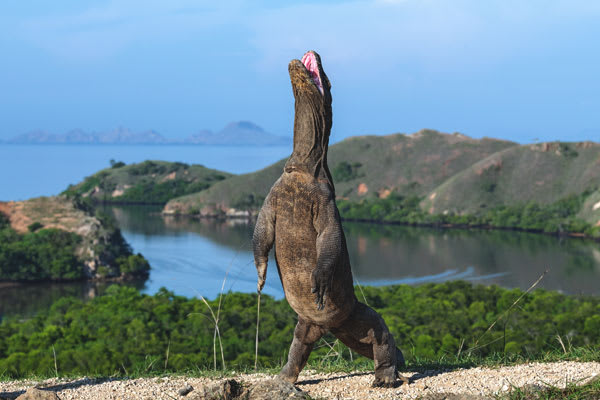 Location
Ombak Putih Cruise Bali Komodo
Local Village and transfer to The Volcano
Enjoy your breakfast while the ship enters the Labuan Bajo harbor.
After breakfast take a short drive to a traditional local village. Here enjoy the hospitality with coffee, betel nut, and a highly potent local 'arak' (not for the faint-hearted), before a show of traditional dances.
Back on board for lunch and disembarkation.
We'll drive you to the airport for your flight to Surabaya, where you'll be picked up for a drive to the hotel at the foot of the volcano.
Meals: (B, L)
Location
Ombak Putih Cruise to Bromo
Visit to a Volcano
With its huge crater and almost mystical-like scenery in all directions, Mount Bromo and its surroundings are stunning beyond question.
Sunrise is the most magical time to view the entire Bromo landscape but this does involve a very early morning start of 3 am as you travel by private 4WD-jeep from Plataran Bromo to the rim of Mount Penanjakan in time for dawn.
From here at 2,770 meters above sea level you will enjoy unobstructed ethereal views over the active Bromo crater and the Tengger massif with the towering Mount Semeru as a backdrop, at 3,676 meters Java's highest mountain and one of the most active volcanoes in Indonesia with small eruptions happening approximately every 20 minutes.
After (hopefully) witnessing a spectacular sunrise, you will return to your jeep and descend the steep slopes back down to the bottom of the Tengger Caldera until you reach a verdant savannah – a truly idyllic setting for an al fresco breakfast. A picnic blanket laid out on the grass awaits you to enjoy a delicious breakfast while you take in nature's epic beauty and the magical landscape of the Bromo Tengger Semeru National Park.
Next drive back to Mt. Bromo. A short walk and a 250 steps climb (or a horseback ride at extra cost) will bring you to the rim of the crater. It is definitely worth the effort and will reward you with yet more incredible vistas of the active crater.
Return to your hotel for a full breakfast buffet and relax.
In the afternoon drive back to the airport for the short flight to the lovely town of Yogyakarta.
Meals: (B, L)
Borobudur and Yogya Old Town
Depart in the morning to visit Borobudur, 42km west of Jogjakarta. With your guide on hand, explore this massive Buddhist Temple (the largest in the world) and discover the incredible history behind its construction.
Comprised of thousands of volcanic and river stone blocks, the temple was assembled entirely by human labor and took more than 75 years to complete. The UNESCO Heritage site is still visible in its full glory, with magnificent carvings and its unusual bulky structure.
Take a short trip from Borobudur to visit the nearby Mendut temple. Older than Borobudur, this pyramid-shaped temple houses three impressively carved stone statues. You'll also visit Pawon temple, a simple yet beautiful monument known for its precise symmetry.
After lunch at a local restaurant, return to Jogjakarta and explore the old town, visiting the Sultan's palace, Taman Sari castle, and the bird market. Venture on to the ancient Hindu temples at Prambanan, located 17km outside Jogjakarta.
Built in the 9th century, this collection of sharp, jagged temples features three main inner shrines dedicated to the Hindu trinity: Brahma, Vishnu, and Shiva. Listed as a UNESCO Heritage Site in 1991, let your guide expertly lead you through the history and ancient symbolism of these wondrous ruins.
Meals: (B, L)
Departure
Your Indonesian adventure commences today. You will transfer with your driver to the Yogya airport for your flight to Jakarta.
Location
Yogyakarta to Jakarta
1 / 21
Accommodations
Cruises & Lodges
Loy River Song
This converted barge is an intimate river cruise ship with four staterooms and five-star service.
Ombak Putih
A beautiful, traditional Indonesian Phinisi schooner sailing Indonesia's seldom-explored seascapes.
Hotel Options
5 Star
The Legend Chiang Rai
Chiang Rai
5 Star
The Phoenix Hotel - MGallery Collection - Yogya
Borobudur, Java
5 Star
The Purist Villas & Spa Ubud
Bali
4 Star
Jiwa Jawa Resort Bromo
Mount Bromo, Java
5 Star
Grand Hyatt Erawan Bangkok
Bangkok