Overview
Indonesia is an incredible country spread over almost two million square miles and made up of over 17,000 islands, and hundreds of tribes, languages, and customs. Offering plenty of opportunity for relaxation, fine-dining, solo exploration and shopping, this exciting 21-day luxury tour begins in Java's cultural city of Jogjakarta, where you can discover the ancient Buddhist temple of Borobudur, and the smaller temples of Pawon and Mendut. Hop over to the beautiful island of Bali for some spa indulgence and spiritual cleansing, a Hindu temple tour and some mouth-watering cuisine, and continue by sailing through Indonesia, exploring both the Komodo National Park, and Raja Ampat in West Papua: regions rich with some of the most breath-taking natural scenery in the archipelago.
Java and Bali
Your sailing trip Indonesia begins on land in Jogjakarta (aka Yogyakarta), the historic and cultural soul of Java, a bustling city that is known for its wonderful arts and is still headed by a sultan. Explore the Sultan's 'kraton' (walled city palace), which remains the hub of traditional life, as well as the Taman Sari water palace and the city market. Marvel at the sunrise over the 7th century Buddhist temple of Borobudur, one of Indonesia's most important archaeological sites, and enjoy some free time in a truly sumptuous hotel. Transfer to Bali for a pampering spa treatment and a tour of some of the island's most iconic Hindu temples, from the jungle to the sea. Immerse yourself in a holy spring-fed pool for a spiritual cleansing.
Komodo
Cruise through a panorama of islands in the spectacular Komodo National Park, and relish new wonders on a daily basis. Explore pink beaches; trek to savannah-clad viewpoints at sunset; swim with giant manta rays; encounter the legendary Komodo Dragons, and witness the astonishing sight of hundreds of thousands of flying foxes emerging in a steady throng from the forest at dusk. There will be ample opportunity to snorkel and view the kaleidoscopic beauty of the underwater world.
Raja Ampat
Transfer to West Papua to experience a sailing Indonesia voyage like no other in gorgeous Raja Ampat, the archipelago with the richest marine biodiversity on Earth. Apart from your crew of dedicated, trained staff, who will be on hand to cater to your every need, your splendid boutique sailing yacht will be yours and yours alone for this fantastic private adventure. Here, you will be cruising among some of the most remote and beautiful islands on the planet, where nature has carved out a series of coves and lagoons, inlets, caves, and shaded, sandy beaches. If truth be told, the pure, unadulterated splendor of Raja Ampat astounds anyone who ventures the enormous distance to get there.
Accommodations
Your hotel accommodations on land will be in three of Indonesia's most luxurious, top-end boutique hotels, complete with exemplary service and cuisine.
Each segment of your journey is led by a private tour guide, who will take you beyond the tourist façade to experience an abundance of culture, history, nature and wildlife, combined with trekking, snorkelling, scuba diving if you wish, kayaking, stand-up paddling, swimming, and pure relaxation. This luxury adventure is just a sample itinerary, and the featured excursions, cruise vessels, and accommodations herein can be tailored in accordance with your personal wishes.
Itinerary & Prices
Welcome to Jogjakarta!
Welcome to Jogjakarta – one of the favorite destinations in Indonesia.
Your driver will meet you at the arrival hall and you will transfer by private car to the hotel downtown.
Enjoy the remainder of the day at leisure – to rest and relax by the pool and in the spa or to explore the charming town on your own.
Day in Jogja and Transfer to Borobudur
In the morning, take a short tour around the Indonesia-beloved city.
Start with the Sultan's Palace, designed to represent central aspects of Javanese cosmology and a fine example of Javanese sultanate architecture.
Next, visit the first sultan's harem – 'Taman Sari', a water palace and garden built over 200 years ago.
Continue to Beringharjo Traditional Market, Yogyakarta's biggest and noisiest market that dates back to the 18th century. Peruse its excellent selection of batiks, sarongs, keris, and antiques as you explore its bustling pathways.
After the tour and your lunch, the driver will meet you again, for a ride to the fabulous resort by the largest Buddhist temple – Borobudur. Enjoy the evening at this beautiful hotel and make sure to go to bed early – we're up before sunrise tomorrow!
Location
Jogjakarta to Borobudur
Incredible Temples
Leave your hotel at approx. 03:30 to catch the spectacular sunrise at Borobudur. As sunlight casts intricate shadows over the ruins of Borobudur, savor this visually stunning phenomenon amidst the tranquil peace of the early morning.
As day breaks, explore this massive Buddhist Temple (the largest in the world) and discover the incredible history behind its construction. Comprised of thousands of volcanic and river stone blocks, the temple was assembled entirely by human labor and took more than 75 years to complete. These days, the UNESCO Heritage site is still visible in its full glory, with magnificent carvings and an unusual bulky structure.
Coffee/tea and a light snack will be provided in a local restaurant. Continue to the nearby Buddhist temples of Pawon and Mendut, before returning to your hotel.
Luxury Leisure
Relax at your stunning hotel or explore the neighborhood – observe the life of the locals, living at the foot of the iconic structure, savor the local flavors, find the unique pieces of batik and other Indonesian craftworks.
Back at the hotel – immerse yourself in luxury and guilt-free pleasure at the Spa and by the pool.
Transfer to the Island of Gods
Meet your driver after breakfast for a short ride to the Yogyakarta airport. After a short flight with the local airlines, find yourself in Bali – the Island of Gods, and the only Hindu Island of Indonesia.
Your driver will bring you to the hotel in the cultural capital of Bali 0 Ubud.
For the remainder of a day at leisure, enjoy exploring the little cafes, restaurants, and galleries!
Location
Borobodur to Bali
Purifying Day at Spa
A day for your body and soul!
Arriving at The Royal Pita Maha, you will be escorted to the Ayung Garden for a purification ceremony. Swapping your clothes for sarong and sash, pray at the main hotel's temple, and experience a purification ceremony at the Holy Spring Pool.
After organic lunch, treat yourself to a set of SPA treatments.
Refresh yourself with fresh fruit juice or herbal tea and enjoy the exclusive facilities such as the swimming pool, Jacuzzi, and the herbal mist sauna.
Afternoon at leisure.
Spiritual Journey Through Time
Today we journey to Pakerisan Valley, an 8th Century World Heritage site and the birthplace of the Hindu Darma religion, to uncover the historical religious roots of modern-day Bali.
The day starts with a short visit to the very first Hindu temple in Bali, encircled by a small village that grew around this sacred structure. Here we meet our guide for the day, an experienced researcher of Balinese spiritualism who will lead us to a temple nestled in the jungle. He will describe how people connect with God through the temple and demonstrate how to open your mind to the spiritual world.
Next, Tirtha Mengening, a very small temple located next to Holy Spring-fed pools. Tirtha Mengening roughly translates into "child waters" and offers a cleansing purification ritual conducted by a Balinese priest.
After the ceremony, take a plunge into the cool spring waters of a gentle river, shaded by a large tree. Soak in the serene atmosphere, for this temple is seldom visited by tourists despite being one of the most sacred in the region.
Lunch at a special place, surrounded by lush rice fields still grown from the original species of rice brought by the first Hindu priests in the 8th Century. After lunch, there is an opportunity to visit the priest's house where he will guide us in quiet meditation.
Return to your hotel in the late afternoon and enjoy your evening at leisure!
Rice Terraces, Temples, and 100 Candles Dinner
Spend your morning enjoying the beauty of Ubud. Take in the atmosphere and freshest air.
After early lunch, meet your guide for little a bit of cultural insights. Journey to Bali's most photographed temple, Tanah Lot, a 16th-century temple precariously perched upon a craggy, wave-lashed rock.
Continue onward to Tabanan to visit Taman Ayun, a Royal Family temple located in Mengwi. Built in 1634, it is part of the Subak (complex rice-field irrigation system), recognized by UNESCO in 2012. The huge complex is surrounded by a wide moat to symbolize its status as the mythological home of the gods.
Finish the tour with a visit to Alas Kedaton, a megalithic sacred temple in a forest inhabited by mischievous monkeys and hundreds of big bats.
Later tonight, lose yourself in the breathtaking Balinese landscapes and the gentle flow of the Ayung river in this unforgettably romantic setting, complete with 100 flickering candles and showers of delicate flower petals.
Our chefs have created a 4-course tasting menu for this special night, along with matching wine recommendations. Savor the delicious food and romantic atmosphere amidst stunning natural beauty.
Explore on Your Own
A day to explore Bali on your own – whether it's finding more temples, meditating, partaking in yoga class, shopping, or heading to the beach. Don't miss out on Balinese cuisine and explore the culinary scene of high-end restaurants as well as street food stalls. Make the best of the day and don't forget to pack for tomorrow!
Transfer to Flores and Komodo
Wake up early to take in the last morning in Bali. Your driver will pick you up after early breakfast and bring you to the airport for a very short flight to Labuan Bajo, Flores. There we will transfer you to the stunning hotel with a view of Komodo National Park. Enjoy your afternoon!
The remainder of the day at leisure.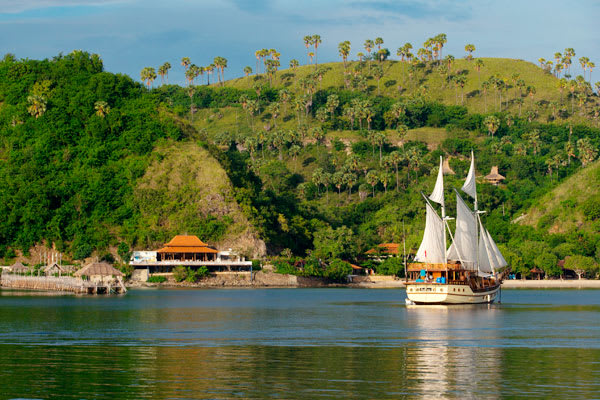 Location
Bali to Labuan Bajo
Snorkelling and Pink Beach
In the morning, you will be transferred to the embarkation point of La Unua.
Settle down in your cabin and enjoy the first sailing to Siaba Besar. Here, your first snorkeling in Indonesia reveals the pristine waters and stunning marine life at first sight.
Next, arrive at Pink Beach and enjoy the afternoon of swimming, snorkeling, and beach time in this famous and unique spot.
Location
La Unua Komodo Cruise
Komodo Dragons
Today you meet the Komodo Dragons face to face. The massive lizards are endemic to the Komodo National Park and are the largest living lizards on Earth.
Next, stop at Pink Beach again.
The last adventure of the day – a Padar sunset trek to the iconic landscape spot.
Relax onboard for the night.
Location
La Unua Komodo Cruise
Mantas and Bats
Another day in perfect weather, with pristine waters and amazing wildlife around.
Today try snorkeling with the Manta Rays, then visit the Makassar Sandbar, finish with the Pulau Kalong bats, leaving their caves in the early evening in the breathtaking spectacle.
In the evening, relax at the onboard bar.
Location
La Unua Komodo Cruise
Disembark
La Unua returns to port and you get another chance to stay at the amazing resort. Look back at the Komodo adventure, admiring its view from the terrace.
Day at leisure, before tomorrow's transfer to Raja Ampat.
Location
La Unua Komodo Cruise to Labuan Bajo
Transfer to Raja Ampat
After breakfast, take a private car for a very short ride to the airport and catch a flight to the eastern part of the Archipelago.
Meet a local driver in Sorong and let him take you to the hotel.
The remainder of the day at leisure.
Location
Labuan Bajo to Sorong
Start the Raja Ampat Cruise
Pick up in style at your hotel and drive to the fast boat that will bring you to Waisai, the capital of Raja Ampat where the cruise starts.
Cruise west and enjoy a swim, a check dive and relax, whilst contemplating the white sandy beaches of Mioskon Island and its famous seamount, Blue Magic.
Enjoy an evening drink as you watch the sunset ballet of fruit bats flying away to feed.
Location
Senja Raja Ampat Charter Cruise
Manta Rays and Waterfall
North Batanta offers shining waters and dozens of islets and sandbanks where it is easy to find manta rays or even witness history in the form of a well-barnacled World War II Japanese aircraft.
On land, take a short walk to a beautiful and refreshing waterfall. Finish your day relaxing and dreaming on the sun deck as you continue sailing south to Misool Island.
Location
Senja Raja Ampat Charter Cruise
Underwater Wonderlands
The Daram Islands are the easternmost island group in the Misool area. Thanks to a strict no-fishing policy, you will be able to see some of the most impressive sea fan forests and soft corals known to the world.
With easy snorkeling and diving, sites such as Andiamo or Candy Store are truly psychedelic underwater wonderlands where barracudas gliding above the pygmy seahorses are a common sight.
Location
Senja Raja Ampat Charter Cruise
Stunning Natural Labirynth
Misool North Eastern line of islands is a natural labyrinth made of cone-shaped rocks, sheer cliffs, and hidden pools.
At the right time of year, some of the inner lagoons play host to thousands of stingless jellyfish, offering fantastic photo opportunities for undersea photo lovers.
Explore the above and underwater caves of the area where nudibranchs, rare mollusks, and crustaceans crawl on the rich soft coral cover.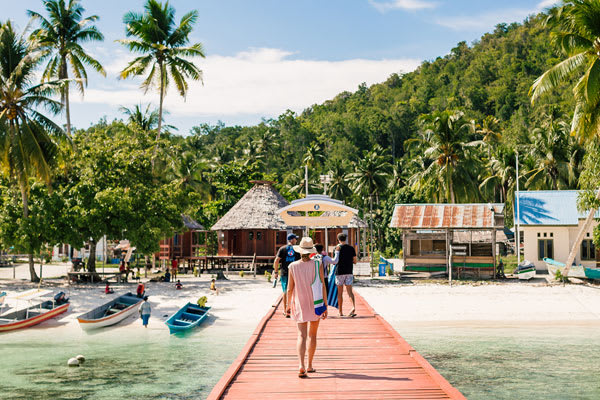 Location
Senja Raja Ampat Charter Cruise
Kayak the Mangroves
Continue your adventure with a day at Yanggefo and take the kayak out to the Mangroves for a change of scenery.
The contrast between the lush green mangrove forest and the clear waters is breathtaking. This area is home to as many birds as fish.
Colorful coral grows within the roots of the trees making snorkeling and diving in Citrus and Mangrove Ridge a unique experience.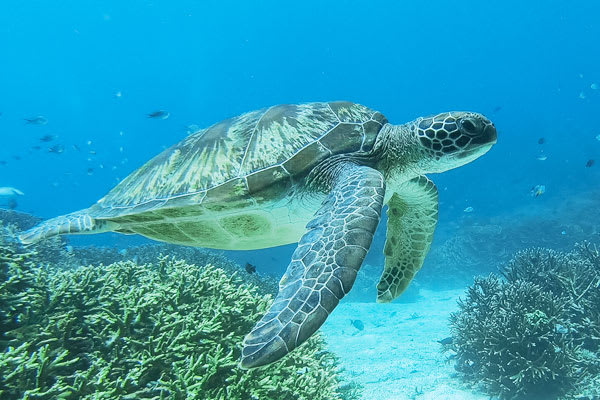 Location
Senja Raja Ampat Charter Cruise
Departure
Enjoy breakfast before saying goodbye to your crew. Straight from the port, we will transfer you to the airport for your flight home.
Location
Senja Disembarkation and Departure
1 / 21
Accommodations
Cruises & Lodges
La Unua
A classic wooden cruiser offering diving and leisure charters for up to six guests.
Senja
Couples or a small family will love this modern, boutique vessel available for private charters.
Hotel Options
5 Star
Plataran Komodo
Komodo Island
5 Star
The Phoenix Hotel - MGallery Collection - Yogya
Borobudur, Java
4 Star
Swiss-belhotel Sorong
Raja Ampat & West Papua