Itinerary & Prices
Welcome onboard Anouvong!
AM: Good morning! Your Laos adventure starts early with a beautiful cruise. We will pick you up from the hotel in Chiang Rai, Thailand, and give you a lift to the immigration office – an entry point to Laos and your cruise meeting point.
Anouvong's team will meet you to assist you with all immigration procedures on both the Thai and Laotian sides. After all formalities, we transfer you to the vessel, which is moored at Huay Xai pier. Settle in your room as we start the downstream journey.
The first stop today is Huay Palang village, home to the Khmu minority. The locals' lifestyle here depends fully on the Mekong as a means of transportation and a primary food source.
PM: As the sun sets over the Mekong River, we will hold a Baci Ceremony, traditionally performed by the village elders as a Laotian welcome. It's a ceremony of spirit-calling practiced at special occasions in life.
After dinner, there is a famous Laotian "comedy" movie scheduled in our nightly "on-board cinema". The movie, called "Chang" (Laotian for"elephant"), was shot not far away from our current location in 1927 and was made by the same producer as the first King Kong movie.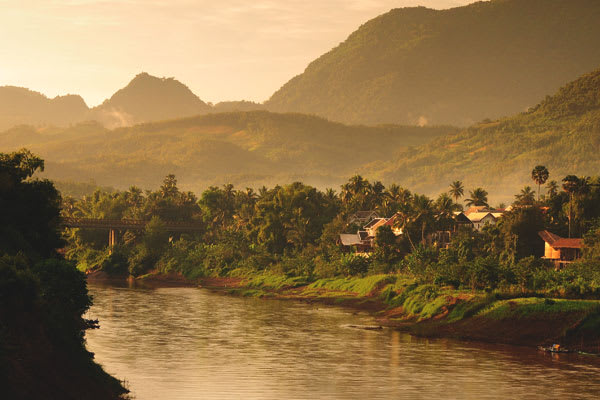 Location
Anouvong Upper Mekong Cruise
Elephants and Ethnic Communities
AM: Early birds are welcome to join the daily morning exercise on the terrace deck (Tai Chi or Yoga). As we cruise along in the morning, our local expert hosts a lecture about Asian elephants, particularly the Laotian species, their cultural importance in the past, and the current threats which have brought them to the brink of extinction.  PM: After lunchtime, we arrive in the small town of Pakbeng. We pass by the local market scene and visit a beautiful hilltop temple with amazing views of the gently flowing Mekong below. We then have the chance to expand on the knowledge from our morning lecture when visiting an elephant preservation sanctuary. The elephants here used to work as logging elephants and can live in peace and safety here as they cannot now survive in the wild.  Back on board, the journey continues for a few more hours – lay back and enjoy the scenic views as the Anouvong proceeds towards her next destination. At a secluded sandbank, the local ethnic Lao, Khmu, and Hmong residents welcome us to the tiny village of Kop Aek. Dive into centuries-old traditions and practices as you immerse yourself in a unique Laotian experience. As we remain at the sandbank into early evening, kick back with an aperitif accompanied by a classical dance performance by the local people. After the show, we have another highlight in store for our guests – a barbecue dinner on the terrace deck as we take in the sights and soothing sounds of nature.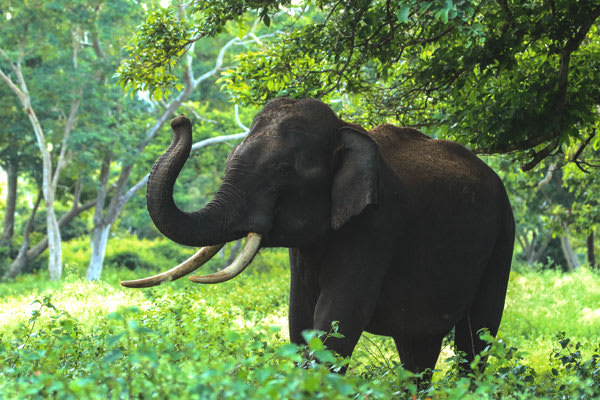 Location
Anouvong Upper Mekong Cruise
Pak Ou Caves and a Lao Culture Expert
AM: After breakfast, join the lecture about the Laotian culture of the diverse tribes living along the upper Mekong. Next up – the cooking class. The rest of the morning is at your disposal as Anouvong sails through lush vegetation and gently rolling verdant hills. PM: In the afternoon, we arrive at another little village named Muang Keo. Here you can observe the local weavers honoring their timeworn traditional crafts.  From Muang Keo, we take a short and easy trek to the famous Pak Ou Caves on the Mekong's rocky shore. There are two spacious grottoes with approximately 4,000 sacred Buddhist statues.  Back on board, you can the peaceful waters of this part of the Mekong. Get refreshed before the evening, where we get to meet Mr Francis Engelmann, a writer and retired consultant to UNESCO on heritage preservation projects since 1994. He will share some insights into the country's rich cultural heritage, the turbulent history, and the day-to-day life of Lao people. Our culinary team is pleased to spoil you on your last evening as our chefs have prepared some delectable dishes for dinner. Have a grand time together with your newly made friends and join our staff to celebrate this wonderful journey and dance the night away. The ship moors this evening near Pak Ou.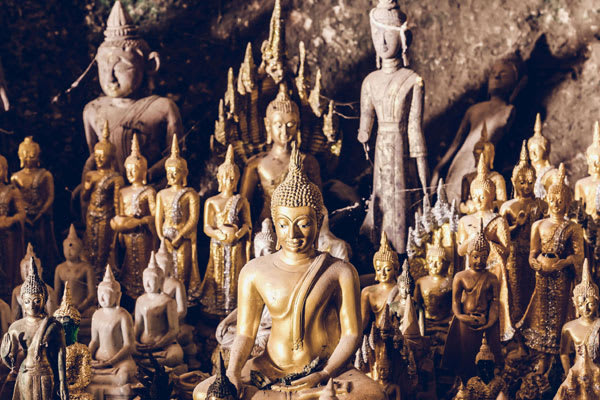 Location
Anouvong Upper Mekong Cruise
Disembark Anouvong and Evening Stories
The last sunrise aboard paired with a morning activity is the perfect way to commence your final day. After breakfast buffet, we arrive in central Luang Prabang.
You will disembark at 10:30 AM and meet your local guide at the pier. Transfer to your hotel by private car and enjoy some free time to walk around this splendidly charming town.
Your guide will see you again tonight for an evening of traditional storytelling and local dinner. In an intimate theatre in Luang Prabang's historic old town, listen as a Lao storyteller presents stories in English, with the live accompaniment of the khene, a Lao folk mouth instrument. After the performance, transfer to a local restaurant.
After dinner, return to your hotel by private car.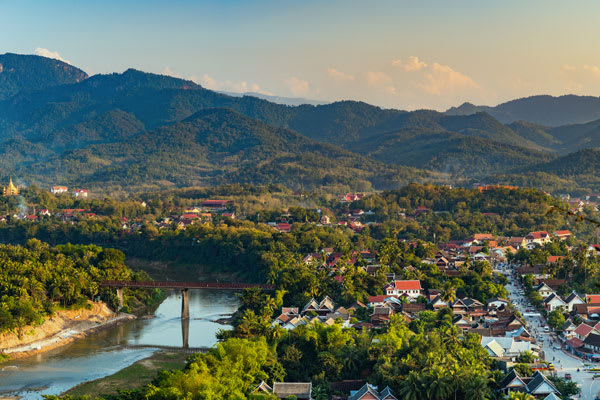 Location
Anouvong to Luang Prabang
Cycling Around Luang Prabang and Picnic by the Waterfall
Enjoy a day biking through the surrounding areas of Luang Prabang.
You will meet your guide early in the morning to get fitted on one of Tiger Trail's quality mountain bikes. We will ride from the city center to the first stop at Wat Pa Phon Phao, a golden temple with a great view of Luang Prabang. Follow the paved road further through teakwood forests and rice fields along the Nam Khan River to visit the resting spot of Henry Mouhot.
We then continue biking through villages and past jungle-covered mountains until arriving at the Tiger Trail Adventure Camp terrace on the banks of the Nam Khan River.
Park the bikes and board a boat for a cruise upriver to the Tad Sae waterfall where we will enjoy lunch and the beautiful landscape, maybe even a swim. There are also elephants in the area you can watch and photograph or you can buy some bananas and feed them.
Return by boat to our bikes and cycle through beautiful scenery back to Luang Prabang City.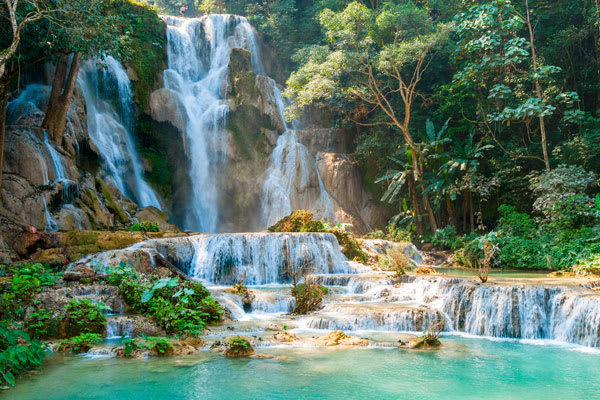 Bears and Waterfall Picnic
Spend a half-day exploring the area around Kuang Si Waterfall, highlighted by a private tour of the Asian Bear Rescue Centre.
Depart on a 1hr drive south of Luang Prabang, with a stop at the vibrant Phou Si Market. Continue to the waterfalls, and take a leisurely hike through the natural park to the Kuang Si Bear Rescue Centre. Enjoy a 1 hour private guided tour of the center, established by the Free The Bears Fund Inc. in 2003 to look after bears destined for use in the traditional medicine trade, including the Asiatic Black Bear (moon bears). Observe one of Laos's most endangered species and learn about the threats to bears and what can be done to protect Laos's precious wildlife. Arrive before 11:00 to help out with the bears' midday scatter feed by hiding food around the enclosure to stimulate the animals and get them to work for their food.
Afterward, walk to the beautiful cascading Kuang Si Waterfall. Swimming in the refreshing turquoise waters is possible, although the water temperature is very cool between November and January.
Back to Luang Prabang for late lunch.
The remainder of the day at leisure.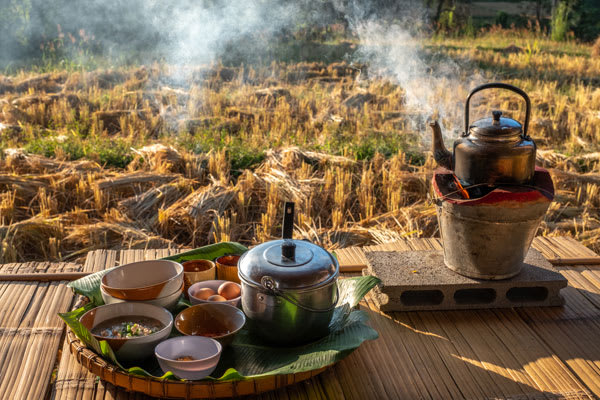 Serene Rice Farm Hand-On Experience
Spend an enjoyable half-day on a community-based rice farm situated in the idyllic countryside, surrounded by mountains and rice paddies. Experience the life of a farmer by trying your hand at some farm activities. All can join in and there are great photo opportunities. Alternatively, watch life on the farm unfold from the comfort of a traditional Lao rice house balcony surrounded by rice terraces and an organic vegetable farm. During the experience, you will also have the opportunity to learn about bamboo weaving, blacksmith work, and sugar cane processing.
After, tour the organic garden and learn how natural herbs are used in traditional medicine.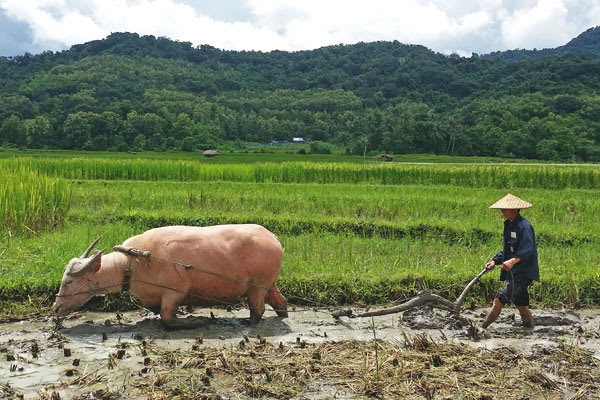 Jungle Walk with the Elephants
Explore the mysterious beauty of the Lao jungle with our recently rescued elephants as your companions. This journey is the perfect way for these happy elephants to enjoy a walk in their natural habitat after decades of hard labor in logging camps, and also offers you a once-in-a-lifetime experience to connect with these wonderful animals. MandaLao's guides and mahouts will teach you how elephants and humans can communicate with one another – once this connection is made it's almost impossible not to empathize with these giant beasts, our own emotions reflected clearly in their behavior; a life-changing experience with animals that at first appear vastly different. After picking you up from your hotel in town, we will leave Luang Prabang for the nearby village of Xieng Lom and enjoy a coffee or tea as your guide for the day provides an in-depth introduction to elephant behavior. Then we will embark on a short boat ride across the Nam Khan River to meet the waiting elephants, bearing special treats to feed them – a surefire way to begin an instant friendship! Following behind, start walking with your new gigantic companions on a 2-hour trek through the beautiful Lao jungle, passing traditional Lao farms and the Huay Nok stream, where the elephants may frolic in its cool waters. As you walk alongside the elephants, listening to their gentle footsteps on the small dirt trail, experience a profound sense of understanding, respect, and caring for these magnificent creatures. Prepare to start your return trek to MandaLao and bid farewell to your new friends with a few last hugs, and of course, treats! Following lunch, you will take a short ride back into Luang Prabang and have one more chance to ask your guides any final questions.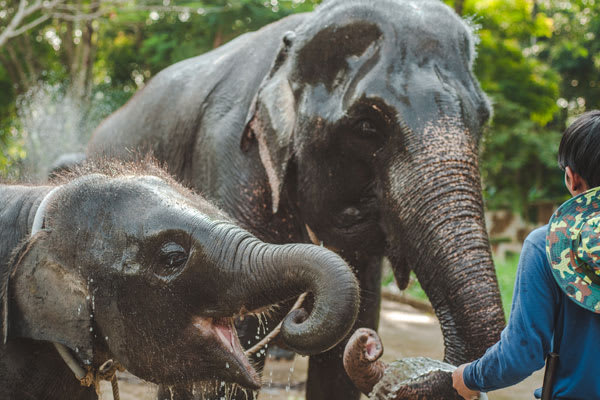 Transfer to Vientiane and Visit Buddha Park
After breakfast, your driver will take you to the airport for your flight to Vientiane. There you will be pick up by private car and transfer to your hotel.
After lunch, your guide will meet you for a relaxing half-day exploring Vientiane's Buddha Park.
It is a fanciful sculpture garden containing more than 200 Buddhist and Hindu statues including a quirky giant concrete pumpkin with a three-level interior representing Hell, Earth, and Heaven. Enter through the mouth of a 3m (10ft) tall demon head and climb staircases from Hell to Heaven. View sculptures at each level with a panoramic viewpoint at the top level. Stroll around the park to observe the many concrete sculptures scattered throughout including characters from Hindu mythology, as well as animals, humans, and demons.
Return to your hotel in the early evening.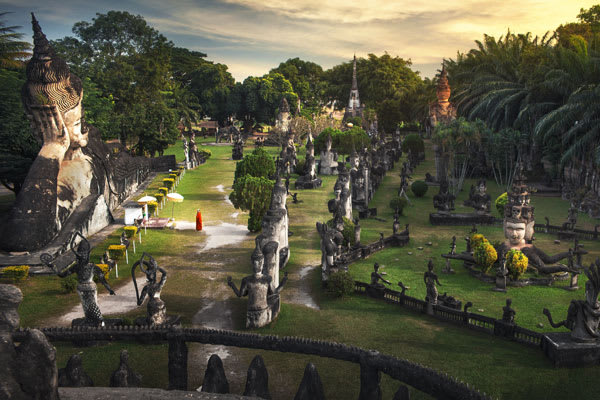 Location
Luang Prabang to Vientiane
Departure
Your driver will meet you in time for your transfer to the airport.
1 / 10
Accommodations
Cruises & Lodges
Anouvong
The first boutique ship to cruise the Upper Mekong, blends Laotian art with French-Colonial style.
Hotel Options
Boutique
Nam Khan Ecolodge
Luang Prabang