Laos & Thailand Adventure
Laos & Thailand Adventure
Immerse in nature's serenity in Laos and Thailand, with an Upper Mekong and Phuket beach adventure.
Itinerary & Prices
Welcome to Laos
Welcome to Laos! Upon your arrival, your guide will meet you in Vientiane's airport arrival hall. You will be transferred to your hotel in the city center.
Take the remainder of the day to rest, relax, and acclimatize, preparing for the adventure ahead.
Meals: (B)
Discover Buddha Park
After breakfast, your guide will meet you for a relaxing half-day exploration of the famous Buddha Park.
Built in 1958, the park is a fanciful sculpture garden containing more than 200 Buddhist and Hindu statues including a quirky giant concrete pumpkin with a three-level interior representing Hell, Earth, and Heaven.
In the evening, let us take you out for an adventurous dinner safari by Tuk Tuk, the three-wheeled taxis of Laos.
Enjoy a meal at a bustling Vientiane evening food market where all the hungry locals pick up their takeaway dinners!
After dinner we'll take a short walk downtown, past some local petanque courts, to visit the well-known intersection that becomes thriving roadside dessert and drink markets at night. You can try hot soy milk, fresh juices, and other unusual local beverages such as rosella or longan drinks. There are also carts selling delicious traditional Lao sweets, many made with coconut or sticky rice, and Lao-style roti with banana and coconut milk.
Return to your hotel in the late evening.
Meals: (B, D)
Transfer to Vang Vieng
Meet your driver after breakfast and check out for your transfer to Vang Vieng.
Drive North on flat terrain, through local villages, and past beautiful scenery until you arrive in Vang Vieng. The town lies on the Nam Song River and its most notable feature is the karst hill landscape surrounding it.
The remainder of the day at leisure.
Meals: (B)
Location
Vientiane to Vang Vieng
Caves and Kayaks
Explore the wonderfully pristine area around Vang Vieng on a full-day kayaking and hiking trip.
Morning drive 14km (9mi) north of Vang Vieng to explore some of the interesting caves in the area, including Tham Sang (Elephant Cave), named for the elephant-shaped stalactite in the small cavern; the nearby Tham Hoi (Snail Cave), named after snail-shaped formations near its entrance. Explore the dark cave winding down 2km into the mountain.
Next, the Tham Nam (Water Cave) with a refreshing pool of water at its entrance, ideal for a swim or floating on an inner tube.
After a picnic lunch, enjoy a 1hr trek to the Hmong village of Phathao passing through rice paddies and vegetable gardens.
After some time to explore the village, embark on a 4hr kayaking trip back to Vang Vieng along the Nam Song River, passing serene scenes of rural life backed by soaring limestone mountains.
Meals: (B, L)
Blue Lagoon and transfer to Luang Prabang
The Blue Lagoon is a must-see for any travelers visiting Vang Vieng if only to escape the heat for a couple of hours. Located on a 25-minute car ride or 45-minute bicycle ride from town, it is a tourist spot for lazy days. Purchasing your ticket to the Blue Lagoon also buys you entrance to a nearby cave, which is commonly referred to as the 'Golden Crab Cave', or Phou Kham Cave, named because a few of the stalactites and stalagmites look like golden crabs.
The entrance requires a steep climb up a trail before the cave dives into the ground, through a narrow entrance and opening up into the first chamber, which is well lit and contains a bronze reclining Buddha illuminated by a ray of sunlight.
After return and lunch, transfer by car to Luang Prabang.
Along the way, ride through local villages and witness the way locals live in the countryside and outside the bigger towns. Arrive in Luang Prabang in the early evening.
Meals: (B)
Location
Vang Vieng to Luang Prabang
Hmong Village, Waterfall Trek and Bear Rescue Center
Spend a full day trekking in the Lao countryside to visit local villages and the stunning Kuang Si Waterfalls.
Morning 40-minute drive from your hotel to the Hmong village of Ban Long Lao. Walk around the village for an insight into the rural lowland Lao and Hmong community.
Begin an easy trek through the surrounding paddy fields and farms and into the jungle. Follow a forest trail, stopping to explore a cave that served as a natural bomb shelter for the villagers during the Second Indochina War.
After another hour of trekking, reach the Kuang Si Waterfall. Enjoy a Lao-style set menu lunch served in a beautifully located restaurant. Spend the afternoon relaxing by the pools and swimming.
Visit the nearby Bear Rescue Center, home to sun bears and Malayan black bears rescued from bile farms or wildlife traffickers.
Return to Luang Prabang by private transfer.
Meals: (B, L)
Jungle Walk with the Elephants
Explore the mysterious beauty of the Lao jungle with our recently rescued elephants as your companions.
This journey is the perfect way for these happy elephants to enjoy a walk in their natural habitat after decades of hard labor in logging camps, and also offers you a once-in-a-lifetime experience to connect with these wonderful animals.
MandaLao's guides and mahouts will teach you how elephants and humans can communicate with one another – once this connection is made it's almost impossible not to empathize with these giant beasts, our own emotions reflected clearly in their behavior; a life-changing experience with animals that at first appear vastly different.
Walk with your new gigantic companions on a 2-hour trek through the beautiful Lao jungle, passing traditional Lao farms and the Huay Nok stream, where the elephants may frolic in its cool waters.
Following lunch, you will take a short ride back to Luang Prabang and have one more chance to ask your guides any final questions.
Meals: (B, L)
Local Village and Pak Ou Caves
In the morning, your driver will transfer you to the pick-up point of Anouvong. Soon after embarkation, meet a writer and retired consultant to UNESCO on heritage preservation – Mr. Francis Engelmann, who will share some of his expertise on the country's rich cultural heritage, the turbulent history, and the day-to-day life of the Lao people.
Soon after the lecture, we arrive in the village of Muang Keo where you get the chance to observe local weavers honoring their timeworn traditional crafts.
From here, we take a short and easy trek to the famous Pak Ou Caves, located directly on the Mekong's rocky shore and opposite the mouth of the Ou River. There are two spacious limestone grottoes which house approximately 4,000 sacred Buddhist statues and images.
At the cave, meet a local "medicine man" of the nearby local village. Take a small trek leading into the jungle while our local expert shares his knowledge about nature in this area. In the village, we can see households with traditional weaving and the 'the art of local whisky distillery.
Time permitting, continue to another gem of a local village. The locals earn parts of their leaving with basket weaving.
Meanwhile, the culinary team is in full preparation for a very special evening. On a nearby, very beautiful peaceful sandbank our chefs invite you to a BBQ dinner. Some villagers join to entertain you with some classic traditional dance and music performances.
Meals: (B, L, D)
Location
Luang Prabang to Anouvong
Village Life with Ethnic Groups
Early birds are welcome to join the daily morning exercise class (Yoga or Tai Chi) on the terrace deck. As we cruise along in the morning, our local expert hosts a lecture about the Laotian culture of the diverse tribes living along the upper Mekong.
We arrive at a very rural and utmost charming village inhabited by Khmu people. The village also has a small primary school for the few kids residing here remotely with their families. Living in the bamboo huts on stilts, scattered across rice fields, the local people today still perform all work manually.
After lunch on board we arrive at a secluded sandbank spot. The local ethnic Lao, Khmu, and Hmong live in the tiny village of Kok Aek. These residents have committed themselves to the organic growth of vegetables, fruits, and herbs. They have set up a little parcel of land as an organic garden, caringly maintained. Be sure to sample a local specialty, kai paen, which is made of dried freshwater "seaweed" topped with sesame and vegetables.
We stay overnight at this pleasant place. An optional meditation session is available at a local temple. After dinner, enjoy the movie night onboard.
Meals: (B, L, D)
Location
Anouvong Mekong Cruise
All About the Elephants
Early birds are welcome to join the daily morning exercise on the terrace deck (Tai Chi or Yoga).
After breakfast, a local expert will host a lecture about the Laotian elephants – their cultural importance in the past and their current situation which had brought them to the brink of extinction.
In the early afternoon, we arrive in the small town of Pakbeng. Opposite of the town – so to say on the port side of cruising direction – is the country's most sustainably managed elephant sanctuary. If we arrive early enough, we may still see elephants freely walking along the shoreline and taking a morning bath. All the elephants here used to work as logging elephants, and now they live in peace and safety.
Later take a drive up to a lovely hilltop temple with views of the zig-zagging Mekong river.
Back on board take in the amazing scenery or enjoy some downtime in our tucked-away spa. We drop anchor at a protected area mid-river. Kick back with an aperitif on the open deck and get prepared for your last dinner on board – a gala and farewell dinner in al-fresco style on the terrace deck.
Meals: (B, L, D)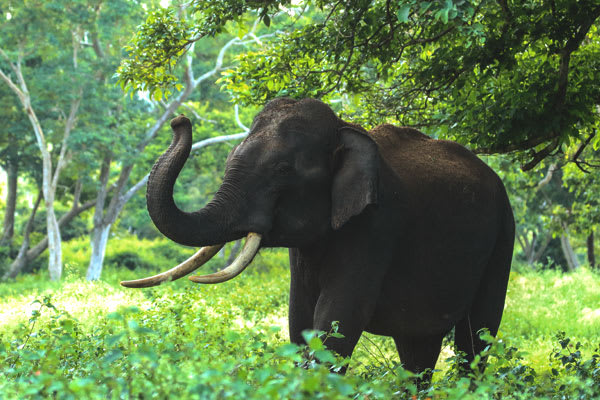 Location
Anouvong Mekong Cruise
Relaxing Day On Board and Local Guesthouse
Enjoy your last sunrise aboard with a morning exercise again. This morning you can take all the time for a long and relaxed brunch (which we can serve to you also on the terrace deck).
Kick back and enjoy these last quiet sailing hours. After some hours, the landscape and the river start to change, becoming more mountainous and the river increasingly narrow.
Join a Lao cooking class on board.
Arrive at Huay Xai at approximately 3PM. Here you will be met by the driver and transferred to the local guesthouse.
Meals: (B, L)
Location
Anouvong to Huay Xai
Ziplining and Hiking
You will be picked up right after breakfast for an approximately 1-hour drive to Nam Kan National Park. Meet your local guide and start your 3 hours jungle escapade walk through a series of very long ziplines, adventurers fly from mountain to mountain into the heart of the Nam Kan National Park and to the biggest tree in Lao PDR, the Tree King.
You will reach your jungle Tree House in the early afternoon – explore some of the surrounding ziplines and the Big Tree before an early dinner.
Evening at your disposal, perfect to observe the stars far from the city lights and listen to the sounds of nature.
Meals: (B, L, D)
Location
Nam Kan National Park
Ziplining and Hiking Back and Transfer
Wake up at a crack of dawn for a nice cup of coffee and some more zipline challenges before breakfast. Later, start your hike back, through the Nam Kan National Park and over the Nam Nga River.
Take a picnic-style lunch break by the river, where you can go for a swim, before being picked up by your driver.
Ride to the border with Thailand and meet your Thai guide at the immigration office. Continue the ride to Chiang Rai.
Meals: (B, L)
Location
Nam Kan National Park to Chiang Rai
Hill-tribes Encounters
North Thailand is famous for its colorful hill tribes. Drive out of Chiang Rai to Mae Chan district and continue uphill along narrow mountain roads to visit the simple Akha and Yao hill tribe villages.
The Akha, who originated in Tibet, are amongst the poorest of Thailand's ethnic minorities and can also be found in the northern part of Laos. They are mainly farmers and known for their artistry.
The Yao, whose origins are in China, is heavily influenced by Chinese traditions, still using Chinese characters in the writing of their language. The two minorities live peacefully close to each other. Observe the distinct differences between them and learn more about their culture, traditions, and costumes.
Try to strike up a conversation before returning to your lodge by car.
Meals: (B)
Temples of Chiang Rai
Founded in 1262 AD, Thailand's most northern city boasts a fascinating architectural history in a mix of Thai and Burmese styles.
Begin your tour by visiting the ancient temple of Wat Phra Kae, the original home of the Emerald Buddha which is now housed in Bangkok. A replica was made and placed in the same spot where it was found.
Continue with a visit to Wat Phra That Doi Chom Thong with its large gold stupa. Visit Wat Rong Khun, which is different from any other temple in Thailand. In contrast to the ancient temples, this temple was built in 1997 and was designed using white glass.
While traveling through the city, observe the influence of the city's Chinese ethnic minorities. Back to the lodge in the afternoon, enjoy the remainder of the day in nature.
Meals: (B)
From the Jungle to the Beach
Today we'll pick you up from the hotel after breakfast for your flight to Phuket – an island in the south of Thailand. Tonight you can have your dinner by the beach!
Meals: (B)
Location
Chiang Rai to Phuket
Full Day of Sea and Sun (Join-in) and a Famous Show
Wake up early and enjoy the beautiful beach before we pick you up for the sea and sun adventure – a full-day tour by speedboat to explore Phang Nga Bay Marine National Park, famed for its rock formations rising out of the sea.
On arrival, explore some of the area's fascinating caves by inflatable canoe accompanied by an expert guide. Visit Hong Island as well as Dark Cave, Mangrove Cave leading to a lagoon with mangroves, and Diamond Cave, named for a glittering flowstone inside. Cruise to James Bond Island (Khao Tapu), famous for being in the film "The Man with the Golden Gun". Continue to Panyi Island noted for its picturesque village built over small pilings and extending out across the water and inhabited mostly by Muslim fishermen.
After a tasty Thai set lunch at a local restaurant, swim at Lawa or Naka Island before returning to Phuket and your hotel.
In the evening see your guide for a short ride to Patong Beach, home to the famous Simon Cabaret Show. Stunning costumes, bright lights, a state-of-the-art sound system, and expensive sets are all part of this theatrical extravaganza featuring glamorous "ladyboys" performing non-stop musical numbers and dance routines.
Meals: (B)
Just Relax
Take today to relax on the beach, shop, and enjoy life.
Meals: (B)
Transfer to Bangkok and Evening Street Food
Catch the morning sun rays at breakfast, and meet your driver soon after, as this morning we'll transfer to the airport, for your flight to Bangkok. There, meet the local guide who will take you to your hotel in the city center.
Meet the guide later tonight for your street food adventure.
In the early evening, head to the Chinatown area, part of Old Bangkok dating back to 1782 housing Bangkok's Chinese population, many of whom were laborers tasked with building the new capital, for a chance to become a Thai food insider.
Enjoy a behind-the-scenes adventure indulging in the local sights and flavors of this "foodie" neighborhood. There is a good chance to see the local cooks at a work station (cooking station) and hear their stories through your guide. Sample delicious treats from some of Bangkok's favorite street vendors, local eateries, and/or at nearby restaurants before returning to your hotel.
Meals: (B, D)
Location
Phuket to Bangkok
City Temples and Thai Massage
Explore two of Bangkok's most famous temples: Wat Traimit and Wat Pho. Wat Traimit houses a 3m (10ft) tall, 5.5-tonne, solid-gold Buddha image, cast sometime in the 13th century and is an excellent example of the graceful Sukhothai style that is still very much in favor to this day. Interestingly, the statue was only 'discovered' some 40 years ago, hidden beneath a plaster exterior as protection against theft.
Continue to Wat Pho, which houses the enormous 45m (148ft) Reclining Buddha. Notice how the Buddha's feet alone are 5m (16ft) long and exquisitely decorated in mother-of-pearl illustrations of auspicious lakshanas, drawing attention to the concept that his beautiful and perfectly proportioned body is an outer reflection of inner spiritual power.
In addition to being home to more than 1,000 Buddha images, more than any other temple in the country, Wat Pho is also the spiritual home of traditional therapeutic Thai massage. Enjoy a 60min herbal Thai massage in Wat Pho – a perfect ending to your holiday.
Meals: (B)
Departure
Depending on your flight arrangements, we will pick you up from the hotel and offer you a transfer to the airport for your flight back home.
Meals: (B)
1 / 21
Accommodations
Cruises & Lodges
Anouvong
The first boutique ship to cruise the Upper Mekong, blends Laotian art with French-Colonial style.
Hotel Options
4 Star
Riverside Boutique Resort
Vang Vieng
5 Star
The Legend Chiang Rai
Chiang Rai