Overview
The prestigious El Aleph yacht combines traditional gaff rigged phinisi design with up-to-the-minute technology and safety features. This family-friendly, 131-ft liveaboard follows the ancient spice trade routes through the spectacular islands and seascapes of the Indonesian archipelago. She was originally built as a pleasure yacht for her owner and his family so the yacht very much has a family home feel, and now welcomes 10 to 12 guests on a few exclusive charters throughout the year in absolute luxury and privacy.
Life on board
Beautifully handcrafted in century-old teak and ironwood, and immaculately finished by the finest cabinet makers in Bali, with plenty of shelving and storage space throughout, El Aleph yacht charter features a gorgeous below-deck interior with large windows and intricate lattice work. The air-conditioned lounge, library and dining area, with its large table and cushioned bench seating, is fashioned in warm wood and complemented by crisp white fabrics with splashes of bright colors.
There is also a galley-kitchen, where your talented, personal chef will create gourmet Asian-fusion dishes. Kids' meals and special dietary requirements are catered for, and you are welcome to personalize your food and drink menus. There are technically six cabins, five of which comfortably accommodate up to ten adults, including four ample doubles and a spacious master cabin with its own private terrace on the bridge deck, but there is also an extra smaller cabin (if required) which is best suited for kids, with bunk beds for two. All have ensuite shower rooms and individually controlled air-conditioning.
Outside, a large open deck features an additional dining and lounge area for relaxing alfresco, with plenty of room to spread out. There is also a promenade deck, a sun deck, a forward sun deck, and a large lounge area for reclining on the bowsprit. Onboard facilities include WiFi, TV & DVD, and stereo sound.
Water activities
With a highly experienced, friendly crew of 12, you can be sure that your every need will be met and exceeded. The team includes a cruise director who can take you to little-explored corners of Indonesia, and a dive master who can set you up with snorkeling gear or top-of-the-line dive equipment including wetsuits, compressor, aluminum dive tanks, NITROX, Poseidon rebreathers, and a helium mixing facility.
For water toys, you have the choice of wakeboards, banana boat, water-skis, four sea kayaks and body boards, plus fishing equipment and two tenders for land excursions, perfect for keeping guests of all ages happily engaged.
Destinations and onshore excursions
You can look forward to a voyage of discovery to exotic regions such as Komodo National Park where you will meet the famous Komodo dragons. In Raja Ampat, you can snorkel and dive through pristine coral gardens, trek through jungle-covered islands and watch the birds of paradise performing their magical dating dances at dawn.
You can relax on remote white sand beaches and explore the clove and nutmeg plantations and historical villages of the Banda Islands where Dutch colonial houses and ancient forts still stand. All along the way you can stop to snorkel in secluded lagoons, dive among shipwrecks and schools of tropical fish, and visit isolated communities where time appears to have stood still for centuries.
Perfect for families and groups of friends, the aim of the El Aleph yacht charter is for you to go where you want to go, when you want to go. Choose from one of the well-outlined itineraries or ask for help in customizing your own adventure of a lifetime.
Itineraries & Prices
Embarkation
AM: Embarkation at Serangan Harbour for a welcome drink and boat briefing.
PM: After guests settle into one of El Aleph's spacious cabins, we set sail for Nusa Lembongan, located just 15 nautical miles off the Bali coast where we enjoy the sunset and a sheltered night anchorage.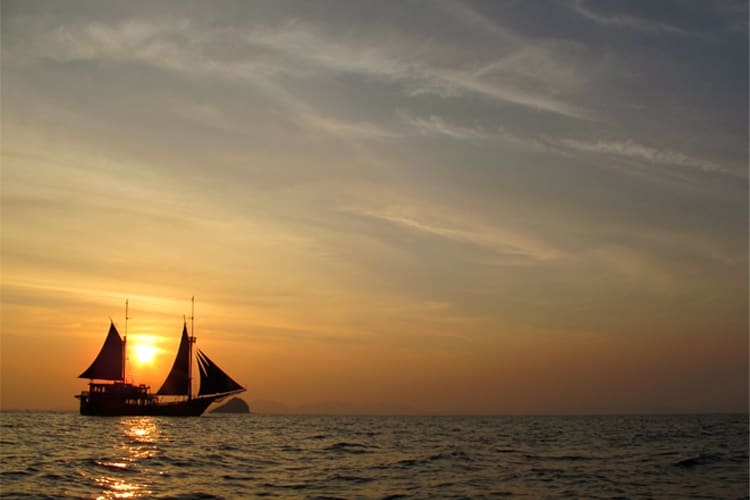 Gilis
AM: Next morning we head for the Gili Islands, located just a mile north of the shores of Lombok. First discovered by backpackers in the 1980s, these islands have developed into a relaxed and lively tourist destination, famous for the total absence of automobiles, dogs, or police. Local transport is by horse carts and boats, making the Gilis an ideal place for travelers to unwind and slip into the Asian groove.
PM: The islands are famous for diving, snorkeling, surfing, and beach life, but there is plenty of activity on land - horseback riding and buzzing night life.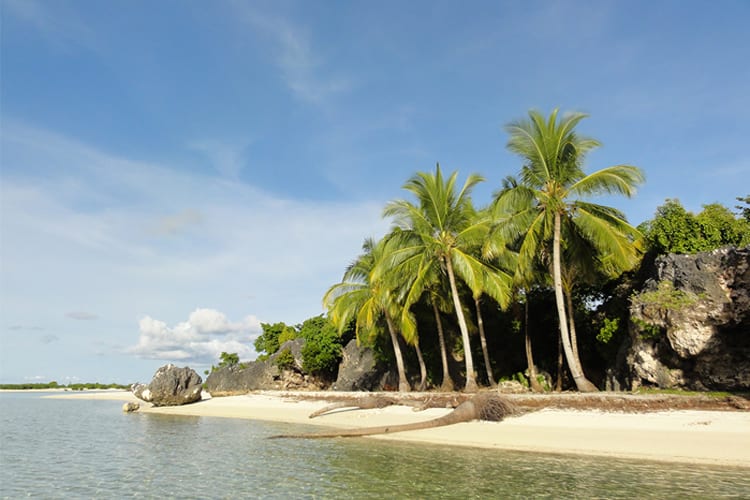 Moyo Island
AM: Next stop on our voyage is Moyo Island, north of Sumbawa. We visit a small fishing village and take a hike up through the fields up to a small waterfall for a refreshing morning swim.
PM: We can also visit the famous Aman Moyo luxury resort. Good snorkeling is available on the reef in front of the fishing village, and a first "intro-dive" can be done here.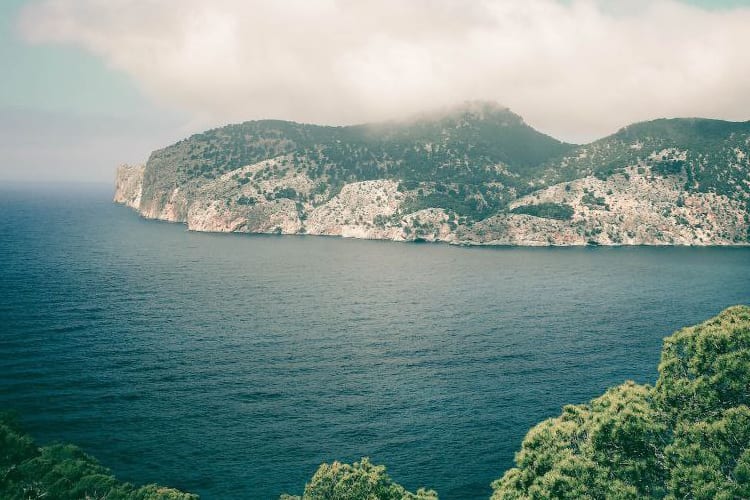 Satonda
AM: North of Moyo lies the amazing volcanic island of Satonda, created in 1815 by the massive eruption of Tambora. This eruption left a great saltwater lake in the crater of Satonda, and over the next several hundred years rainfall gradually diluted the seawater, resulting in an ecosystem unique to this lake.
PM: Our crew will carry our kayaks up the hill to the lake, where one of nature's truly magnificent spectacles awaits you: flights of millions of fruit bats – nesting in the trees along the edge of the late by day, at dusk they swarm low across the sky, flying across the channel to Sumbawa to feed.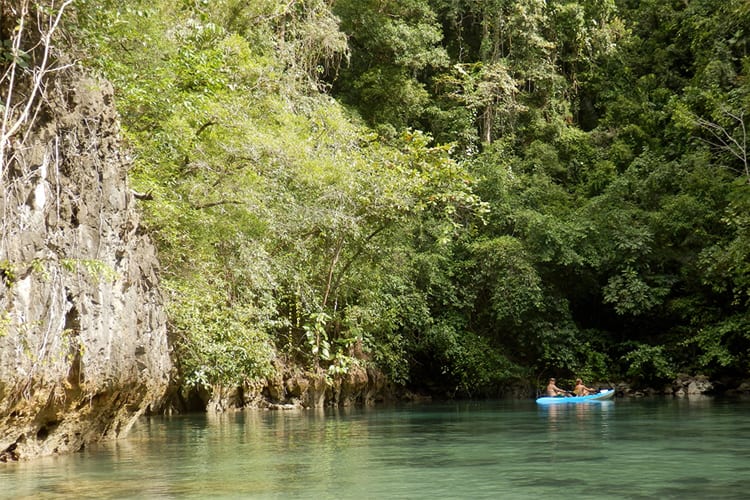 Sangean
AM: Further east along the coast of Sumbawa we come to Sangean, a member of the volcanic chain known as the Ring of Fire. We stop at the rocky shores of Sangean with black volcanic beaches and breathtaking underwater scenery for snorkeling or diving. Few places in the world host such amazing coral gardens, with hundreds of species, some found only here.
PM: Visit a small village nearby that produces traditional handicrafts, much as they have for generations. Nearby is the famed champagne reef natural volcanic gases are vented from the sea floor, creating curtains of bubbles – divers/snorkelers can enjoy a natural Jacuzzi.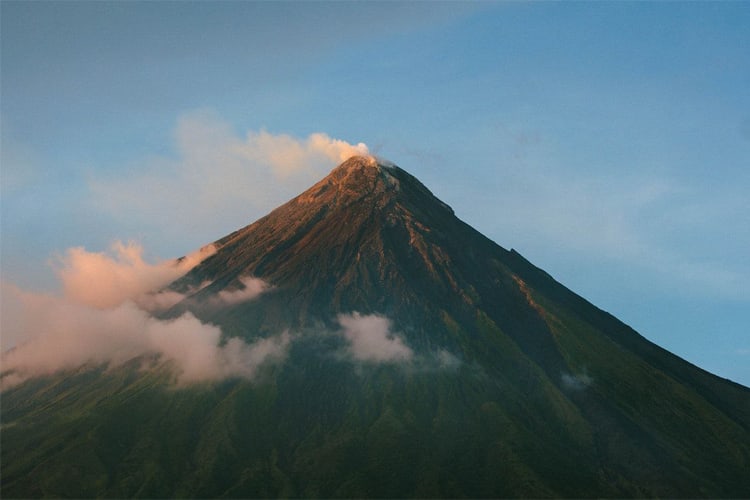 Komodo National Park
AM: The Komodo archipelago is the high point of any cruise in Indonesia. Located between Sumbawa and Flores, the Komodo National Park is a secluded Eden, a unique environment that is home to the Komodo dragon, the direct descendent of the great lizards which once ruled the earth – at up to two meters in length, it is the world's largest surviving reptilian species.
PM: Scientists remain fascinated by this unique environment, the last terrestrial area where the reptiles dominate the mammals. Komodo was once inhabited by a close relative of modern man - the Flores pygmy, as well as numerous now-extinct species including a strange breed of a pygmy elephant.
Location
Komodo National Park
Komodo National Park
AM: It's hard to say what is the most remarkable aspect of Komodo – the amazing scenery above water, or the extraordinary marine life of this national marine preserve, carefully protected by the Indonesian authorities for the benefit of future generations.
PM: The protected beaches of Komodo are deserted and pristine. Picnics and barbecues can be organized ashore, remarkable sea shells and red coral can be scavenged on the beach, or grab your camera and come hunt the Komodo dragons – the lords of these isles.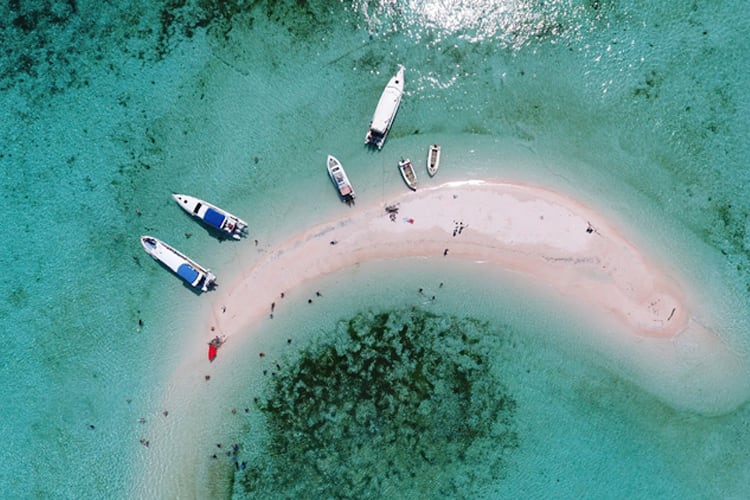 Location
Komodo National Park
Komodo National Park
AM: Our itinerary will vary depending on the tides, the currents, and the weather. Captain Kahar has cruised these waters for nearly two decades and can be relied upon to find the quietest anchorages and the best beaches. Our local dive guides know some secret dive spots, as well as the times to find the best marine life.
PM: Komodo has some of the best diving/snorkeling in Asia. Cold currents, rich in nutrients, well up from the Southern Ocean, feeding a huge variety of fish and corals. Komodo is rated one of the world's ten top dive sites, ranging from easy drift dives to more challenging exploration of deep marine environments. Divers will encounter everything from giant manta rays and a variety of reef sharks to the most extraordinary macros including pygmy seahorses and an infinite array of nudibranchs. Of course, snorkeling and kayaking are excellent, with numerous protected bays to explore; or you can just take in the magnificent scenery from on-deck, before relaxing on the secluded beaches where Robinson Crusoe might have landed.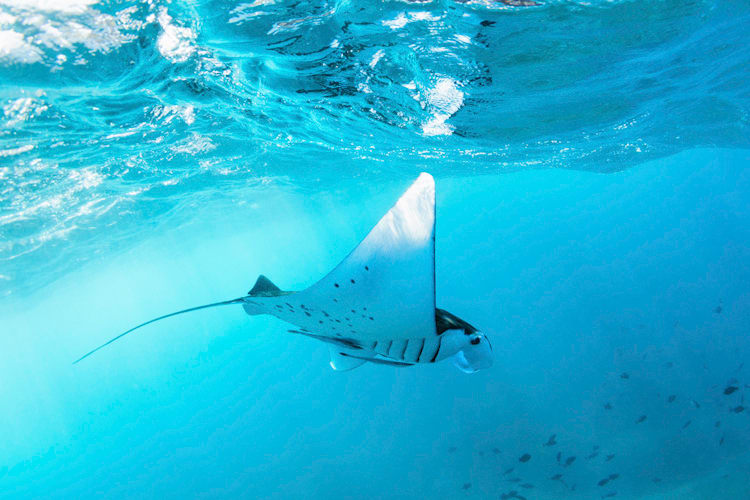 Location
Komodo National Park
Komodo National Park
AM: We team up with the park rangers for a guided walk through, Komodo looking for the endemic dragon but also, with a chance to spot Kakaduas, wild horses, boars, and bush life.
PM: We will enjoy some of the most peaceful anchorages in Asia, the perfect stillness of which is overwhelming and rarely experienced at sea. Even from the ship we often spot pods of dolphins, great sea turtles, and the occasional breaching whale. At night, during the mating season, giant manta rays can be seen dancing in the light of the ship lamps.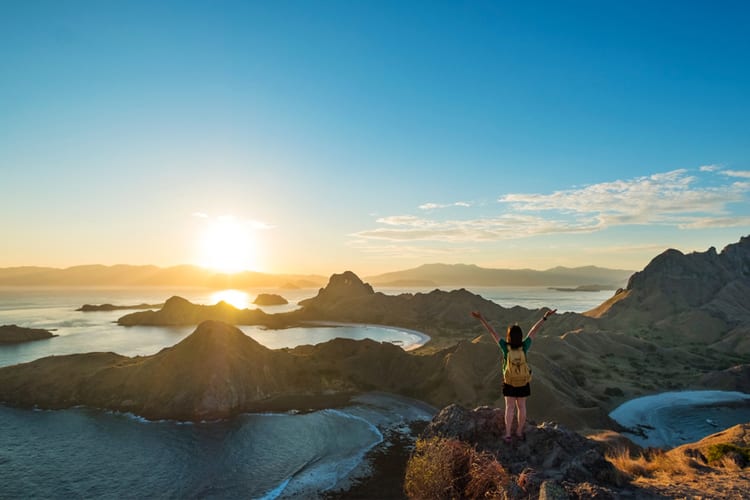 Location
Komodo National Park
Disembarkation
AM: On the final day, after a morning swim, we land at Labuan Bajo where guests embark for the short flight back to Bali.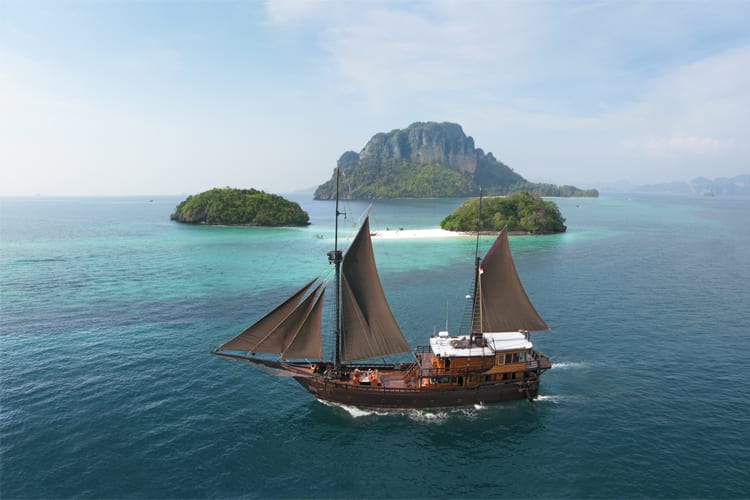 1 / 10
Embarkation
AM: Embarkation at Sorong harbor for a welcome drink and boat briefing.
PM: After lunch, we head out from Sorong to some nearby Islands for the first stop. Here we get familiar with the snorkeling gear and stretching out from the flight on a small beach with coconut trees. After dinner we cruise south all night, in the morning we arrive in Misool the last of the 4 kings in Raja Ampat.
Misool
AM/PM: After breakfast, we start exploring many of Misool's hidden lagoons for snorkeling and kayaking. The diving in the area is excellent.
Tomolol Cave
AM/PM: After breakfast, we set off in the tenders to the Tomolol cave, the mouth of which begins in a jungle pool. You swim for several hundred meters, through a tunnel in semi-darkness towards a dull glimmer, then, turning right through the stalactites, you suddenly find yourself in an immense cave, as big as Notre Dame de Paris, and far more spectacular. The roof, a hundred meter overhead, is a latticework of limestone – floating on your back under the dome, staring upwards, time seemed to stop.
Misool
AM: After breakfast, we will visit a village on Misool to see how the natives live in this remote part of the world.
PM: For the rest of the day, we snorkel, dive, or whatever water-sports catch your fancy.
Daram Island
AM/PM: After Sunrise we head further south to Daram Island, the last Island of South Raja Ampat. Here we got some of the best diving in all of Raja Ampat, the snorkeling is also outstanding. In the night after dinner we lift anchor and head further south to Pisang Island.
Pisang Island
AM/PM: Spending the day exploring these beautiful islets and fine beaches. Snorkeling, diving, kayaking, and watersports. Here we have a good chance of seeing the Great Oceanic Mantas flying by. After dinner, we continue further south.
Misool - Kaymana
AM: Between Misool and Kaymana we make another stop. Here the diving, although not disappointing, is not quite up to the level of the best sites in the region, but the spectacular icy waterfall flowing down from the hilly rainforest straight into the warm sea is breathtaking. If you're feeling brave, you can climb under it for a pounding water massage, or even try to kayak into it. There is great swimming. The lagoon, where the jungle canopy lies over the ocean - float on your back and look up at the rainforest!
PM: In the afternoon we go with the kayaks to check out the millions of bats nesting on a rock in the middle of the sea. After dinner, we head south to Triton Bay.
Triton Bay
AM: In Triton Bay, we have numerous world-class dive sites to choose from, many of them quite easy. The snorkeling is also absolutely amazing, along with the dozens of paradise beaches. During our last trip, we had repeated encounters with the Giant Whale Shark, an amazing experience, spending the day diving snorkeling, and fishing.
PM: In the afternoon we get a BBQ going on the beach and hopefully grill the fish we caught earlier.
Triton Bay
AM/PM: Early this morning we head for a secret location where we have the chance to swim and play with Whale Sharks - grab a dorsal fin and have a ride! The area is also normally full of dolphins and huge Jacks, the experience is absolutely amazing. We'll have a few hours of fun with the giants.
Tanjung Papisoi
AM/PM: We taking the tenders to explore the amazing area of Tanjung Papisoi the landscape is quite unique, with channels, inlets, and bays, with beautiful sandy beaches around the freshwater bay and channels that lead to a lush and rich green tropical forest behind.
Bitsyara Bay
AM/PM: We stop and visit some amazing lagoons in Bitsyara Bay. We also take a look at art paintings probably made by the Aborigines 3000-5000 years ago when you could still walk on dry land from Australia's Torres straight to the island New Guinea across what is now the shallow, muddy Arafura Sea. Ethnologists believe the artwork was left on these hard-walled galleries before they got tired of life between the tides and moved to higher ground to farm sweet potatoes and raise pigs. Local legend, however, relates that the design decorating the cliffs was painted by spirits.
Disembarkation
AM: Arrivial in Kaimana, our final destination. If time permits, we'll pay a quick visit to this small port town in West Papua, before catching our flight back to the modern world.
1 / 12
Accommodations
Social Areas
Sundeck
Lounge
Dining
Outdoors dining
Living
Saloon
Suites & Cabins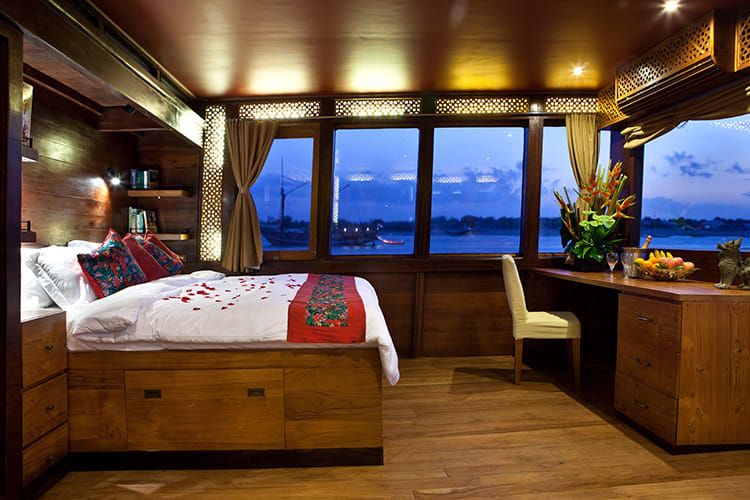 The spacious 32m² ensuite master cabin is situated above deck on the bridge deck, and looks out over the stern. Surrounded by windows on 3-sides, it is a stunning light-filled space affording incredible views, which get even better when you step out onto its 10m² private terrace. It also has its very own 8m² dressing room, writing desk and plenty of storage space.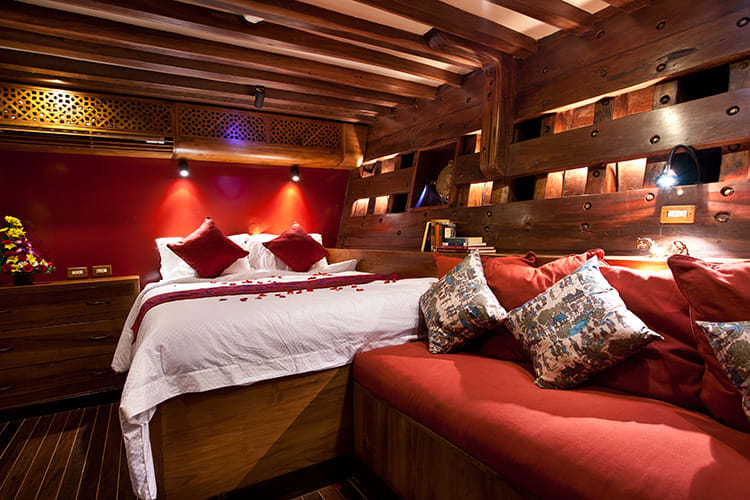 The four ensuite guest cabins are situated below deck, so only have porthole windows, but still maintain a roomy feel, with beautiful wooden panelling, and handcrafted drawers and storage. Two of the cabins also feature sitting areas at the foot of the bed.
Sometimes called the 'nanny' cabin, the extra sixth cabin is smaller and narrower than the rest. Located on the lower deck at the bow as the ship's hull narrows, it is still ensuite, but only has space to feature bunk beds, suitable for two children or one adult.
Technical Information
Deck Plan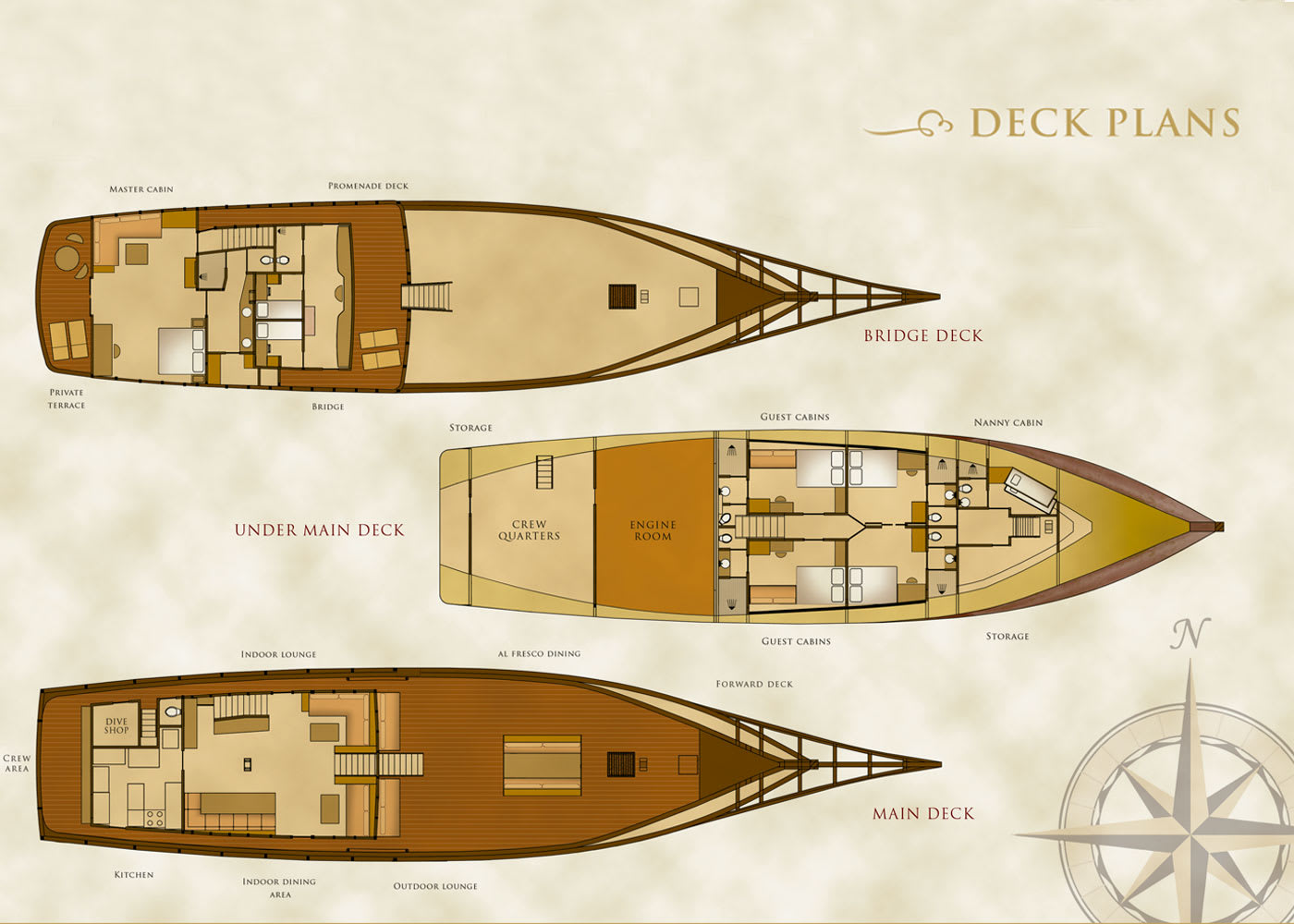 Features
Connecting cabins

Cabins with balconies

Air conditioning

Lecture room

Cinema

WIFI available

Kosher Meals

Hot showers

All inclusive

Family Room (Triple or Quadruple)
Equipment
Diving gear

Satellite phone

Nitrox

Snorkeling gear

Wetsuits

Stand up paddleboard

Kayaks / Canoes

Wakeboard / Water Ski

Fishing equipment

Yoga mats

Flash lights

Water canteen/bottle

Binoculars

Poncho

Dry Bags/Plastic bags to protect cameras
** Use of certain equipment at additional cost, ask for details