Overview
Built in 2019 by the masterful Konjo boat builders of Ara, Fenides is a 135-ft, luxury dive and surf liveaboard with a sleek phinisi-inspired design, contemporary lines and an airy sense of space. Her large cabins accommodate up to 10 guests, while absolute comfort on all three of her decks, combined with fine cuisine, state-of-the-art facilities, exciting itineraries and highly experienced professionals make her the perfect vessel on which to explore eastern Indonesia.
Cabins
The Fenides Liveaboard offers five luxurious cabins. There are two doubles on the Upper Deck, offering amazing views of eastern Indonesia's tropical seascape and castaway islands. The luxury Master Suite, complete with an additional single bed is on the Lower Deck along with two twin cabins.
All feature warm and light colors, the finest linen, and world-class in-cabin TV and media systems. Immaculately designed en-suite bathrooms and independent air-conditioning systems, allow for true comfort.
What To Expect On Board
With accents of modern art, complemented by bright colors and natural wood furniture, Fenides exudes a warm and serene atmosphere. The main salon is beautifully crafted from teak and ironwood. You will find a full bar area, yielding sofas, a wide-screen television lounge with a high-end Bose sound system, and an alfresco dining area that invites you to sit back, relax, and settle into life, tropical island style.
On the Upper Deck, there is a second bar and plenty of space to chill out in the open air while enjoying the incredible panoramic views, especially with a beer or cocktail at sunset. Fine dining is offered on board alfresco style. The chef serves delicious Asian fusion cuisine and can cater for vegetarians and any special dietary requests.
For Photographers
A highlight on Fenides is the dedicated, climate-controlled camera room, which was designed by divers to cater for underwater photographers. Fitted with six desks, it offers plenty of charging ports, editing facilities, and a place to set up and maintain your equipment during your stay on board.
Other Facilities On Board
The boat is fully equipped with air-conditioning in all areas, snorkel gear, dive equipment including compressors and nitrox, portable docking stations, and laundry facilities. Fenides is also equipped for surfing, kayaking, paddle surf and wakeboarding, fishing and beachside dining. An on-board massage service is available.
Diving
The 11-strong crew of Fenides is devoted to the highest level of service and satisfaction. Safety is paramount but so is adventure, and the crew endeavors to push expectations for every dive. Two large tenders ensure safety and easy dive-site access.
Whether it's diving at dawn, dusk or at night, you will have the opportunity to explore the underwater world in the most exciting ways possible. You can look forward to fantastic macro and drift diving, as well as encounters with sharks, turtles, manta rays, whale sharks and dolphins.
Adventure lovers will be sure to experience an extraordinary voyage, visiting some truly spectacular locations in eastern Indonesia, while diving in the rich waters of the archipelago. Fenides will take you to the most epic dive spots in the Komodo National Park or Raja Ampat, while special surf charters to Morotai and Halmahera are available on request.
Accommodations
Social Areas
Bow
Al Fresco
Salon
Lounge
Dining Room
Decks
Bar
Outdoor Dining
Camera Room
Dive Deck
Sundeck Bar
Suites & Cabins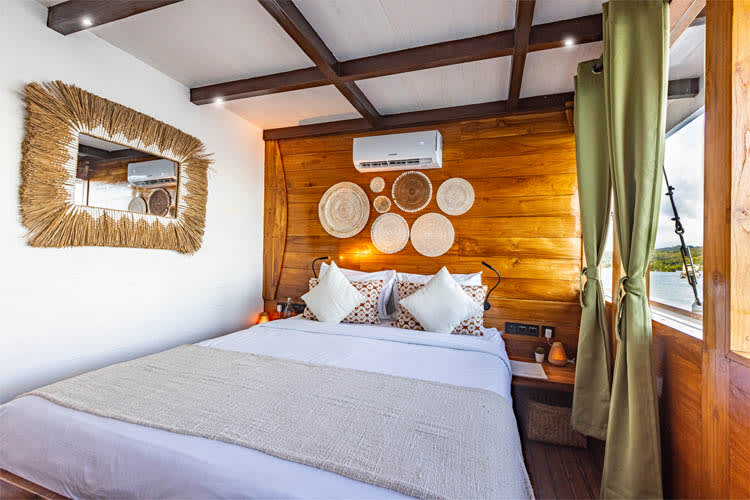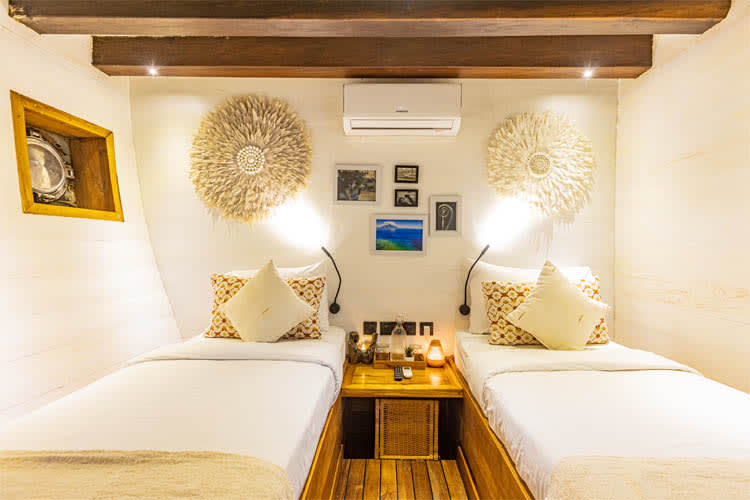 The cabin is designed to ensure maximum comfort for the guest. Guests can enjoy the amazing tropical seascape from these cabins that come with air conditioning. The beautifully designed ensuite bathrooms feature hot water and other amenities for a rejuvenating shower.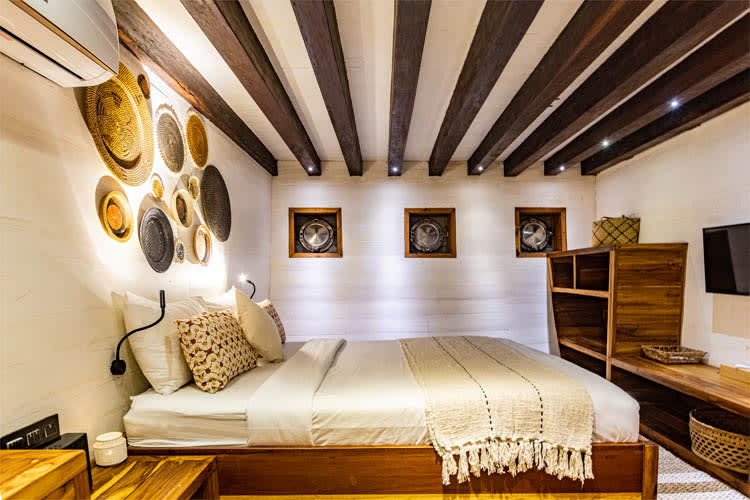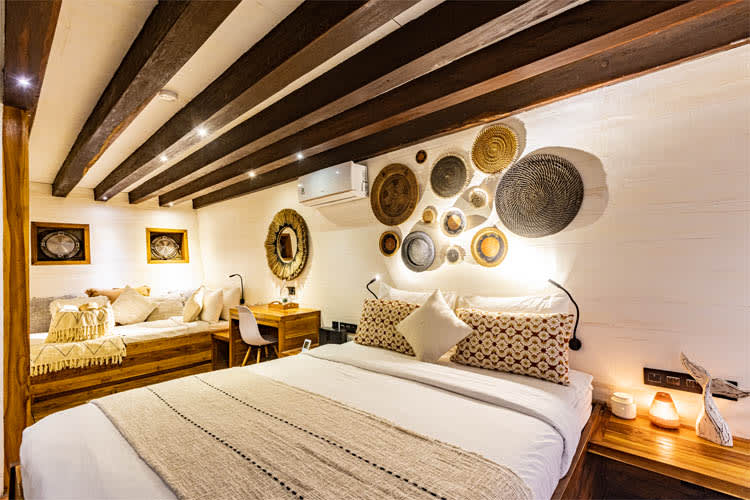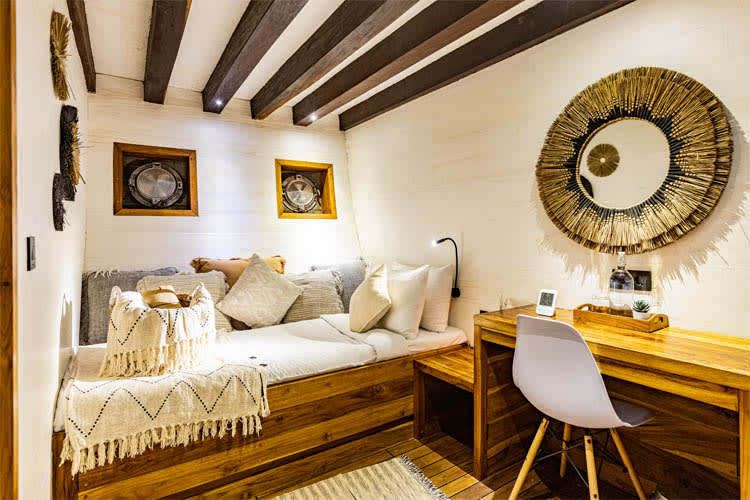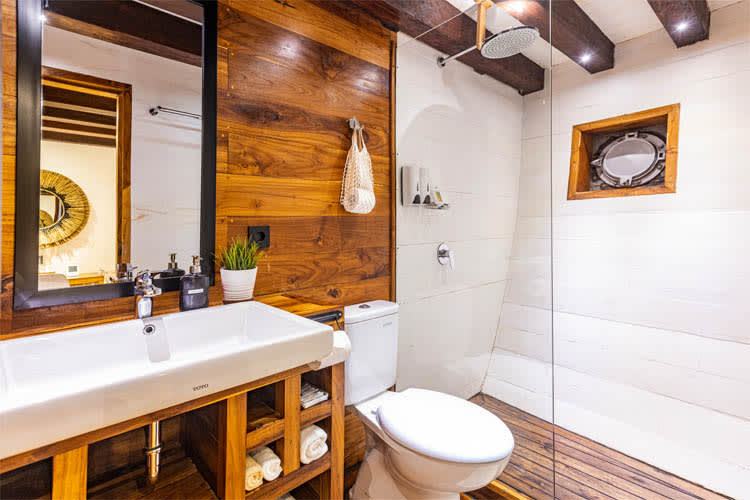 These luxurious cabins are designed for true comfort, with the warm and light colors in the room creating a feeling of coziness. The beds have finest linens to ensure you sleep comfortably, and the stylish ensuite bathrooms feature all amenities for a refreshing shower.