Indochina Pandaw
Indochina Pandaw
Colonial-style riverboat exploring the bustling Mekong Delta in Vietnam and tranquility of Cambodia.
Shared, small group cruise based on DBL occupancy
Overview
Sister ship to the Bassac Pandaw, the 170-foot-long Indochina Pandaw was built in 2009 and specifically designed to provide a superior river cruise experience, offering fantastic views of enchanting riverside scenery on 3- or 4-night cruises along the Mekong between Saigon in Vietnam and Phnom Penh in Cambodia. Accommodating up to sixty passengers, this colonial-style ship offers everything from peaceful solitude to hands-on activities, exotic culinary creations to exciting onshore excursions.
Life On Board
Onboard, split over two decks, are 30 identical staterooms measuring 170 square feet with sophisticated furnishings and contemporary comforts. All have twin beds (some of which can be converted to doubles), as well as air-conditioning, desks, safes and French windows, complete with a table and two wicker chairs outside on the walk-around deck outside. Bathrooms have good showers, with bathrobes, hair dryers, and slippers provided. There is also an onboard laundry and the crew will clean your shoes after excursions.
On the third and uppermost Observation Deck teak loungers with blue cushions allow you to immerse yourself in the sights and sounds of the river; you will be captivated by the great panoramas and the unceasing human and wildlife activity unfolding around you. There is also an open-bridge policy.
Enjoy spa facilities with services from trained professionals, and hands-on activities such as cookery and fruit carving. Fishing nets, badminton equipment and board games are also provided. Indochina Pandaw has two guides who give briefings at cocktail hour every night on the sun deck, and accompany all excursions, which are daily and free. Some local entertainment is offered in the form of a cultural performance.
Well-maintained mountain bikes are provided for independent exploration of the scenic countryside and friendly villages at your own pace. At each river stop, the crew will advise you on the best routes to follow and, if required, a member of the crew will accompany you on your cycling adventures.
Dine on board on tasty Vietnamese and Cambodian cuisine as well as traditional European fare, including healthy and vegetarian options at every meal. Breakfast is a buffet, while lunch offers soup, salad, a buffet and desserts. At dinner you will be served by waiters at your table. You can also enjoy cocktails or premium wines from an extensive wine list.
Life On The Mekong
The Mekong Delta is the bridge between the vibrant French colonial port of Saigon, aka Ho Chi Minh City, in Vietnam, and Cambodia's capital—the picturesque city of Phnom Penh. The Delta is the 'rice bowl' of Vietnam, a water world that moves to the rhythms of the mighty Mekong, where boats, houses and markets float upon the innumerable tributaries, canals and streams that criss-cross the landscape like arteries.
From buffaloes wallowing in rice paddies and mangrove forests teeming with bird life to Buddhist temples reaching for the sky, there can be no better way to discover the diverse contrasts of two cultures and two ways of life linked by one great river. The Indochina Pandaw cruise is a delightful way for you and your partner, your family or friends to explore these two fascinating countries.
Accommodations
Social Areas
Gym
Relaxing
Coridor
Rest Corner
Sundeck
Captain Cabin
Upperdeck
Suites & Cabins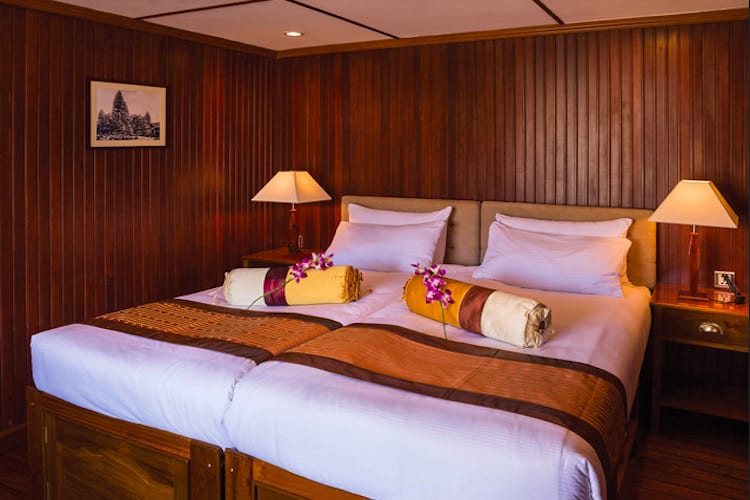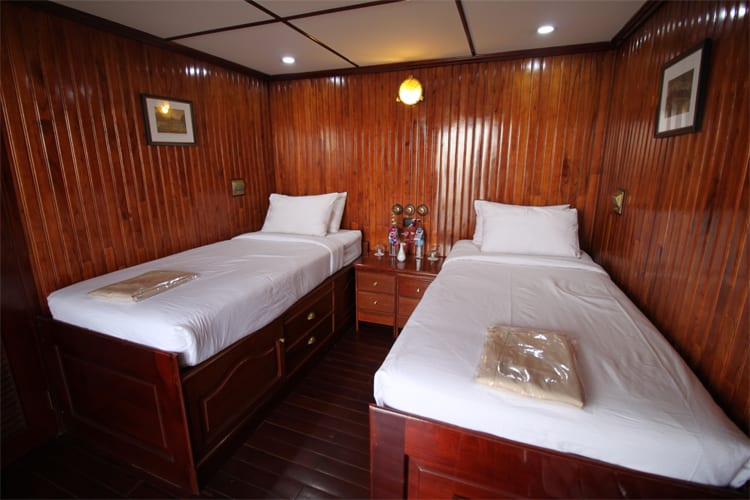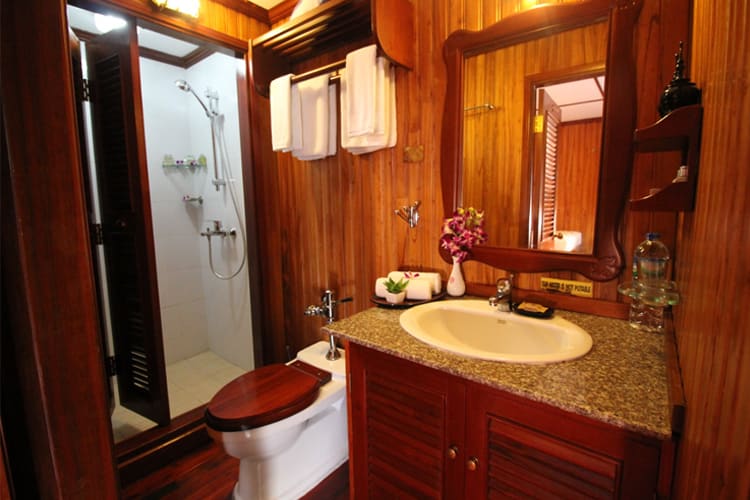 10 Cabins
Main Deck Suite
Enjoy a peaceful night's sleep in these air-conditioned rooms that come with imported quality linens. The rooms are designed to ensure maximum guest comfort with multi-configuration plugs for all your gadgets, a spacious closet, and storage under the bed and kimonos and slippers.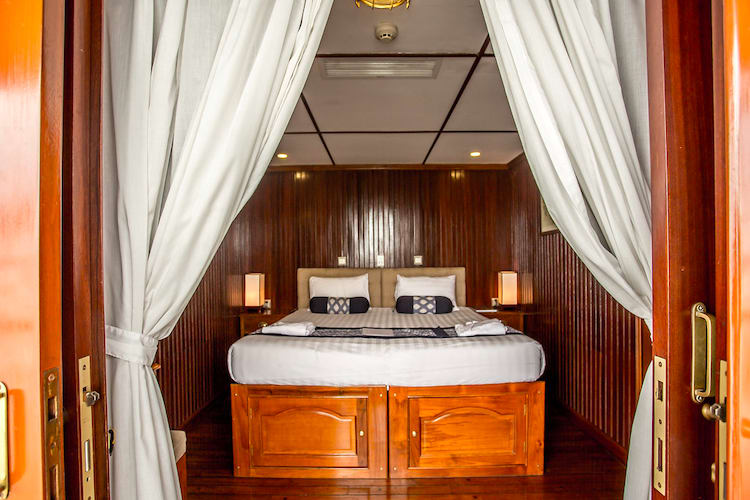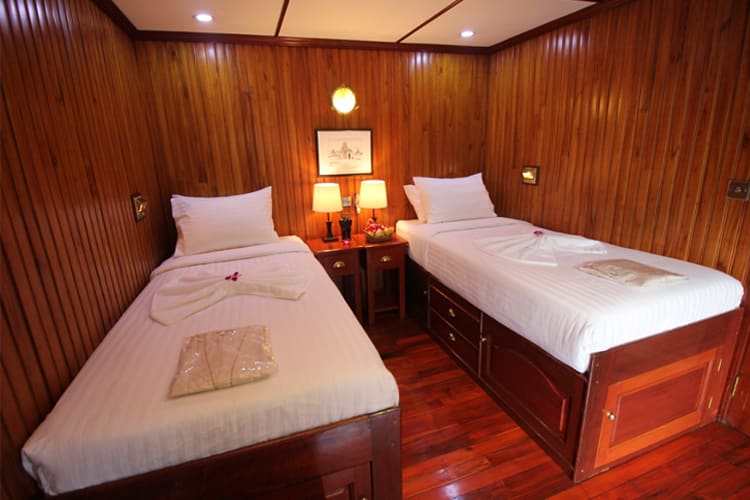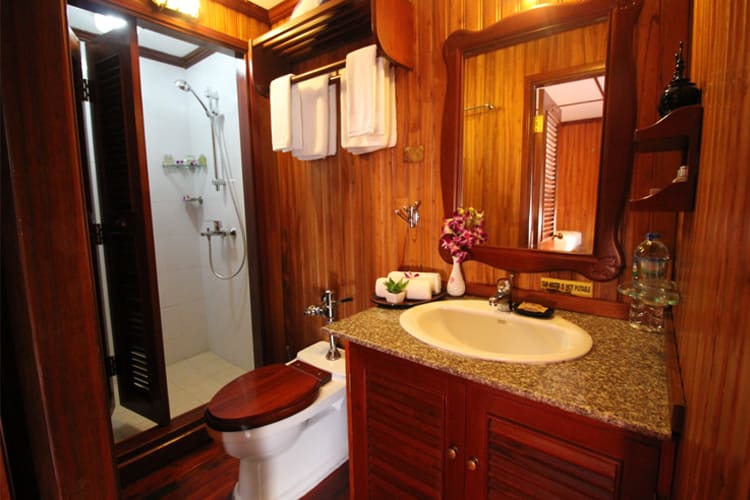 20 Cabins
Upper Deck Suite
These suites feature a panoramic French window that leads to a private deck space giving guests breathtaking scenery. The private bathrooms come with a natural stone shower, spa-branded amenities, and a hairdryer. The room also has a spacious closet and an electric safe.
Technical Information
Deck Plan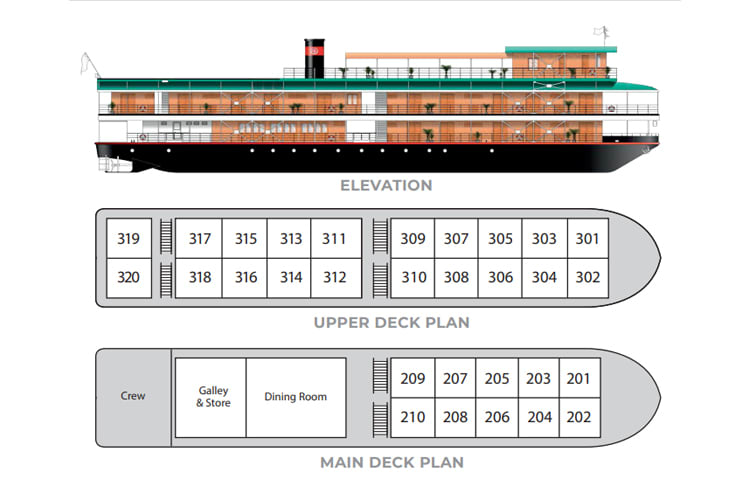 Features
Air conditioning

Excercise room

Massage room

Lecture room

WIFI available

Kosher Meals

Medical staff

Souvenir shop

Hot showers

All inclusive

Charging areas for electronic equipment
Equipment
Bicycles

Yoga mats

Flash lights

Water canteen/bottle

Insect repellent
** Use of certain equipment at additional cost, ask for details