Overview
The 167-ft RV Indochine I cruise ship offers stylish cruises along the calm waters of the Mekong through the most iconic and fascinating parts of Vietnam and Cambodia. Having started out life as a freighter working up and down the Tonlé Sap lake and Mekong River, she continues to follow a similar route, but has now swapped her cargo for discerning travelers seeking comfortable exploration of this remarkable region, having been fully and tastefully refurbished in a colonial style.
Life On Board
The vessels spacious social areas and cozy cabins have all been exquisitely fitted-out with Cambodian tropical hardwoods and palm wood, blended into a decorative finish, and boasts details such as woven straw panelling and lotus-shaped silk light fittings to complete the look of authenticity. When retiring to said cabins you'll be comforted with premium mattresses and quality linens, and enjoy their large panoramic windows which provide privileged views of the passing riparian scenery.
The expansive lounge on the sundeck together with its neighboring bar forms the hubs for socializing on board, where you can enjoy movies, cultural performances, educational talks, and numerous other cultural activities. The large sundeck is fitted with sun beds enabling you to relax, enjoy the surrounding landscapes and watch the daily activities of life along the river unfold. There is also a boutique library and conference & meeting facilities. Cooking classes and tours of the ship are also available.
The dining room, with its large panoramic picture windows, is located to the rear of the Upper Deck. All meals are served in a single seating. A local executive chef heads an experienced culinary team, and while catering to the Western palate, meals are a combination of Vietnamese, Asian and Western cuisine utilizing local produce and fish to provide the freshest of ingredients. Breakfast and lunch is served buffet style, and there is a set menu for dinner. Specially-tailored light menus are available, as well as an extensive wine list with premium wines and liquor. Tea, coffee, drinking water and all non-alcoholic beverages are free of charge.
Excursions
From stilted villages and floating markets to temples, local schools and secluded mountain-top monasteries, the wide array of offbeat ports of call offer a glimpse into the daily life and culture of the friendly local people, ensuring that you'll be able to truly immerse yourself in the different places you visit along this historic river. Indeed, your guides are recruited from the local communities and will be able to answer all of your questions about Mekong life from their very own first-hand experiences. You'll also be able to partake in other activities include fishing and swimming.
Perfect for couples, families and groups of friends, an RV Indochine cruise offers you the opportunity to explore the region's finest scenery and peaceful beauty in comfort and style, complemented by exceptional service.
Accommodations
Social Areas
Buffet
Side Deck
Lounge
Restaurant
Salon
Sun Deck
Sun Deck
Terrace
Suites & Cabins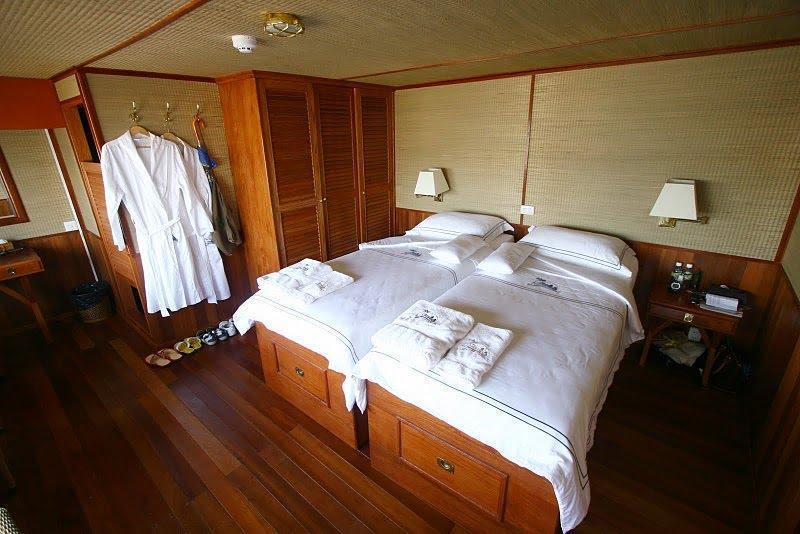 14 Cabins
Main Deck Cabin
The Main Deck's 14 comfortable, air-conditioned cabins are bright and airy, featuring two large illuminating picture windows and ample closet space. There is a safe, dressing and bedside tables, between which beds can be configured as twin or queen. The ensuite facilities include a partitioned shower area, and for your convenience plump bathrobes, towels, sandals and a hairdryer are provided. The two rearmost cabins do have an extra couple of square feet room, but are closer to the engine room.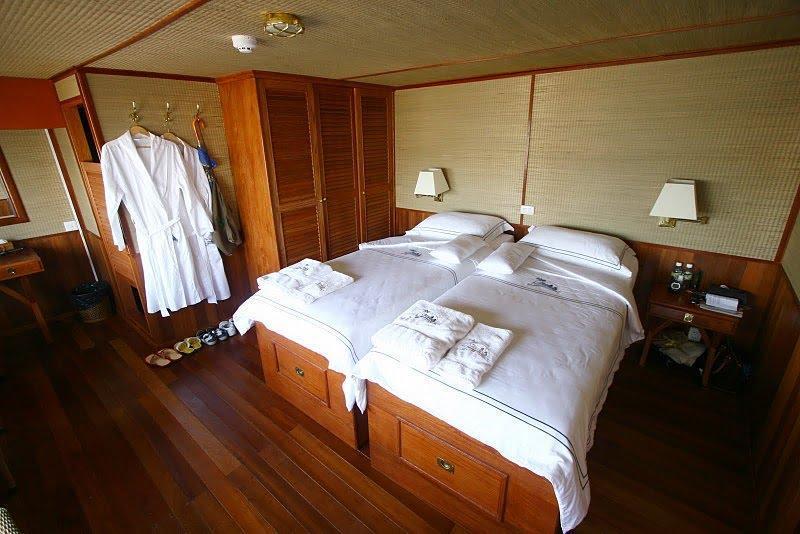 10 Cabins
Upper Deck Cabin
The Upper Deck's cabins boast the same furnishings and amenities, but have a more privileged, elevated view. As with the Main Deck cabins, all are river facing with a door that opens onto the outside deck. Nostalgic black-and-white photos adorn the walls and there is extensive use of dark woods throughout, with bamboo panelling and lotus-shaped lampshades to give a colonial cabin-feel.