Overview
Built in 2007 and inspired by the Mekong's ancient tradition of riverboat building, the 44-guest RV Lan Diep is an elegant, colonial-style riverboat with classical lines and charming wooden accents that create an enticing ambiance of comfortable adventure.
Life On Board
Her 22 cabins, split over two of the vessel's three decks, are well appointed with generous amounts of wardrobe space and under-bed storage, ensuite wetroom-style bathrooms, and large panoramic river-view windows and doors that lead out onto the boat's promenade – an outdoor covered walking area/terrace – that serves as a common balcony.
Exquisitely fitted-out with Cambodian tropical hardwoods and palm wood for a decorative finish and an authentic feel, the refined rooms suitably double up as relaxing retreats after a day of adventure, with their individually-controlled air-conditioning, plump premium mattresses laden with quality linens and two varieties of pillow, not to mention the cozy complimentary slippers and robe de chambres.
Indeed, while aboard the RV Lan Diep, guests can find all the services and facilities of a luxury hotel, including wifi in all public areas, and more. Join a variety of enthralling lectures about the region's rich cultural heritage and fascinating riverine lifestyle, kick back with one of the classics from the library, simply relax in the comforts of your cabin, or enjoy the nightly entertainment and relaxing refreshments of the Lounge/Bar on Sun Deck.
Inviting Public Areas
With its privileged views, open and covered seating areas with loungers and chairs, and popular viewing area to the bow, the Sun Deck is the focal point of all social activity aboard the ship, and it is here that guests can borrow books and games from the library, or enjoy an array of enriching activities, from cultural performances by local performers and movie nights, to language classes and educational talks.
Elsewhere on board, there is a small shop for souvenirs and essentials in the Lobby, and a restaurant to the aft of the Upper Deck, where the local executive chef and his team serve authentic Eastern and Western dishes – including traditional Cambodian and Vietnamese specialities – all prepared with fresh locally-sourced ingredients. Breakfast and lunch is served in a semi-buffet style and the multi-course dinners are seated. Passengers can also choose a specially-tailored light menu which is available upon request.
If you get hungry outside of these times, freshly-baked bread and snacks are also available upon request, and if you fancy trying your hand at making some of the local delicacies for yourself, cooking classes are also available.
Magical Mekong Adventures
The Lan Diep offers remarkable 9 and 11-day cruises from Saigon to Siem Reap, via Phnom Penh, and vice-versa, allowing guests to experience a true taste of life on the magical Mekong in both Vietnam on its bustling delta, and in Cambodia along its more tranquil stretches.
Itineraries include highlights such as Ho Chi Minh's Reunification palace and Notre Dame cathedral, bustling Cai Be floating market, Phnom Penh's Royal palace, an oxcart ride through Kampong Tralach village, and exploration of Tonlé Sap, the largest freshwater lake in Southeast Asia.
Another great highlight of these itineraries is the fact that the ship docks right in Saigon itself, so there are no uncomfortable overland transfers to consider, and instead, thanks to its shallow 6 ft draft, guests get to cruise along the beautiful Cho Gao Canal to My Tho, famed for its fruit orchards and islands.
On each voyage there are many complimentary events such as the Welcome Cocktail, Farewell Reception, and Captain's Farewell Gala Dinner, but after so much excitement and adventure, you are sure to be reluctant to say goodbye to the charming Lan Diep and her friendly crew.
Accommodations
Social Areas
Bar
Lounge
Outdoor Dining
Recreation Deck
Restaurant
Sun Deck
Suites & Cabins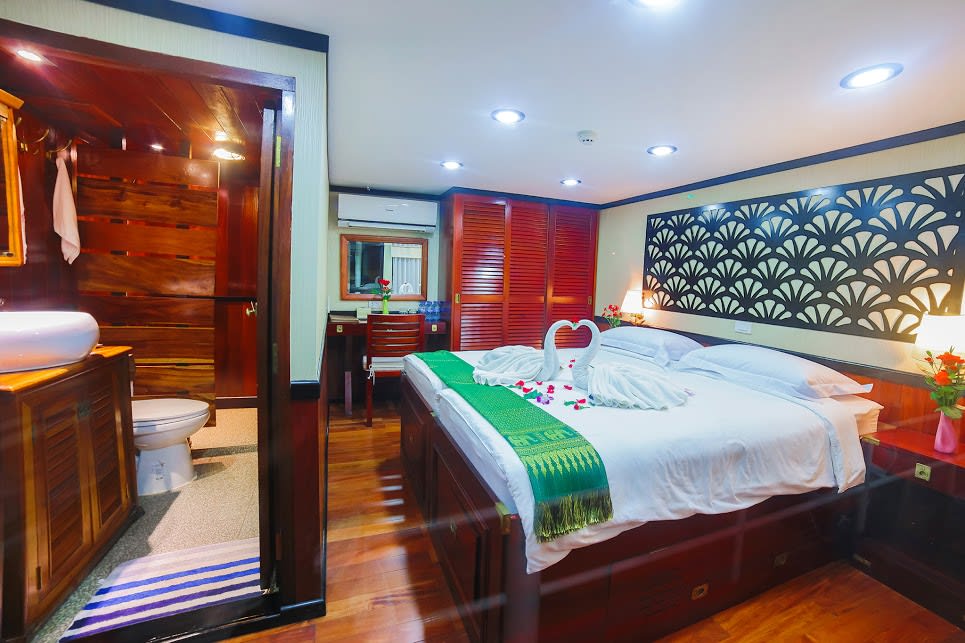 12 Cabins
Main Deck Cabin
Size
16 sq m / 172 sq feet
On the Main Deck of the Lan Diep cruise, there are 12 cabins measuring a roomy 16 square meters each. All cabins and bathrooms are tastefully decorated and comfortably furnished, and include a dressing table and ample storage. Slip on your fluffy complimentary slippers and robe de chambre and enjoy great views along the river from large panoramic windows. Your bed can be double or twin as desired.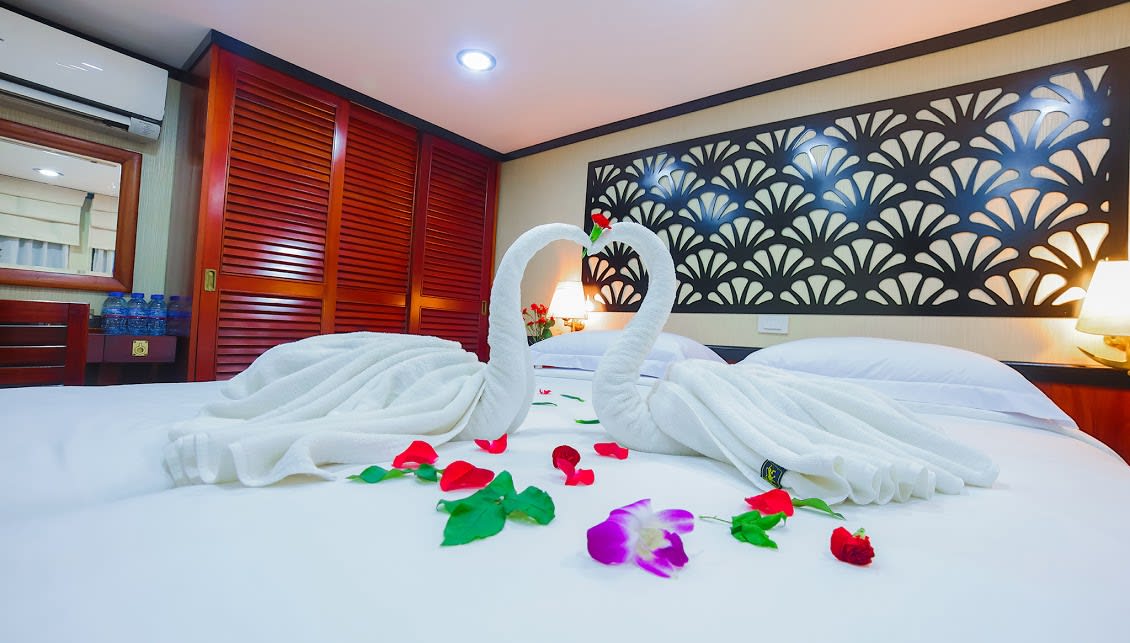 10 Cabins
Upper Deck Cabin
Size
16 sq m / 172 sq feet
All ten of the Upper Deck cabins aboard Lan Diep are spacious, measuring 16 square meters in size, and afford guests ample storage and modern comforts. Chill out with stunning views over the river from the large panoramic window, doze in the dreamy comforts of your premium mattress beds, and freshen up from the days activities in your ensuite bathroom with luxurious branded toiletries. The twin beds can be configured as a double if desired.