Overview
Launched in 2019, La Jangada is one of the newest ships in the Amazon and the only luxury catamaran in the region. This 12-cabin ship welcomes up to 29 guests for chartered trips ranging from 4 – 8 days. No matter the itinerary selected, the focus is always on providing remarkable comfort, quality service, and specialized activities.
Life Aboard The La Jangada Cruise Ship
While on a La Jangada cruise, it is possible to feel perfectly comfortable and pampered in the wilds of the Amazon. A total of 13 crew members will help turn your stay into a lifetime of memories. The ship's interiors are decorated with contemporary art and indigenous artifacts to blend modern style with the attitude and history of the Amazon. The 95-foot steel catamaran features a large dining area on the upper deck.
A Brazilian chef serves local favorites, such as feijoada – a stew of beans with beef or pork, or bolinho de piracui – fried balls of fish accompanied by dipping sauces. At the top of the ship, several social and public areas make up the ship's heart. A large lounge bar serves everything from fresh-squeezed juices to Brazilian cocktails and offers soft, comfortable seating out of the sun. Head out to the observation deck to recline in comfortable lounge chairs to watch for wildlife on the riverbanks or gaze at the stars.
Excursions From Your La Jangada Amazon Cruise
While life aboard the La Jangada is all about relaxing in an upscale environment, the activities and excursions are opportunities to get close to nature and delve into Amazonian communities.
Along the way, you will fish for giant catfish in the Purus River in hopes of adding something extra to the night's meal. Rides in two aluminum low-emission speed boats allow you to search for pink dolphins, caimans, otters, and jaguars. You will also visit the village of Bethania, where you will learn about traditional rituals and watch an initiation ceremony to welcome young women in the community.
Accommodations
Social Areas
Terrace
Corridor
Indoor Lounge
Bar
Lounge
Dining
Indoor Dining
Restaurant
Embarkation
Bridge
Suites & Cabins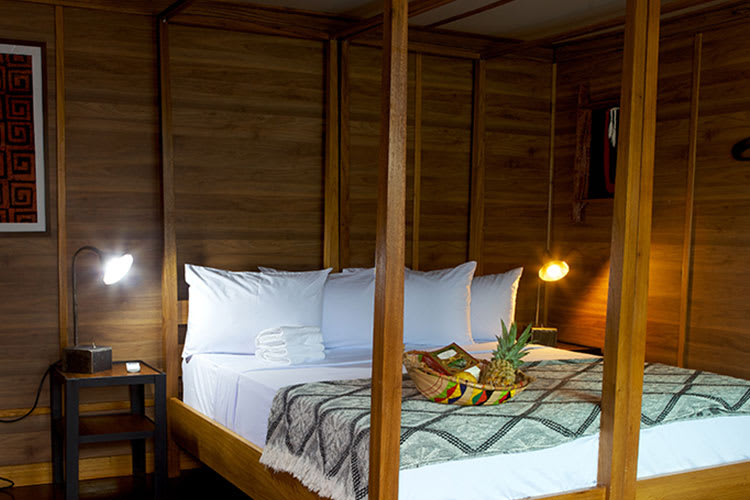 Size
16-19 m² / 172-205 ft²
These air-conditioned rooms feature a smoke detector to ensure the guests' safety. The room comes with a desk, a chair, and a lamp for guests looking to work. The private bathrooms are equipped with hot water and basic amenities like soap and shampoo.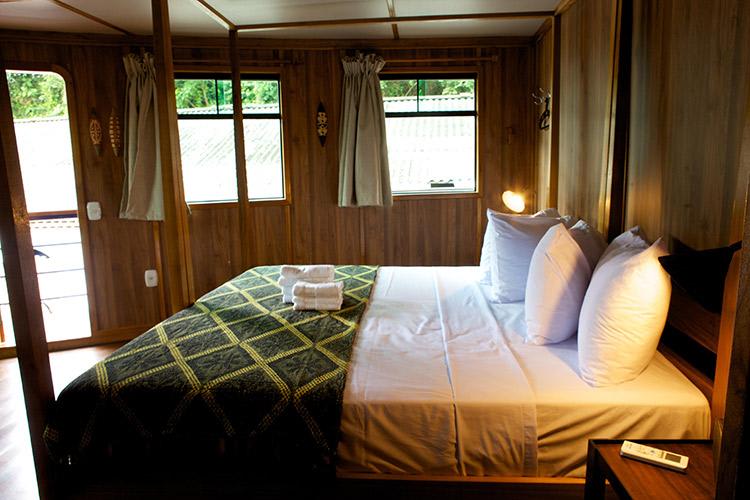 Guests can enjoy the fantastic view of the Amazons from the large windows in these cabins. They feature a desk, a chair, and a lamp for guests who want to read. The private bathrooms come with hot water showers and soap, shampoo, and a hairdryer.
These spacious and air-conditioned cabins come with extra-large balconies for guests to relax and enjoy the magnificent scenery of the Amazons. The private ensuite facilities are fully equipped with hot water, a hairdryer, shampoo, and soap to help keep guests refreshed.