Overview
The Loy Dream Cruise delivers a lavish and intimate way for just four guests to experience the 'Land of Smiles' along Thailand's majestic Chao Phraya River. The vessel is an historic teak rice barge, which has been impeccably restored and reincarnated as a delightful river cruise ship that takes her cue from a bygone era of travel.
You can expect graceful décor, white-glove hospitality ‒ including round-the-clock butler attention ‒ gourmet meals prepared by a private chef and the services of an expert tour guide well-versed in regional history.
Only Two Staterooms
Ornately decorated in polished mahogany and teak, the two Staterooms on the Loy Dream each offer 269 square feet of fully air-conditioned living space, with design evoking the charms of old Siam. Each has an en-suite bathroom designed in soothing marine colors and equipped with herbal soaps, a hairdryer, every modern comfort and amenity.
Each stateroom is supplied with luxurious bedding, soft bathrobes, slippers, a vanity area, make-up mirror and a safe deposit box. Regular and feather pillows are provided for extra comfort.
Gourmet Dining
Presented in the dining room with exceptional views of the water, the daily-changing Michelin starred menu by the acclaimed Thai chef, Thitid "Ton" Tassanakajohn, of Le Du Bangkok restaurant, features Royal Thai cuisine and European dishes, with locally sourced produce.
You can also look forward to afternoon tea and sunset cocktails served with canapés such as tiger prawn wrapped bacon, and coriander tofu skewer with peanut sauce. Decadent brunches feature delights such as Canadian lobsters, an oyster bar, and caviar paired with fine wines.
Aboard The Loy Dream
The Loy Dream's sophisticated interiors showcase traditional craftsmanship and regional influences evoking the heritage of old Siam. Relax on the Sun Deck sipping Champagne or savoring lavish afternoon teas. Watch life along the river unfold from the comfort of your elegant Dream Stateroom.
Relish a traditional Thai massage, while you're on board, administered by skilled therapists who will stretch and pull your body through a variety of poses to stimulate your blood flow, reduce stress, increase your flexibility and boost your energy.
Entertainment
Communal areas have been purposely designed to host sunrise yoga, traditional dance performances and other activities promoting cultural immersion. Something marvelous to watch during your voyage is a Muay Thai demonstration; this martial art, which is unique to Thailand, was developed several hundred years ago and is a form of close-body combat that utilises the whole body as a weapon.
On Shore Activities
Every day is filled with adventure, serendipitous moments and discoveries. Guided excursions might include cycling on Bang Kachao island, a tuk-tuk ride around the royal palaces, and walks around the UNESCO World Heritage Site ancient town of Ayutthaya.
During your exploration of some of the region's most spectacular sacred temples, you can participate in Thai rituals ranging from feeding the fish and encouraging the cycle of life, to making a donation to the monks.
This entire exquisite barge is yours to commandeer for parties of up to four looking for an unforgettable vacation. A magnificent way to celebrate a special occasion.
Itineraries & Prices
Embarkation
AM: Depart from the pier at Anantara Riverside Bangkok Resort. Once on board, we are pleased to welcome you with a refreshing herbal drink. For your added pleasure, a complimentary bottle of sparkling wine will be arranged for your trip. After a brief introduction of the crew, we set sail on a journey of fascinating discoveries. Arrive at the magnificent Temple of the Dawn, or Wat Arun; one of the best-known temples in Bangkok which dates back to the ancient Ayuthaya period. Explore the amazing wonders of the National Museum of Royal Barges and Wat Kanlayanami before lunch.
PM: Visit the island of Koh Kret and as we continue our journey, spend the afternoon relaxing on the boat, savouring a traditional English afternoon tea while watching vivid snapshots of river life unfold. A quick stop at Wat Pathum Khong Kha to feed the fish, which offers a simple way of making merit and gaining good luck, before arriving at Wat Samakkiyaram in time to enjoy the eventide, with sunset cocktails and Thai canapes on the deck. Participate in a simple Thai cooking class with the chef, where authentic flavours and aromas will excite your senses. With Wat Samakkirayam providing a dramatic backdrop, enjoy a traditional Thai dinner, including the fruits of your labour from the earlier cooking class. Relax on deck, with a glass of wine or nightcap before retiring to your stateroom for your first night on the river.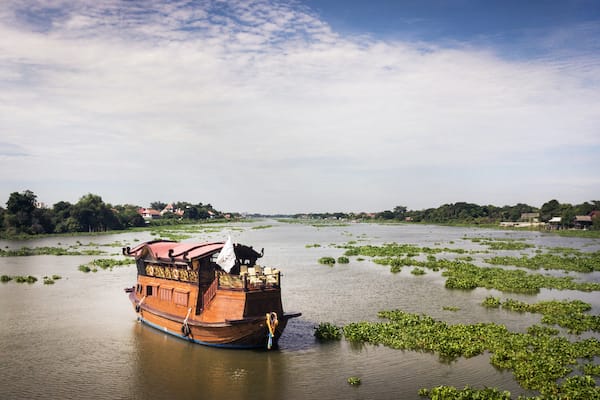 Wat Phanancherng
AM: Enjoy your freshly prepared breakfast. Recline on a deck lounger and watch river life float past as you cruise up the Chao Phraya River through the Thai countryside. Stop briefly at Wat Bote which offers a wonderful chance to make merit with the monks followed by a tour of the temple.
PM: After lunch, we arrive at Wat Phanancherng for a tour of this old monastery which houses Thailand's largest ancient Buddha image. A limousine with a guide will then transfer you to the UNESCO World Heritage site of Ayutthaya. This ancient capital was founded in 1350 by King U-Thong and it was from here that the Siamese ruled their Kingdom for 417 years. Take a limousine transfer to Bang Pa In Summer Palace, one of the 16 districts of Ayutthaya, where you will rejoin Loy Dream. Relax and freshen up in your private ensuite stateroom. Head up to the deck for aperitifs and canapes, before a traditional Thai dinner is served.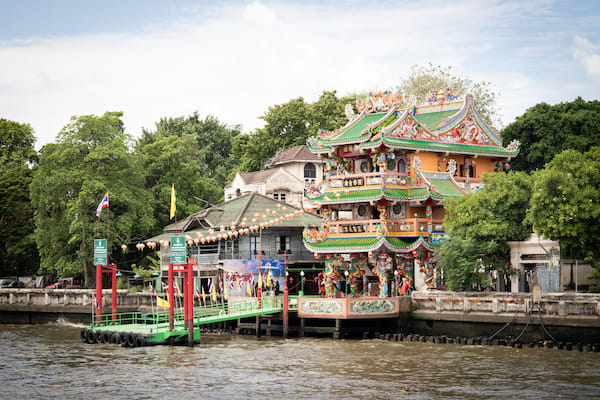 Location
Chao Phraya River
Disembarkation
AM: After a freshly prepared breakfast, your personal guide will meet you at Loy Dream and begin the tour of Wat Niwet Thammaprawat - one of the most intriguing temples in the region. From Wat Niwet Thammaprawat take a short walk to the Bang Pa In Summer Palace, the original palace was built by King Prasat Thong on the island and was used as a country residence for the later kings of the Ayutthaya period. Travel to a local market with a limousine transfer and guide to enjoy a simple local experience.
PM: After a short guided tour, we will depart at around noon to rejoin Loy Dream. A light Thai set lunch will be served as we head back to Bangkok, followed by afternoon tea before arriving back at the Anantara Riverside Bangkok Resort pier.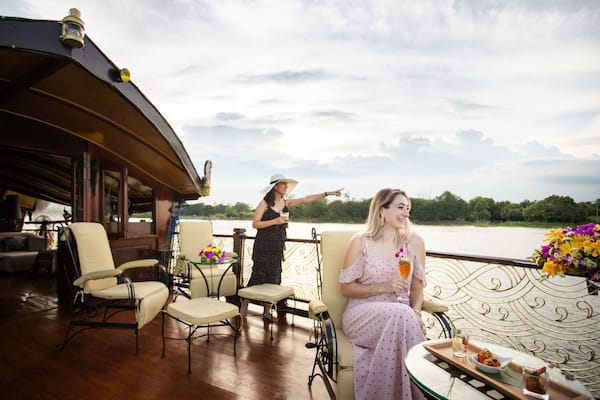 1 / 3
Accommodations
Social Areas
Bridge
Deck
Dining Room
Lunch
Observation Deck
Deck
Suites & Cabins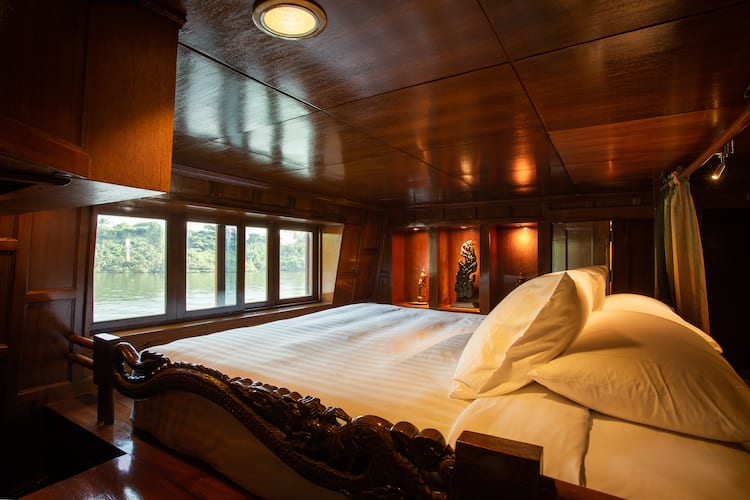 These cabins are designed to the highest of standards with polished mahogany and teak. The cabins also feature luxurious bedding, slippers, soft bathrobes, a safety deposit box, and a makeup mirror. These air-conditioned rooms come with regular and feather pillows for extra comfort.