Dallinghoo Yacht
Dallinghoo Yacht
An exquisite gaff-rigged topsail schooner exploring Southeast Asia's most sought after destinations.
Exclusive, private cruise based on full occupancy
Overview
Built in South Africa in the 1990s, the 100-foot Dallinghoo is an exquisitely restored traditional gaff-rigged topsail schooner that blends the classic design and nostalgia of a tall ship with all the comforts of a modern yacht. Accommodating up to eight guests in four air-conditioned cabins, she is available for charter in some of Southeast Asia's most sought after locations.
Life On Board
Dallinghoo's nautical interiors are characterized by light painted wood with varnished teak paneling and hardwood trims, while her floors are comprised of varnished hardwood throughout. The boat's indoor areas include the kitchen-galley, a saloon and dining area equipped with a large table with a u-shaped sofa and chairs, and a large TV and DVD player. There is also an alfresco dining area on the deck and plenty of open-air lounging areas to sunbathe or relax in the shade of a full awning.
Dallinghoo's professional, knowledgeable crew of six includes a captain, cruise director and a private onboard chef. An expert in both western and Asian cuisine, she serves up delicious fusion dishes and barbequed delights using produce sourced from the local markets, as well as freshly caught fish and seafood, to fuel your adventures and delight your tastebuds. A dive master and a masseuse are available on request to ensure the highest possible level of service.
For Your Pleasure
The Dallinghoo Yacht is jam-packed with water toys that you'll be free to use, including a powerful RIB that will transport you to white sand beaches, four kayaks, two stand-up paddle boards, and much more. For sailing enthusiasts, there's a vintage gaff-rigged sailing dinghy on board, which has been lovingly restored and offers a peaceful way of exploring the bays and lagoons in which Dallinghoo anchors. There is also fishing gear, eight sets of scuba diving gear for certified divers, and two petrol driven portable diving air compressors.
From November to April, Dallinghoo is available for charter around Phuket in Thailand and Langkawi in Malaysia. Sometimes the Myanmar Mergui Archipelago and India's remote Andaman Islands are also options. From May until October, Dallinghoo cruises Borneo, Tioman Island in Malaysia, and the pristine and breathtakingly beautiful Anambas Islands of Indonesia, which are still so secluded that sailing here is like Paradise Found.
Itineraries & Prices
Embarkation
PM: The Yacht Haven Marina is a 15 minute drive from Phuket International Airport and you will be arriving onboard Schooner Dallinghoo in the afternoon.
After a short familiarization and safety briefing, your first day will bring you east or north towards the splendor of Phang Nga Bay. The dramatic high-rising limestone cliffs provide a stunning start to your charter holiday before you pass James Bond Island and Koh Panyee.
James Bond Island was made famous by appearing in the James Bond film, The Man with the Golden Gun. We suggest that you visit this at the start or end of the day in high season, since many speedboats from Phuket or the mainland will bring tourists there in the middle of the day.
Koh Panyee is a fisherman's village built on stilts, and underneath a giant rock face. This is a fascinating place to have lunch and buy local handicrafts.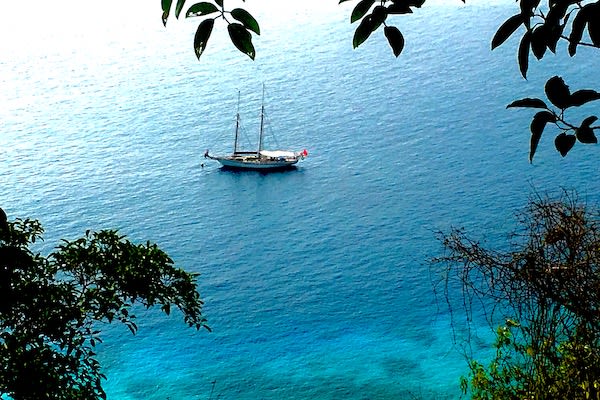 Phang Nga Bay
AM: Day 2 will bring you to the north of Phang Nga Bay where you will find hundreds of small islands, caves, bays and inlets, ideal for exploring by kayak of small dinghy. In fact, many of the best places to visit can only be reached this way. Some of the most spectacular caves can be found on Koh Hong, and they are best explored when the tide is low.
PM: Sail slowly past the island of Khao Khien and see the ancient paintings of boats and animals on the rock walls.
Krabi
AM: Heading south, the third day of your charter will bring you towards Krabi and the beach at Ao Nang Bay. Many resorts, shops, restaurants and nightlife spots line the shores along this bay. Even more secluded just to the south is the world famous Railay Beach, protected from road access by rock walls either side.
PM: More kayaking to be done, or even a little rock climbing? And, unlike the waters in the very north of Phang Nga Bay, the waters here are further south and offer very good diving and snorkeling opportunities.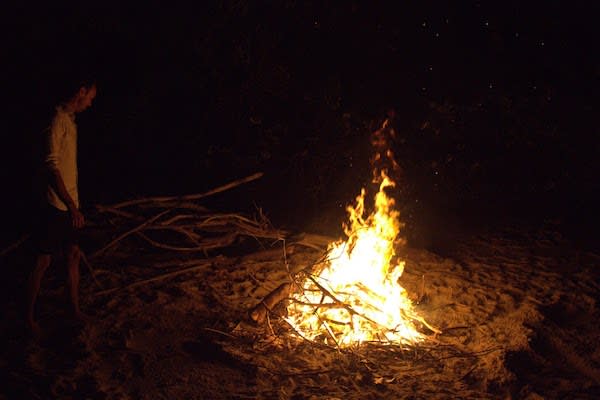 Koh Lanta
AM: If you can drag yourself away from the stunning Railay Beach, head south to the 70 small islands surrounding Koh Lanta. This area offers an abundance of white sandy beaches, with stunning forested coastlines, and loads of underwater marine life to explore.
PM: Lanta is far away from the main towns of Phuket and Krabi, and offers a far more peaceful version of Thailand. In fact, so peaceful that 1 day might not be enough here!
Phi Phi Islands
AM: Spectacular cliffs rising vertically out of the clear blue sea, idyllic tropical beaches, and lagoons surrounded by rock walls, have made Phi Phi Island famous all over the world. This was the location for The Beach, starring Leonardo Di Caprio. There is an abundance of snorkeling and diving opportunities around the islands, many of which are uninhabited.
PM: Also, many of the cliffs are scalable, and the views of the sunset from above and truly amazing. There is also a range of top class restaurants to choose from, and a very active nightlife scene.
Koh Yao Yai
AM: West of Phi Phi is the island of Koh Yao Yai, It's characterized by sandy shores, mangroves, rubber plantations and fishing villages. Beaches include Loh Paret and Loh Jark.
PM: An ideal place for some exploring ashore or just to spend the final day chilling out on board.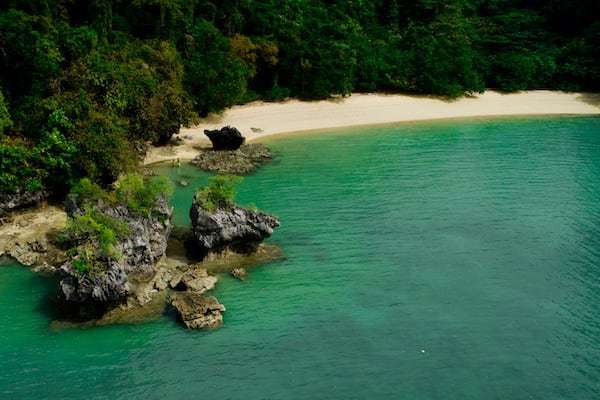 Disembarkation
Heading north back to the main island of Phuket, after a leisurely breakfast on board Dallinghoo will sail the short distance to your disembarkation location on Phuket.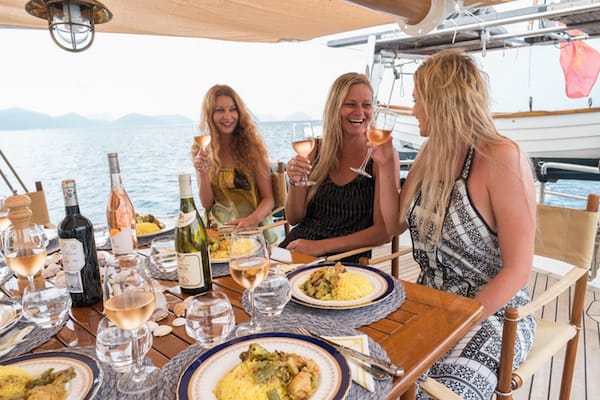 1 / 7
Embarkation
AM: Pick up will be arranged from your hotel or the airport and you will be brought to the harbor to board Schooner Dallinghoo. After the Captain has given you your safety briefing and familiarization tour, you can relax on the deck with a welcome drink as the yatch sets sail into the Phang Nga Bay, stopping at Koh Hong (Room Island).
PM: Koh Hong's Pelay Beach is framed by limestone where during high tide speed boats can enter the 'room' and visitors can swim in crystal clear water about a meter deep. Phang Nga Bay is made of karstic islands that have become the symbol of Phuket around the world after appearing in the James Bond film "The Man With The Golden Gun" and these islands can be enjoyed by Dallinghoo's tender, kayaks and SUP's (stand-up paddle boards). Dallinghoo will anchor amongst these limestone islands for the night.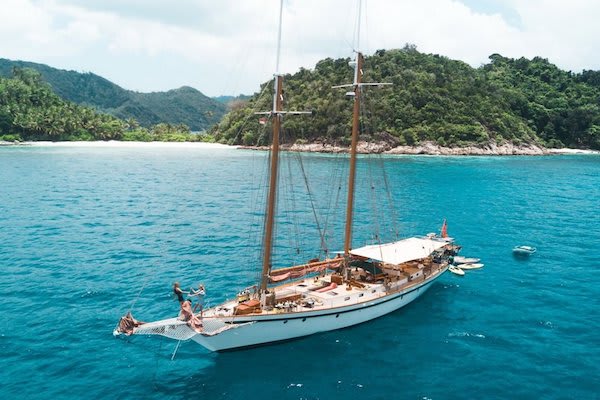 Krabi
AM: A leisure start to the day with a sail to Le Roi beach near Ao Nang, one of Krabi's most beautiful coves.
PM: Le Roi is famous for its sunsets over the Andaman Sea, with its spectacular limestone pillars coming out of the sea - many popular with rock climbers. Ao Nang offers many shops, restaurants and bars lining in the shore of this popular bay, Dallinghoo will anchor here for the night.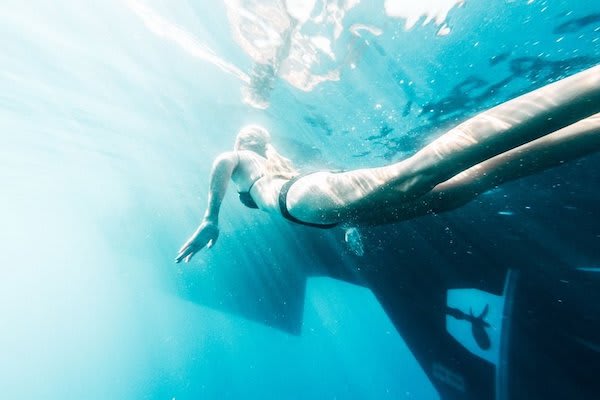 Phi Phi Don & Lei
AM: The "Koh Dam Kwan" Islands - Phi Phi Don and Phi Phi Lei are extremely picturesque with craters like bays and towering cliffs plunging into crystal clear water. Phi Phi Don has the village which is now all tourist bars and shops with famous night life, much of it on the sand and beach.
PM: Phi Phi Lei has the 'Maya' beach made famous as the film location for 'The Beach' starring Leonardo Di Caprio. The hilltops are scalable and offer a perfect view of the island and bays before sunset. Dallinghoo will remain anchored at Phi Phi Don to enjoy an evening ashore.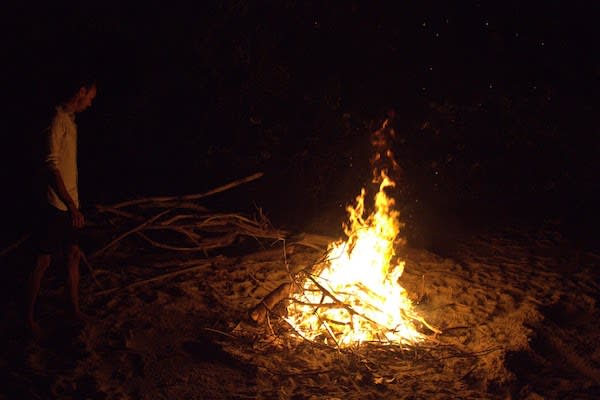 Koh Lanta
AM: An early morning cruise and breakfast underway to the island of Koh Lanta with its mile-long beaches and small rocky islets that surround a well-preserved marine conservation area.
PM: Koh Lanta has a few low-key resorts and beach bars for those wishing to spend some time ashore.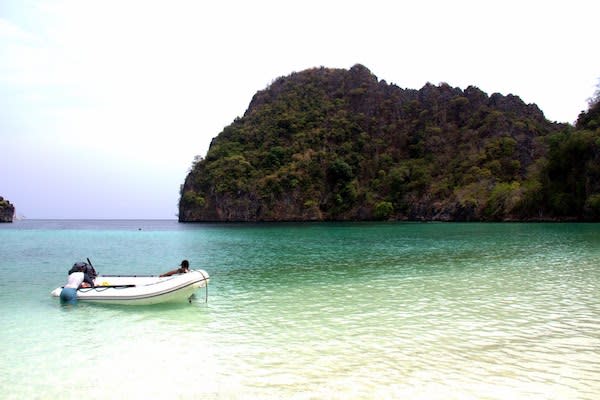 Koh Muk, Koh Liang & Koh Petra
AM: Dallinghoo will slide away from Koh Lanta at dawn and be anchored off Koh Muk for breakfast and guests can venture ashore on the kayaks and paddle through the cave to the inner lagoon and beach - this experience will never be forgotten and must be done before the tourist boats arrive with the crowds of day-trippers.
PM: Once back on board, Dallinghoo will sail south to the island of Koh Liang and Koh Petra, part of the Trang National Park and find a beautiful beach to anchor off. As we venture further south, less boats and a lot less people will be seen.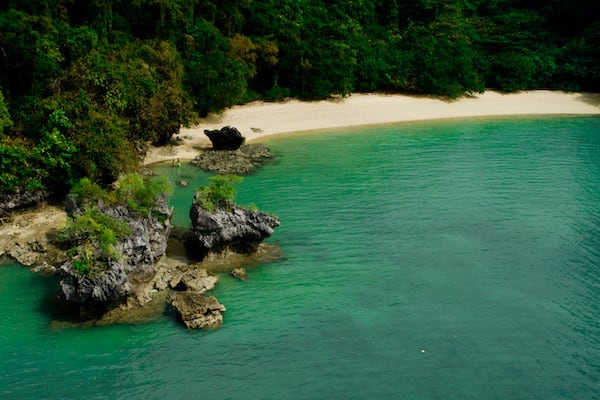 Koh Rawi, Koh Adang
AM: Dawn will see Dallinghoo moving out a little further into the Andaman Sea and from the Trang National Park to the Tarutao National Marine Park, here is the Butang Island Group. Dallinghoo will spend two days in these islands, Thailand's most southern and boarding onto Malaysia - last but not least as these are some of Thailand's best islands and least known.
PM: The group consists of 51 islands and islets and was originally home to Malaysian Sea Gypsy settlements. Wild boars, civet cats, hornbills, monitor lizards, python and cobras are commonly spotted in the park. You will anchor in the sheltered crystal clear waters between Koh Rawi and Koh Adang, here we will spend the night in the true tropical paradise.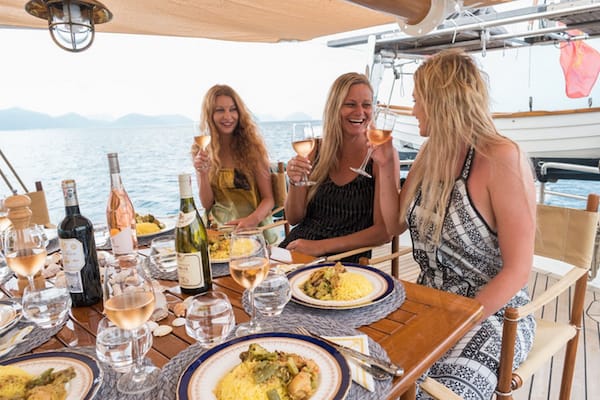 Koh Lipe
AM: Your last full day on board will start slow with the morning remaining at Koh Rawi enjoying the crystal clear water with a final snorkel or paddle board.
PM: After lunch, Dallinghoo will move around the short distance to Koh Lipe. Though a small island in the group, it is the island the group is most famous for and over recent years has seen low key development with a number of boutique resorts and good restaurants and bars most open to the beautiful beach. Dallinghoo will remain here for the night.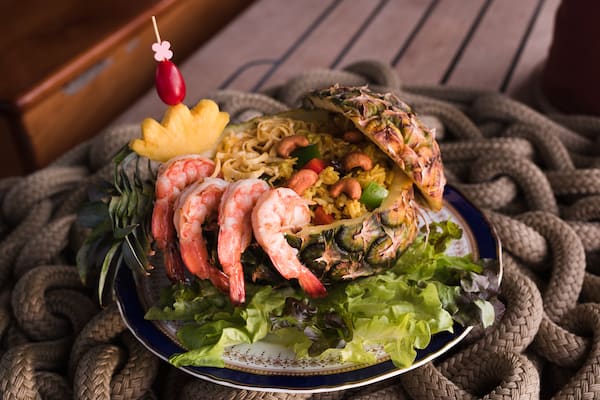 Disembarkation
AM: An early start for the Dallinghoo's crew who will up anchor at dawn for the passage from Koh Lipe to Langkawi - leaving Thailand and entering Malaysian water. Dallinghoo will arrive at Telaga Harbor, where customs and immigration are based all within a very short distance from the airport for your onward flights. For those with more time, Langkawi is one of the top Malaysian tourist islands offering a number of top hotels and a great place to spend a few days.
*Please note that all itineraries are subject to change, depending on weather conditions, progressing harbor clearance, changes to domestic flights and other deciding factors.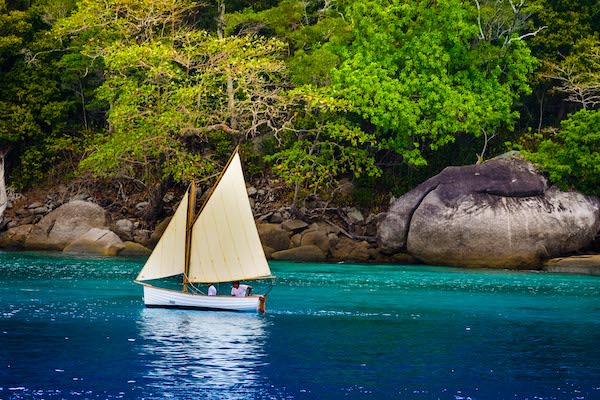 1 / 8
Accommodations
Social Areas
Salon
Wheel
Deck
Library & Bar
Outdoor Dining
Galley
Suites & Cabins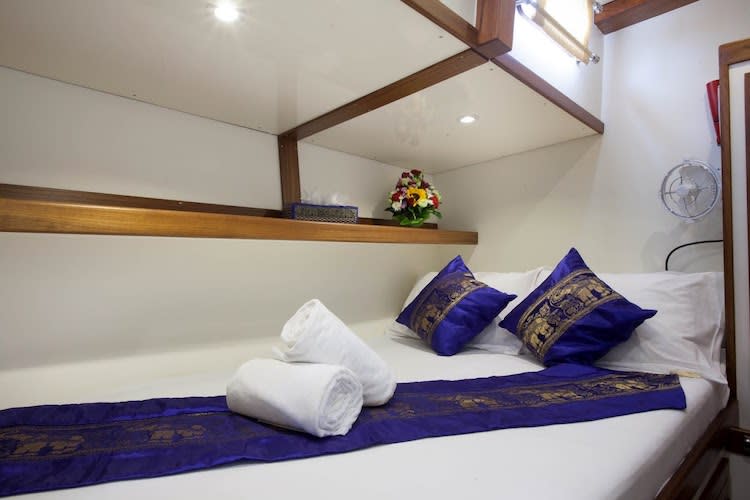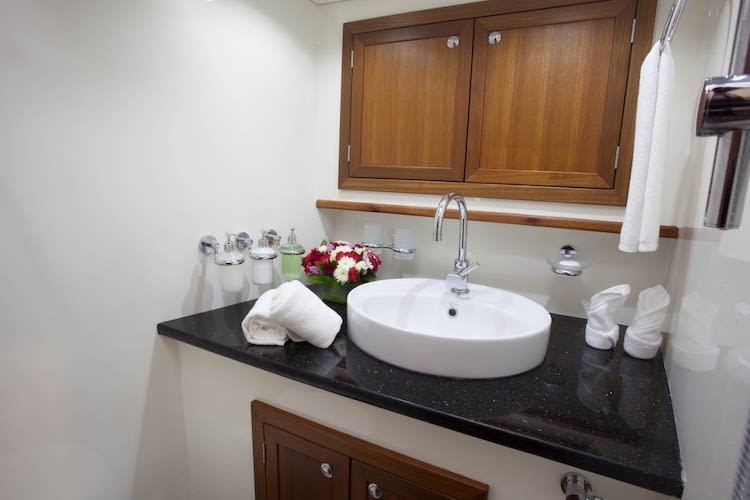 Size
2.2-2.5 m² / 23-27 ft²
There are three deluxe cabins on board Dallinghoo, a 'VIP' cabin that lies on the starboard side of the main saloon which has a double bed and 32″ LG bulkhead mounted Smart TV, and two slightly smaller forward cabins, one double and one twin bunk cabin.
All come with ensuite facilities include a shower, toilet and washbasin, ample storage space and 220V power points along with USB charging points to fit all modern phones, laptops and cameras.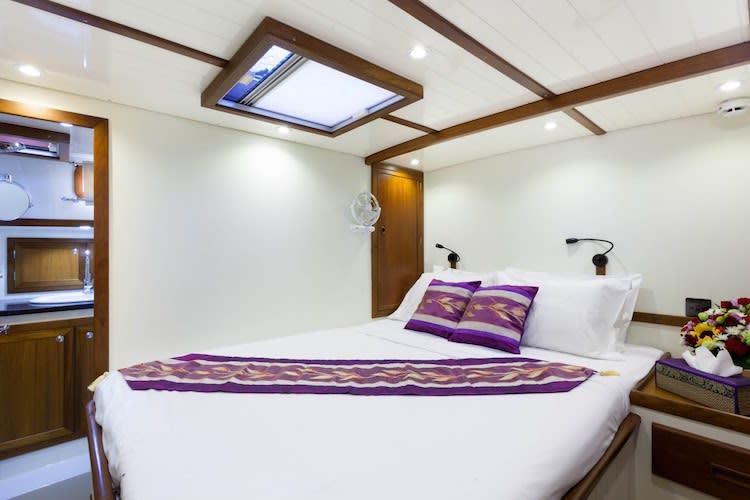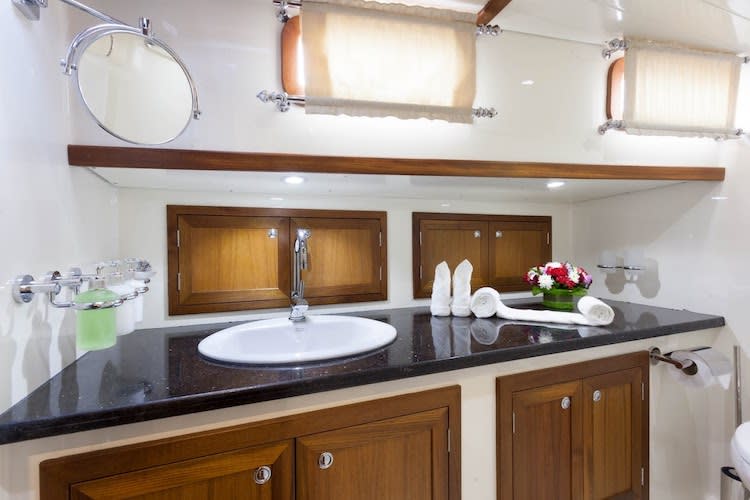 The more spacious than its counterparts, the Master cabin spans the full beam of Dallinghoo Yacht's aft section and is fitted with a double bed, seating area, a 32″ LG Smart TV, storage space, and an ensuite bathroom with a shower, toilet and washbasin.