Overview
The family-owned Galapagos Safari Lodge is tucked into a 123-acre farm on Santa Cruz Island and features nine upscale tents, plus one family lodge. Perched on the rim of an extinct volcano and at the edge of Galapagos National Park, the lodge is immersed in the area's raw beauty. Yet, the safari camp maintains an air of relaxed luxury thanks to modern facilities and upscale offerings.
Life At Galapagos Safari Camp
Galapagos Safari Camp hotel is luxury camping at its finest. After waking in a plush bed to the sounds of bird calls, sip Ecuadorian coffee on your private balcony or relax in your hammock. But that is only the beginning of what awaits you. This is a place where some of the most interesting creatures on the planet still thrive, so you may be privileged to see a giant tortoise creep across the lodge or a mockingbird flit nearby.
Families are well catered for – the Family Suite sleeps six – and young travelers will adore family-friendly activities such as crafts and story times. Go for a swim in the infinity pool or just float while savoring the views. Then, make your way to the main lodge to warm up by the fireplace. With a book from the small library, it is a peaceful spot to spend to evening. As the day begins to wane, pick up a sundowner from the bar and take the short walk to the lodge's viewpoint, where you can watch the sunset and toast to another day in paradise.
Excursions From The Galapagos Safari Camp Hotel
The family behind Galapagos Safari Camp knows that authentic experiences are not one-size-fits-all. Faithful to the lodge's vision of personalized hospitality, Galapagos Safari Camp creates tailor-made itineraries suited to your interests and schedule. Three pre-designed safaris can serve as a jumping-off point for your unique stay.
The Classic Safari is an introduction to the Galapagos and features a drive to the eastern side of the island to black lava beaches and a lagoon of flamingoes. The Family Safari aims to engage parents and children in activities such as visiting local fishers and meeting tortoises while also providing ample downtime.
Scuba diving in the Galapagos is a dream of many dive enthusiasts, and the lodge offers custom dive safaris with two dives each day. Blow bubbles at Gordon Rocks in hopes of seeing Galapagos sharks and white-tip reef sharks, or go below at North Seymour Island for a chance to see green turtles and spotted rays,
Unique Culinary Journeys At The Galapagos Safari Camp
When it's time for a bite to eat, select a seat at the long indoor dining table or on the veranda to watch how the light changes as the sun dips. A nightly four-course tasting menu features farm-to-table ingredients, Ecuadorian cuisine, and international delicacies. Dishes such as roasted pork leg, marinated in beer and lemon, and accompanied by passion fruit sauce will delight and surprise.
As you nibble, enjoy a glass of South American wine from a well-curated list. For an even fresher take on dinner, customize your stay to include a fishing experience. The camp's chef will prepare your catch to your liking, be it fried, steamed in leaves, or as sashimi. The team at Galapagos Safari Camp can also set up a private picnic in fascinating locations, such as the wilds of the Highlands or inside the tubes of a lava tunnel.
All the details (and heavy lifting) are taken care of, simply make your way to the site and enjoy. Chocolate lovers will also enjoy a unique tasting experience featuring the first Galapagos chocolate, created from Cacao beans grown right at the Galapagos Safari Camp.
From its location amid the highlands' lush vegetation, Galapagos Safari Camp is an ideal springboard for a land-based tour of Santa Cruz Island. Charles Darwin made the Galapagos archipelago famous almost two centuries ago, and today you can experience it for yourself.
Itineraries & Prices
Arrival to the Galapagos Safari Camp
AM - PM: Welcome to the Galapagos! An English-speaking naturalist guide meets you at the VIP lounge at Baltra Airport to escort you on your excursion to the highlands of Santa Cruz Island. Enjoy a delicious, locally-sourced lunch at a farm in the western hills. Take in the areas of natural beauty, pit craters, lava tunnels, and learn more about the Scalesia and Guayabillo forests. At the Tortoise Reserve, share some time in the giant tortoises' natural habitat, surrounded by the abundant birdlife of the area. End this day at the Galapagos Safari Camp with a sunset cocktail followed by dinner.
Location
Baltra - Santa Cruz
Explore Neighbouring Islands
AM - PM: Early morning finds you on a motor vessel to one of the neighboring islands: North Seymour, Bartolome, Plazas, Santa Fe, Floreana, or Isabela. Each island is an endemic treasure to explore and enjoy. The Galapagos Marine Reserve is the second largest marine reserve in the world, and snorkeling off the boat is highly recommended. Destinations will be given when we have your visit dates.
Location
Galapagos Safari Camp
Explore Neighbouring Islands
AM - PM: Again today we take time to explore the best of the neighbouring islands of the enchanted Galapagos.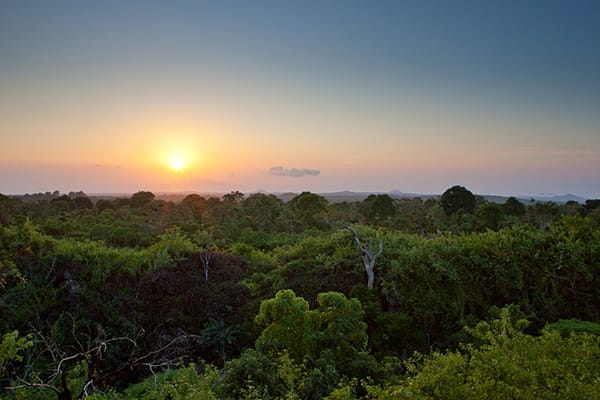 Location
Galapagos Safari Camp
Experience the East
AM: A morning drive takes you to the eastern part of the island. At 490m above sea level, Cerro Mesa Reserve offers spectacular views of the largest crater on Santa Cruz Island, exotic plants, and seven unique subspecies of finch and the elusive vermillion flycatcher.
PM: After lunch explore Garrapatero Beach, with stunning contrasts of mangroves, black lava, white sand, and turquoise water - including a flamingo lagoon. Kayaking and mountain biking are optional.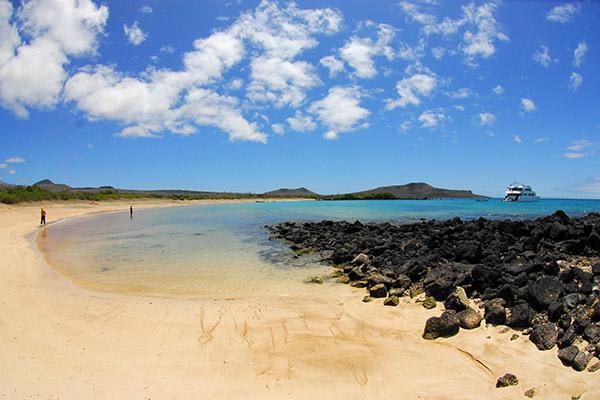 Location
Galapagos Safari Camp
Departure
AM: Enjoy the serenity that Galapagos Safari Camp has to offer. Relax, walk, or enjoy the sunrise from our observatory before departure to your next destination.
Location
Santa Cruz - Baltra
1 / 5
Arrival to the Galapagos Safari Camp
AM - PM: Your family's naturalist guide meets you at Baltra Airport. You will cross the narrow Itabaca Channel to Santa Cruz Island, and then drive up to Galapagos Safari Camp. While you settle in, your guide will capture your children's imagination with an overview of the animal species they are soon to encounter. After lunch, you may explore our 135-acre farm, pick local tropical fruit, harvest cacao seasonally, and spot local birds. Before sundown, visit the lava tunnels and search for giant tortoises roaming the National Tortoise Reserve adjacent to Galapagos Safari Camp.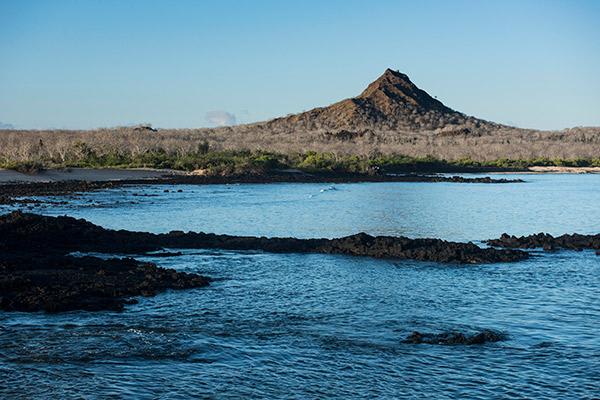 Location
Baltra - Santa Cruz
Family Activity Day
AM: After breakfast, visit a neighboring organic coffee plantation to learn about responsible small–scale farming in the Galapagos, and the children have a chance to pick coffee beans if the season allows. Then drive to the enormous Cerro Mesa crater for a short walk in the wetlands that is home to a wonderful variety of birds and the occasional bathing tortoise.
PM: After lunch at a local restaurant, jump on bikes for a downhill ride to Garrapatero Beach, where the contrast of mangroves, black lava, white sand, and turquoise water, along with its birdlife and flamingo lagoon, is magnificent. Explore the bay in sea kayaks, accompanied by marine iguanas, blue-footed boobies, and countless shorebirds. In the evening, back at GSC, parents can relax while the children take a private art class with a local artist.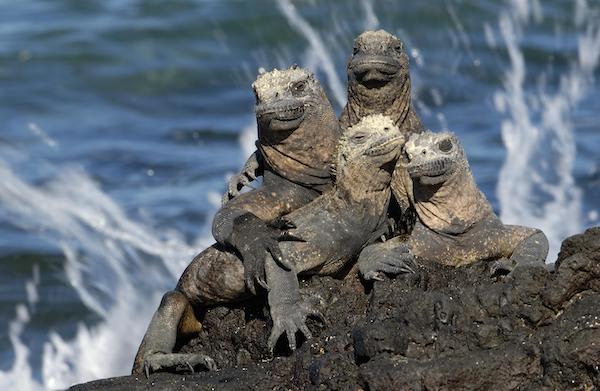 Location
Galapagos Safari Camp
Explore an Uninhabited Island
AM - PM: Spend the day spotting wildlife and snorkeling on one of the uninhabited islands easily accessed by a day–yacht from Santa Cruz Island. The exact island location depends on travel dates, but options include North Seymour, South Plazas, Santa Fe, and Bartolomé, all of which are rich in wildlife and offer wonderful snorkeling opportunities. Please note this is a shared boat excursion unless requested otherwise. Destination will depend on your dates.
Location
Galapagos Safari Camp
Fishing Adventure
AM: This excursion is both a wildlife experience and a cultural exchange opportunity. We are involved in a program with the National Park Service that aims to engage local fishermen in tourism activities as an alternative means of income, with the added benefit of protecting local fisheries from depletion. The fishermen have very safe and modern speedboats, which we charter privately for the day. With your guide acting as translator, the fishermen share anecdotes from a lifetime at sea, and the children learn local fishing tricks.
PM: After fishing, you'll land on a deserted beach and may snorkel in a spot known only to locals. If you prefer to limit fishing and enhance the snorkeling or beach experience, your guide is there to adapt the day to your preferences.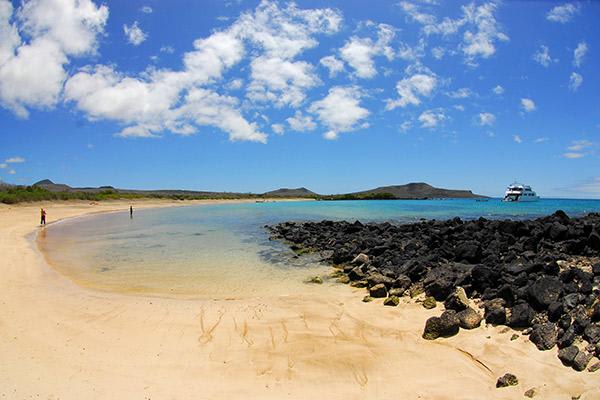 Location
Galapagos Safari Camp
Charles Darwin Research Station & Bay Tour
AM: Visit the famous Charles Darwin Research Station to learn about its preservation efforts and scientific research. The children will have an up–close experience with the tortoises that are the islands' namesake. Parents can enjoy free time to wander around Puerto Ayora, while your guide takes the children to a local playground or on a tour of the local fish market on the waterfront.
PM: After lunch, take a speedboat to Tortuga Bay, a white sandy beach with basking marine iguanas, and shallow turquoise waters teeming with white–tip reef sharks and fish. Or you can join a snorkeling boat that will take you to frolic with sea lions.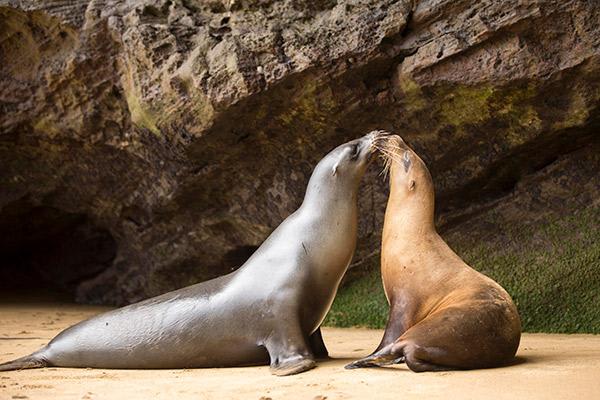 Location
Galapagos Safari Camp
Departure
AM: Enjoy the serenity that Galapagos Safari Camp has to offer. Relax, walk, or enjoy the sunrise from our observatory before departure to your next destination.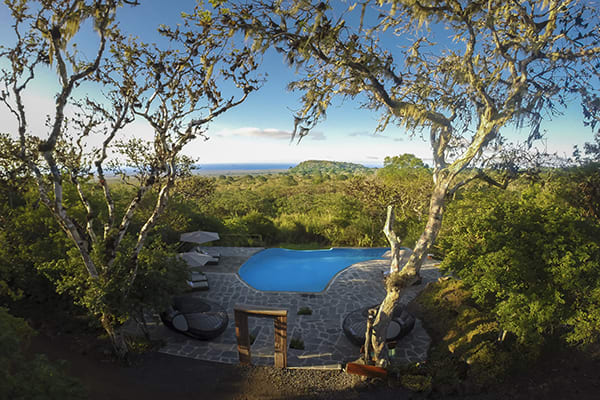 Location
Santa Cruz - Baltra
1 / 6
Accommodations
Social Areas
Entrance
Buffet Breakfast Station
Dining
Fireplace
Grill
Main Lodge
Pool
Terrace
View from Terrace
View from Main Lodge
Suites & Cabins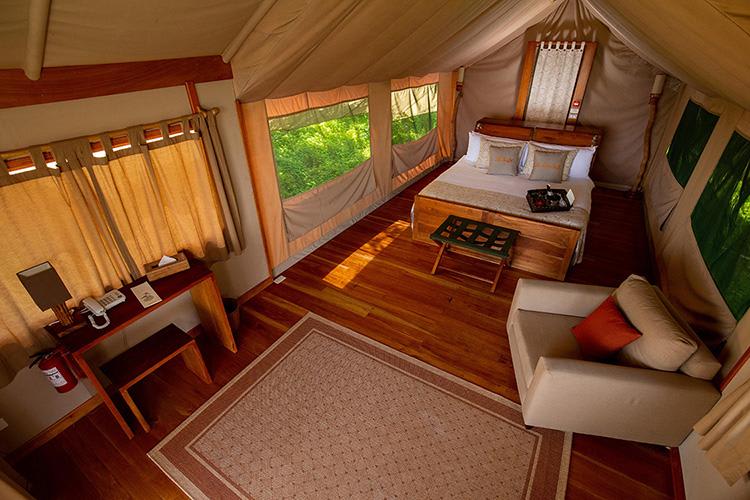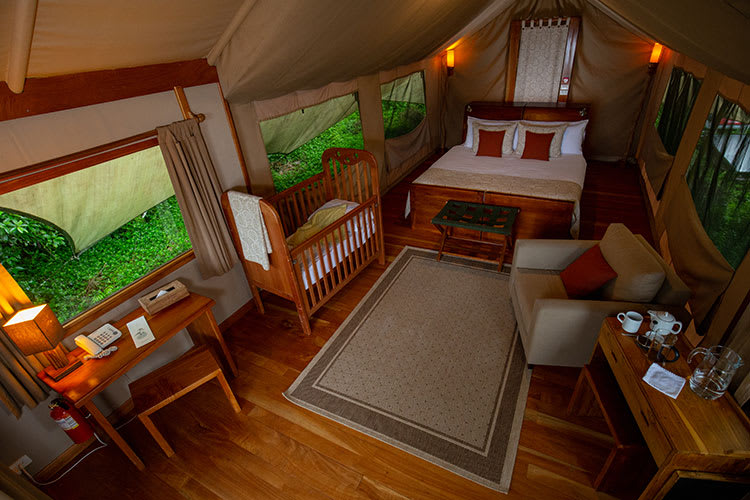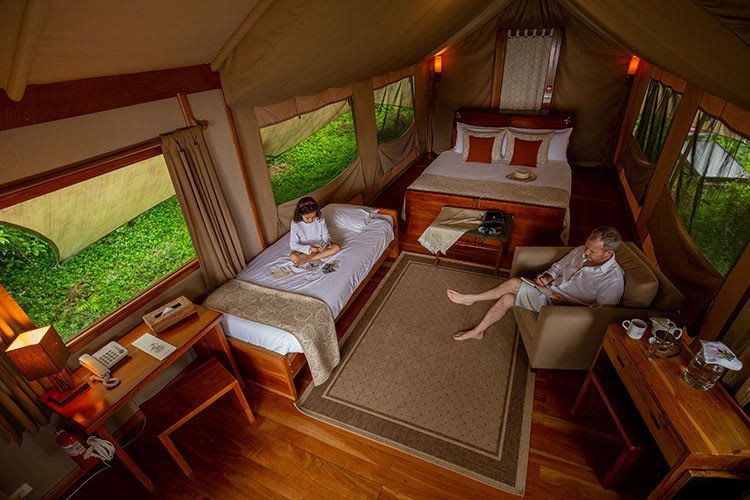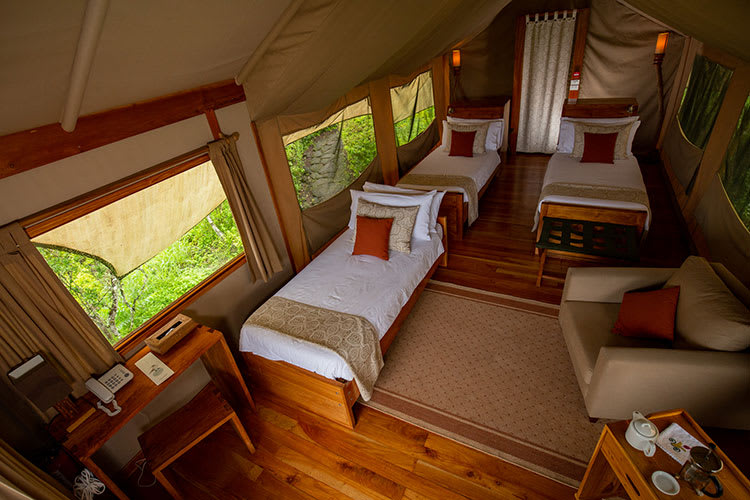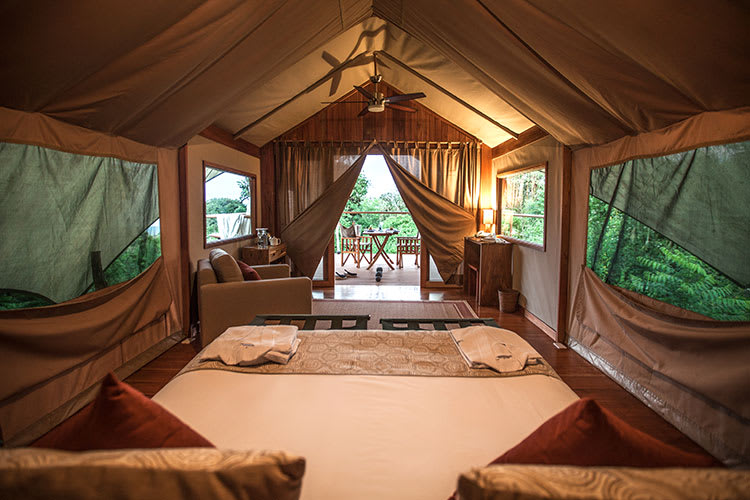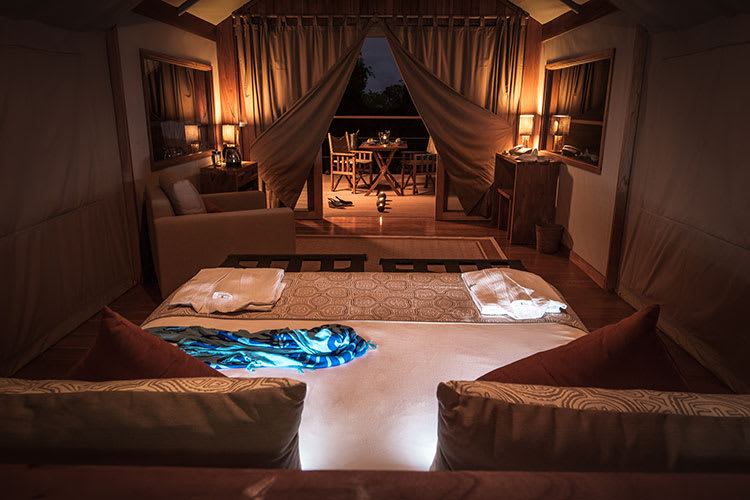 Beds
King / Twin / Triple
Guests can be assured of comfort and shelter in these spacious and stylish tents. The tents come with a private balcony for guests to relax on the hammock and several electrical outlets to accommodate various devices. The private bathrooms have hot showers and other amenities.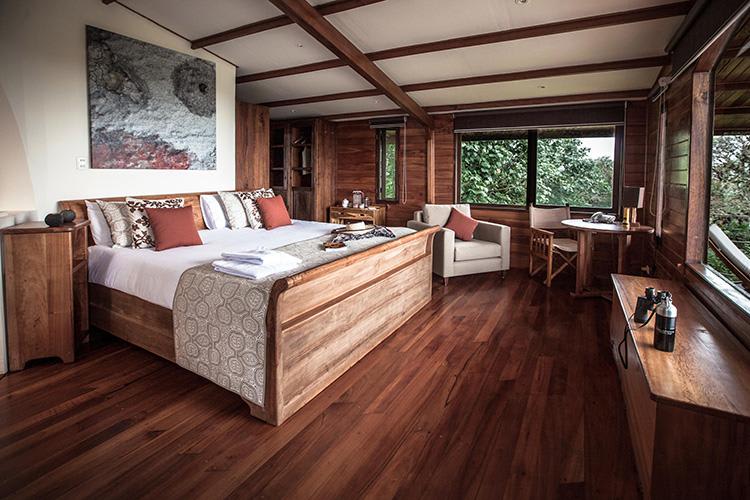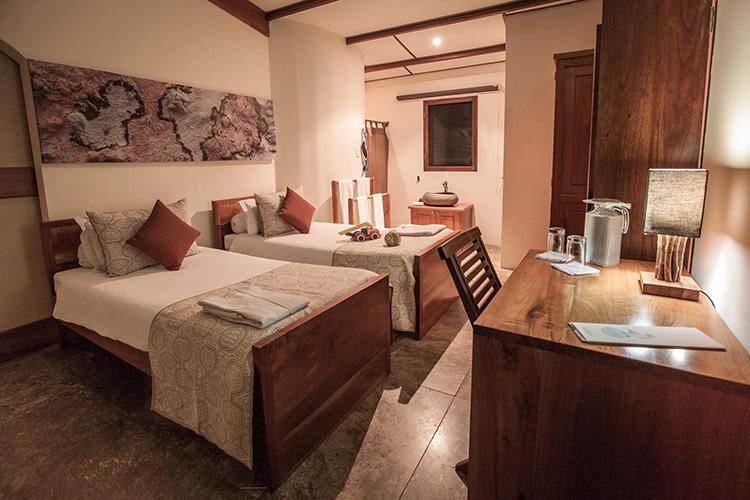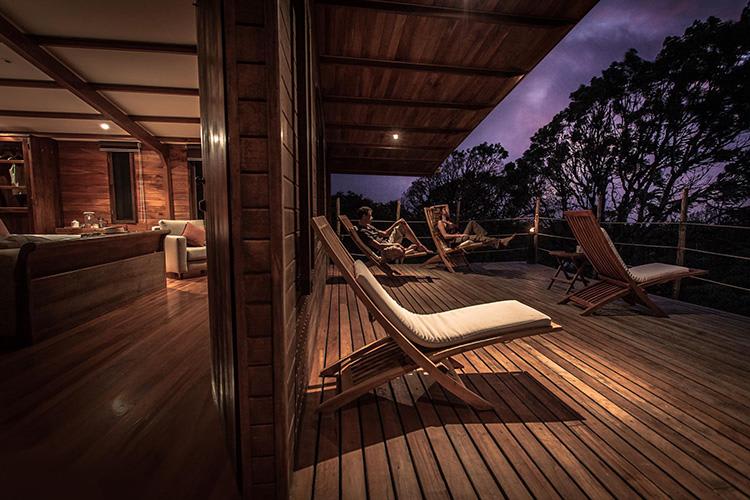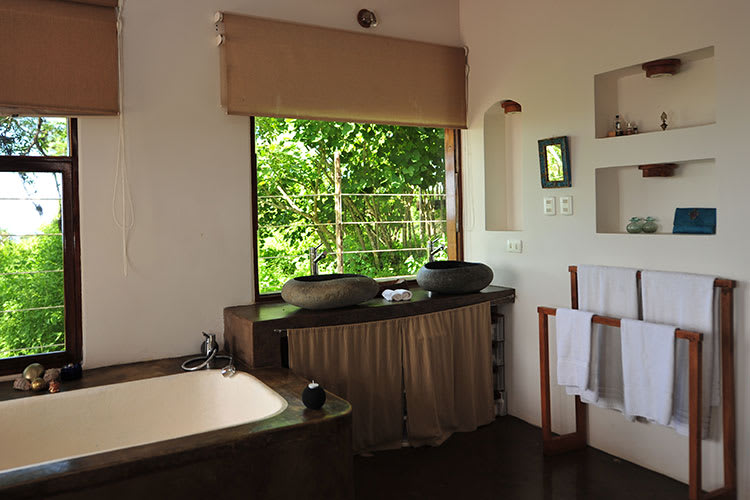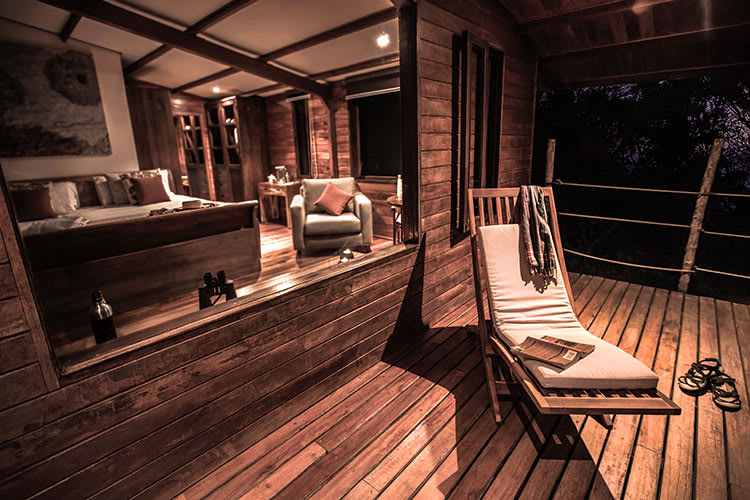 Size
22-33 m² / 237-355 ft²
The Family Suite features a master bedroom and two twin rooms which make it ideal for traveling families. All the rooms come with private bathrooms for maximum comfort. The room is designed beautifully with wooden furniture and floorboard to blend well the Galapagos environment.
Interested in the Galapagos Safari Camp?
Please fill in the form beneath and we'll get back to you ASAP.
View last remaining Christmas & New Years availability for Amazon and Galapagos
X