Overview
A stay at Finch Bay Galapagos Hotel puts you at the heart of the otherworldly landscapes and wildlife wonders of the Galapagos. The luxury hotel, which is located on Santa Cruz Island, welcomes 54 guests in 27 rooms.
Life At The Finch Bay Galapagos Hotel
The award-winning Finch Bay hotel blends seamlessly any the stunning backdrop of the Galapagos Islands. With modern architecture and contemporary styling, the hotel creates a sense of serenity that allows you to focus on soaking on every magical moment of your stay. When you aren't off exploring the islands, lounge by the freshwater pool while enjoying something from the outdoor bar or cool off with a refreshing dip in the water.
Booking a massage at the spa is practically a must after days of hiking and snorkeling. A deluxe getaway wouldn't be complete without a bit of fine dining, and Finch Bay offers precisely that. A Cordon Bleu-certified gastronomic director has designed a menu that is sure to please your palette.
Excursions From Finch Bay Eco Resort Galapagos
The team behind Finch Bay Hotel believes that true luxury lies in being able to experience the Galapagos at your own pace. Select one of several pre-designed packages, which you may personalize, or create your own itinerary by mixing and matching an extensive range of activities. Snorkel at Las Grietas, an impressive formation of two rock cliffs separated by ocean water.
Kayak at the nearby Marine Reserve while watching curious sea lion pups play on the beach. Walk through lava tunnels for an adventurous reminder of the island's volcanic past. A visit to a reserve for giant tortoises allows you an up-close wildlife moment. There are also opportunities to kayak, scuba dive, bike, and hike. And, of course, you will want to take advantage to see all of the archipelago's wildlife, including Frigatebirds, Marine Iguanas, and Albatross.
One Incredible Location With Access To The Whole Archipelago
Finch Bay Galapagos Hotel is located on the south side of Santa Cruz Island near Puerto Ayora at an enviable location next to the town's only public beach. The hotel is easily reached with just a 45-minute journey from Galapagos Airport, yet it feels a world away from everything. While at the hotel, you will experience complete privacy and feel completely immersed in nature while also having all the advantages of being near an urban center.
But, there is much more to the Galapagos than just Santa Cruz Island. While staying at Finch Bay Galapagos, you will enjoy the convenience of the hotel's Sea Lion Yacht. By traveling on this luxury vessel, you can enjoy day trips to all of the Galapagos' best visitor sites without needing to check-in and out of other hotels.
Finch Bay hotel offers something for everyone, from private yoga lessons to a detoxifying dry brushing treatment in the spa or a ceviche cooking class. Whether you are looking for a leisurely adventure or a moment of Zen, a stay at Finch Bay is the vacation of a lifetime.
Itineraries & Prices
Arrival & Santa Cruz Walking Excursion
Today is a sample itinerary that includes the most popular excursions on offer. This day is completely customizable.
AM: Your day begins at Baltra Island. Upon arrival, guests are met by the hotel naturalist guides and accompanied directly to the yacht. North Seymour was uplifted from the ocean floor by past seismic events, and its origins as a seabed give the island its low, flat profile. Cliffs only a few meters high form the shoreline, where swallow-tailed gulls sit among the ledges and rocks. This island is teeming with life! You might have to give way to a passing sea lion or marine iguana; blue-footed booby nests sit beside the trail where mating pairs perform their courtship dance. This is a walking excursion and involves uneven rocky terrain. Lunch is served onboard the yacht Sea Lion.
PM: After the visit, the yacht sails to the Itabaca Channel, from where we cross by bus faster over Santa Cruz Island to reach the south shore (42 km by bus is shorter and faster than 50 km by boat), where the Finch Bay Hotel is located. Enjoy your evening at the hotel, get familiar with your surroundings and enjoy your first delicious dinner at the property.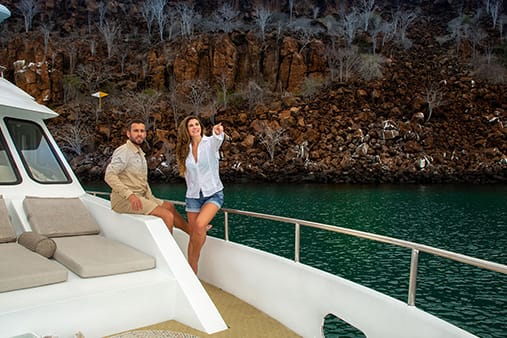 Location
Baltra - Finch Bay
El Manzanillo & Sustainable Farm Visit
Today is a sample itinerary that includes the most popular excursions on offer. This day is completely customizable.
AM: After breakfast, our guests will leave Academy Bay to the lush highlands of Santa Cruz Island. From there a short drive across the farming area will lead us to El Manzanillo. Manzanillo is on the natural path tortoises take every year as they migrate to higher moist locations during the garúa season (June-September), or when they descend to the warmer lowlands during the wet season. Year-round, tortoises can be seen grazing on the surrounding vegetation or wallowing in muddy banks or a small red-colored pond (impressively colored by surface red pondweeds). Lunch will be served in the cooler highlands, with the stunning views of Santa Cruz Island.
PM: After lunch, we visit a small farm, where coffee, sugar cane, and cocoa beans are grown, harvested, and prepared – all organic and sustainable. We have the chance to taste the products while learning about the artisanal way to burn island spirits! We then return to the hotel to enjoy its pool, beach or ask for suggestions for activities.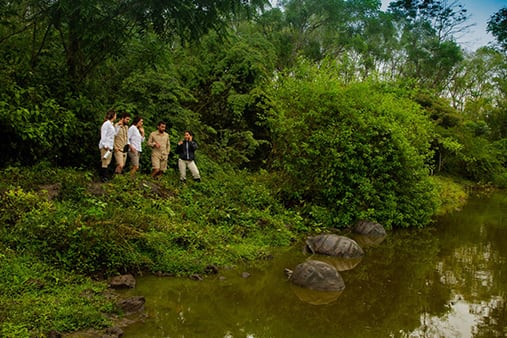 Tortuga Bay & Charles Darwin Research Station
Today is a sample itinerary that includes the most popular excursions on offer. This day is completely customizable.
AM: Tortuga Bay is located southwest of Puerto Ayora, on Santa Cruz Island. Its name means "turtle", and the island received this moniker because it is sea turtles' favorite place to lay their eggs. The stunning white sand beach is considered by many the most beautiful in the Galapagos archipelago. The beach is reached via a marked and cobbled two-kilometer path that starts at the west end of Charles Binford Street; guests must sign in and out at the National Park control point at the beginning of the path. There is excellent bird-watching along the path, with plenty of Darwin's finches and other sea birds. And for active visitors, it is a great place to kayak or snorkel.
PM: The headquarters of the Galapagos National Park Service and The Charles Darwin Research Station are located side by side on the outskirts of Puerto Ayora. There is an interpretation center open to the public and also one may view the tortoise rearing program. Those guests who do not have the opportunity to explore the highlands of Santa Cruz and see tortoises in their natural habitat will have the chance to see tortoises here. And for those who have already seen them in the wild, a visit to the Centre will expand their knowledge of this unique, iconic Galapagos animal.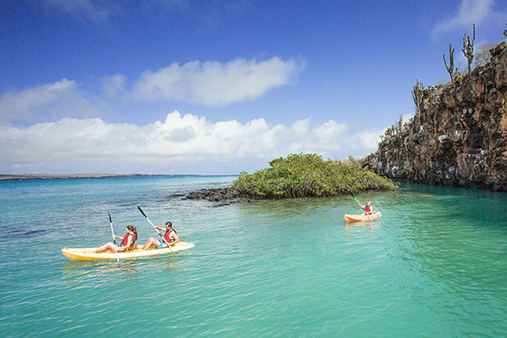 Departure
Today is a sample itinerary that includes the most popular excursions on offer. This day is completely customizable.
AM: After breakfast, we leave the Finch Bay Hotel and on the way to Baltra, stop at the Twin Pit Craters, great geological depressions of volcanic material, formed by a long process of slow sinking of the ground, where exceptional Scalesia trees, ferns, mosses, and orchids can be seen in the surroundings. Then, overland transfer to the airport in Baltra to take the flight back to the continent.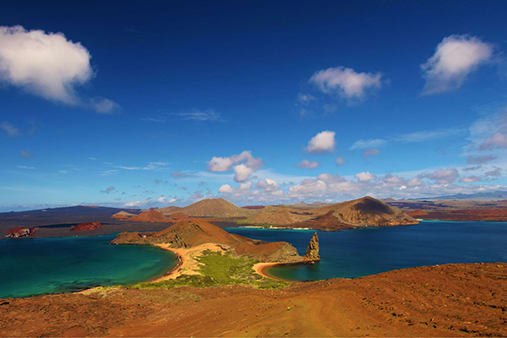 Location
Finch Bay - Baltra
1 / 4
Accommodations
Social Areas
Spa Building
Business Center
Garden View
Hall
Lounge
Outdoor Lounge
Pool Area
Pool Deck
Restaurant
Indoor Lounge
Jacuzzi
Spa Entrance
Suites & Cabins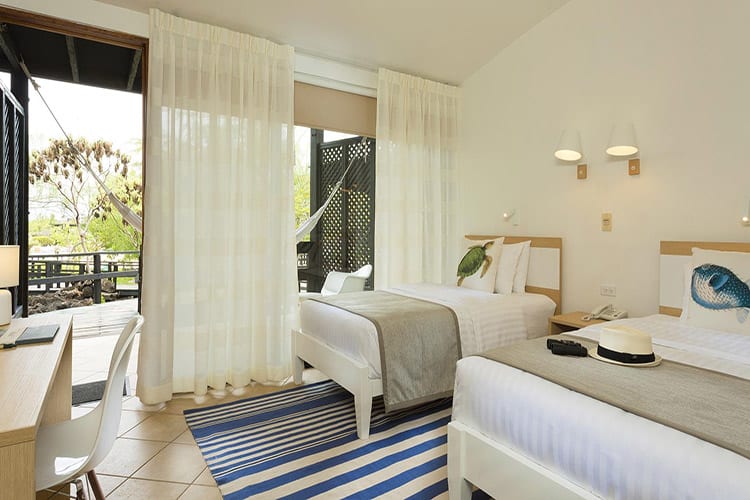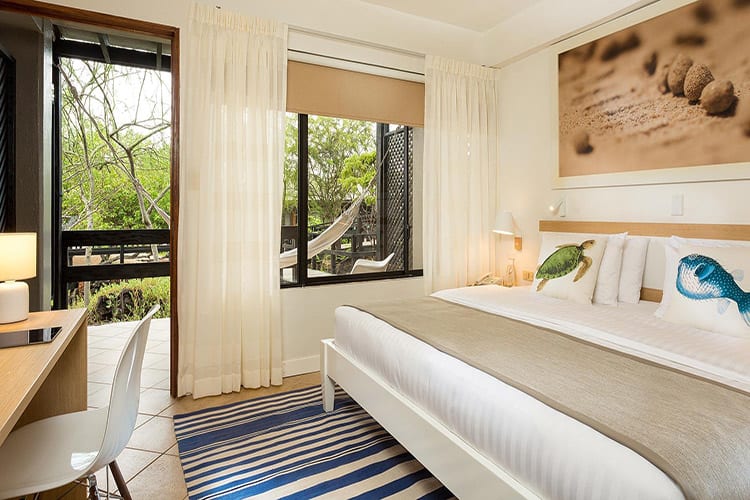 The finch bay rooms come with balconies and hammocks where you can just relax as you read or take in the beautiful view of the Islands. The bathrooms are well designed and equipped with a shower and basic amenities for a relaxing shower.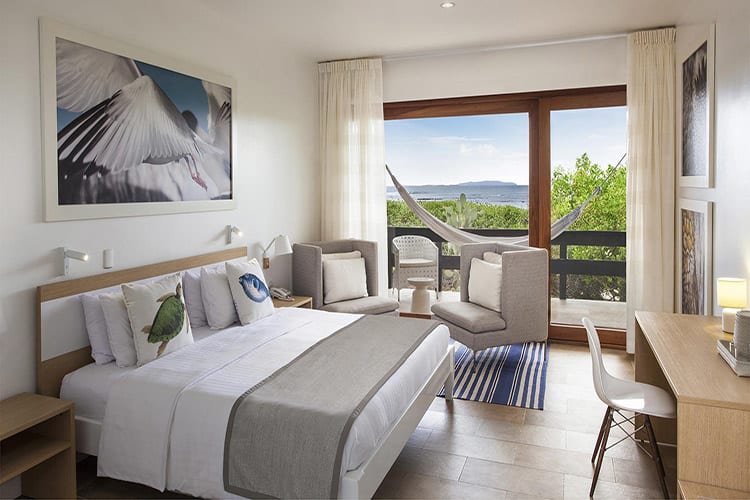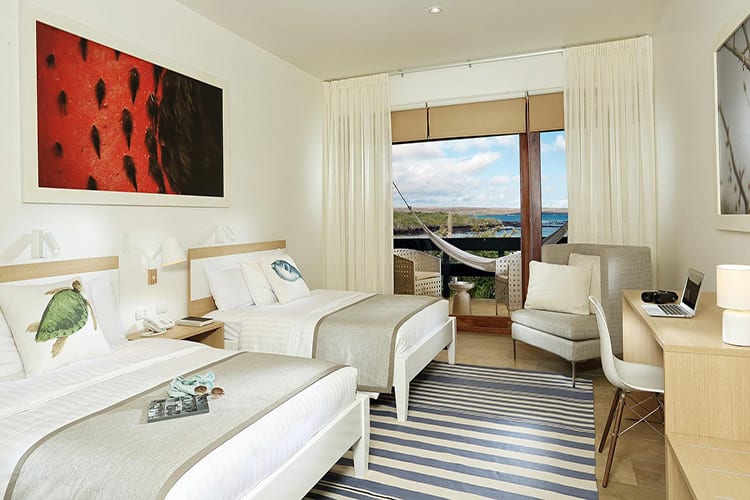 These spacious suites feature balconies where guests can relax exploring the islands. The beautifully designed bathrooms are equipped with all the amenities you need to ensure to keep you refreshed. Four of the finch bay suits are interconnected, making them ideal for families.
Technical Information
Property Layout
Features
Cabins with balconies

Air conditioning

Deck shower

Pool / Jacuzzi

Excercise room

Massage room

Lecture room

Cinema

Wheelchair access

Camera room

WIFI available

Kosher Meals

Solar Energy

Spa

Onsite tour desk

Souvenir shop

Hot showers

Family Room (Triple or Quadruple)

Charging areas for electronic equipment
Equipment
Diving gear

Snorkeling gear

Wetsuits

Stand up paddleboard

Kayaks / Canoes

Yoga mats

Water canteen/bottle
** Use of certain equipment at additional cost, ask for details
Interested in the Finch Bay Hotel?
Please fill in the form beneath and we'll get back to you ASAP.
View last remaining Christmas & New Years availability for Amazon and Galapagos
X