Overview
Luxurious Mashpi Lodge is hidden away in the Ecuadorian cloudforest amid the Choco Bioregion, one of the most biologically diverse places on Earth. Yet, the 24-suite lodge is surprisingly close to the nation's capital, Quito. Thanks to this convenient location within the metropolitan district, guests can completely immerse themselves in nature without leaving upscale amenities behind.
Life At Mashpi Lodge
Built with sustainable construction techniques and featuring a modernist style created with earth tones, steel, stone, and glass, Marshpi Lodge blends in, and in some places, almost disappears into the landscape. Massive glass walls throughout the lodge, including each suite, provide unobstructed views and allow you to feel cocooned in nature whether you are dining on gourmet cuisine, lounging in bed, or soaking in the bathtub.
In the laboratory, guests of all ages are invited to learn about the ongoing scientific projects carried out by the staff and guest researchers. You may even get to see the newly discovered Mashpi Glass Frog, a new member of Ecuador's lengthy species list, endemic to Mashpi. Outdoors, a viewing platform juts out over the forest and provides an ideal place for observing the 400 species of birds that share the area. Among the highlights of the lodge is the restaurant and Explorer's Bar. The two-story glass-walled room is an exquisite setting for upscale dining.
The lodge's chefs turn Ecuadorian cuisine into an artform by featuring native ingredients. Start the day with homemade jams, regional fruits, eggs, and hams. After a light lunch of ceviches, soups, and salads, dinner is a more formal occasion. Dishes such as sun-dried tomato salad, Fettucine with mountain garlic, and rack of lamb with mixed herbs and Ecuadorian root vegetables are the stars of the menu. Pair your meals with a glass fine wine or a cocktail crafted by master mixologists.
Excursions From Mashpi Lodge Ecuador
The unique activities and explorations from Mashpi Lodge aim to showcase the rainforest from every angle. From above, take a ride on the Dragonfly or the Sky Bike. The Dragonfly is an open-air cable car that carries four passengers on a 40-minute, 1.24-mile journey over and through the forest. The Sky Bike takes one peddler and one additional passenger on a 655-foot trip over a gorge, river, and trees.
You can also climb to the top of an 85-foot observation tower to spot toucans, tanagers, and parrots. Below, explore four trails, ranging from quick, easy walks to 2-mile hikes. While each trail at Mashpi Lodge presents an opportunity to see the area's flora and fauna, the Jungle Swing trail is a stand-out.
This trail, which starts in new growth and ends in mature forest, demonstrates the jungle's regeneration after deforestation. The trail is also true to its name and has a massive vine that guests can swing on. Sprinkled around the lodge are three waterfalls to swim in and a hummingbird garden.
Nurture Your Soul At The Wellness Center
Named after the native Kichwa word for "soul," the Samay Wellness Center celebrates life through personalized services. The wellness center, which is spread over two areas, is nestled into lush foliage. Relax in an open-air hot tub while listening to birds and gazing at the cloud forest. Request a mat and spend some time meditating or practicing Savasana on the outdoor yoga deck.
The spa on the second floor of the lodge offers a wealth of decadent massages, exfoliating scrubs, and body wraps, several of which incorporate Ecuadorian chocolate. While each treatment is tempting, may we direct your attention to the Mashpi Altar massage? This open-air treatment is offered at the base of a waterfall and can be followed by a refreshing swim.
A stay at Mashpi Lodge and its private forest reserve provides the adventure of a lifetime for families, couples, and solo travelers. For birdwatchers, epicureans, and nature lovers who want a refined experience, this is the place to be.
Itineraries & Prices
Arrival, Magnolia Waterfall & Dragonfly
Today is a sample itinerary that includes the most popular excursions on offer. This day is completely customizable.
AM: The adventure begins at around 08:30 at one of the main hotels in Quito when you will be collected by Mashpi transportation for your journey to the northwest corner of the Metropolitan District of Quito. The road passes along the western flank of the Andes next to the "Middle of the World" which marks the equatorial line. We then continue westwards, downhill, following the course of the Rio Blanco, watching as the vegetation changes with every significant drop in altitude. After passing the town of Nanegalito, we head northwest, along winding country roads, passing the archaeological site of Tulipe and various farming communities. We arrive at the Lodge at noon.
PM: After enjoying lunch you will be shown to your room for a rest, before heading out for your afternoon activity. We take the Magnolia Trail from the lodge, walking through a beautiful patch of forest and stopping at the viewing platform that's located halfway down the path. Moving along, we come to a great waterfall for a revitalizing dip and a cathartic shower. We then wade and walk downstream through the Laguna River, admiring the colors of the riverbed and spotting birds before finally reaching Tower 4 of the Dragonfly. It is here that we will embark on our gondola journey across the canopy, arriving at the Dragonfly's main station 20 minutes later.
The highlight of any trip to Mashpi is the Dragonfly – an exciting, open-air cable car system that carries you over, across, and sometimes even directly through the forest canopy, offering guests a relaxing way to enjoy the reserve from overhead. The entire setup consists of two main stations, six towers (with an intermediate station that guests can get off at if they wish), and four gondolas. The gondolas are equidistant and separated by a distance of 500 meters/1,640 feet. Each gondola moves along the 2 km/1.24 mi length of cable at a low speed of 50 meters/160 feet per minute. The guides can stop the gondola at any point to allow for an extended observation of any flora and/or fauna that catches your eye. An entire circuit (roundtrip) takes about 40-minutes to complete. Gondolas can carry up to 4 guests (plus 1 guide).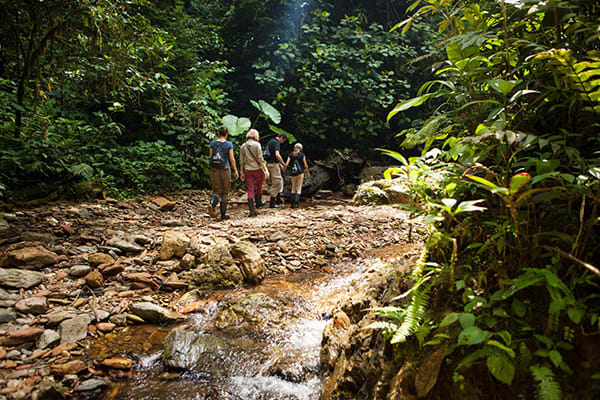 Location
Quito - Mashpi Lodge
Observation Tower, Life Centre, Sky Bike & Luminous Trail
Today is a sample itinerary that includes the most popular excursions on offer. This day is completely customizable.
AM: One of the best ways to enjoy the beauty of Mashpi is from the observation tower. From here, we can appreciate a wonderful view of the canopy and the complex structure of the tropical forest, and on clear days we can see the lodge, the Reserve's boundaries, and a mosaic of forest, crops, and little villages beyond. The tower is a metal structure with a staircase that rises about eight stories (26 m or 85 ft), ideal for wildlife lovers. Species spotted from here include toucans, woodpeckers, barbets, tanagers, and parrots, as well as birds of prey.
Located west of the lodge, the Life Centre was conceived as a place for learning and discovery, but also as a place where our guests can disconnect while they admire the scenery from the comfort of a chaise longue on the handsome wooden deck – a great place to spot birds, and hear the roar of mantled howler monkeys, too!
Here we learn about the species of butterflies found in this region, observing the whole process of metamorphosis from eggs into beautiful butterflies. About 300 species of moths and butterflies have been identified to date in the Reserve, and our team has reproduced 50 of these to date. About a dozen can be seen in the center itself. Most of the interpretation in the center is provided by our guides or the employees from the local community involved in the project.
PM: Located close to the hotel, the Sky Bike makes for an original and exciting way to explore the forest canopy up close. Designed for two people to use at once, one person pedals the bike along a cable stretched between two points in the forest, around 200 m (655 feet) apart, crossing a beautiful gorge above a river flowing between rocks and trees below. Silent, easy-to-use, and fun, it's an activity for children over 1 m high accompanied by an adult, providing guests with the chance to fly over the natural world close to the lodge and even spot its denizens. The ride takes 10 minutes or 20 round-trips.
After dinner, you can choose to take a short and easy trail which we use mostly for night walks due to its richness in insects. It's named after the luminous 'fox fire' fungus that occurs here. It's a glow-in-the-dark living experience!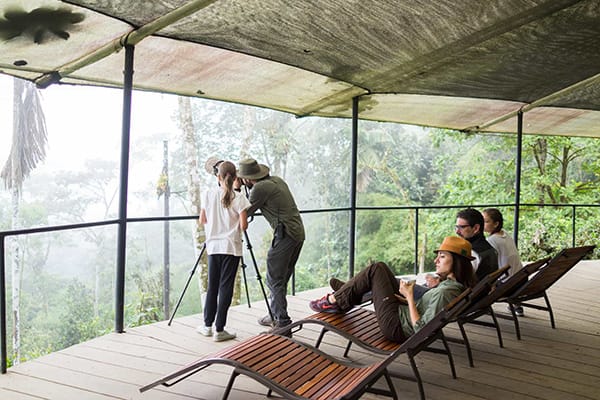 Hummingbird Garden & Departure
AM: Enjoy your final breakfast as we ready you for your final excursion! The beautiful forests of Mashpi boast 32 hummingbird species identified to date, inhabiting different specific altitudes, with around 19 species alone observable by guests in this garden. To make it easier to see these amazing creatures, we placed several hummingbird feeders and fruit feeders, in front of a shelter with seating providing the ideal setting. Here, apart from hummingbirds, we can also frequently spot fruit feeder species such as toucans, tanagers, squirrels, etc. The site is located at a natural viewpoint, which, on clear days, provides breath-taking views of the Reserve's forested hills. This is a paradise for photographers, regardless of your level of experience, as well as a place to calmly connect with birds and nature.
Check-out from the lodge is at 11:00. The shared transfer leaves Mashpi Lodge at 11:30. You will be given a complimentary box lunch to enjoy during the drive back to Quito.
1 / 3
Accommodations
Social Areas
Bar
Butterfly House
Butterfly Observation Center
Outdoor Restaurant
Gift Shop
Kids Lab
Lounge Breakfast
Lounge
Lounge
Open Air Hot Tub
Restaurant
Trail
Spa
Yoga
Suites & Cabins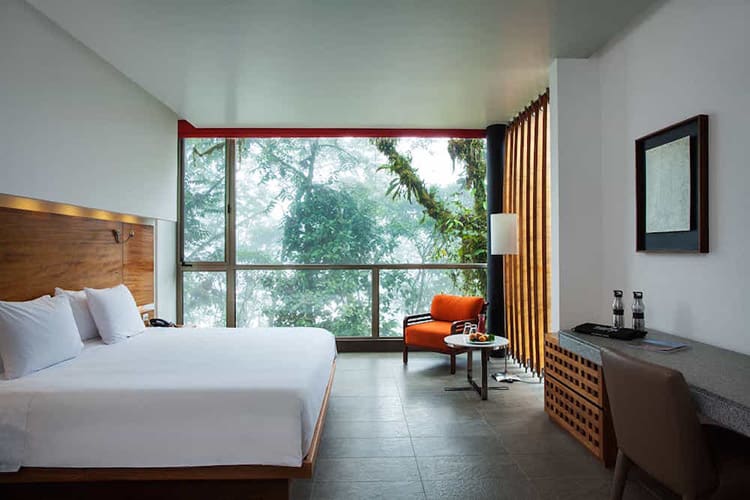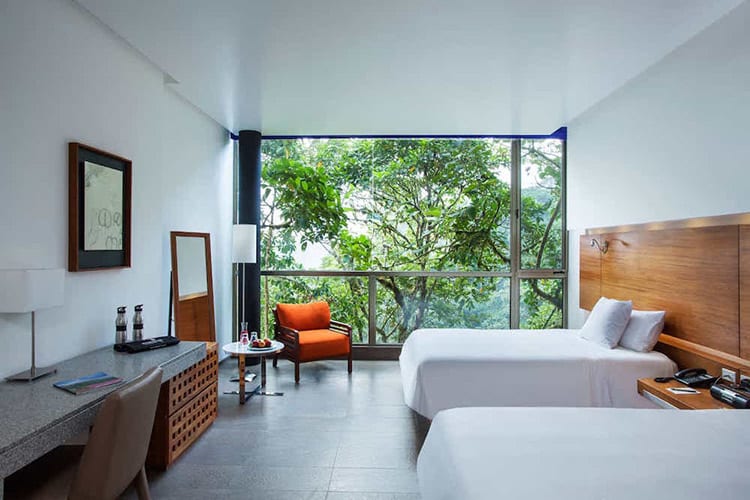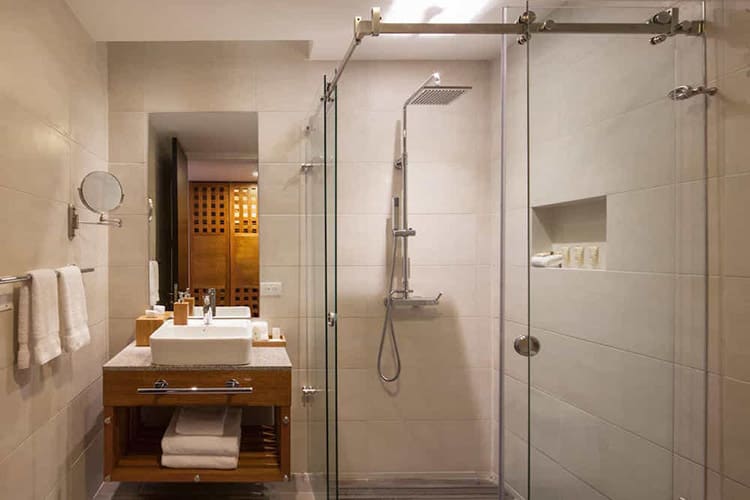 The Wayra Suites features a panoramic window with a grand view of the rainforest. Some of these lovely suites are interconnected to accommodate families or groups of friends. The luxurious bathrooms are fully equipped with bathrobes, slippers, hairdryers, among other amenities.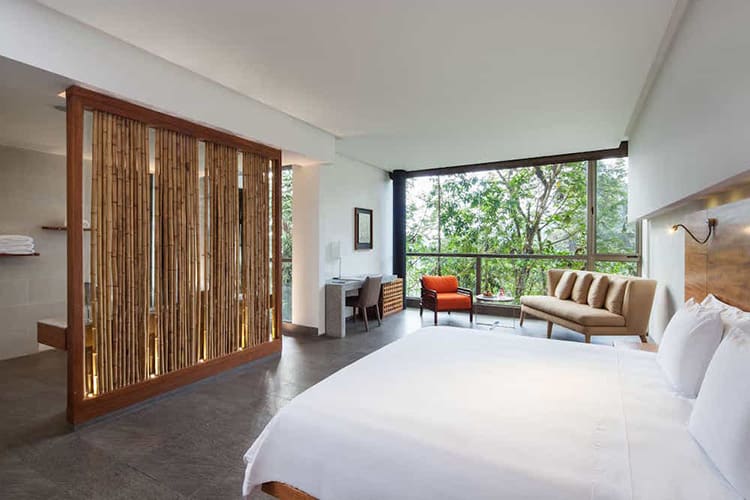 These stylish and luxurious suites feature a large bathroom with a twin washbasin and a bathtub with a forest view. The suites also come with a hairdryer, bathrobe, slippers, and clean towels for the guests' comfort.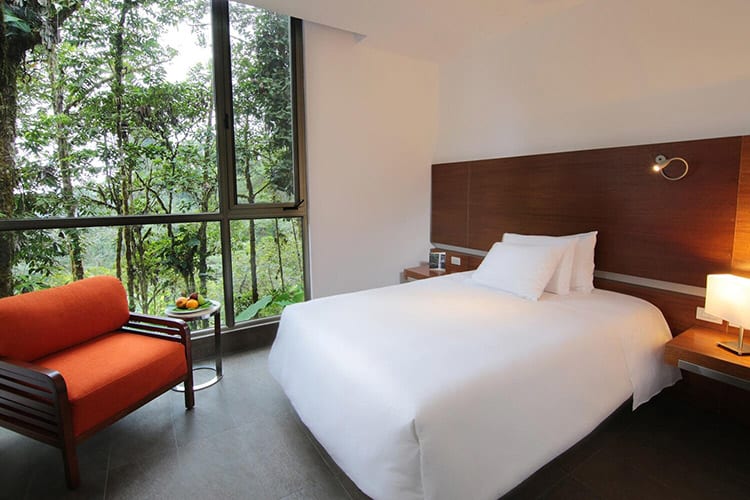 Guests enjoy waking up to the incredible views of the rainforest through the large panoramic windows of this room. The room is connected to wifi and has a telephone. It features a safe deposit box, fresh filtered water, reusable water bottle, and a stylish bathroom.
Technical Information
Property Layout
Features
Connecting cabins

Air conditioning

Pool / Jacuzzi

Excercise room

Massage room

Lecture room

WIFI available

Kosher Meals

Spa

Hot showers

All inclusive

Family Room (Triple or Quadruple)

Charging areas for electronic equipment
Equipment
Yoga mats

Flash lights

Rubber boots

Water canteen/bottle

Binoculars

Insect repellent

Poncho
** Use of certain equipment at additional cost, ask for details
Interested in the Mashpi Lodge?
Please fill in the form beneath and we'll get back to you ASAP.
View last remaining Christmas & New Years availability for Amazon and Galapagos
X