Galapagos, Easter Island & Machu Picchu
Galapagos, Easter Island & Machu Picchu
An epic tour of South America to see the Galapagos, Easter Island and Machu Picchu all in one trip.
Customizable private tour with flexible start date
Overview
Join an epic tour of the incredible sights of South America with this 16-day Galapagos, Easter Island, & Machu Picchu adventure. From the mysterious statues of Easter Island to the Incan heartland to the enchanted Galapagos Islands, adventure never looked so good! Stay in your choice of the best 4-star, 5-star, or Boutique hotels, then relax aboard a luxury yacht for your island adventure.
Chile and Easter Island
Your epic tour begins in Chile as you arrive in the exciting city of Santiago for a night to relax and ready yourself for the adventures ahead. The next day a flight takes you to the famous Easter Island to explore its archaeological mysteries and extreme beauty altogether.
While here, you'll be staying in the secluded Explora Rapa Nui lodge, which provides you with exceptional views of the Pacific Ocean.
Design your own itinerary with the expert guidance of the lodge's naturalist guides, electing from many half-day explorations, including a hike or bike ride to see Moai statues all over the island, or the unmissable full-day tour to Rano Kau Volcano and Orongo, an ancient ceremonial village. Still more options abound, including a snorkeling adventure and a trip to see the island's wetland biodiversity.
As your adventure turns now to Peru and Easter Island tours become a beautiful memory, you'll take with you incredible memories on your flight back to the mainland.
Peru's Sacred Valley and Machu Picchu
From Santiago, you'll fly into Lima, the capital city of neighboring Peru, and be transferred to the Sacred Valley of the Inca. While here, you'll explore the charming towns, numerous ancient ruins, and learn about the cultural traditions of the area and its people. A highlight will be a tour of the ancient city of Cusco, once capital of the Incan Empire, and its remarkable colonial structures, Inca ruins, and colorful local market.
Another highlight is a trip up to the grandeur of the legendary Machu Picchu. Your private guide will take you around this majestic archaeological site, sharing its fascinating history and insightful information to make this visit one you'll long remember and cherish.
Once your Easter Island and Machu Picchu tours are behind you, it's time to head to your next adventure, the enchanted isles of Galapagos.
Ecuador and the Galapagos Islands
Flying into Quito, you'll get a glimpse of the beauty Ecuador has to offer before heading off on your next adventure out in the wild Pacific Ocean – the Galapagos Islands!
Arriving on Baltra Island, you'll board the luxury catamaran Petrel. Settle into your choice of either a Standard Cabin or Premium Suite, each with its own hot shower bathroom and private balcony. Spend time on the panoramic deck, soak in the Jacuzzi, and enjoy a cocktail as you sail to distant islands. The open plan indoor lounge and dining area is another perfect place to gather or relax with a book and enjoy some quiet time, and enjoyed both Ecuadorian and international dishes to fuel your adventures.
Daily island visits show you what is so spectacular and unique about this wondrous archipelago, including its volcanic landscapes and exotic wildlife. Spend time on land hiking volcanic rims and discovering lava formations. Follow the well-marked nature trails and marvel at the islands' scenery and secrets as they reveal themselves before you. Stroll white powdery sand beaches, and take a moment to sit and take in the wonder of it all.
You'll feel as if you're on safari, seeing various animals, including flamingos, sea lions, sea turtles, red-footed boobies, short-eared owls, land iguanas, and so much more. It's also a birdlovers' paradise you have to see to believe. Both Galapagos and Easter Island tours give travelers the chance to experience the best of South America's marine environments, full of vibrant fish, rays, and even sharks.
Indeed, no trip to Galapagos and Easter Island is complete without donning a wetsuit and taking to the incredible waters surrounding these islands of the Pacific Ocean. Swim or snorkel the clear, turquoise waters of sheltered bays and offshore sites, popular nursing sites and aquatic playgrounds for sea lion pups, Galapagos penguins, sea turtles, and more. It truly is an unforgettable experience!
All too soon, it's time for your flight back to the mainland. While your Easter Island-Machu Picchu-Galapagos combination tour may be over, the memories you make will last a lifetime.
Itinerary & Prices
Welcome to Chile!
Welcome to Santiago, the capital and largest city of Chile as well as one of the largest cities in the Americas. Situated smack bang in the center of Chile's most densely populated region, Santiago Metropolitan, whose total population is 7 million. Located entirely in the country's central valley, most of the city lies between 500–650 m (1,600–2,100 ft) above sea level. Founded in 1541 by the Spanish conquistador Pedro de Valdivia, Santiago is rare among South American capital cities in that it has served as the capital city since the colonial occupation.
Downtown and central Santiago is largely made-up of 19th-century neoclassical architecture and winding side-streets, but has smatterings of art-deco and neo-gothic architecture, amongst others. Like many cities in along the Western confines of the continent, Santiago is surrounded by hills as the Andes begin to build behind it. The main river in the city is the fast-flowing Mapocho River, and Santiago is known in South America for being modern, organized, and very safe, as well as a clean, prosperous city with important financial and industrial clout in South America.
Meals (x)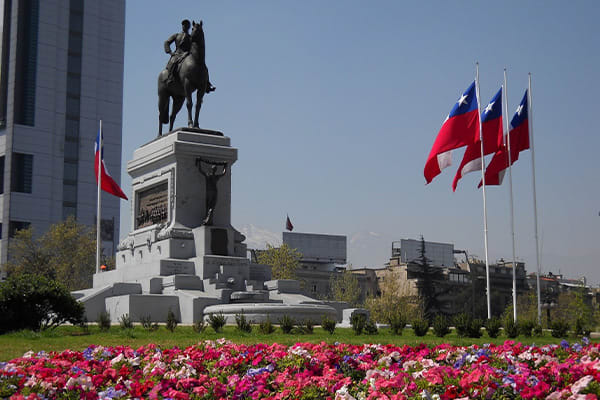 Welcome to Easter Island!
Today you will begin your day with a  transfer to the airport for your flight to Easter Island! The journey to Easter Island from Chile will take approximately 5 hours, so pack an interesting book! Upon arrival at Mata Veri airport, you will be met by the warm staff of Explora, and transferred to your hotel. We recommend you try and arrive by mid-day so that you can take advantage of an afternoon excursion.
Located 3,700 km ( 2,300 miles) from the continent, surrounded by the intense blue sea and under the watch of its gigantic Moai, Easter Island is a place that contains mysteries that are waiting to be revealed by explorers of all times, and where we take our travelers to discover all its corners. Explora boasts over 30 unique experiences for its guests. The normal procedure is to meet with your guide, and custom design your own adventure which can include hiking, biking, archeology, beaches, snorkeling, Scuba, and much more!
Meals (B, L)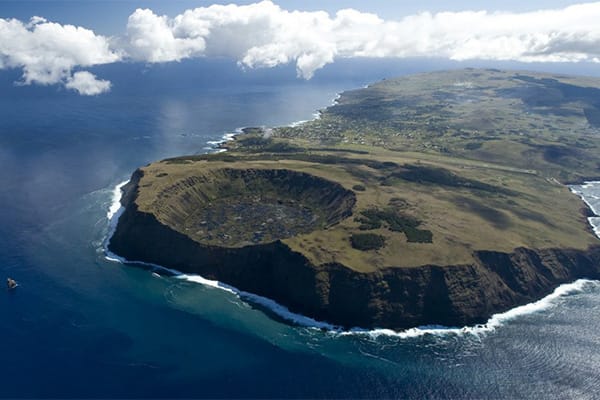 Location
Santiago to Explora Rapa Nui
Hiking and Biking the Moai
Today is a sample itinerary that includes two of the more popular half-day explorations on offer. This day is completely customizable.
Ara Moai hike: We start our hike in Rano Raraku, the moai quarry, among huge statues in different carving stages. After visiting the crater, we continue hiking through one of the old moai transportation routes until we reach a group of abandoned moai. Half-Day ~ 3 hours (Easy). After the excursion, we return to the hotel for lunch.
Akivi bike ride: We leave Explora on our bikes following inland routes, go up a gentle slope, riding by traditional Rapa Nui crop fields. We arrive at Ahu Akivi, the place where seven moai are facing the ocean. Half-Day ~2 hours (Moderate). Afterward, we return to the hotel by van.
This evening, enjoy free time and a sumptuous dinner at the lodge.
Meals (B, L, D)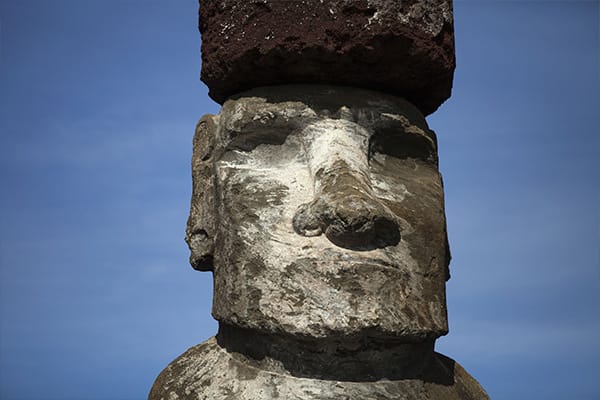 Location
Explora Rapa Nui
Rano Kau Volcano
Today is a sample itinerary that includes an advanced, full-day excursion, which is a combination of hiking and biking. This day is completely customizable.
Rano Kau Hike & Bike: We start in Ahu Tahira, a construction platform with perfectly overlapping rock structures, from where we begin hiking to the crater of the Rano Kau Volcano and Orongo. Orongo is the ancient ceremonial village where Birdman competitions used to take place. We head down south by bike and ride along the coast visiting several archaeological sites until we reach Explora. Full-Day ~6 hours (Advanced)
Meals (B, L, D)
Location
Explora Rapa Nui
Bird Islands & Bird Cult
Today is a sample itinerary that includes an aquatic activity and an afternoon cultural excursion. This day is completely customizable.
Snorkeling Bird Islets: Van tour from the hotel to Hanga Roa's cove, where we take a boat to sea caves with views to the cliffs, the Rano Kau crater, and Motus, the famous islets due to the Birdman competition. We can snorkel around the Motus due to unbeatable clear water conditions. Half-Day ~ 1.5 hours (Moderate).  Return to Explora for lunch.
Bird Cult: We take a van towards Vinapu, where we find Ahu Tahira, a construction platform with perfectly overlapping rock structures that are often compared with Inca buildings. Afterwards, we head by van to Rano Kau, the island's largest crater. We hike around part of the crater where we watch the biodiversity of the wetland within it and continue to the ceremonial town of Orongo, known for the Birdman competition. Then we visit the area of Mataveri with its unique volcanic landscape and its connection with Orongo. Half-Day ~3.5 hours (easy).
Meals (B, L, D)
Location
Explora Rapa Nui
Back to the Mainland
Bid farewell to Easter Island as you enjoy your final breakfast before being transferred to the airport for your return flight to Santiago.  Upon arrival, you will be collected and transferred to the conveniently located airport hotel, for a good night's rest before your adventure continues.
Meals (B)
Location
Explora Rapa Nui to Santiago
Welcome to the Land of the Incas
Today is largely a transit day, in which you will fly from Chile to Lima, and then connect to the Sacred Valley. Be sure to get plenty of rest and to stay hydrated, because you will be traveling from Santiago into the Andes of Peru.
Your first flight takes you to Lima, where you will clear customs and immigration. Schedules permitting, you will then catch a connecting flight to Cusco, where you are met and transferred to the Sacred Valley for the evening.
Meals (B)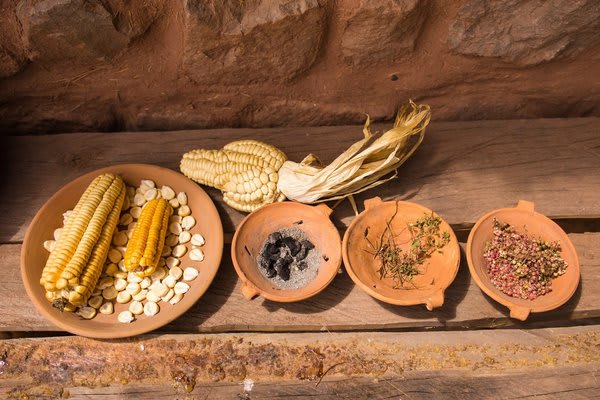 Location
Santiago to Cusco's Sacred Valley
Maras, Moray and Chinchero
The Maras salt mines were an important part of the economy of the Inca culture and to this day the salt produced in these mines, recognizable by its pinkish hue, is amongst the most sought-after and expensive in the world. From there, we take you to the picturesque archaeological site of Moray which is a huge expanse of concentric terraces which the Incas used a botanical laboratory. Once finished with this leg of the tour, we enjoy a typical Andean lunch at the Casa de Barro restaurant.
Our next stop is at the PARWA Center in Chinchero, where you can learn about the centuries-old traditional textile making so important to the Andean people. You will have the chance here to buy traditional textiles and other souvenirs for your loved ones back home. Remaining in Chinchero we take in the 17th Century church built by the Spanish invaders and then the surrounding ruins, aqueducts, and agricultural terraces that sustained the local people hundreds of years ago.
Meals (B, L)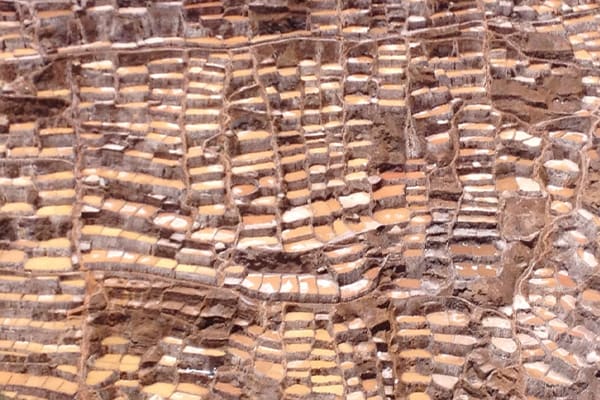 The Grandeur of Machu Picchu
Today is the big day! Get ready to tick one of the New Seven Wonders of the World off your list as we head to Machu Picchu Citadel. Leaving the Sacred Valley by train, we enjoy a peaceful snake through the mountains, uphill to Aguas Calientes, situated at the foot of Machu Picchu. The views on the way to Machu Picchu itself are an intrinsic part of the trip itself and worth savoring. Built in the mid 1400's it acted as a royal estate to two different Inca rulers, Pachacutec Inca Yupanqui and Tupac Inca Yupanqui. After 80 years of occupancy, it was abandoned, possibly due to Spanish infiltration in other parts of Peru, and remained abandoned until the early last century when efforts Hiram Bingham brought its existence to world attention.
Machu Picchu is divided into two sectors, the urban and the agricultural. Our expert guide will take you through both and show you the key spots in the ancient citadel such as the Temple of the Sun and the Room, the Intihuatana Stone, and the Room of Three Windows. The residential buildings feature exquisite stonework with no cement or mortar and are characterized by small trapezoid windows that face the morning sun. After our extensive tour, we put you back on the train to your hotel in either Cusco or the Sacred Valley.
Meals (B, L)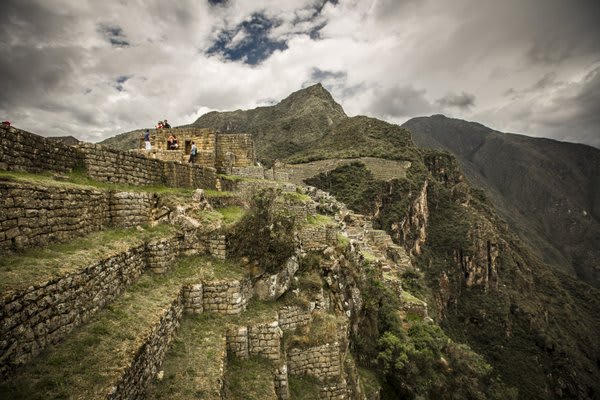 Location
Sacred Valley to Machu Picchu
Ancient Inca Capital City
Today, we pick you up at your hotel for your tour of Cusco and its most important archeological sites. Cusco, known as the Imperial City, and declared a World Heritage Site by UNESCO, is home to Inca structures with a smattering of colonial influence. You start your tour at the iconic San Pedro market, a local market where you can explore the myriad colors, flavors, textures and traditions of modern Cusco.
The visit continues with the Koricancha Temple, an ancient Inca palace and cult center of the Sun God, above which the order of the Dominicans built a church. It remains standing to this day. Still standing to this day, this temple/church really is a remarkable building and an amalgamation of the two cultures. From there, we ascend to the Fortress of Sacsayhuaman, an impressive example of Inca military architecture. Afterwards, you will explore Q'enqo archeological site, where important Inca ceremonies took place before moving on to the Plaza de Armas, home to the Cathedral, and the centerpiece of the city.
Meals (B)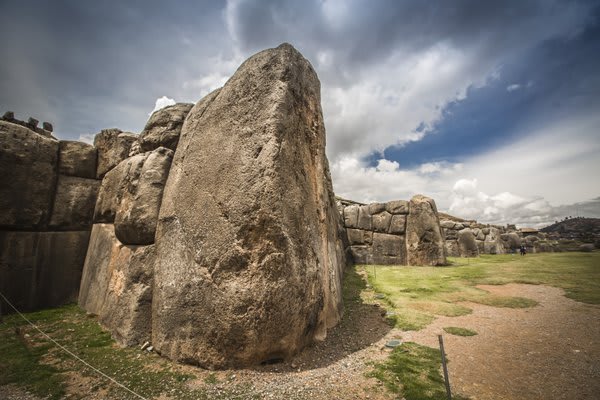 Welcome to Ecuador!
After breakfast, at the scheduled time, you will be picked up from your hotel and privately transferred to Cusco airport, ready to board your departure flight to Quito! You will take two flights connected via Lima,  re-boarding here for your flight to Ecuador.
Arriving in Quito, you can take the evening to rejuvenate and re-charge before your trip to the islands the following morning! Your Galapagos cruise awaits…
Meals (B)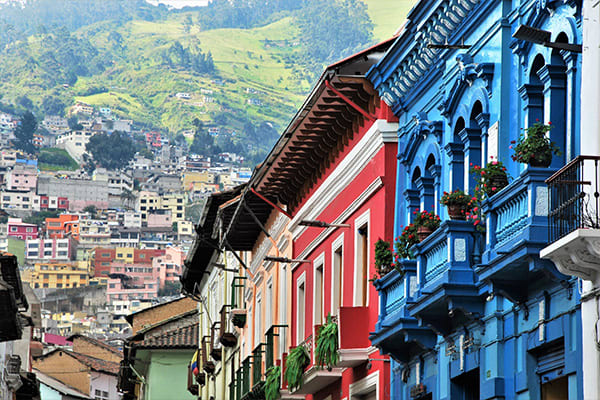 Departing Quito & Cruise Embarkation
AM: A Petrel representative after passing through immigration and baggage claim. When ready, you will be transferred to the yacht. You will then be shown to your cabin where you will have some time to settle in before the welcome briefing and lunch.
PM: Today Santa Cruz is one of the most popular tourist sites. With a population of about 12,000 Galapagos natives, it has the longest paved road in the entire archipelago. One of the biggest conservation efforts is to eliminate all non-native plants and animals that are destroying native and endemic species on the island. There is no longer any volcanic activity but that does not mean there is no evidence. Santa Cruz means holy cross, but its English name comes from the British vessel – Indefatigable.
The Highlands of Santa Cruz is a very interesting site due to the rich wildlife, hills, ferns, volcanoes and lava tubes present. Exploring the lava tubes is a surreal and unique experience. Here you can see all the different agricultural zones that are present in the Galapagos in one place. The variety of birds makes this a bird watchers delight.
Be prepared to admire the famous giant tortoises in the wild. It is impressive to see these endemic animals that give the name to the archipelago, Galapagos. Birdwatching is also one of the activities in the highlands, since this area is home of finches and other Galapagos birds. Finally, we walk into lava caves to see the enormous lava flows that formed the islands before continuing back to the M/C Petrel.
Meals (B, L, D)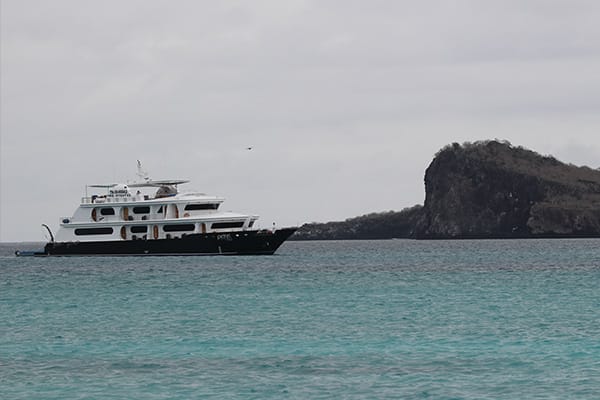 Location
Quito to Petrel Galapagos Cruise
Sullivan Bay & Pinnacle Rock
AM: Santiago Island is the second Island visited by Charles Darwin was originally named after England's King James the second. The island was a good source of salt, water and food for whalers and buccaneers passing. There was a salt mine inland that was used to salt fish and tortoise meat. Land iguanas used to populate the island but are now extinct. From Darwin's own notes he wrote that land iguanas were thriving quite well since there was no place to even pitch a tent. Santiago Island today is now one of the most visited islands.
Sullivan Bay is a satellite island of Santiago. This is one of the best places to see the Galapagos fur seal. There is not much wildlife to see here, but the old lava formations are quite a site to see with tuff cones, pyroclastic cones, and other volcanic landscapes.
PM: Bartholomew is another satellite island that derives from Santiago Island. It is home of the famous Pinnacle Rock and is named after James Sullivan, a friend of Charles Darwin who was also aboard the HMS Beagle. Of all the islands, this is the most photographed and is also featured in the 2003 movie "Master and Commander".
Pinnacle rock is a volcano cone formed by magma expelled by an underwater volcano. The sea cooled the hot lava and as it exploded from contact, the pieces formed together this huge rock of many, many layers of basalt. The huge rock also has a beach where a small population of green sea turtles will nest. Galapagos penguins gather here and swimming can offer beautiful sights of colorful schools of fish and curious sea lions.
Meals (B, L, D)
Location
Petrel Galapagos Cruise
Darwin Bay & El Barranco
AM: Genovesa is a horse-shoe shaped island that was formed by the eruption of a shield volcano with large slopes formed by gradual lava flows. It is known as "Bird Island" due to the wide variety of birds that can be seen. The only reptile on the entire island is the marine iguana and it is one of the very few places red-footed boobies gather in one large mass.           
Darwin Bay is the result of the shield volcano where one of the sides of the caldera collapsed after years of erosion. It is one of the places in the Galapagos where red-footed boobies can be guaranteed to be seen. Over 200,000 red-footed boobies are estimated to be living in the trees and bushes of Genovesa.
PM: Better known as Prince Phillip's Steps, a steep and rocky path leads up to a cliff with a marvelous view. There is also a Palo Santo Forest that is home to nesting red-footed boobies and other birds.
Meals (B, L, D)
Location
Petrel Galapagos Cruise
Egas Port, Buccaneer Cove & Espumilla Beach
AM: Egas port is also known as James Bay. It is home to quick footed Galapagos lava lizards, Galapagos fur seals along the grottos and tide pools and is a great snorkeling site.
PM: Buccaneer Cove: This cove is better known for excellent snorkeling opportunities and was once known as a refuge for British buccaneers or pirates. The underwater formations are amazing and many different species of fish gather here.
Meals (B, L, D)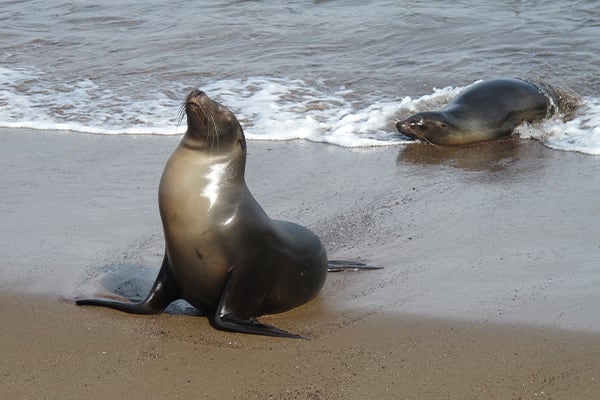 Location
Petrel Galapagos Cruise
Disembarkation
AM: Carrion Point creates a sheltered lagoon with beautiful turquoise water. During this visit, you can snorkel and see a variety of fish, rays, and perhaps the harmless white-tip reef sharks. The point is on the north coast of Santa Cruz Island at the entrance of the Channel of Itabaca. Highlights include snorkeling with colorful fish, rays, and white-tip reef sharks.
After your morning excursion, you will be assisted to Baltra airport for your flight to the mainland.
Meals (B)
1 / 16
Accommodations
Cruises & Lodges
Petrel
Stylish, luxury cruising aboard a chic catamaran designed to sail the waters of the Galapagos.
Explora Rapa Nui
Stunning secluded lodge with privileged Pacific Ocean views echoing the essence of Easter Island.
Hotel Options
5 Star
Tambo del Inka
Sacred Valley