Machu Picchu & Galapagos
Machu Picchu & Galapagos
Machu Picchu & Galapagos Cruise: A combination of the two heavy-hitting tours of Peru and Ecuador.
Customizable private tour with flexible start date
Overview
Get ready for an incredible South American vacation with this Machu Picchu & Galapagos tour filled with adventure and mystery. Explore famous archeological ruins, historical sites, cultural towns, and the enchanted Galapagos Islands for a closer look at the wonderful things this part of the world has to offer.
This 13-day adventure is one of the best Peru, Ecuador and Galapagos tours for solo travelers, couples, families, or groups alike. You'll stay in your choice of the best 4-star and 5-star hotels during your tours to Peru and Ecuador and relish the luxurious comforts aboard your Galapagos Islands cruise.
Peru and Machu Picchu
Start your adventure by touring the Peruvian capital city of Lima, a bustling metropolis filled with ancient history as well as modern amenities as the first part of your Machu Picchu Galapagos itinerary unfolds.
From Lima, you'll venture into the Incan Sacred Valley for a delightful tour of the various towns here, which offer archaeological sites as well as colorful markets to explore. Visit Pisac, Ollantaytambo, Maras, Moray, and Chinchero and learn something unique about each one.
The day finally arrives for your journey to see the famous Machu Picchu, starting with a thrilling train ride through the mountains. Your private guide will lead you through the grounds of this amazing ancient citadel, and you'll even have the chance to return for a rare second visit the next day.
Before the Peru portion of your tour ends, you'll experience all the colonial charms the ancient Incan capital city of Cusco has to offer, including its many impressive historical sites and markets.
Ecuador and the Galapagos Islands
From Cusco, you'll fly to Lima then on to Quito in Ecuador for the next part of your journey. After overnighting in Quito, a short flight takes you to Baltra Island in the Galapagos and to your awaiting Galapagos adventure's floating accommodations, the high-end catamaran Elite.
The Elite is one of the most beautiful and luxurious ships available here and full of comfortable cabins and social spaces. You'll stay in one of the nine Golden Suite cabins on board, each with its own hot shower bathrooms, private balconies, and panoramic views. While you may never want to leave your suite, the partially covered sky deck is the place to be for more spectacular views and service by the highly attentive crew on board.
A plethora of daily island visits provide you with chances to learn about and become familiar with the various landscapes and wildlife found here, as well as its unique history. Hike along volcanic craters, see lava tunnels, climb cliffs for incredible views, visit and snorkel in sheltered bays, look for trapped rays or fish in tidal pools, take a thrilling panga ride along the coast, and lounge on one of the pristine beaches.
You'll feel like you're on a safari, island-style, as you observe short-eared owls, red and blue-footed boobies, lava gulls, sea turtles, marine iguanas, sea lions, and colorful reef fish, to name a few. The Galapagos Islands are a birdwatcher's paradise as well, so bring your binoculars and see how many you can find. A highlight of any visit to these isles is the giant tortoises. You'll have chances to see them in the wild in the highlands of Santa Cruz and learn more about them at the Charles Darwin Research Station.
When it's time to return to the Ecuadorian mainland, you'll take with you so many memories of your Machu Picchu and Galapagos cruise to cherish and to share with loved ones back home.
Itinerary & Prices
Welcome to Lima!
Lima is a bustling, busy city and one of the most important in South America. Any trip to Peru will likely begin and end in the capital and visitors take advantage of the fact that Lima is widely regarded to be the culinary capital of the continent and home to many of the best restaurants in South America. Home of the ceviche and the Pisco Sour it is a city where the past and present mix beautifully, from the colonial center to modern Miraflores, through to the ancient Incan and pre-Incan culture which can be seen in Lima's various museums.
A city of almost 11 million people, it is nestled between the Pacific Ocean and the Andes mountains. This unique location means it enjoys a microclimate of zero rainfall and is spread along the coast atop cliffs that offer beautiful sunset views and peaceful "malecóns", even a short trip is guaranteed to be richly rewarding and a perfect introduction to Peru and its culture.
Meals: (x)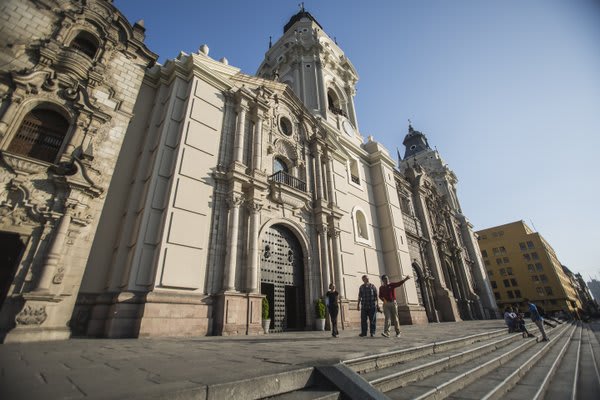 Lima Through The Ages
Today is dedicated to the fascinating history of Lima from ancient pre-Incan times through to the colonial era and the Spanish influence on Peruvian culture, architecture, and development. Beginning from your hotel, at either 9 am or 2 pm, we take you through the modern districts of Miraflores and San Isidro to visit a "Huaca", an astonishingly preserved seven-tiered adobe and clay pyramid that predates the birth of Jesus. Located smack-bang in the upper-class, and supremely modern, area of San Isidro, this ancient monument which once acted as an important ceremonial and administrative hub for the city contrasts amazingly with modern-day Lima.
From there, enjoy an air-conditioned voyage to the historic center of Lima where we visit old colonial buildings, and the Santo Domingo convent and enjoy a guided tour of the Plaza de Armas, the de facto center of Lima. Rounding up our day is a visit to Lima's finest museum, a vast collection of impeccably preserved jewelry, artifacts, and pottery from the history of Peru, the Larco Museum is a regular in Trip Advisor's top spot for all museums in South America and the top 20 in the world. (5 Hours)
Meals: (B)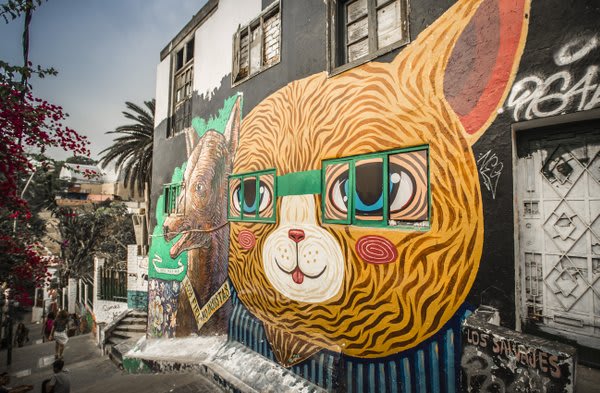 Lima to the Incan Sacred Valley
After a good night's rest, enjoy a delicious breakfast before our air-conditioned private vehicle takes you to the airport for the next exciting installment in your Peruvian adventure. Assistance is provided so don't worry about your bags! You will fly from Lima to Cusco, where you are met at the airport and transferred into the Sacred Valley. Our tours in the Cusco area always begin in the valley, which is approximately 1,000 meters (3,000 feet) lower in elevation than Cusco, so that guests may better acclimatize to the altitude.
Get ready to explore the most important ruins, which starts with a trip to historic Pisac. Our expert local guide will show you around the Temple of the Sun, ancient baths, altars, fountains, and ceremonial platform, and a type of sundial carved into the volcanic rock which was used for determining the time of year. At the side of the citadel, you will see the terraces that are still used to this day to grow crops.
After a quick visit to the colorful market of Pisac to buy souvenirs, we enjoy a traditional lunch in a restaurant in Urubamba. Afterwards, we take you to visit the impressive fortress town of Ollantaytambo as we continue our trip around the ancient ruins of the Sacred Valley. Perched atop a mountain it acted as the religious, military, financial, and agricultural center of the Inca culture and we also visit the town of the same name which maintains its Incan charm as a window into the past.
Meals: (B, L)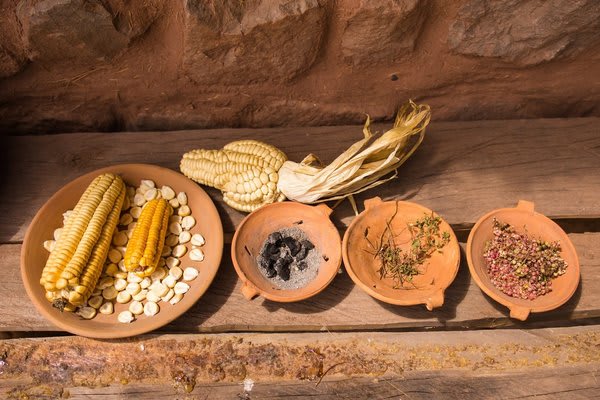 Location
Cusco to Sacred Valley
Maras, Moray and Chinchero
The Maras salt mines were an important part of the economy of the Inca culture and to this day the salt produced in these mines, recognizable by its pinkish hue, is amongst the most sought-after and expensive in the world. From there, we take you to the picturesque archaeological site of Moray which is a huge expanse of concentric terraces which the Incas used a botanical laboratory. Once finished with this leg of the tour, we enjoy a typical Andean lunch at the Casa de Barro restaurant.

Our next stop is at the PARWA Center in Chinchero, where you can learn about the centuries-old traditional textile making so important to the Andean people. You will have the chance here to buy traditional textiles and other souvenirs for your loved ones back home. Remaining in Chinchero we take in the 17th Century church built by the Spanish invaders and then the surrounding ruins, aqueducts, and agricultural terraces that sustained the local people hundreds of years ago.
Meals: (B, L)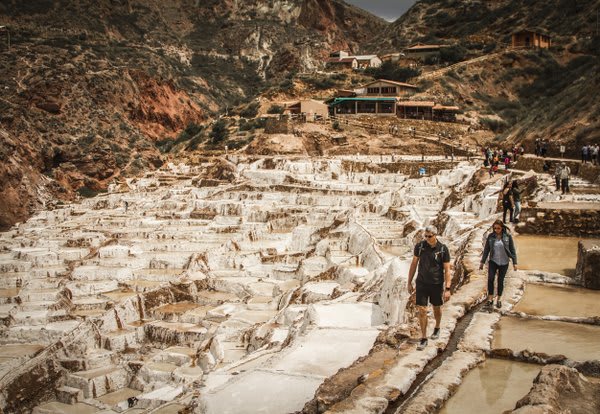 The Grandeur of Machu Picchu
Today is the big day! Get ready to tick one of the New Seven Wonders of the World off your list as we head to Machu Picchu Citadel. Leaving the Sacred Valley by train, we enjoy a peaceful snake through the mountains, uphill to Aguas Calientes, situated at the foot of Machu Picchu. The views on the way to Machu Picchu itself are an intrinsic part of the trip itself and worth savoring. Built in the mid 1400's it acted as a royal estate to two different Inca rulers, Pachacutec Inca Yupanqui and Tupac Inca Yupanqui. After 80 years of occupancy, it was abandoned, possibly due to Spanish infiltration in other parts of Peru, and remained abandoned until the early last century when efforts Hiram Bingham brought its existence to world attention.
Machu Picchu is divided into two sectors, the urban and the agricultural. Our expert guide will take you through both and show you the key spots in the ancient citadel such as the Temple of the Sun and the Room, the Intihuatana Stone, and the Room of Three Windows. The residential buildings feature exquisite stonework with no cement or mortar and are characterized by small trapezoid windows that face the morning sun. After our extensive tour, you return to your hotel in Machu Picchu town for a restful evening.
Meals: (B, L)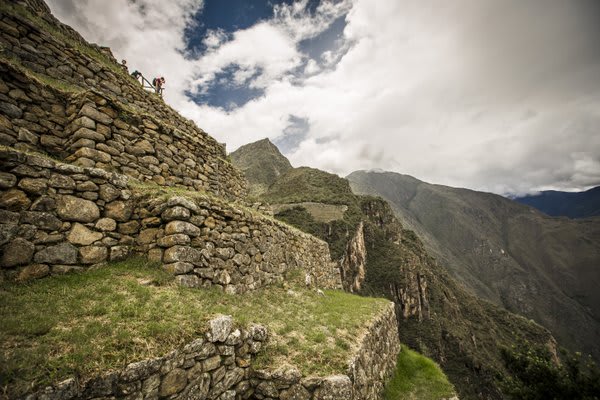 Location
Sacred Valley to Machu Picchu
Sunrise & Huayna Picchu
After an early breakfast, we set off for a second self-guided visit to the famous citadel of Machu Picchu. A second trip means you get to experience something that not every visitor does, and get to see Machu Picchu from another angle. With your special second day pass you can enter via Huayna Picchu, Machu Picchu's smaller cousin or through Machu Picchu Mountain for a slightly softer option (Suitable for those that suffer from vertigo). Machu Picchu is a far larger sight than just the classic tour option and a second visit comes highly recommended for those with time. Those doing the 3.5-hour hike to Huayna Picchu are granted extra time to complete a second visit to the ruin so whichever of the two you choose; you won't miss out on the astonishing extra sights such as the Inca Bridge and the Temple of the Moon.
Getting in nice and early to Machu Picchu is an option only feasible if you spend the night in Aguas Calientes. By doing this you can enjoy the sunrise over this incredible old citadel, a sight only the privileged few get to experience. As this is a largely visual experience you will not need a guide, just remember to take your time, and a camera as the views of Machu Picchu and the valley and river below are truly breathtaking. We finish with a comfortable ride back to Cusco or the Sacred Valley. For those riding back aboard the Luxury Hiram Bingham train, enjoy a cocktail and a delicious 4-course gourmet meal.
Meals: (B)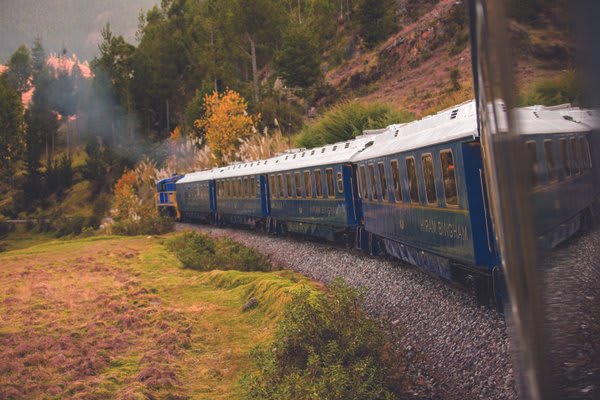 Location
Machu Picchu to Cusco
Ancient Inca Capital City
Today, we pick you up at your hotel for your tour of Cusco and its most important archeological sites. Cusco, known as the Imperial City, and declared a World Heritage Site by UNESCO, is home to Inca structures with a smattering of colonial influence. You start your tour at the iconic San Pedro market, a local market where you can explore the myriad colors, flavors, textures and traditions of modern Cusco.

The visit continues with the Koricancha Temple, an ancient Inca palace and cult center of the Sun God, above which the order of the Dominicans built a church. It remains standing to this day. Still standing to this day, this temple/church really is a remarkable building and an amalgamation of the two cultures. From there, we ascend to the Fortress of Sacsayhuaman, an impressive example of Inca military architecture. Afterward, you will explore Q'enqo archeological site, where important Inca ceremonies took place before moving on to the Plaza de Armas, home to the Cathedral, and the centerpiece of the city.
Meals: (B)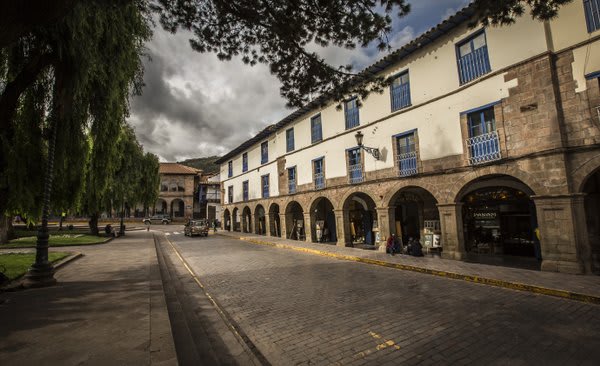 Welcome to Ecuador!
AM: After breakfast, at the scheduled time, you will be picked up from your hotel and privately transferred to Cusco airport, ready to board your departure flight to Quito! You will take two flights connected via Lima, re-boarding here for your flight to Ecuador.
PM: Arriving in Quito, you can take the evening to rejuvenate and re-charge before your trip to the islands the following morning! Your Galapagos cruise awaits…
Meals: (B)
Departing Quito & Cruise Embarkation
AM: After breakfast, at the scheduled time, you will be picked up from your hotel and privately transfered to Quito airport, ready to board your departure flight to the Galapagos Islands!
Arrival at Baltra Island Airport. Reception and Assistance at the airport by our members and transportation to our first visitor site.
PM: The Fausto Llerena Giant Tortoise Breeding Center is managed by the Galapagos National Park Service and biologists from the Charles Darwin Research Station. The purpose of the center, named for a legendary park ranger, is to raise Galapagos tortoise hatchlings in a protected environment. When the tortoises are large enough to fend for themselves, they are released into the wild. The program has been a great success and in recent years hundreds of young tortoises have been released on several islands.
You will see different sub-species of tortoises in various species of development, from tiny young ones smaller than your fist to fully-grown behemoths lumbering about their enclosures. Your guide will accompany you and provide information about the programs and facilities.
The breeding center is located at the Charles Darwin Research Station, just outside of the town of Puerto Ayora. In addition to the tortoises, you may see finches, warblers, and other birds in and around the tall tree cacti, and tiny lava lizards scurrying about underfoot. After visiting the Research Station, passengers will be taken to the Puerto Ayora pier to board the M/C Elite.
Meals: (B, L, D)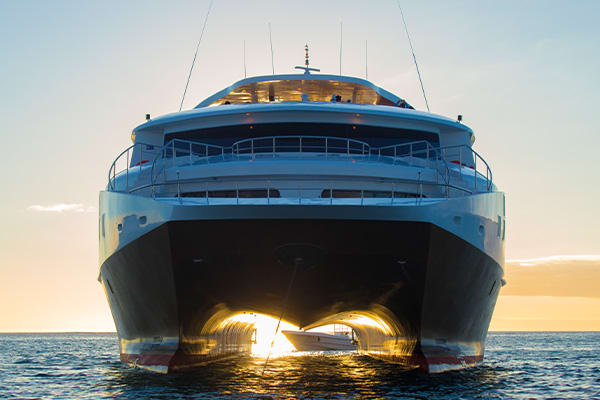 Location
Quito to Elite Cruise
Prince Philip's Steps, El Barranco & Darwin Bay
AM: Genovesa Island is famous for birdlife and neither of its two visitor sites disappoints. Genovesa is the remnant of a once-mighty volcanic crater, and the island still has a distinctive crescent shape. The body of water formed by the crescent is called Darwin Bay, in spite of the fact that Charles Darwin did not ever visit this particular island.
There are no large land animals on Genovesa: not even tortoises or land iguanas. Unlike other islands, Genovesa never had a problem with destructive introduced animals like feral cats or goats, which has allowed birdlife to thrive unmolested on the island for millennia. In the morning, you will visit the Prince Philip's Steps site. Getting to the visitor site from the landing area is tricky and involves a bit of climbing skill, but once you're up, Prince Philip's Steps is a visitor favorite.
There is a magnificent view from the upraised plateau, especially on a clear day. An easy trail winds through a low, scrubby forest and ends up at a rocky ravine of sorts, where lucky visitors will spot the rarely-seen Short-eared Owl. Visitors may also see Red-footed Boobys, gulls, or other birds nesting or visiting the site.
PM: The Darwin Bay visitor site is on the interior side of the crescent-shaped island, protected from wind and currents. It is a wide, sandy beach with a short trail that leads off to one side of the beach and up into some rocky formations. There are many bird species here: visitors can expect to see Blue-footed Boobys, Frigate Birds, Lava Gulls, Herons, Swallow-tailed Gulls, and more.
It is one of the few visitor sites in the islands where you can see Red-footed Boobys. There are some tidal pools off the trail: lucky visitors may spot a ray or some fish trapped there until the tide returns. Following the visit, guests will get to snorkel in the sheltered waters of the bay. Although deep water currents can sometimes cause the water to be chilly or cloudy, the crescent shape of the island protects the bay from strong winds.
The bluffs along the side of the bay drop sharply into the water, which means that snorkelers can stay close to shore but still have deeper water off to one side. Lucky snorkelers might see sharks, rays, sea lions, sea turtles, and dazzling reef fish including parrotfish, wrasses, king angelfish, and damselfish.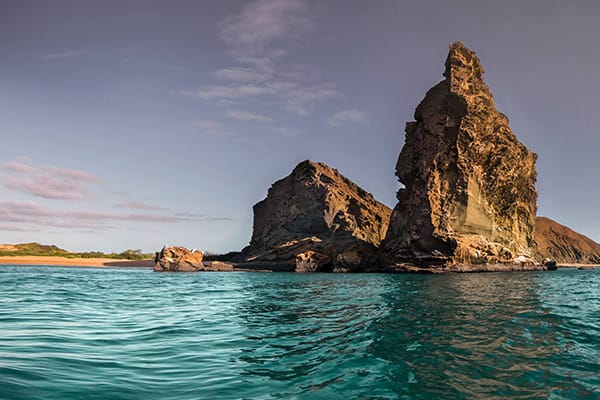 Location
Elite Galapagos Cruise
Buccaneer Cove, Espumilla Beach & Egas Port
AM: Back in the days of the great sailing ships, the Galapagos Islands were well known as a place where a traveling ship could stock up on food and water. Among the visitors were pirates, and the sheltered bay now known as Buccaneer Cove was a favorite place for them to repair their ships. Your visit includes a panga ride along the coast, where guests will see some interesting rock formations as well as several species of nesting birds including gulls, boobys, and pelicans. The formations, eroded into the colorful red rock, are quite striking. You may get to see not only sea lions but also their more reclusive cousins, the Galapagos Fur Sea Lion. The panga ride is followed by a visit to unforgettable Playa Espumilla ("Foamy Beach" in English). The beach, known for reddish sand, is a favorite among guests: long, pristine, and beautiful, it is home to a colony of sea lions as well as countless crabs and marine iguanas. It is possible to do some light snorkeling off of the beach.
PM: The human history of the Galapagos Islands is often as interesting as the natural history, and a good example is Port Egas. Decades ago, an Ecuadorian named Hector Egas tried to make his fortune mining salt on Santiago Island. It worked for a while, but in the end, the enterprise failed. Port Egas bears the name of this intrepid entrepreneur, and there are still some remnants of the old salt mine facilities here if you know where to look.
Puerto Egas is a superb visitor site even without its history. The trail is a loop that goes through some low trees before swinging around along the coast. Along the inland part of the trail, look for finches and a medium-sized blackbird: this is the Smooth-Billed Ani, an introduced species which somehow arrived in Galapagos at some point in the 1960s. On the coastal portion of the trail, you can expect to see numerous sea lions, marine iguanas, and shorebirds.
The coast is rocky due to its volcanic formation, but easy enough to walk along. Look in the shallow tidal pools: you never know what might have gotten stranded in there when the tide went out, and you might spot a stingray or an octopus in addition to the small fish usually found there.
Meals: (B, L, D)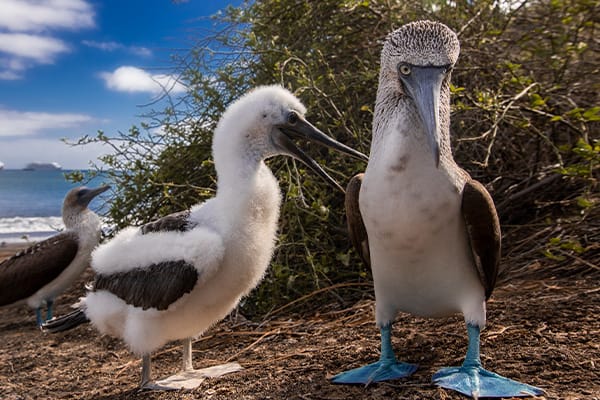 Location
Elite Galapagos Cruise
Bachas Beach, Twin Craters & Santa Cruz Highlands
AM: Bachas beach is one of the more beautiful ones in all of Galapagos – and that's saying something. It is a long stretch of pristine white sand where sea lions lounge and crabs scuttle back and forth. It was used by the Americans during World War Two: "Bachas" is a version of the word "barges," which were once landed here.
Sea turtles nest in some of the dunes here, and your guides will ask you to stay clear of the marked areas so as not to disturb the eggs. A short distance away are two salty lagoons where flamingos are frequently seen. There is no real hike here: only the warm, sandy beach. After a stroll along the sand and a refreshing dip, some of our guests like to do some easy snorkeling in the gentle surf.
PM: The Twins: The "twins" are a pair of sinkholes located in the highlands of Santa Cruz Island. Created ages ago by collapsing lava tunnels, they are not far from the main road through the highlands. From the parking lot, it is a fun, easy hike through a lush tropical forest to the walkways which ring the top of the sinkholes. Butterflies and smaller birds such as finches, doves, and mockingbirds dart and flit through the dense forest on either side of the trail, and attentive visitors may spot the distinctive red flash of a vermillion flycatcher as well.
You will stay in the highlands of Santa Cruz island to see giant tortoises in the wild. This impressive animal gives the name to the archipelago. You can easily appreciate the Galapagos giant tortoises in their natural habitat, eating, walking among others. This is also a good place to see birds such as short-eared owls, Darwin's finches, yellow warblers, Galapagos rails, and paint-billed crakes. As part of this experience, you will visit underground lava tubes formed by cooled and solidified lava. Then we will continue our journey to board the M/C Elite.
Meals: (B, L, D)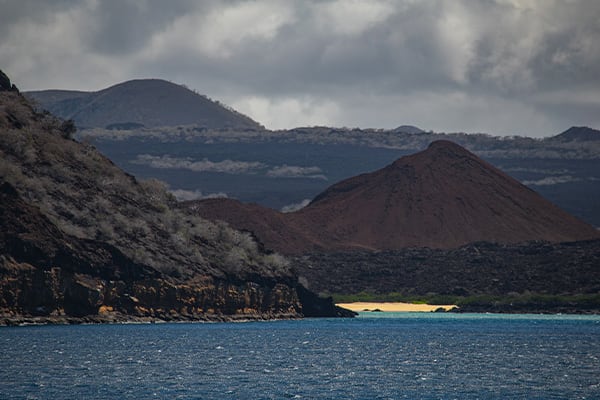 Location
Elite Galapagos Cruise
Disembarkation
AM: They say your culture influences the way you look at things, and Kicker Rock may just be the proof of that. Kicker Rock is a distinctive, boot-shaped rock formation located off of San Cristobal Island. In English, it gets its name from this shape. In Spanish, its name is "León Dormido," or "Sleeping Lion." Does it look more like a boot or a lion? You'll get a nice close-up chance to look for yourself and make up your mind. Your final visit to the Galapagos Islands will be a memorable one: a panga ride up to and around the rock, with the chance for some snorkeling as well. The snorkeling here is excellent, although the currents can be rather strong. Hammerhead sharks are often seen in the murky depths around kicker rock, and fortunate snorkelers might even see a large ray or two.
We will disembark from the cruise at 8:00 AM from San Cristobal Port. After our early morning visit, passengers will get ready and then be taken to San Cristobal Airport. Our airport personnel will assist passengers with the check-in process. Farwell and boarding the flight back to mainland Ecuador.
Meals: (B)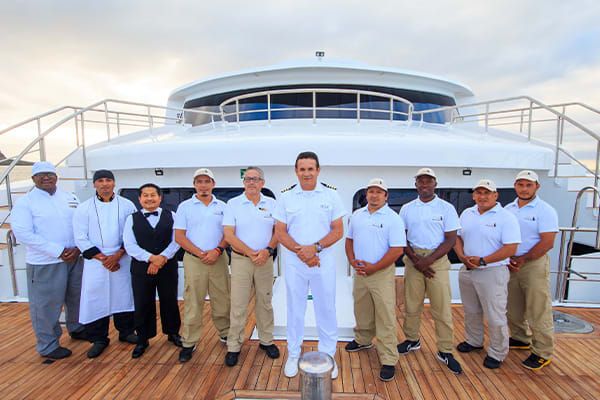 1 / 13
Accommodations
Cruises & Lodges
Elite
An exquisite high-end catamaran that will take your breath away with its beauty.
Hotel Options
Boutique
Hacienda Urubamba
Sacred Valley
4 Star
Casa del Sol Machu Picchu
Machu Picchu
5 Star
Tambo del Inka
Sacred Valley
5 Star
Inkaterra Machu Picchu Pueblo
Machu Picchu
5 Star
Aranwa Cusco Boutique
Cusco