Overview
The Amazon EcoBoat offers travelers a unique experience along the Rio Negro in Brazil. Blending tradition, elegance and conservation, this private 6 person riverboat is ideal for your next family trip (for those traveling in a larger group you may like to consider her equally elegant sister ship the Amazon Odyssey).
Explore the magnificent Amazon Rainforest up close, from both the panoramic views on deck and through the thrilling excursions, planned and personalized to meet your vacation dreams.
A Boat Just For You
Custom-built to explore the Brazilian Amazon, EcoBoat is a charming traditional riverboat that has been redesigned and elegantly decorated by a Parisian interior designer. A private stay on board will be as comfortable as it is memorable, with three charming bedrooms, including a luxurious double bedroom with unbelievable panoramic views of your voyage down the Rio Negro, the Amazon Rainforest's most impressive avenue.
You and your guests can revel in the views of the Amazonian landscape from the top deck of this elegant riverboat. An open-air lounge and dining area with 360° vistas is the perfect place to while away the hours with family and friends. The Amazon EcoBoat has an experienced local crew who will introduce you to some delectable Amazonian cuisine with a mouth-watering daily menu using the best local produce.
Authentic Excursions & Adventures
When you're not luxuriating in the comfort of your own private Amazonian boat, the experienced crew will guide you through the most life-enriching encounters you can get during your rainforest adventure. There are many options to customize your itinerary to suit the interests of your group and the versatile launch boat adds comfort to every wild exploration.
A firm favourite activity is a full-day Amazon fishing excursion with a professional guide. Available throughout the year, you can catch species that only exist in the Amazon basin, from piranha to tucunaré, and can try out a variety of different casting techniques. All fishing trips are "catch and release" to help sustain the rare fish species of the Rio Negro and Solimões rivers.
There's also plenty of opportunities to head for dry land and let even more of the unforgettable Amazon reveal its charms. Spend some time in the jungle communities along the river for real insight into the culture, kindness and daily life of the local people. Or search for unique flora and fauna on a wildlife walk with your eagle-eyed guides who knows all the secret beauties of the
region.
Travel With Purpose
On the Amazon Ecoboat, comfort and adventure ally themselves to offer you privacy while showing total respect for the ecosystem. This beautiful river cruise boat has been purposefully designed with sustainable, low-impact travel in mind. It is equipped with full solar power, a water treatment system, and fuel-efficient engines that comply with strict international environmental standards.
The charming and intelligent layout of the boat makes it possible to be up-close and personal with the astonishing flora and fauna of the Amazon river and rainforest, giving you a constant reminder of the importance of preserving this unique landscape.
Accommodations
Social Areas
Bright Side Room
Kitchen
Reading Corner
Relax Area
Upper Deck
Aerial View
VIP Room Panoramic Window
Suites & Cabins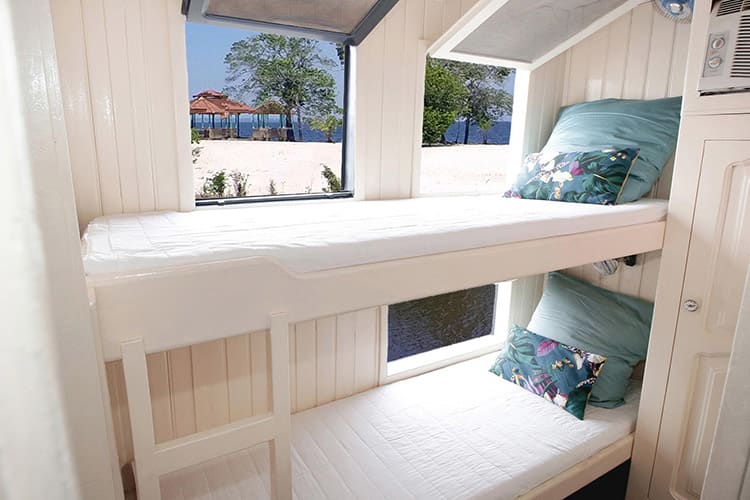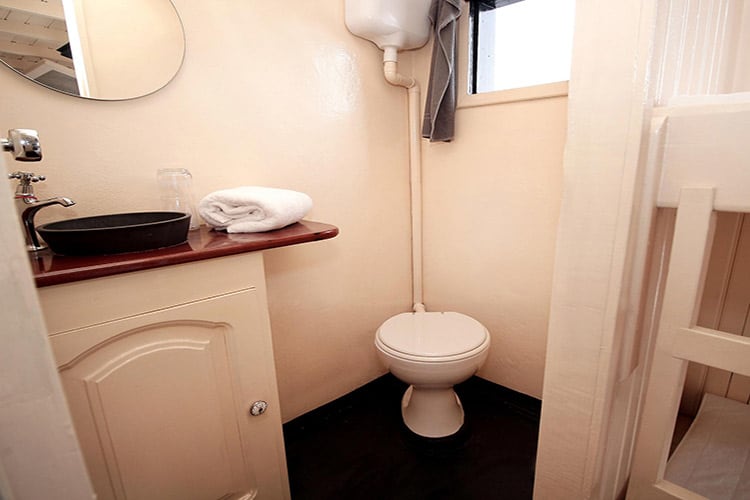 Size
6 m² / 65 ft² (approximately)
These spacious and air-conditioned rooms boast large panoramic windows, allowing guests to enjoy the Amazon River's beautiful scenery. The bathrooms are both ensuite and shared with basic amenities and clean towels. The room features a chair, wardrobe, and comfortable bed linen.