Overview
Arua is a traditional Indonesian phinisi, designed for year-round private charters, following three to seven-day itineraries through the magnificent Komodo National Park. With only four guest cabins on board, Arua yacht is perfect for couples, friends, or families who prefer to travel in more intimate groups. There is no need to share your space with strangers.
Cabin Comforts
Built by the highly skilled seafaring people of Tanah Beru in South Sulawesi, this seven-sail schooner is representative of the beautiful, centuries-old maritime tradition of hand-crafted boatbuilding in Indonesia. All indoor and outdoor living areas, decks, and cabins are made from teakwood.
The four air-conditioned cabins, with queen and single beds, are designed with your relaxation in mind and can comfortably accommodate a maximum of nine guests for overnight trips. All have ample storage space and plenty of electrical outlets and are equipped with cotton sheets, microfiber pillows, blankets, bath towels, and beach towels. Each has a private en-suite bathroom with hot water, a flush toilet, washbasin, and a shower.  
Onboard Meals
Meals aboard the Arua yacht are prepared fresh and feature high-quality ingredients, which are hand-picked by your onboard cook from local markets. Dishes are lovingly prepared combining Indonesian, Asian and Western flavors.
Living Space
There is a kitchen and dining area on the main deck and an alfresco dining area on the upper deck. Additionally, there are two sundecks furnished with bean bags where you can relax under the tropical skies, watch the splendid scenery passing by, and experience the freedom of being at sea. 
Safety Onboard
The boat complies with marine safety standards and is equipped with all regulatory requirements including a life raft, lifebuoy, life jackets, fire extinguishers, fire blankets, and a first aid kit, ready to use and regularly inspected. The boat's emergency plan and safety procedures are up-to-date, and the crew is trained to act accordingly in any emergency situation.
Facilities and Activities
Arua is equipped with a tender boat, snorkeling gear for adults and children, a sea kayak, stand-up paddleboards, floaties, a hammock, a ukulele, and a beach umbrella. On land, you can hike through jungles and savannah grasslands and explore the volcanic islands in the hope of spotting rare wildlife and birds, you can visit fishing communities, or wander through local villages to witness cultures unchanged by time.
Gaze in awe as thousands of bats come alive at sunset and shadow the sky; go kayaking, try your hand at stand-up paddleboarding, trek up active volcanoes or sunbathe on deserted white sandy beaches. From first-hand encounters with Komodo Dragons to snorkeling through vibrant reefs of soft and hard corals alongside colorful fish, giant manta rays, and turtles, you will experience the spontaneous warmth of the Indonesian culture as part of an unforgettable voyage.
The volcanic islands of Komodo inspire adventure, and customized itineraries have been designed to satisfy all ages so that you can discover the most spectacular scenery and wildlife around the Indonesian waters. The very able crew will ensure that you and your family and friends are very well looked after. 
Accommodations
Social Areas
Sundeck
Kitchen
Front Sundeck
Dining
Deck
Bowsprit
Suites & Cabins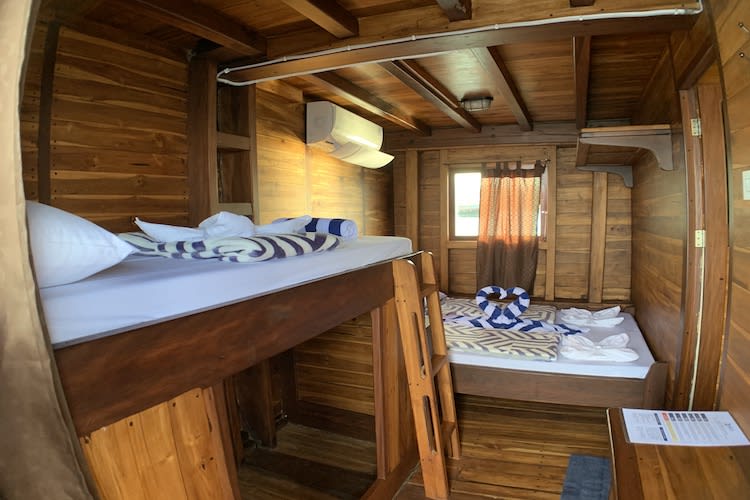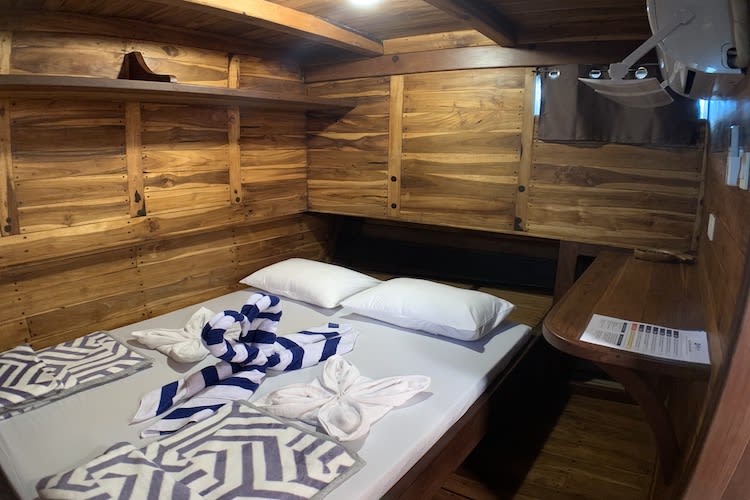 Size
2.2-3.2 m² / 23-34 ft² (approximately)
Beds
Double / Twin / Triple
Each of the four guest cabins onboard are facilitated with individually-controlled AC and en-suite bathroom with hot/cold water, flush toilet, wash basin and shower. Blankets, bath towels, beach towels and soap are also available. Two of the standard cabins contain a small double bed, with one providing a twin bunk, and one available for triple occupancy (equipped with a small double bed and an additional elevated single bed).