Overview
The stunning Solaris cruises Galapagos' myriad of marine wonders and most distant islands for a remarkable Galapagos experience. With its welcoming crew, spacious, first-class features, and distinctive itineraries in search of the archipelago's famed wildlife, this beautiful and modern yacht offers affordable adventure without sacrificing your comfort.
Intimate, Relaxation Aboard
The Solaris yacht consists of 11 cabins, 3 more than most cruises fitting the same number of 16 guests. Thanks to the innovative design all cabins are located in the quieter upper front half of the yacht, and not directly above or next to the engine room, which is located beneath the dining room. This guarantees a good night's sleep during the mainly overnight passages, minimizing disturbance from engine noise in your cabin. Besides that her routes also contain some quiet nights with shorter passages and anchorages at relatively sheltered bays for better relaxation.
Intimacy is precisely what differentiates this yacht from huge, impersonal cruise ships that navigate the seven seas, and also from those few larger expedition vessels in the Galapagos. As soon as you step aboard you and your fellow explorers will immediately receive a warm welcome and become part of the family as you embark on a voyage of profound discovery and shared experiences to treasure. But intimate by no means means cramped. The yacht's social areas are ample and inviting, from its bright interior bar-cum-lounge where daily naturalist presentations will be held, to its shaded, seated relaxation area to the rear of the Upper Deck, and huge Sun Deck above – featuring sun beds galore and further shaded al fresco dining area.
Furthermore, the trained crew & cruise director, assisted by your naturalist guide, will be ready to serve to your every need, making your stay as comfortable as possible. The professional chef and kitchen staff will treat you to a substantial breakfast and mouth-watering warm lunches and dinners each day, all served in abundant buffet style. Delicious snacks and juices are also served in the morning and afternoon.
Solaris Boat Excursions
A highlight of the Solaris Galapagos experience are its itineraries. You can choose from an intrepid 7-night western itinerary – featuring some of the most sought after islands in the archipelago, primarily exploring pristine Isabela and Fernandina, followed by Santiago, Santa Cruz and North Seymour – or either a 4, 5 or combined 8-day itinerary of the eastern islands. Unusually even the shortest route available (4-day B4) visits Genovesa, one of the most impressive and out-of-the-way islands in the north, and a must for bird enthusiasts.
Accompanied by your expert and experienced naturalist guide, you may visit giant tortoise breeding projects, interpretive botanical trails and visitor centers, go on guided hikes over lava flows or on inflatable dinghy-rides through search shallow mangroves in search of sea turtles, not to mention experience some of the best snorkeling anywhere to be had on earth. Of course the highlight will be your face-to-face encounters with the incredulously tame residents of these remarkable islands.
Fun for all
A special feature of the vessel is its flexibility in terms of cabin occupancy. This Galapagos cruise is 100% solo traveler friendly with four dedicated single cabins, and no fewer than six triple cabin for families and families. You will often share your experience with passengers from all over the world, and may even make new lifelong friends!
A cruise through the Galapagos archipelago is always a unique experience that you won't easily forget, but the Solaris yacht will make you yearn for its crew and your fellow passengers as much as the remarkable endemic species you'll meet along the way, long after you've returned home from this unrivaled wildlife expedition.
Accommodations
Social Areas
Resting Area
Lounge and Bar
Lounge
Dining
Bar
Al fresco Dining
Suites & Cabins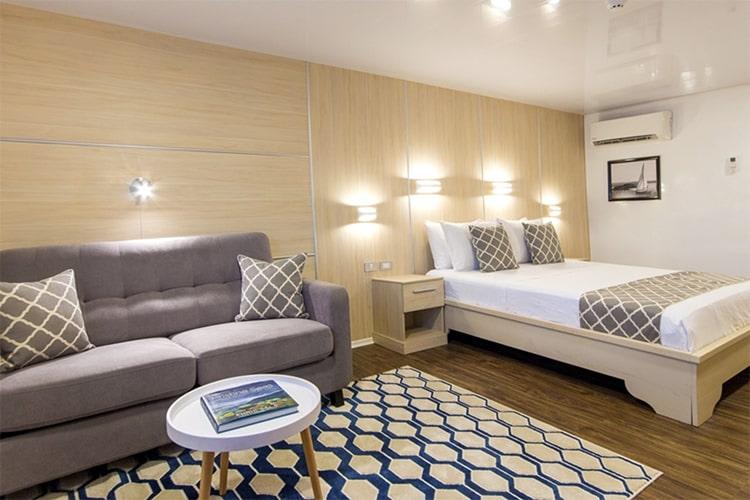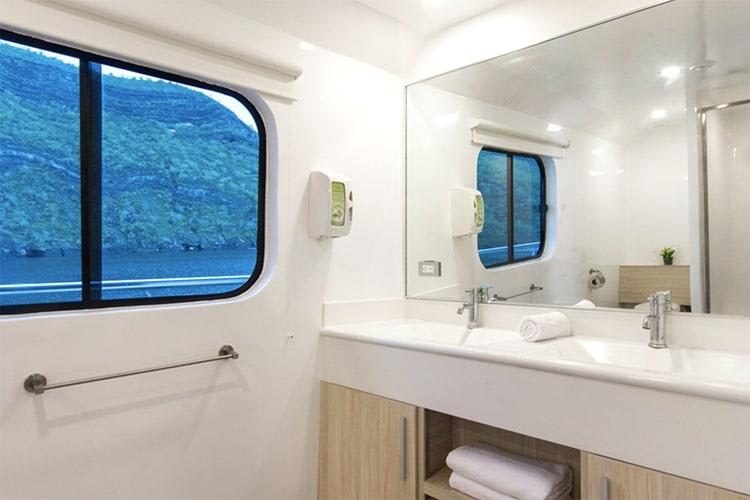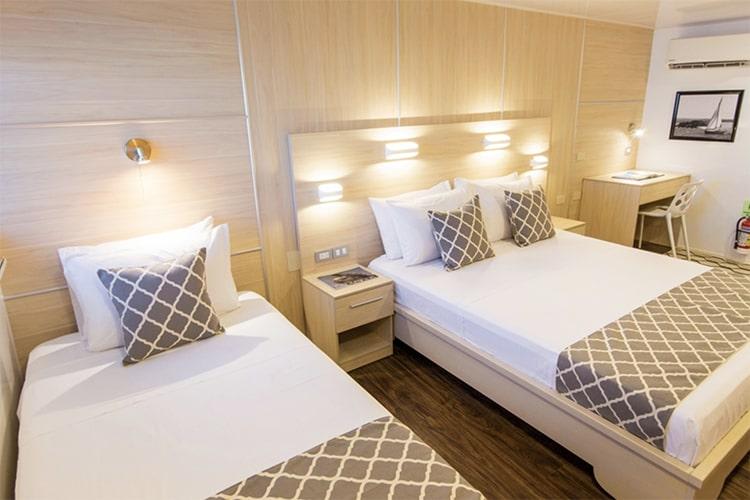 10 Cabins
Ocean View Suite
Size
21-26 m² / 226-280 ft²
Solaris' Ocean View Suites are very spacious and feature a large panoramic window that points to the beautiful ocean view. They all include private bathrooms with hot and cold water.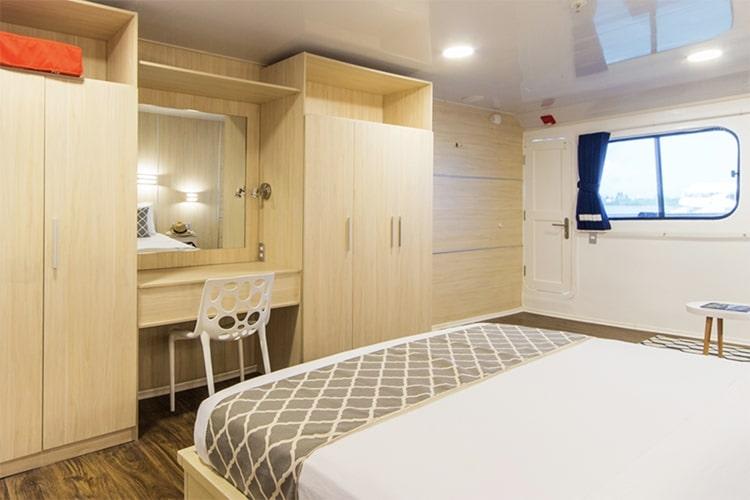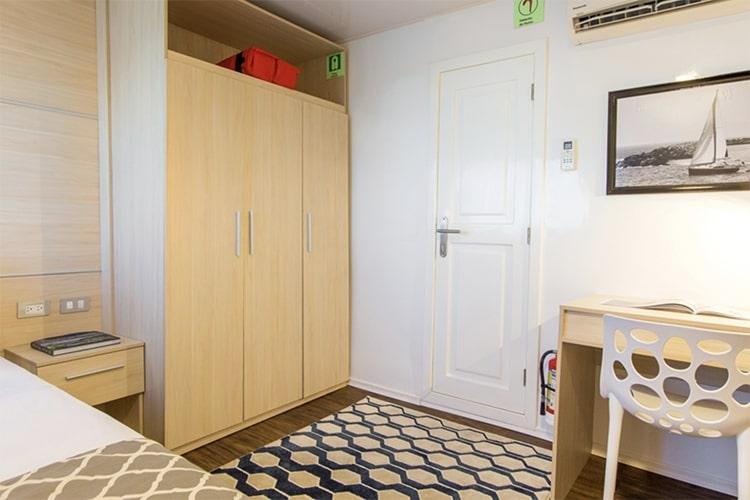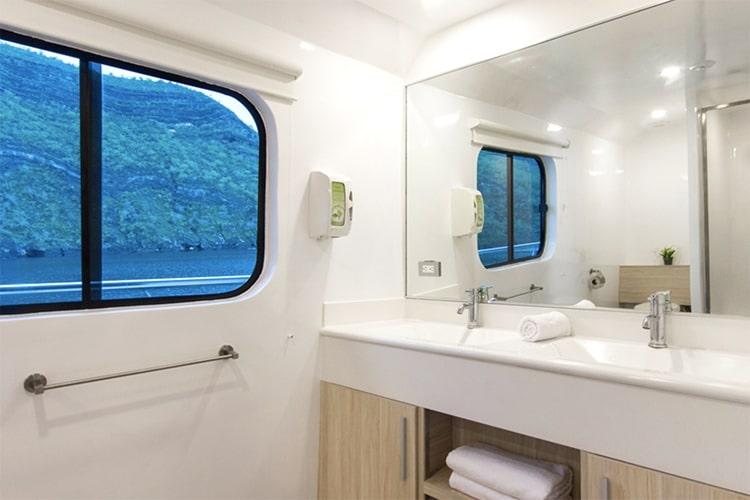 Solaris' single cabins are very comfortable and provide gorgeous ocean views. They each include private bathrooms with hot and cold water.