Itinerary & Prices
Welcome to Rio
We arrive in Rio in the form of a private transfer and straight into the beating heart of the samba rhythm of Brazilian life. Rio is known for its warm, friendly people, its beaches, and Carnival, but the city is rich in myriad ways and any trip to Brazil requires Rio to form a strong part of the itinerary.
Situated along the coast and with a string of beautiful beaches (the most famous being the Copacabana) this seaside city has sun, art, culture, and no shortage of fantastic visitor attractions.  Although often thought of as the capital city, Rio has not been the de jure title holder of that honor since 1960, but it is very much the de facto hub of Brazil as far as tourism and outright beauty are concerned. Rio is home to dozens of beaches, all set along the spectacularly lush coast which is home to dozens of tall islands that dot the sea.
When in Rio we recommend visiting some of, and if not all of the following places: Sugar Loaf, Corcodova, Tijuca Forest, the city center, and last but by no means least, a traditional Brazilian steakhouse, or Rodizio.
Meals (X)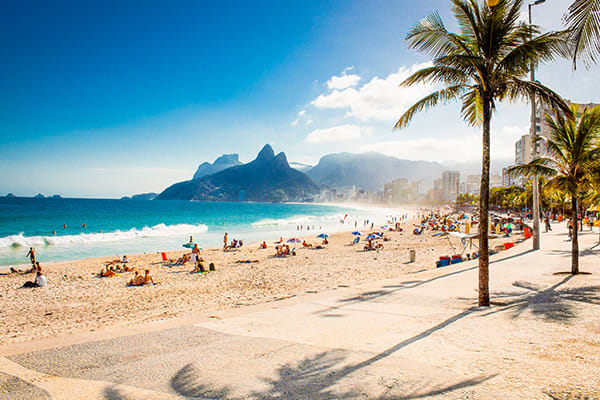 Iconic Sugar Loaf and Corcovado
After breakfast, we embark on a trip to visit Corcovado Mountain. We take the cable car from Cosme Velho Station and the iconic Christ the Redeemer statue. Our journey takes us through the dense Atlantic rain forest of Tijuca and offers us a wonderful opportunity for a closer look at the forest's lush tropical vegetation and to enjoy the scenic landscapes of the beaches and city. Perched on top of the 2,300-foot high granite peak of the aforementioned Corcovado, the Cristo Redentor is as famous a landmark as there is globally.
While everyone will be familiar with it, not everyone has the chance to visit it up close and personal and appreciate just exactly how immense and imposing it is. Built between 1922 and 1931 in the art-deco style of the era, the statue is an enormous 100 feet high and the outstretched arms are only a few feet shorter.
We head on to the Aterro do Flamengo and the neighborhood of Urca and the site of the famous Sugar Loaf Mountain. You will travel all the way to the top in two steps by cable car. The first cable car takes us to Urca Hill, a vantage point some 215m (nearly 700 feet) high, from where we can enjoy fantastic views of Guanabara Bay and its islands, the Rio-Niterói Bridge and Corcovado Mountain. The second leg of our cable car journey reaches the top of Sugar Loaf and from here we get a whole new set of views of such sights as Copacabana beach, the Santa Cruz fortress, and several beaches of Niterói.
Meals (B)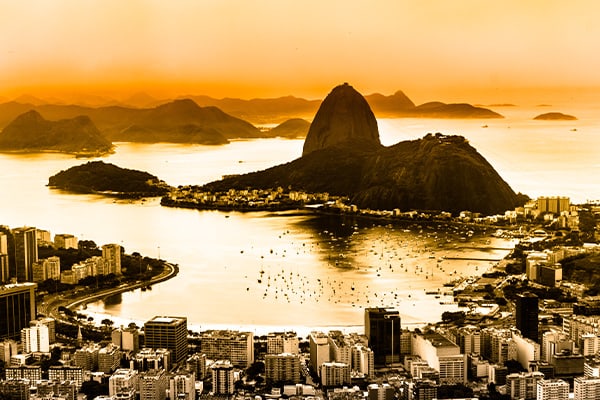 Rio's Atlantic Rainforest
Today, we head to the Tijuca Forest National Park, one of the largest urban forests in the world, and a rare strand of Atlantic rainforest which is now nearly extinct. The trip is done partly in a 4 x 4 vehicle and partly on foot. There are two ways of entering the park and we opt for the less well-known route as the better views can be found on this road. Our first stop is at a lookout known as the Vista Chinese due to the oriental-styled pagoda-like gazebo. From here we get spectacular panoramic views of the south of Rio de Janeiro before rejoining the more well-trodden path and arrive at the second entrance to the park.
Once past the Açude da Solidão, (the secondary entrance to the forest), we make a stop at the famous Tijuca Waterfall Cascatinha, a waterfall so beautiful it almost looks like it has been designed and admire the natural beauty of the water cascading down from the rock. After driving a bit further into the forest we begin a short trail of around 30 minutes which allows us to really appreciate the rarity of a jungle forest within the confines of a city! After finishing our trail we still have time for a panoramic tour of downtown and a visit to the Metropolitan Cathedral which was built in a pyramidal form with an internal diameter of 96 meters and a height of 80 meters.
We head on to the world-famous Escadaria Selarón, also known as the 'Selaron Steps', a wonderful colorful staircase comprising of some 215 individually mosaiced steps. They are the work of Chilean-born artist Jorge Selarón who claimed it as "my tribute to the Brazilian people. We end our day's excursions with a short tour of the traditional Cinelândia Square and its historical buildings.
Meals (B)
Departing Rio
Today we transfer you to the airport in Rio for your flight to Recife. Recife is an old colonial city, founded in the 16th Century and a fundamental part of the formation of Brazil. Characterized by its angular streets and creative layout built around the various rivers and channels that carve through its heart, it is known as the city of waters. Neighboring Olinda is an even older colonial city, founded in 1535 and home to a series of monasteries, convents, baroque churches, and colorful houses, it is listed as a region of Historical and Cultural Heritage of Humanity by UNESCO. Known as the City of Waters, the center of the city is home to three individual islands.
In the afternoon we take a trip to Olinda. This coastal city has the perfect tropical mix of scenery with palm trees, coconut trees, and the Atlantic Ocean as a backdrop. We take you on a trip to visit secular churches such as the São Bento Monastery for a look at the unique Brazilian approach to religion before heading on to Rua do Amparo where we get the chance to look at the beautiful local artisan products and paintings.  We head on to Largo da Misericórdia and Alto da Sé, with their endless viewing stations to get a panoramic view of the surrounding bay.  We head on to Recife and specifically the neighborhood of Recife Antigo, the oldest part of town, disembarking at Arsenal, the second most important square in the neighborhood, and also take in a visit to Embaixada de Pernambuco on Rua do Bom Jesus and the Pernambuco Handicraft Center.
Meals (B)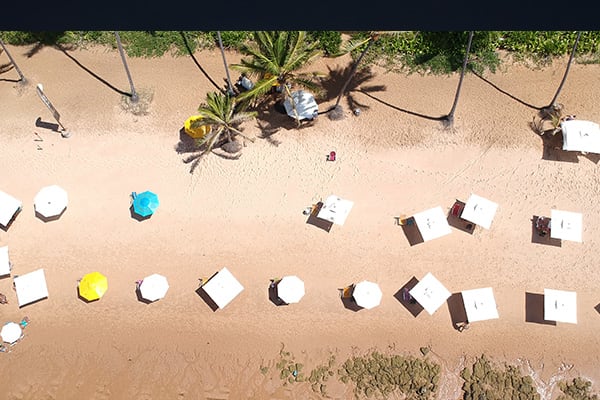 Location
Rio de Janeiro to Recife
Welcome to Fernando de Noronha
Once finished breakfast, we transfer you to the airport and your flight to Fernando de Noronha. Fernando de Noronha is one of the most beautiful island complexes in the world and another UNESCO World Heritage Site due to the abundance of sea life in the National Marine Park, and it is not uncommon to see sea turtles, humpback whales, and dolphins. The area is also popular with walkers, surfers, and beach lovers and any visit here will leave you feeling energized and relaxed.
Diving is also very popular here, and if you are certified it would be highly recommended to take some time to submerge.
Meals (B)
Ilha Tour of Noronha
This morning we get our snorkel, mask, and flippers ready and head down for breakfast. Once finished we head off in private 4 x 4 vehicles on our trip of the day, a full tour of all the best parts of Fernando de Noronha.
This tour takes in all the historic places that help tell the story from pre-colonization, through the early settlement of Europeans and on to the modern-day. Today's tour is a mix of sightseeing, activities, and beach visits and as such we can stop for lunch at an appropriate moment when your group is ready, but generally, we would enjoy some snorkeling in the morning before lunch.
Fernando de Noronha is known in Brazil as the destination for honeymoons and it is easy to see why, with its stunning beaches, fantastic climate, and pleasant local restaurants, this island is a real hidden paradise. The waters around the island are 26C and visibility extends to 50 meters meaning snorkeling brings fantastic rewards. Expect to see rays, Angle Fish, up to 15 types of indigenous coral, sea turtles, and maybe even small hammerhead sharks! We finish the day with a delicious basket of snacks and a bottle of sparkling wine as we watch the sunset over this island paradise.
Meals (B, L)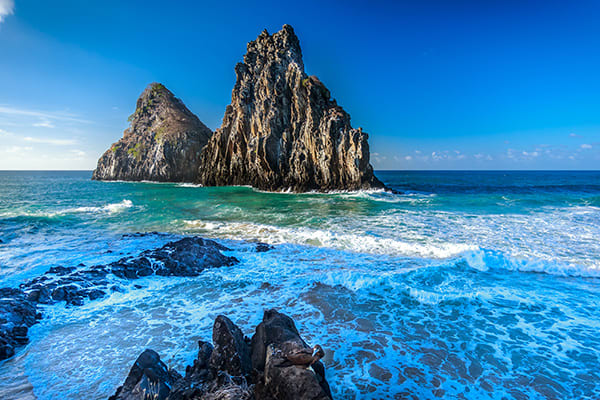 Location
Fernando de Noronha
Fernando de Noronha by Boat
Today's trip requires a short transfer to the port of Santo Antônio, where we board our day-tripper to visit all the secondary islands of the area. While Fernando de Noronha is the main island, it is surrounded by lots of smaller islands and is the general name for the archipelago.
The area is a volcanic archipelago about 350 kilometers off Brazil's northeast coast and the smaller islands are famed for their completely undeveloped beaches, and it is this unspoiled beauty we head out to see today.
The boat trip itself is an excursion and we spend the time heading out to the islands spotting dolphins. The spinner dolphin is the most common and these playful animals often accompany boats for some of their journeys. Heading in from the Portal da Sapata, the "doorway" of the island complex, we make a  40-minute stop at Baía do Sancho, a beach that never fails to make any top ten list of the world's most beautiful beaches. Here we don our snorkeling or diving kit and partake in a long free-diving session or a more simple snorkeling excursion.
Meals (B)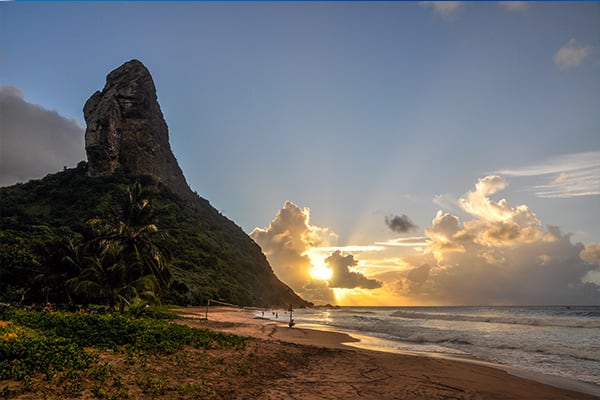 Location
Fernando de Noronha
A Free Day in Fernando
Today you have the day at leisure to explore the beaches, bars, and restaurants at your own pace. Swimming and sunbathing are options that never fail on this free day!
If you need any assistance coordinating an additional excursion, please ask your sales specialist.
Meals (B)
Location
Fernando de Noronha
Arrival in Manaus
We pick you up from the hotel and transfer you to the airport for your flight to the jungle city of Manaus.
Manaus is located right in the middle of the world's largest rainforest and was founded when the Portuguese needed a base from which to defend their claim on the surrounding area from the Dutch who were based in what is now modern-day Suriname. Manaus became known worldwide as a city in the 19th Century with the Rubber Boom, and at the time was amongst the richest cities in the world.
These riches prompted extravagant spending, and a series of one-upmanship from rubber barons left a legacy of marble-clad buildings and huge estates that soon fell into disrepair once the rubber boom ended. Modern-day Manaus is a testament to this fascinating period in South America, and any visit to the Amazon in Brazil should include a stay in Manaus in order to understand modern-day man's impact and interaction with the surrounding rainforest.
Meals (X)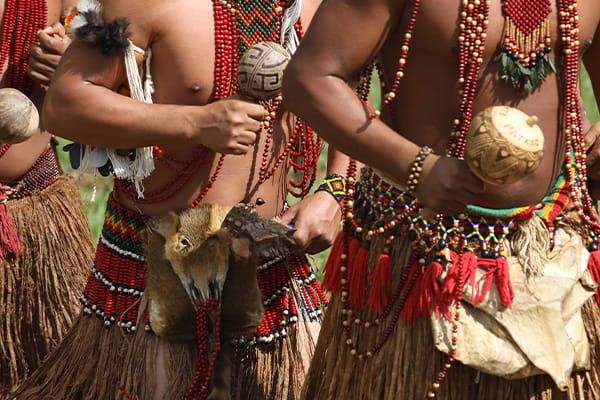 Location
Fernando to Manaus
Cruise Embarkation
AM: Enjoy breakfast in your hotel and spend the morning at your leisure, before you embark to meet us this afternoon at the cruise port, for the beginning of your long-awaited Amazon cruise!
The Captain and his crew welcome you aboard where everything has been planned for your well-being, according to your preferences and choices as they have been previously discussed.
PM: Getting together for lunch (or a collation depending on your hour of arrival) with the Captain, you will learn about security guidelines, the journey program, planned stopovers, regional specificities… Then, next stop, the heart of Anavilhanas nature reserve, the "Três Bocas", for your first boating day: cozily set up in a deck chair or a hammock, you observe the Rio Negro banks. Watch out for swimming dolphins, the elegant flight of blue aras, macaws, cute sloths, and other hosts with feathers, hair, or scales that will be longing to be seen. You will even get closer to them during a kayak ride or a swimming party in the river.
Depending on the season, you will drop anchor in an exclusive area that has been chosen for you (a desert beach or a peaceful bay according to the level of river water) for an enchanting evening under a magnificent starry sky.
Meals: (B, L, D)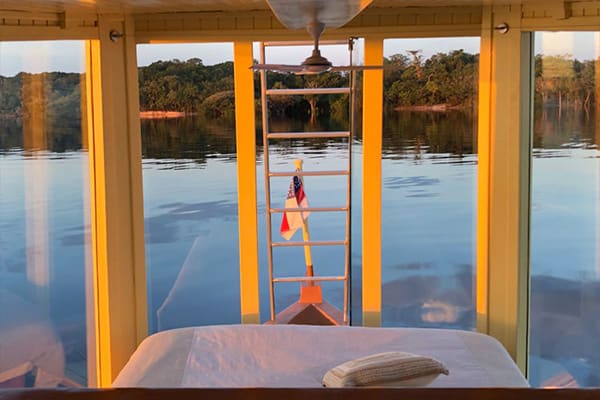 Location
Manaus to Amazon Odyssey Cruise
Exploring Rio Cuieiras
AM/PM: After a charming breakfast listening to the song of aras, macaws, toucans, and all other singing birds of the forest, you will join the Rio Cuieiras. You will embark upon the dinghy for an even more intimate 1-to-1 with the surroundings, reaching out to "caboclos" that cultivate manioc, so precious to Brazilian food.
Meals: (B, L, D)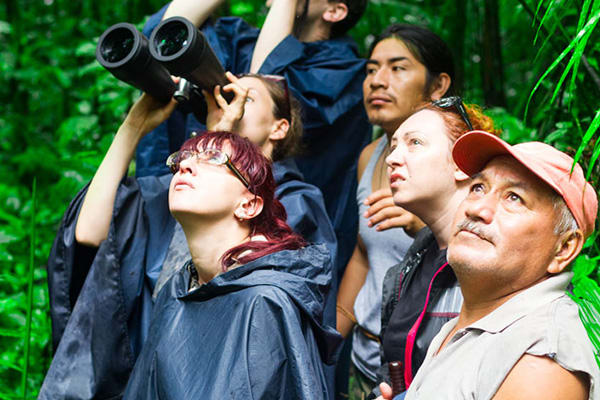 Location
Amazon Odyssey Cruise
Rio Negro, Jaraqui & Jungle Trek
AM/PM: You slowly sail down the Rio Negro to Jaraqui where natives will guide you through the jungle for 1-hour educational trekking during which the secrets of medicinal Amazonian plants will be revealed to you. On your way (depending on the possibilities offered by the season), you will be at one with the forest during a magical and refreshing swim in some astonishing cascades that are nested in an island of luxuriant greenery.
Meals: (B, L, D)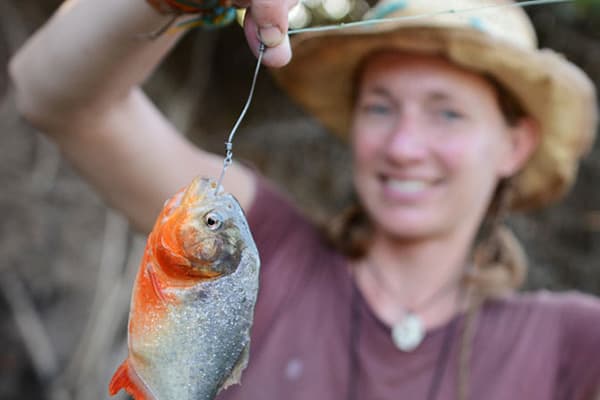 Location
Amazon Odyssey Cruise
Disembarkation
AM/PM: Surprises will go on when you will share pink dolphin's games, a unique species that never joins the sea. The "botos" will welcome you in 30-degree water for highly emotional moments at any age. Then, you will maybe angle other exotic fishes… but shush! We didn't say a thing! Depending on your departure imperatives, the "Ribeirinha" community of Acajatuba that has got surprising singularities, will open up for an enjoyable moment of sharing and interaction on the other side of the World.
Afterward, you will disembark in Manaus, ready to head to the airport for your departure flight.
Meals: (B, L)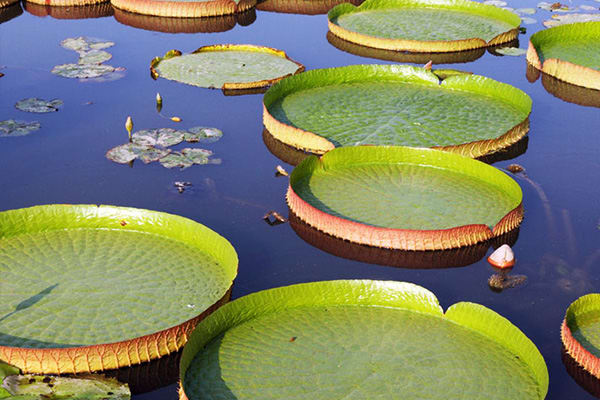 1 / 13
Accommodations
Cruises & Lodges
Amazon Odyssey
A high-end, private houseboat ideal for seekers of privileged, slow travel rainforest experiences.
Hotel Options
5 Star
Pousada Maravilha
Fernando de Noronha