Overview
Beginning in vibrant Buenos Aires, you are invited to explore Argentina's capital city and take in a fabulous tango show, before spending two days at a luxury lodge in Parque Esteros del Iberá, where you can choose your activities from a menu that includes bird and wildlife watching, boat rides, horseback riding and more. Your tour continues with two days at the mighty Iguazú Falls, which you can marvel at from the Argentinian side before crossing over to the Brazilian side. All of the featured excursions, activities, and accommodations can be tailored in accordance with your personal wishes. All are private tours and transport with a private guide.
Buenos Aires
Your luxury 7-day tour from Buenos Aires to Iguazu Falls to Ibera Wetlands begins in the cosmopolitan capital city, which marries sophistication with the Latin passion for which Argentina is so famous; it is filled with cultural gems, superb cuisine and a flourishing nightlife. The café culture is alive and well along cobblestone streets where you will be awestruck by the majestic architecture. You will be staying in the trendy neighborhood of Palermo, where the nightlife is as colorful as the streets, and bars stay open all night so you can dance until dawn in this city that invented tango.
Enjoy a city tour, beginning in Plaza de Mayo, with the iconic balcony from which Eva Perón famously addressed the throngs of impassioned supporters. Visit local barrios and old tango districts such as Monserrat, San Telmo, and La Boca, a traditional quarter of brightly painted Italian family homes and restaurants. Witness the busiest areas – Puerto Madero, Retiro, and Plaza San Martin.
Explore the graceful neighborhoods of Palermo where you can stroll through purple-blossomed parks, rose gardens and lakes among porteños playing sports, and the Recoleta district, one of the most fashionable parts of the city, which includes South America's most opulent and extraordinary cemetery, the resting place of Eva Peron. In the evening, enjoy the finest Argentine cuisine and fabulous Malbec wines, while watching the most authentic tango show in Buenos Aires, which features some of the best dancers in the world.
Parque Esteros del Iberá
Fly to Posadas in the Misiones province of north-east Argentina and transfer to Parque Esteros del Iberá for the middle part of your Iguazu Falls tour package from Buenos Aires. Parque Esteros del Iberá is a magnificent, protected wetland reserve, characterized by marshy swamps, moss-covered bogs, and shallow lagoons. It also happens to be one of the largest wetlands on the planet and is one of South America's finest places to see wildlife.
Here you can see alligators, giant otters, capybaras, monkeys and anacondas, and over 350 different species of birds: it's common to see herons, eagles, magpies, and even the giant, ostrich-like great rheas. Stay at the beautiful Rincon del Socorro lodge and choose your own adventure from the lodge excursion menu, which includes wildlife watching (day and night), boat rides through Laguna Ibera, horseback riding, field trips, self-guided trails, birdwatching, and cycling.
Iguazú Falls
Transfer to Puerto Iguazu, a trip that takes around six hours, and relax before your unforgettable two-day tour of the mighty Iguazú Falls, during which you will marvel at this spectacular natural wonder from both the Argentine side and the Brazilian side. Argentina lays claim to 80 percent of the falls, and Brazil lays claim to the other 20 percent. This means that you get a bigger picture view of the falls from the Brazilian side, looking towards Argentina, but in Argentina you get closer to the falls and there is a larger area to explore. If you're having the Iguazu Falls Brazil vs Argentina debate, both sides are incredible, and on this trip, you will get to spend a full day exploring each side by foot, and the chance to take an optional adventure by jeep and then boat ride almost right beneath the waterfalls! Hear the falls resonating through the rainforest and revel in the spectacle.
Itinerary & Prices
Welcome to Argentina!
Welcome to Argentina! For most travelers, Buenos Aires is the entry point to Argentina… and what an entrance it is: this vibrant city feels almost European! Its cosmopolitan population of Italian, Spanish, French, and many other nationalities, combined with stunning architecture, cultural activities, and attractive neighborhoods with small shops, cafés, and international restaurants, make the atmosphere relaxed and welcoming.
Upon arrival, our local representative will meet you at the airport and take you to your hotel. After settling into your accommodation in the trendy neighborhood of Palermo, the rest of your afternoon and evening is free for you to spend at your leisure. We recommend exploring the area near your hotel where you'll be able to soak up the atmosphere of this thrilling city stopping off at one of the nearby boutique cafés or lively wine bars. Having found somewhere for dinner and experienced one of South America's top restaurant scenes, explore Buenos Aires' nightlife at one of the local wine bars in Palermo, add an exclusive wine tasting to your itinerary or, take a leisurely stroll back to your hotel.
Tip: Porteños eat dinner late; usually restaurants will open their doors around 20:00.
Meals (x)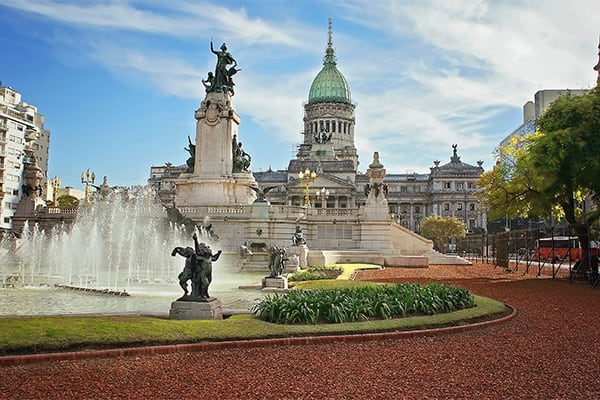 Tango & Highlights of Buenos Aires
After breakfast, you are collected from your hotel for your city tour of Buenos Aires, discovering the history and modern life of this world-renowned city.
The tour provides an in-depth introduction to its architecture, the culture of its people, its anecdotes and secrets. Put simply, Buenos Aires is exceptional, dynamic, sophisticated, and overwhelming. An exquisite combination of a European atmosphere and the charm of Latin American cities. You will begin at the famous Plaza de Mayo, before venturing out to the old tango districts of Buenos Aires: Monserrat, San Telmo, and La Boca. You will then move on to the busiest areas – Puerto Madero, Retiro, and Plaza San Martin – and then, districts with wonderful green spaces and old residences: Palermo and Recoleta.
In the evening, you'll experience the best of tango while enjoying the finest Argentine cuisine and fabulous Malbec wines. The tango show is one of the most authentic in Buenos Aires, and you'll come to appreciate the passionate and intense nature of Argentina's beloved and beautiful art form.
Meals (B, D)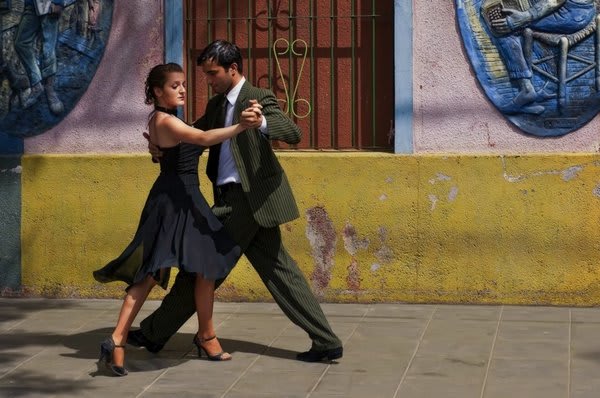 Travel to the Wetlands
At the designated time you will be transferred to Buenos Aires Domestic airport for your flight to Posadas. Upon arrival at Posadas airport, you will be taken via private transfer to your lodge in Esteros del Ibera.
Having originated from the main ranch building, originally built in 1896, Rincon del Socorro was restored and expanded personally by Douglas Tompkins. The buildings retain the classic Spanish style, consisting of great galleries that cool the house during hot days. On these sunny days, you can enjoy the beautiful pool with the sound of the garrulous parrots surrounding you. On colder days you can cuddle up near the huge fireplace in the main living room. It is frequent to meet with the technicians of the foundation during your stay, who enjoy speaking with visitors about the functioning of the reintroduction projects and the creation of the Iberá Park.
Meals (B, D)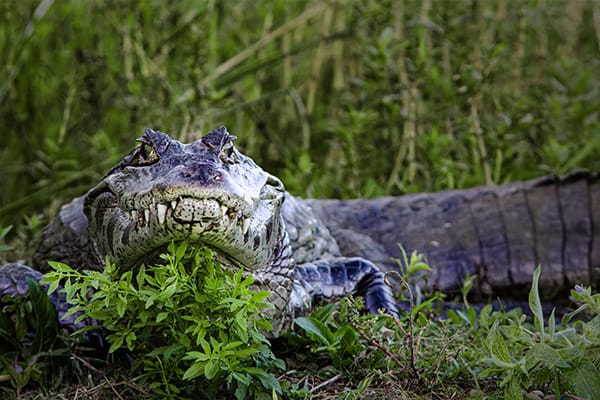 Location
Buenos Aires to Iberá
Exploring Esteros
Today is left free for you to choose your adventure. Ask your guide about what activities will be the best fit for you from the lodge excursion menu. Some of the activities offered include wildlife watching (day and night), boat rides through Laguna Ibera, horseback riding, field trips, self-guided trails, birdwatching, and cycling.
Enjoy your day as you please indulging in the landscape, relaxing in your accommodation, exploring, and dining.
Meals (B, L, D)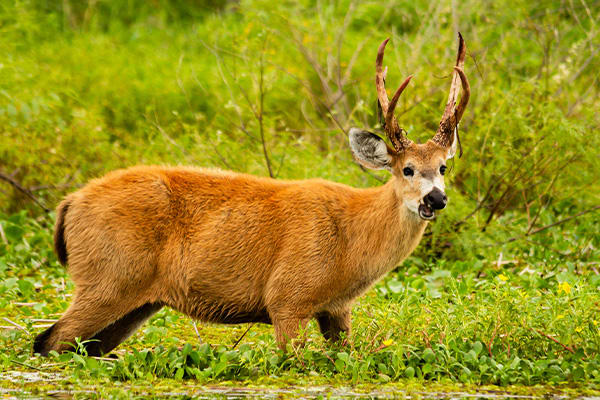 Towards Puerto Iguazu
Today, you will be transferred from Esteros del Ibera to Puerto Iguazu. The trip takes around 6 hours, during which you will be crossing Corrientes and Misiones provinces.
After settling in, the day is free to spend at your leisure. Since your accommodation is located on the outskirts of the town, you can relax and enjoy the facilities of your accommodation. Alternatively, you can take a taxi to the center of town where you can walk down the main street of Puerto Iguazu, enjoying some of the local shops and cafes.
Meals (B)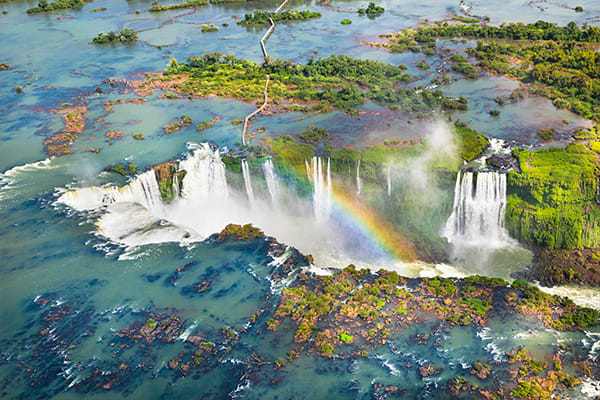 Visit the Argentinian Falls
After breakfast this morning, you will begin your exclusive tour of the Argentinian side of Iguazu Falls. You'll head towards the Iguazu National Park where you'll climb aboard a small train at the entrance of the National Park – your first stop will be the ominously named Devil's Throat (Garganta del Diablo) which stands at over 262ft, making it the biggest waterfall of Iguazu! Having soaked up the enormity of the Devil's Throat, your guide will take you along the wooden walkways and trails of both the upper and lower circuit. With over 270 separate waterfalls and the copious verdant jungle of Iguazu, exploring this Natural World Wonder of the World is one of the most unforgettable experiences.
The various trails that take you above and around the waterfalls are built a few feet above the jungle floor. These raised platforms not only protect the natural habitat of the jungle wildlife but will also take you to secluded viewpoints offering unimaginable views across the whole National Park. If you're looking for a bit of adventure while visiting Iguazu, we highly recommend booking the optional (not included) Great Adventure boat tour that takes you right under the rainbows and mist of Iguazu's waterfalls. Make sure to pack a change of clothes or swimwear and a watertight bag for your valuables because you will get wet!
After a full day exploring Argentina's side of Iguazu Falls, you'll head back to the visitors' center and from there, your transfer will take you to your hotel in Iguazu where the rest of your evening is free to spend at your leisure.
Meals (B)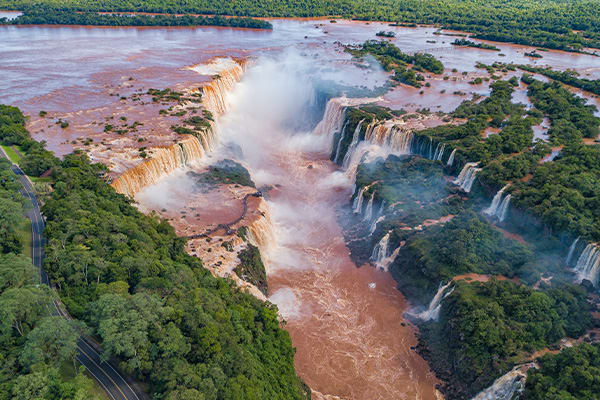 Brazilian Falls & Return to Buenos Aires
Dive straight into the action this morning! Your private guide will take you to begin your exclusive tour of the Brazilian side of the Falls (make sure you bring your passport). The Brazilian side of Iguazu offers a panoramic view of the Falls, including a more direct face-on view of the towering Devil's Throat Waterfall. After the excursion, your private transfer will take you to the airport for your flight back to Buenos Aires.
From here, you will take your departure flight home/to your next travel destination.
Meals (B)
Location
Iguazú to Buenos Aires
1 / 7
Accommodations
Hotel Options
5 Star
Legado Mitico
Buenos Aires
Boutique
Rincon del Socorro
Iberá Wetlands
5 Star
Loi Suites Iguazu
Puerto Iguazú