Itinerary & Prices
Welcome to Bangkok!
Welcome to Bangkok, the adventure for your senses!
Your guide will meet you at the arrivals and lead you to your private car. Relax and enjoy the ride to the city center – approximately 1 hr, depending on which airport you arrive at.
Once at the hotel, take time to rest and acclimatize, your adventure starts tomorrow morning!
Meals: (x)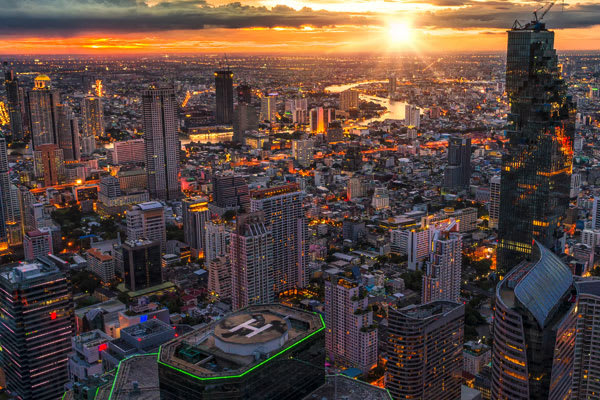 Essential Bangkok
After breakfast your guide will pick you up for the drive to Wat Pho – one of the oldest temples in Bangkok. Wat Pho houses the famous 45m (148ft) reclining Buddha (as well as the original school of traditional Thai massage).
From here, take a tuk-tuk ride via Pak Klong Taland Flower Market towards the spectacular Grand Palace, home to the most revered Buddha image in Thailand – the Emerald Buddha.
Continue with a walk to the pier for a long-tailed boat ride along the famous "klongs" (canals) of Thonburi.
Stop at Wat Arun, once the grand royal temple to King Rama II.
After lunch at a local restaurant, cross the river and drive to Chinatown for a first-hand look at Old Bangkok.
Walk along Yaowarat Road with shops selling everything from gold and garments to antiques and musical instruments.
Explore the bustling Talad Kao market where a variety of food, fresh and dry fruits, and Chinese herbs are on offer before returning to your hotel.
Meals: (B, L)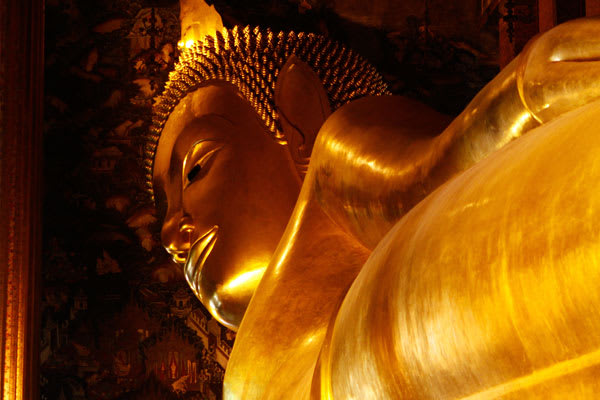 Floating Market and Evening Street Food
Early morning starts with a 2hr drive to the 100-year-old Damnoen Saduak floating market (100km/62mi from Bangkok.)
This vibrant, most famous of local markets features numerous small boats laden with colorful fruits and vegetables, paddled by Thai women wearing bamboo hats.  It's one of the only places to see this traditional way of buying and selling goods in Thailand. Almost always crowded with hundreds of sellers, buyers, and tourists, it's one of the most photographed places in Thailand.
There is no lunch is included in this tour, but there is plenty of opportunities to enjoy a snack at the market.
Arrive back in Bangkok in the afternoon and rest before the evening food adventure!
Your guide will pick you up again in the early evening for your night food exploration at Chinatown. Enjoy a behind-the-scenes adventure indulging in the local sights and flavors of this "foodie" neighborhood.
There is a good chance to see the local cooks at a work station (cooking station) and hear their stories through your guide. Sample delicious treats from some of Bangkok's favorite street vendors, local eateries, and/or in restaurants nearby before returning to your hotel around 10 pm.
Meals: (B, D)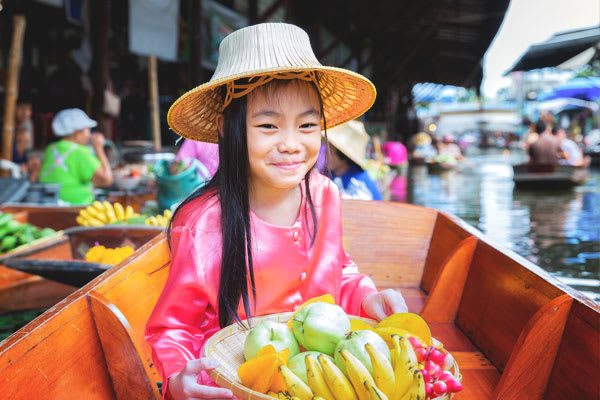 Begin the Kwai River Cruise
Depart from Bangkok to Kanchanaburi via Nakorn Pathom.
We'll make a short stop to visit the highest Chedi in Thailand called "Phra Pathom Chedi" – the largest pagoda in Southeast Asia.
Visit Khao Noi Cave Temple (Wat Tham Khao Noi)  and Tiger Cave Temple (Wat Tham Sua) nearby.
Continue to Kanchanaburi and visit JEATH War Museum.
Continue to embark RV River Kwai at Nong Ya dock. Lunch on board while cruising on Kwai Noi River. Afternoon at leisure!
Dinner and overnight on board.
Meals: (B, L, D)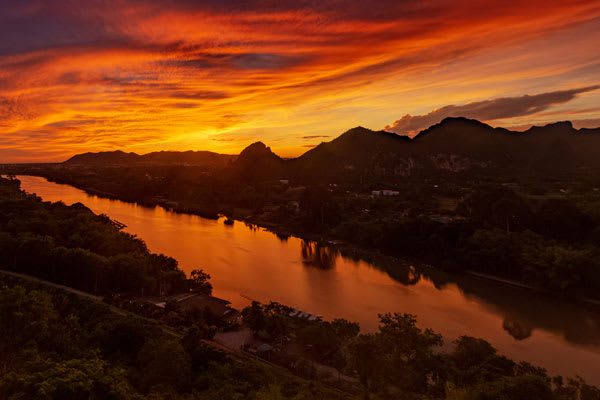 Location
Kanchanaburi and River Kwai
Khmer architecture and train ride
Breakfast on board while cruising upriver on the Kwai Noi River to Muang Singh.
Visit a boarding school nearby the bank of the Kwai Noi River built under the patronage of H.R.H. Crown Princess Sirindhorn for refugee children.
Visit "Prasat Muang Singh", historical park with Khmer architecture from the late Lopburi period, some 700-800 years ago. The extensive ruins of the temple beside the River Kwai Noi are a potent reminder of the vast expanse of the Khmer empire. The ancient border town of Muang Singh, "City of the Lions", was probably established as a trading post.
Continue by coach to Tha Kilen Train Station. Take a 3rd class train to Saphan Tham Krasae passing over the long wooden viaduct.
Arrive at Saphan Tham Krasae and visit Krasae Cave situated on the bank of the Kwai Noi River, an excellent viewpoint.
Return to the boat with a short stop at Sai Yok Village located right on the riverbank, upriver from Wang Pho Bridge.
Lunch on board while cruising upriver. Afternoon at leisure on the boat. Dinner and overnight on board.
Meals: (B, L, D)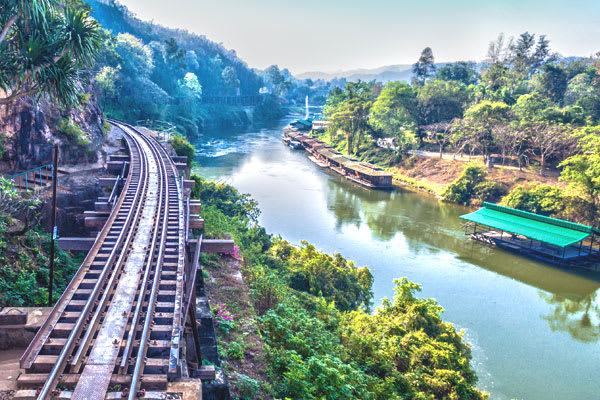 Location
Ban Kao and Sai Yok
Hellfire Pass
Start the day with a lovely breakfast on board.
Step ashore and walk uphill to visit Kaeng Lava Cave. From the landing a short trail leads to the cave which boasts admirable stone draperies and concretions in large chambers. The stalactites and stalagmites are a spectacular creation by nature.
Continue by coach to Hellfire Pass, a part of the Death Railway cut through the stone mountain. Trails lead to Hin Tok Bridge and Konyu Cutting where a plaque commemorates the ordeal of Australian and British POW's who undertook the hazardous work in precarious conditions at the aptly named pass.
Lunch at a local restaurant in Saiyoke National Park area, passing Sai Yok Yai Waterfalls. Back to boat and cruising upriver. Afternoon at leisure on the boat. "Farewell Dinner" and overnight on board.
Meals: (B, L, D)
Location
Sai Yok and Ban Hin Dad
River Kwai Bridge and transfer to Phuket
Start a day by offering foods to monks at nearby temple.
After breakfast on board, disembark and return to Kanchanaburi by coach. Visit to Wat Tham Khaopoon, a Buddhist temple which served as a big camp of World War II.
Behind the temple enjoy a marvellous view down the valley of the Kwai Noi River.
Then, visit the Thailand-Burma Railway Center Museum and the Donrak War Cemetery which contains the remains of 6,982 Allied prisoners of war who perished during the construction of the "Death Railway".
Continue to the world-famous bridge over the River Kwai. The sturdy Iron Bridge spanning the River Kwai Yai, which was a crucial part of the Death Railway, was built in some 16 months by Allied prisoners of war and Asian conscripts. The bridge was destroyed in Allied bombing raids towards the end of World War II and was later rebuilt by the Japanese as war reparations.
Lunch at River Kwai Restaurant, next to the bridge. Proceed to Bangkok, where you will be picked up from the bus and driven to the airport for your flight to Phuket.
Arrive in Phuket. Your driver will meet to at the arrivals hall. You will be driven to your island resort right in time for dinner.
Meals: (B, L, D)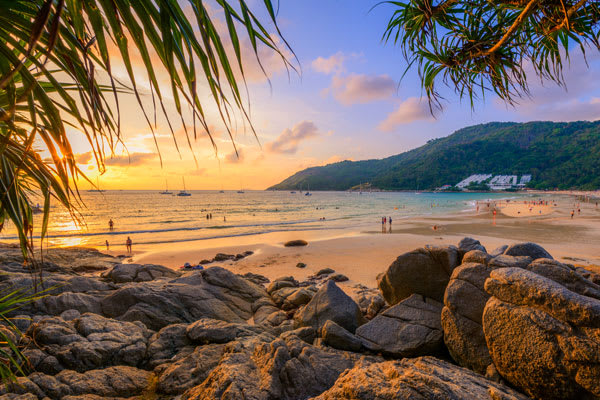 Location
Kanchanaburi - Phuket
Elephants and a Famous Show
After breakfast, you'll be picked up by the guide and you'll take a short ride to the Elephant Retirement Park.
Experience the amazing half-day elephant care program and full immersion into the life of the elephants living at the Elephant Retirement Park Phuket. Learn about the history and culture of the elephants, prepare their food / healthy treats, take part in feeding time, mud and sand spa, bathing time, and lots more.
In the evening – a touch of bohemian lifestyle at the spectacular Simon Cabaret Show or magical Phuket Fantasea Show and Dinner.
Meals: (B, D)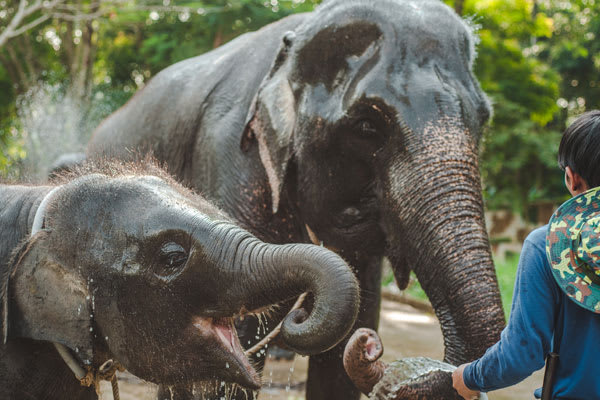 James Bond Island and Paradise Beaches
Full-day tour by private speedboat to explore Phang Nga Bay Marine National Park, famed for its rock formations rising out of the sea. On arrival, explore some of the area's fascinating caves by inflatable canoe accompanied by an expert guide.
Visit Hong Island as well as Dark Cave, Mangrove Cave leading to a lagoon with mangroves, and Diamond Cave, named for a glittering flowstone inside.
Cruise to James Bond Island (Khao Tapu) famous for being featured in the film "The Man with the Golden Gun".
Continue to Panyi Island noted for its picturesque village built over small pilings and extending out across the water and inhabited mostly by Muslim fishermen.
After a tasty Thai set lunch at a local restaurant, swim at Lawa or Naka Island before returning to Phuket and your hotel.
Evening at leisure to discover famous restaurants and bars of Phuket and watch the unforgettable Patong Beach sunset.
Meals: (B, L)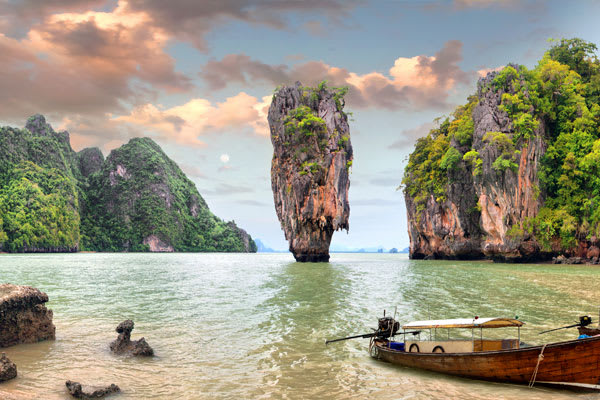 Departure
You will not want to go, but it's the time!
Let our driver take you to the airport for your flight back home or onwards, to the next adventure.
Meals: (B)
1 / 10
Accommodations
Cruises & Lodges
RV River Kwai
Thailand's first inland cruise ship combines the romance of the colonial era with modern luxuries.